Destination Development Plan
The CVB created a Destination Development Plan in mid-2016, a blueprint for short-term and long-term success, with goals for growing visitation and resultant jobs for all travel segments—from leisure to meetings. With the overall goal of growing annual visitation from 12.8 million to 16.8 million people by 2026, priorities were adopted to reach long-term goals and a Destination Development position was created to move the plan's initiatives forward.
Destination Pillars

In 2018, the CVB continued to focus on goals adopted in the Destination Development Plan—a blueprint for the destination outlined in 2016 for short-term and long-term success to grow visitation and resultant jobs for both leisure and business travel segments, with an overall goal of growing annual visitation to Greater Palm Springs to 16 million people by 2020. 

Below are highlights of the Destination Development Team's 2018 efforts.

Health & Wellness
• Video marketing was distributed targeting Health & Wellness
• Social media creative reflected the Live Your Wellest campaign
• Implemented a Wellest section of the website as part of a digital media plan (TravelZoo, Locale, pay-per-click)
• Published 16 articles on CVB website

Outdoor Adventure
• Distributed video and content on social media highlighting Outdoor Adventure
• Published 10 articles on CVB website​

 

Arts & Culture
• Provided marketing support for signature events on social media, including the launch of Desert X
• Published 12 articles on CVB website​

Regional Initiatives

Education
• Launched the Certified Tourism Ambassador™ (CTA) program to elevate the service in Greater Palm Springs in the hospitality industry

• Hospitality Program - The CVB and its Partners support the hospitality programs at California State University, San Bernardino Palm Desert Campus (CSUSB) and College of the Desert, designed to enhance skill sets that result in return tourist visitation and a continuous well-trained tourism workforce to meet the needs of our destination's growing industry.

• In 2018, the CVB partnered with Mickey Schaefer & Associates to bring the internationally recognized Certified Tourism Ambassador™ (CTA) program to our destination. With accreditation offered through the Tourism Ambassador Institute®, the half-day program defines a new standard of excellence in the region's growing hospitality sector. The half-day course helps pair enthusiasm about the destination with real-world expertise that makes every visitor interaction they have count. The program welcomes anyone who interacts with visitors throughout the nine cities of Greater Palm Springs oasis, from front-line hospitality employees and spa staff to business owners, tourism volunteers, and members of the community at large.

• University Growth Support - With the knowledge that continuing education plays a vital role in the local economy and that the lack of labor pool is a main obstacle in the hospitality industry, the CVB is supportive of the goal of reaching 8,000 enrolled students at California State University San Bernardino Palm Desert. To further this objective in 2018, the CVB commissioned The Economic Impact of a Fully Utilized CSUSB Palm Desert Campus: Master Plan Phase 1 through Phase 5 study. 

In addition, the CVB initiated planning for the February 2019 Mardi Gras Masquerade Ball to benefit the university's new Hospitality Management Program at the Palm Desert Campus.

Salton Sea Advocacy
• In 2018, the CVB continued its ongoing efforts to support the mitigation and revitalization of the Salton Sea, helping to protect the long-term air quality and precious wildlife of Greater Palm Springs. 

For more information, you can read two past reports on the Salton Sea commissioned by the CVB: Salton Sea Economic Impact Study and Revitalized Salton Sea: Potential Economic Benefits. 

Key 2018 Film Oasis Initiatives
• Secured episode dedicated to Greater Palm Springs for PBS show Samantha Brown Places to Love
• Held location scout FAM in Greater Palm Springs with six top film and TV location scouts
• Traveled to New York for desk-side meetings with top production companies and shows
• Expanded presence at Locations Expo at American Film Market by securing joint booth with Riverside County Film Commission and met with over 100 production leads

For more information about Film Oasis, contact:
Michelle Rodriguez
Film Liaison
mrodriguez@gpscvb.com

Restaurant Week

Restaurant Week

The CVB marked its second year of managing and executing Greater Palm Springs Restaurant Week, a 10-day dining event from June 1 to 17 that showcased a variety of eateries throughout the Coachella Valley, providing a perfect opportunity for the CVB to support the local economy and grow visitation during what is typically a slower time of year.

Guided by the dineGPS Advisory Committee, the CVB continued an extensive in-market and out-of-market media campaign, a dining guide and map, in-restaurant collateral, a website landing page, social media channels, materials in English and Spanish, media visits and a media preview event, as well as many more resources and tools.

Transportation

For Greater Palm Springs to become a year-round destination, it must provide year-round air service. The CVB's efforts in 2018 to fund additional air service with key airlines have effectively increased service for both meetings and leisure visitors.

Air Service Marketing
The CVB continued its airline marketing efforts throughout the year with airline co-ops in digital, print, out-of-home, social media and TV tactics. In addition, the CVB ran an air-service campaign to reach and influence travelers in 20 nonstop destinations including New York, Boston and Chicago. 

For more information on marketing efforts for each airline, see the Destination Marketing section below. 

Air Service Development
The CVB's efforts in 2018 to fund additional air service with key airlines have effectively increased service for both meetings and leisure visitors.

The CVB has continued its commitment to crucial air service expansion by again retaining the consulting firm Ailevon Pacific Aviation Consulting in 2018. Ailevon is a leading airline development consulting company with extensive expertise in aviation and tourism. Working collaboratively with Ailevon, the goal is to expand existing air service while targeting new airlines and create both a short-term and long-term plan for future expansion.

Meetings Lost Due to Air Access Cost

| | | | |
| --- | --- | --- | --- |
| Year | Meetings | Room Nights | Delegates |
| 2018 | 47 | 66,838  | 25,930 |
| 2017 | 74 | 66,483 | 29,404 |
| 2016 | 62 | 76,672 | 29,570 |
| 2015 | 38 | 43,564 | 21,291 |
| 2014 | 26 | 23,386 | 14,603 |
| 2013 | 36 | 33,510 | 14,813 |
| 2012 | 32 | 28,277 | 13,905 |
| 2011 | 32 | 21,334 | 15,012 |
| 2010 | 44 | 64,214 | 21,290 |
| 2009 | 70 | 64,246 | 16,623 |
| 2008 | 30 | 43,474 | 13,997 |
| 2007 | 18 | 21,251 | 11,565 |
| TOTAL | 462 | 486,411 | 202,073 |

Rail Service
A project of the Riverside County Transportation Commission (RCTC) in coordination with California Department of Transportation (Caltrans) and Federal Railroad Administration (FRA), the proposed Coachella Valley–San Gorgonio Pass Rail Corridor Service would establish a new daily intercity passenger rail service between Los Angeles and Indio. The project is currently undergoing planning and initial environmental impact analysis. The CVB supports this effort to advance both sustainability and tourism.

In 2018, the CVB:
• Served as a sponsor and host of Tourism & Train Travel panel for April 2018 California Passenger Rail Summit in Los Angeles
• Supported the establishment of an Amtrak Music Festival Train in April 2019.

Research

Research is a vital tool that informs all aspects of the CVB's work. In 2018, we conducted studies to measure image awareness of the destination by consumers and meeting planners as well as to guide strategies that will help us better target travelers to increase visitation.

The 2018 Consumer Image Study provided us with a valuable update on consumer perceptions of the destination and what attitudes and viewpoints may have changed since the original study was conducted in 2011. The Meetings Image Study gave us important insights on how to optimize our brand messaging for groups and grow our meetings market.

● Greater Palm Springs 2018 Consumer Image Awareness Study
Strategic Marketing and Research Insights

● 2018 Greater Palm Springs Image and Awareness – Meetings
Destination Analysts

VisaVue and Advertising Effectiveness Studies
The VisaVue and Advertising Effectiveness studies guide the Marketing and Brand teams' strategies for targeting, messaging and delivery method to reach travelers and increase visitation.

● VisaVue: Domestic Market Research 2018
In Partnership with Visit California

● VisaVue: International Market Research 2018
In Partnership with Visit California

● Advertising Effectiveness: Getaway/Drive Markets 2018
Strategic Marketing and Research Insights

● Advertising Effectiveness: Vacation Markets 2018
Strategic Marketing and Research Insights
For more information about Destination Development initiatives contact:
Bob Thibault | Chief Development Officer
bthibault@gpscvb.com
---
Convention Sales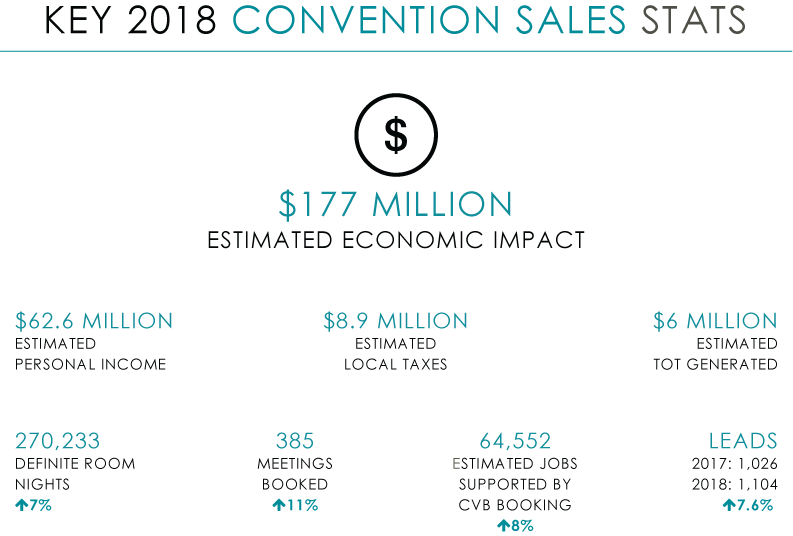 In 2018, Convention Sales exceeded all its goals, surpassed its room night goals by 12% and solidified its valley-wide reach. We also focused on conducting advanced Site Experience training for the sales team and CVB Partners, enhancing each meeting planner's destination experience, thereby increasing awareness and booking opportunities. Based on our 2018 Meetings Image & Awareness Study findings, we worked with the CVB Brand and Marketing departments to expand on new advertising opportunities and social media exposure to correct misperceptions about Greater Palm Springs as a meetings destination. Brand started creating small video vignettes highlighting the variety of meeting properties, ease of getting here, offsite venues and unique spaces, showcasing all that our Modern Meeting Oasis has to offer our groups.
For more information about Convention Sales, contact:
Mark Crabb | Chief Sales Officer
mcrabb@gpscvb.com
---
Travel Industry Sales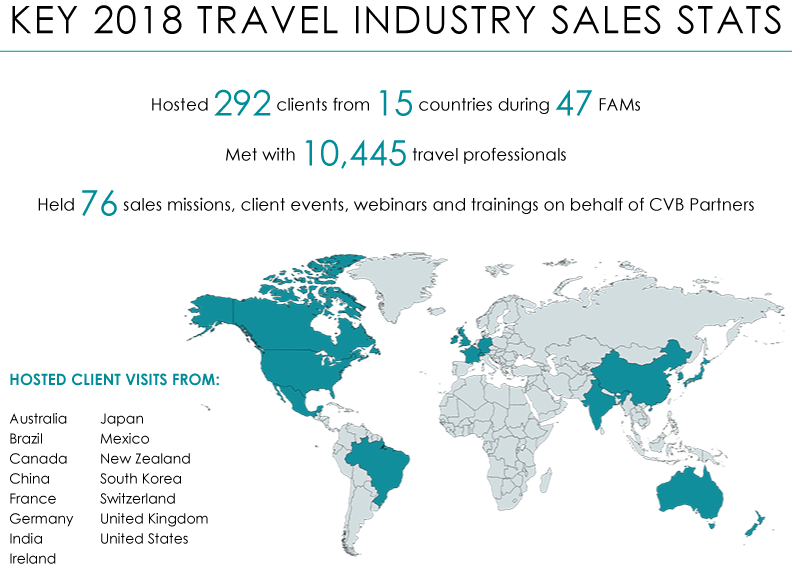 Travel Industry Sales met with a record number of travel professionals across the world in 2018, providing destination training, implementing marketing campaigns and creating inspiration to impact occupancy in summer and fall as well as grow market share in peak season. Exposing key clients to the destination remained a core activity for TIS along with developing creative booking options such as partnering with other Southern California destinations to promote multi-center fly/drive holidays.
For more information about Travel Industry Sales, contact:
Gary Orfield | Director of Travel Industry Sales
gorfield@gpscvb.com
---
Destination Services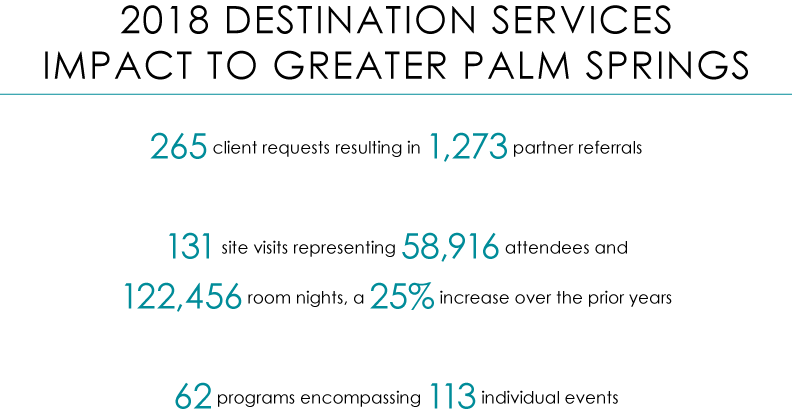 In 2018, Destination Services supported the sales teams and CVB initiatives through creative event planning, client servicing and client-in-destination experiences. Out-of-market events were planned and built around the pillars of the Destination Development Plan. In-market client engagement reinforced the ease of access, Partner collaboration and destination attributes. As a result, Greater Palm Springs was brought to more than 30 cities and introduced to hundreds of clients.
For more information about Destination Services contact:
Jill Philbrook | Director of Destination Services
jphilbrook@gpscvb.com
---

Destination Marketing
The objective of the CVB's advertising is to build awareness of the Greater Palm Springs brand as a travel destination.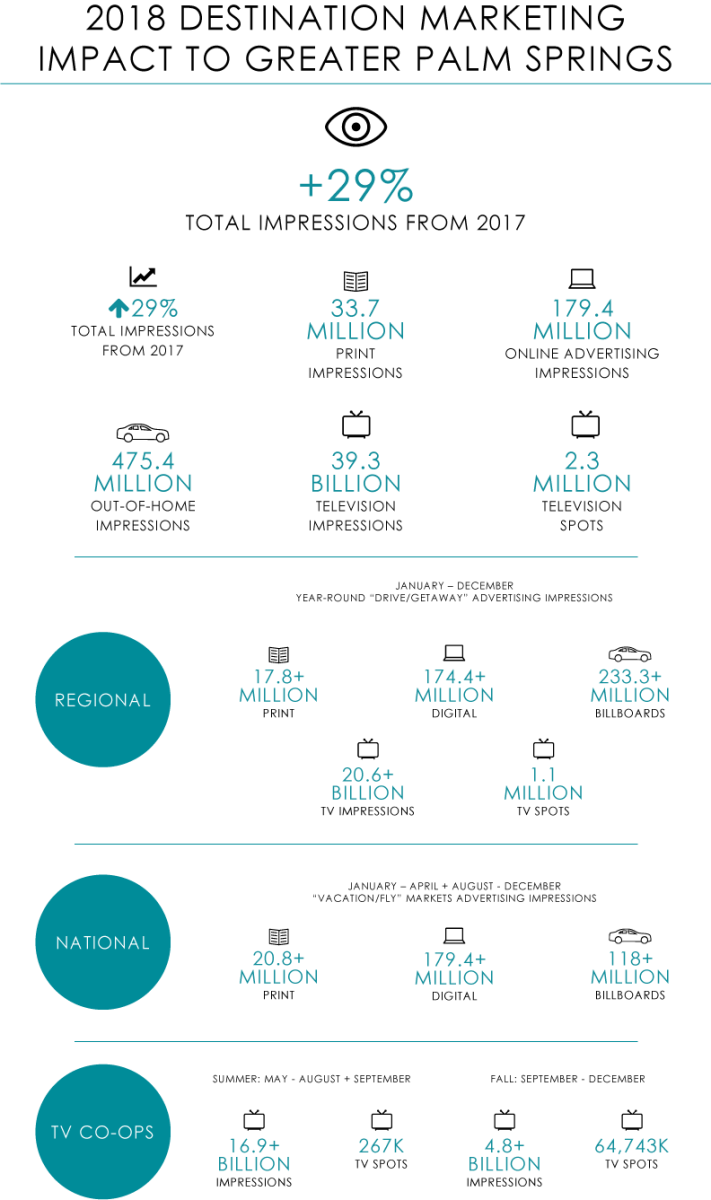 For more information about Destination Marketing contact:
Colleen Pace | Chief Marketing Officer
cpace@gpscvb.com
---
Partnership
In 2018, Partnership moved from Destination Services to the new Destination Development department. Our tourism Partners are essential to meeting the goals of the Destination Development Plan (DDP), and this new alignment served to coalesce our partnership efforts, benefits and communications around the strategies set forth in the DDP.
New advertising opportunities on the CVB's website, partner events highlighting DDP initiatives and expanded Partnerships with local chambers of commerce and other business organizations have broadened our local reach and increased Partner engagement and participation.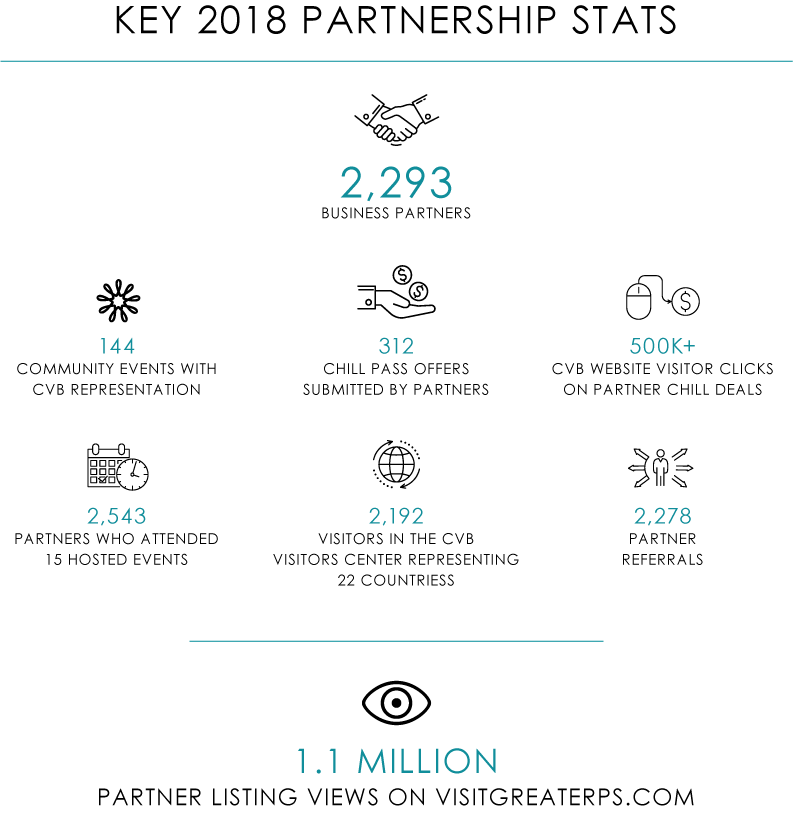 Certified Tourism Ambassador

In 2018, the CVB contracted with the Tourism Ambassador Institute® to begin offering official Certified Tourism Ambassador™ training and designation here in Greater Palm Springs. The process included a series of focus groups with industry stakeholders and a subject matter expert panel to help develop the curriculum specific to our destination.

The logo and official name of our destination's CTA program, Greater Palm Springs Tourism Ambassador, were finalized.

The design of the logo conveys a welcoming message with hands representing our destination ambassadors who help make visiting GPS special. The intertwining hands form a star, which is the signature of the Certified Tourism Ambassador™ program worldwide, with our destination's nine-looped infinity logo inside.

More information on the program is available on IamGreaterPS.com. Official Certified Tourism Ambassador™ designation will result from completing the Greater Palm Springs Tourism Ambassador Program in our destination. The program was launched in early 2019, with a CVB goal to have a diverse group of police officers, public officials, board members, media and of course hotel, restaurant, taxi cab, attraction, retail and other tourism Partners certified

For more information about the CTA program contact:
Erica Abarca | Partnership Manager
eabarca@gpscvb.com
For more information about Partnership contact:
Davis Meyer | Director of Partnership
dmeyer@gpscvb.com