Celebrating the nation's birthday is often an explosive event—and 2017 is no exception. With the holiday falling on a Tuesday this year, some places are taking the opportunity to make it a four-day celebration of the Fourth!
Here's a look at how to celebrate with family events, fireworks and concerts in and around the Coachella Valley.
Let's take it by the day:
Saturday, July 1:
Children's Discovery Museum of the Desert at The River | Rancho Mirage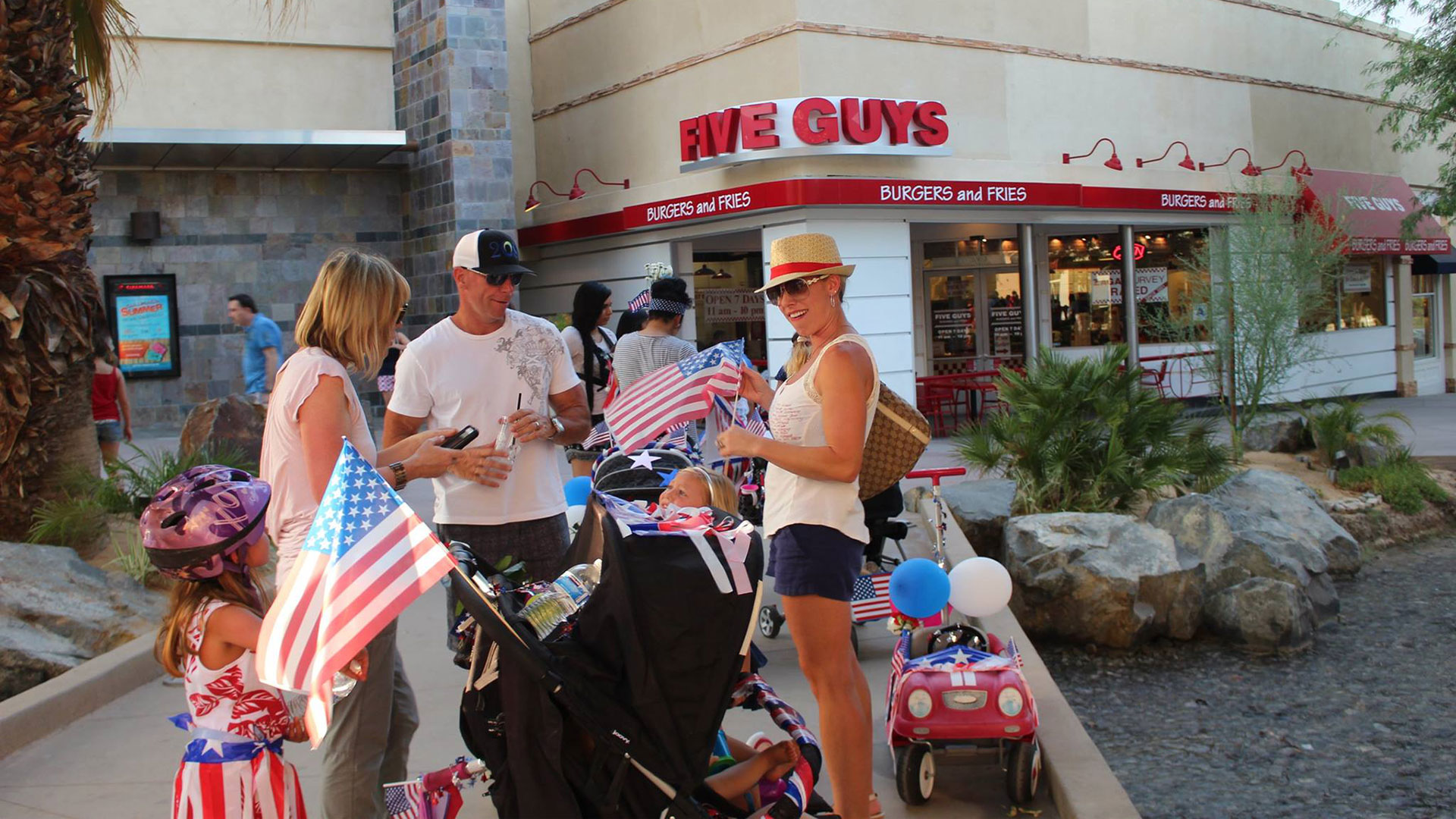 Kids are the center of attention at this CDMOD Independence Day event that starts at 4 p.m. Kids and parents are encouraged to bring a bike, trike or stroller to decorate in patriotic style, starting at 4 p.m., and then show off in the Independence Day Parade at 5:30 p.m. There's also face painting, bubble exploration and other activities.
City of Coachella's July 4th Independence Day Celebration | Coachella
Yup. Coachella is getting the 4th of July party started at 6 p.m. Saturday with local food vendors, a beer garden, music with Ocho Ojos, Big Bone and Band 212, games, a kids' activity area and fireworks at 9 p.m. Sign up for the Pie Eating when you get to Bagdouma Park.
Monday, July 3:
Agua Caliente Casino Resort Spa | Rancho Mirage
There's a free pre-holiday concert with The Boy Band Night that starts at 7 p.m. in The Show. Enjoy music from your favorite bands.
Fantasy Springs Resort Casino | Indio
The Cabazon Band of Mission Indians hosts the annual fireworks display starting at 8:45 p.m. at its Eagle Springs Golf Course next to Fantasy Springs Resort Casino. Everyone's welcome, and you can bring low-back folding chairs or blankets to sit on. The show is choreographed to music on The Eagle 106.9, a local radio station. Park in the gravel lot closest to the course's Pro Shop.
Tuesday, July 4:
Palm Springs Pool | Palm Springs
Spend the day in the water and watch the fireworks from the city pool. It starts at 2 p.m. and ends after the display. The afternoon includes music, inflatable slide and games.
Palm Springs Stadium | Palm Springs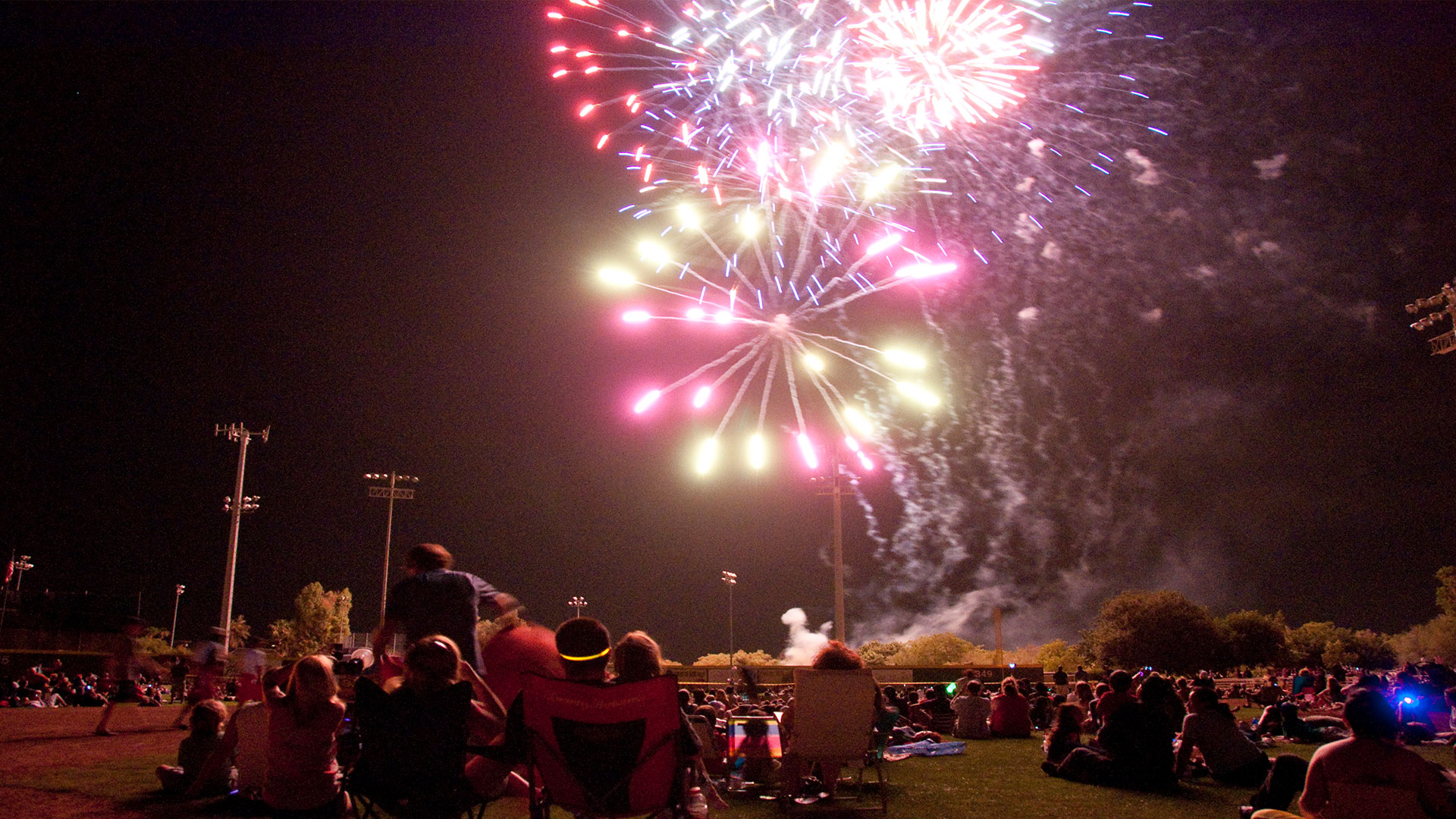 It's a yearly tradition in Palm Springs: a PS Power baseball game followed by a City-sponsored Fireworks Display after the game. The game starts at 6:05 p.m., with fireworks at 9:15 p.m. The ball park opens at 9 p.m. for free viewing of the fireworks. The ball field is in Sunrise Park so if you're not into baseball, hot dogs, peanuts and beverages, try a picnic in the park. But get there early—parking can be pretty tight around the park.
Agua Caliente Casino Resort Spa 3rd Annual Fireworks Spectacular | Rancho Mirage
The fireworks at Agua Caliente Casino Resort Spa with synchronized music on The Eagle 106.9 FM starts around 9 p.m. in the south parking lot. Lawn chairs and blankets are welcome at this fun-filled evening for the whole family. Admission and parking are free. There's also a free concert with Lisa and the Gents at 5 p.m.
Civic Center Park | Palm Desert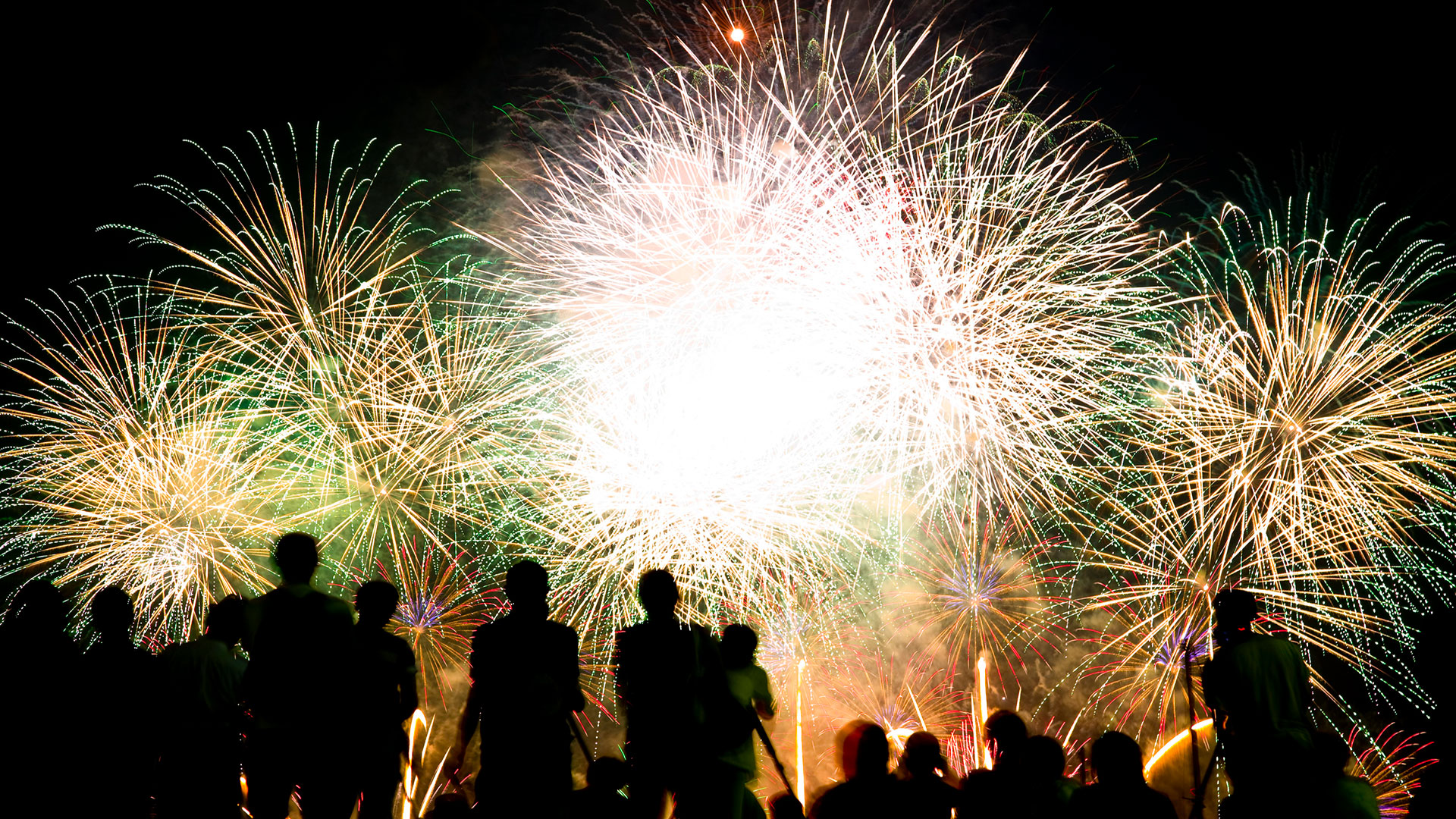 Bring your own seating (low lawn chairs or a blanket), a picnic dinner or check out what the vendors have to offer in food and beverages (no alcohol, sorry), and join in the Fourth of July fun at Civic Center Park in Palm Desert. The night starts at 7:15 p.m. with the National Anthem, followed by a concert by the Swing Cats Big Band. The 25-minute fireworks start at 9 p.m., with patriot and contemporary music.
Hard Rock Hotel Palm Springs Inaugural Independence Day Rooftop Rock Show | Palm Springs
The all-ages, 10 a.m. to 10 p.m. free Independence Day party at Hard Rock Hotel includes live music, barbecue, drink specials and games. Catch the fireworks at 9 p.m. with an unobstructed view from the hotel's roof. DJ Bigster runs the daylight activities with Paparazzi; the evening concer starts at 6 p.m. and. features Yip Yops, BrosQuitos and D⚡Tension.
AAP IndepenDANCE Party, O'Donnell House | Palm Springs
The historic O'Donnell House is the site of the AIDS Assistance Program Food Samaritans midsummer party. From 7:30 to 10 p.m., enjoy the barbecue, music and fun. Tix are $150.
A couple of extras:
Palm Springs Aerial Tramway | Palm Springs
Take a moment for yourself to reflect on your relationship with the Grand Ol' USA by taking a hike in the mountains at the top of the tram. It's a chance to commune with nature and pay homage to the wild roots of our nation. If you decide to stay on the mountain, don't count on seeing the fireworks. The Mountain Station is at 8,500 feet elevation and most fireworks explode at about 250 feet, officials say.
Vista Point, Highway 74 | Palm Desert
This lookout is a favorite place to see fireworks from Palm Desert and Coachella. Again, it's pretty high up and you might only see specks of colored lights, but the sweeping views of the oasis more than make up for it.
The Gardens on El Paseo | Palm Desert
The Gardens on El Paseo may be the best place to see the Palm Desert fireworks—if you can get a reservation for patio seating at one of the second-floor restaurants (Tommy Bahama's, Wilma and Frieda's, Pacifica Seafood Restaurant, Sammy's Woodfired Pizza and Sullivan's Steakhouse), or don't mind hanging out. Contact the restaurants directly for reservations.
Coming out for the holiday weekend? Save on your stay with these Chill Deals for Greater Palm Springs Hotels.