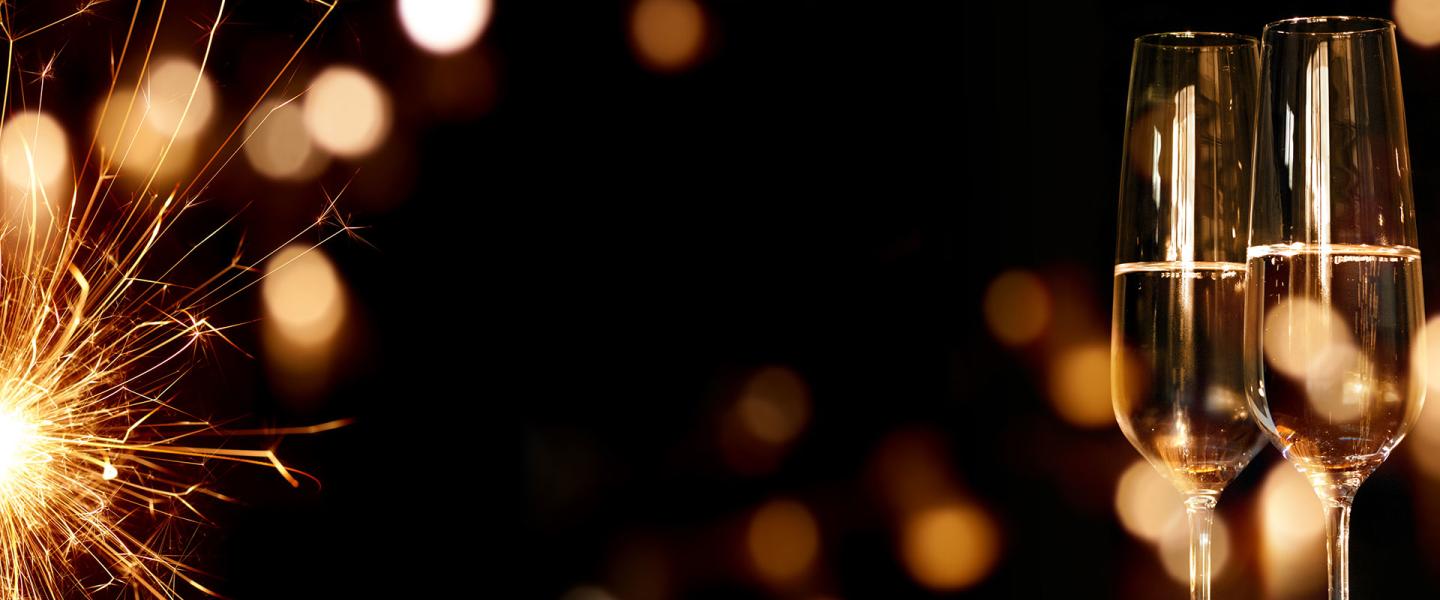 It's hard to believe that 2017 is already coming to an end, but there are plenty of places to welcome 2018 in the oasis. Whether you're looking for dinner reservations or want to party past midnight, you'll find plenty of ways to celebrate with this list of 2018 New Year's Eve celebrations in Greater Palm Springs.
Tropicale Palm Springs
Who could imagine an old auto shop could have been turned into one of Palm Springs coolest eateries? Tropicale Palm Springs is offering seating all night for the three-course dinner that includes potato leek soup or water sea bean salad for starters, the miso honey salmon, medallions of lamb or the Chef's well-known veal chop for the entrée. Champagne isn't included, but the wine list includes 10 sparklers from Schramsberg to Dom Perignon and Cristal to order for the table.
$110; reservations required; $250 cancellation fee
Eight4Nine
All seatings at Eight4Nine include a chef's daily appetizer, followed by choice of starter course that includes Maine lobster, white asparagus bisque and lamb meatballs; the entrée course includes a rib-eye steak, grilled Scottish steelhead trout and cider-brined duck breast. The dessert course includes a champagne toast to bring in 2018. And Keisha D will be performing again this year for NYE.
Early bird seating: 5-7:30 p.m., $70;
Early evening seatings before 8 p.m., $70;
Evening seatings: 8 p.m.-midnight, $100
Trio
Trio's New Year's Eve menu features three-course prix fixe dinners include choice of starter and entrée. The late seating includes unlimited champagne or wine with dinner, while the bar party includes unlimited champagne or wine, party favors and a balloon at midnight.
Early seating, 5:30 p.m., $59;
Mid-evening seating, 7:30 p.m., $79;
Late seating, 9:30 p.m., $99;
Bar seating, 10 p.m., $29
Reservations required for all seatings.
Oscar's Café and Bar
At Oscar's Cafe and Bar, the weekly tea dance is extended to 9 p.m. and ends with an East Coast time-zone celebration. To celebrate local time zone, Gypsy's Follies dinner show starts at 9:30 p.m. with the Gypsy and crew taking the stage at 10:15 p.m. For the dinner show there is a choice of special prix fixe menu or pay the show cover of $59.95 and order off the a la carte regular menu. Either way, the show will end around midnight with a champagne toast.
Tea dance, 4-9 p.m., no cover;
Weekly tea dance 4-9 p.m. no cover, ring in NYE, 9 p.m.
Gypsy's Follies, seating 9:30 p.m., show 10:15 p.m.; show only, $59.95; with prix fixe dinner, $129.
A Very Sordid New Year's Eve | Camelot Theatres
This might be the most original NYE event in Greater Palm Springs: a screening of Del Shores' A Very Sordid Wedding and a champagne toast at 11:45 p.m. to bring in the New Year, all hosted by Shores himself. VIP tickets include reserved seating for the show and screening.
7 p.m., General admission, $70; VIP, $95.
Pre-paid tickets recommended.
Spa Resort Casino
Enjoy music and dancing at the biggest NYE's party in Palm Springs. General admission, standing $21, seated, $50. VIP includes premium seating and access to lounge, also includes hors d'oeuvres, complimentary cocktails (must be over 21) and a commemorative pin.
3rd Annual New Year's Eve Block Party with Plain White Ts, 8 p.m.-1 a.m., $35-$100
The Steakhouse, 5-10 p.m., $125. includes a four-course prix fixe dinner with a choice of starters, entrée and dessert.
Agua Caliente Casino Resort Spa
There's lots going on at this mid-valley casino with special dinners in the Grand Palms Buffet and Steakhouse, Bumptown in the Lounge with Top 40 tunes for dancing, party favors and drink specials. KC and the Sunshine Band will rock the year out with a late concert in The Show. The Steakhouse is serving a four-course prix fixe dinner by Executive Chef Leanna Kamekona. The Grand Palms Buffet has extended hours with its usual choices at the carving station and foods from around the world for $36.99. And Waters Café offers a three-course prix fixe prime rib dinner for $32.
KC and the Sunshine Band, 10:30 p.m., $75, $85, $95
Bumptown, 9 p.m.-1 a.m., The Lounge, no cover
The Steakhouse, $120 prix fixe dinner
Grand Palms Buffet, 4-11 p.m., $36.99
Waters Café, 4 p.m.-midnight, $32
Vicki's of Santa Fe
On New Year's Eve at Vicky's of Santa Fe, take your pick of two options for the night. They're also providing the party favors so that you can make some of your own noise to welcome 2018 at midnight. Dinner is available in the dining rooms only. Order off the regular menu, including some Chef's specials, at regular prices. If you're only looking for a party, the Music Lounge has John Stanley King Show, with snack menu available in the Lounge and Bar all night.
Dinner, 5-10 p.m., reservations required.
Music Lounge, 6:30 p.m.-12:30 a.m., $25, plus 1 drink minimum, no reservations.
Bar, 4:30 p.m.-12:30 a.m., no reservations.
Spotlight 29 Casino
Casinos are great for special night – you can dine out, hit the buffet and usually there's a concert, too. At Spotlight, GapX the Band features six original members of the legendary Gap Band in concert. JEM Steakhouse will offer a special three-course prix fixe menu (cost TBA) while the Capitita Buffet is offering extended hours and glass of bubbly to ring in the New Year.
GapX the Band, 8 p.m., $35, $45, $55
Capitata Buffet, 5 p.m.-1 a.m., $25.95, includes glass of champagne
Mildly Wild New Year's Eve at The Living Desert
Kick off 2018 at The Living Desert with a roaring '20s-themed safari. The evening includes dinner, live entertainment and a champagne toast set to the East Coast's countdown to midnight (9 p.m. PST).
6 – 10 p.m., $125 per person (includes dinner and champagne toast)
Venue Sushi Bar and Sake Lounge
There isn't another sushi spot in the desert where the chef is a winner of Best Chefs America, World Sushi Skills Institute star winner and a certified Master Chef. Chef Engin of Venue Sushi Bar & Sake Lounge, known for his inventive menu, has created a 10-course tasting menu for New Year's Eve, and at the moment he's not talking about what is on the special menu. But considering his talent for creating specialty rolls and including international flavors, it's bound to be an incredible feast.
Seatings begin at 7 p.m. $95.
Bernie's Lounge and Supper Club
Bernie's is offering two seatings, one of early birds and one for late night swingers. The early seating offers a four-course prix fixe meal with choice of appetizer, salad, entrée (including prime rib, filet and lobster, Barramundi, deconstructed Beef Wellington or Duck a l'Orange), dessert and a glass of champagne. The late seating also includes a soup course and bottomless champagne, so bring a healthy appetite for this dinner.
First seating, 4-7 p.m., $69.
Second seating, 8-10 p.m., $129.
Melvyn's
This is truly Palm Springs' iconic restaurant. The late Mel Haber created a haven for the cool set and for nearly 40 years this gem has been serving up old world elegance with a hint of hipster before hipster was hip. Melvyn's is offering two prix-fixe menus to greet 2018. Both include Lobster Bisque with sherry créme fraiche, Seared Scallops with parsnip puree, pistachio and pomegranate relish, champagne sorbet intermezzo, Petite Filet with lobster tail, tarragon butter sauce,  black truffle mashed potatoes and broccolini, and Lemon Scented Cheesecake with spiced grapes to end this dining delight. The second option also includes Crispy Pork Belly with pain d'epices spiced, beluga lentils, pickled golden raisins, balsamic reduction and endless champagne.
Seatings from 6-10 p.m.; Option 1, $105; Option 2, $175
Truss & Twine
One of the newest restaurants, Truss & Twine has designed a 4-course prix-fixe dinner to ring in the New Year! The special menu opens with an amuse bouche of Oyster with green apple mignonette, Cauliflower Brie Soup with herb oil, whole wheat crostini or County Line farm greens, herb blossoms, radishes, kohlrabi, shaved apple, truffle honey vinaigrette. Entrée choices include Cactus chile verde, German butterball potatoes, Weiser Farms carrots; Elk Rack with parsnips with green curry & honey, celery root puree, red currants, and jus or Wild char, rutabaga puree, young root vegetables, market mushrooms, beet beurre rouge and dessert. DJ Victoria Rawlins will keep the night going spinning tunes throughout the night.
Seatings 4:30-11 p.m.; Dinner, $75; optional wine pairing, $55.
Workshop Kitchen + Bar
Chef and co-owner Michael Beckman has built a reputation in the valley for his seasonal menu that is often built on what is locally available. And his New Year's Eve menu is a tribute to his creativity. The prix-fixe menu at Workshop offers four appetizers, five entrees with paired sides and dessert. The entrees include Lamb Tangine, Roasted Winter Vegetable platter, Turbot, Pork Chop grilled over a wood fire or dry-aged Waygu beef tenderloin. The early seatings include a choice of Jack Rose or Star Cocktail, while the late seatings feature an open bar.
Early seatings: 4-8:30 p.m. Table seating, $95; booth seating, minimum 3 guests, $140/person.
Late seatings: 8:45-11 p.m.; Table, $140; booth, minimum 3 guests, $200
Catalan Mediterranean Cuisine
If you can't get to Marbella or the Costa del Sol, you can get a taste of Spain for NYE at Catalan. Chef/owner Drew Davis has created two menus with coastal flair for the festive night. The early seating offers a 3-course prix fixe menu with a choice of appetizer, entrée and dessert, with some upcharges on the appetizer and entrée choices. The later seatings offer three cold and hot appetizer courses, entree and dessert. Both menus include a champagne toast and live Spanish guitar.
Early seating, 5-5:45 p.m., $58
Late seatings, 6-11 p.m., $98
Cancellations: 35 percent of total cost will be charged for cancellations within 72 hours of the event.
Cuistot
Classic French cuisine served in a restaurant that looks like it was transported from the Loire Valley. Chef Bernard Dervieux of Cuistot offers two seatings for NYE, and both feature some of Chef's best known creations. Early seatings offer a choice of appetizer, entrees that include a vegetarian and fish choices, and dessert. Add an additional course or substitute Oysters on the half-shell or Siberian Osetra Caviar or substitute breast of pheasant or imported Dover sole for an additional charge.
Early seating, 5-6:45 p.m., $95
Later seatings, 7-10 p.m., $130
New Year's Day
Peaks Restaurant, Palm Springs Aerial Tramway
If you're looking for a spectacular spot to say hello to 2018, the top of the Palm Springs Aerial Tram on Mt. San Jacinto is it, especially if you want to bring the kiddos to the celebration. Peaks Restaurant offers both lunch and dinner seatings, and with Prime Rib as the star of the 3-course prix fixe menu.
Lunch, 11 a.m.-4 p.m.; Dinner, 5-8 p.m. Monday, January 1; $40 adults, $23 children. 
Looking for more? Check out our events calendar for more things to do in Greater Palm Springs.