Greater Palm Springs is the perfect playground for golfers, tennis players, polo enthusiasts and sunbathers. However, playgrounds are meant for kids too, and the oasis has some attractions that will keep your offspring pleading to return.
From thrilling water rides to wildlife exploration and Wild West shows, Greater Palm Springs abounds with attractions that rival the ones found at major amusement parks. The best part is that you're allowed to unleash your inner child and have a blast along with your pals (ahem … kids). Here are our top five picks:
1. Take The Plunge at HyTides
​
Waterslide fun starts here at the Hyatt Regency Indian Wells with the newly opened water park. Choose from two dueling 30 ft waterslides, nine heated or chilled pools and a 450-foot-long lazy river. Plus, an adult-only pool for those wanting to find some R&R poolside. Whether it's a family trip or an adults-only vacation, the lavish resort offers accommodations and amenities for adults, children and pets! Check-in and chill out at this splash paradise. 
2. Get Splashing
Surrounded by a 425-foot lazy river and featuring two 100-foot waterslides, the Splashtopia on-site water park at the Omni Rancho Las Palmas Resort & Spa equals water fun for the entire family. New additions to the popular two-acre attraction include a cliff-side Jacuzzi, sandy beach and unique water-play zones with fountains and sprinklers for the kids. You don't even have to leave the fun behind to get a bite to eat. Splash Grill is only a few steps away with delicious burgers and cool, tropical drinks. Only registered guests thrill to Splashtopia. 
3. Go on a Safari
For an Indiana Jones-style experience, a safari tour at The Living Desert Zoo & Gardens is the best way to explore the flora and fauna of the deserts of the world with wild animals "greeting" you at every turn. Zebras, jaguars, cheetahs and mountain lions are just a few of the animals one can spot in the African and North American zones. Along the way, there are stops by the train model displays as well as at the interactive Discovery Center, featuring animal presentations and educational shows. For those who want get really up close and personal with the zoo's wildlife, daily giraffe feedings are available.
4. Visit the Old West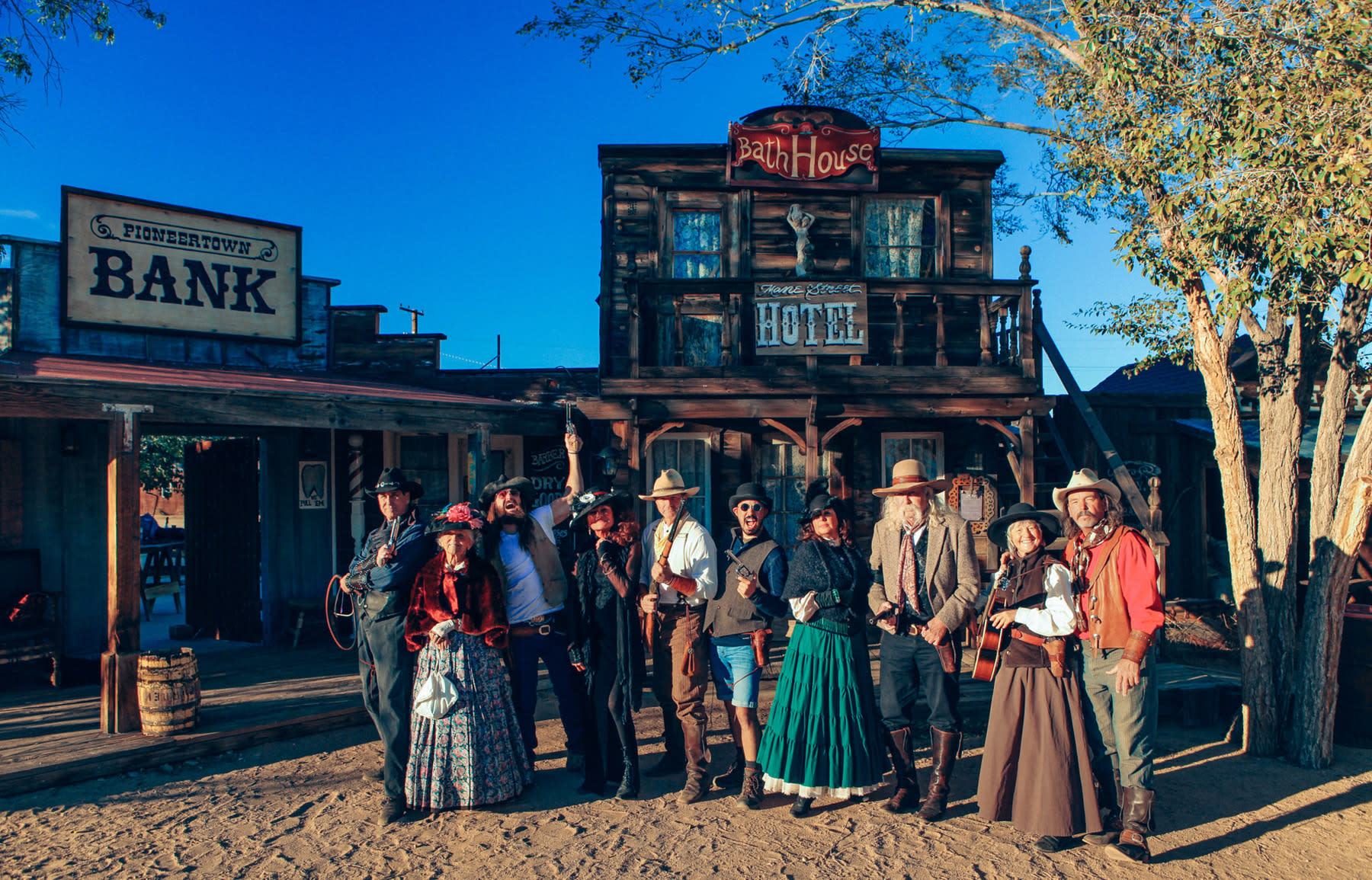 Built in 1946 as a Western movie and television set, Yucca Valley's Pioneertown still keeps the spirit of the Old West alive. Mane Street, a picturesque strip lined by a popular saloon with top entertainment, bank, bathhouse, livery stables and a six-lane bowling alley, is the perfect place to play cowboys and watch the Mane Street Stampede Wild West Show on Saturdays. A reenactment of a gunfight, the humorous show features actors as outlaws, sheriffs and saloon girls. Yippee! 
5. Pirate Fun
There aren't any pirate rides at Palm Springs' Fisherman's Market & Grill, but this eatery's ambiance is enough to transport guests right away to the set of Pirates of the Caribbean. The unassuming façade leads into a surprising, hidden world: a courtyard decorated with nautical props extends into a small, wharf-like village dotted with huge barrels and round tables. This is where a family can sit and enjoy a live band or sports on the huge TV screens while savoring scrumptious Baja fish tacos and fish and chips, among other delicacies. And keep an eye out for Jack Sparrow — you never know when he might show up.