This is a guest post by Thoughtful Misfit.
While everyday activities may already be enough to keep your family entertained, the Greater Palm Springs also offers a wide range of unique activities that offer new experiences you'll remember forever. Why not step up your next family vacation with 5 unique activities that the entire family can experience and enjoy together?
1. Footgolf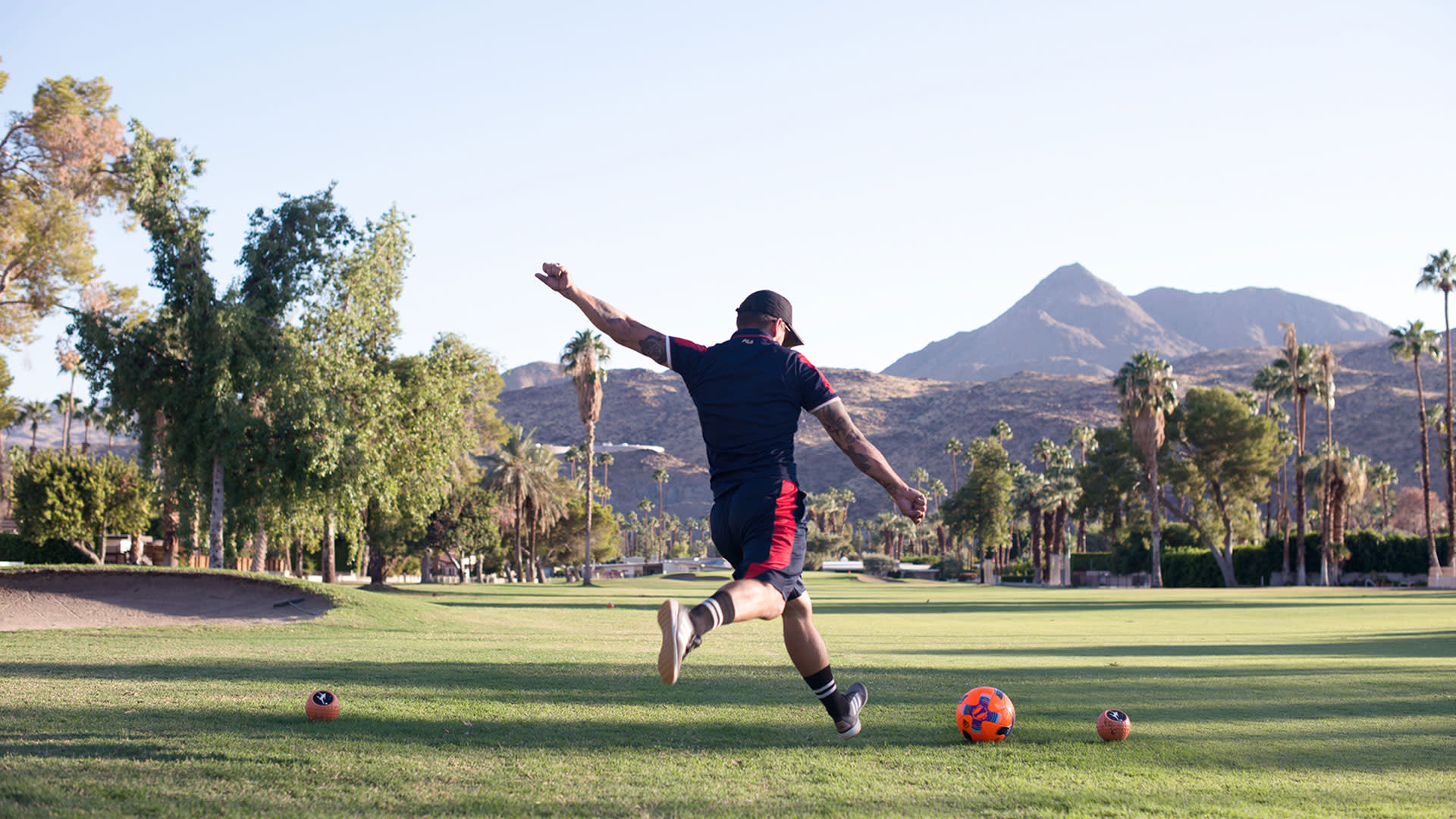 While golf courses are abundant in the Greater Palm Springs area, footgolf offers a fresh take on the greens - one that's fun for the entire family! The rules are roughly the same as in golf (you kick a soccer ball into a 21" hole on a course), but footgolf requires far less equipment. Leave the clubs behind and rent a soccer ball from one of the many golf resorts that also offer footgolf, including Tahquitz Creek Golf Resort, The Golf Center at Palm Desert, Desert Willow Golf Resort, and The Lights at Indio Golf Course.
At Tahquitz Creek Golf Resort, spend between $20-$40 (depending on how many people play) for a cart, two drinks (for the grownups), and 18 holes. You can also rent soccer balls at the course so all you have to do is show up with the family and you're ready to play. If you're looking for something to do in the evening, a visit to The Lights at Indio Golf Course, the Coachella Valley's only night-lit course, is well worth it and can be quite a fun experience for everyone in the family.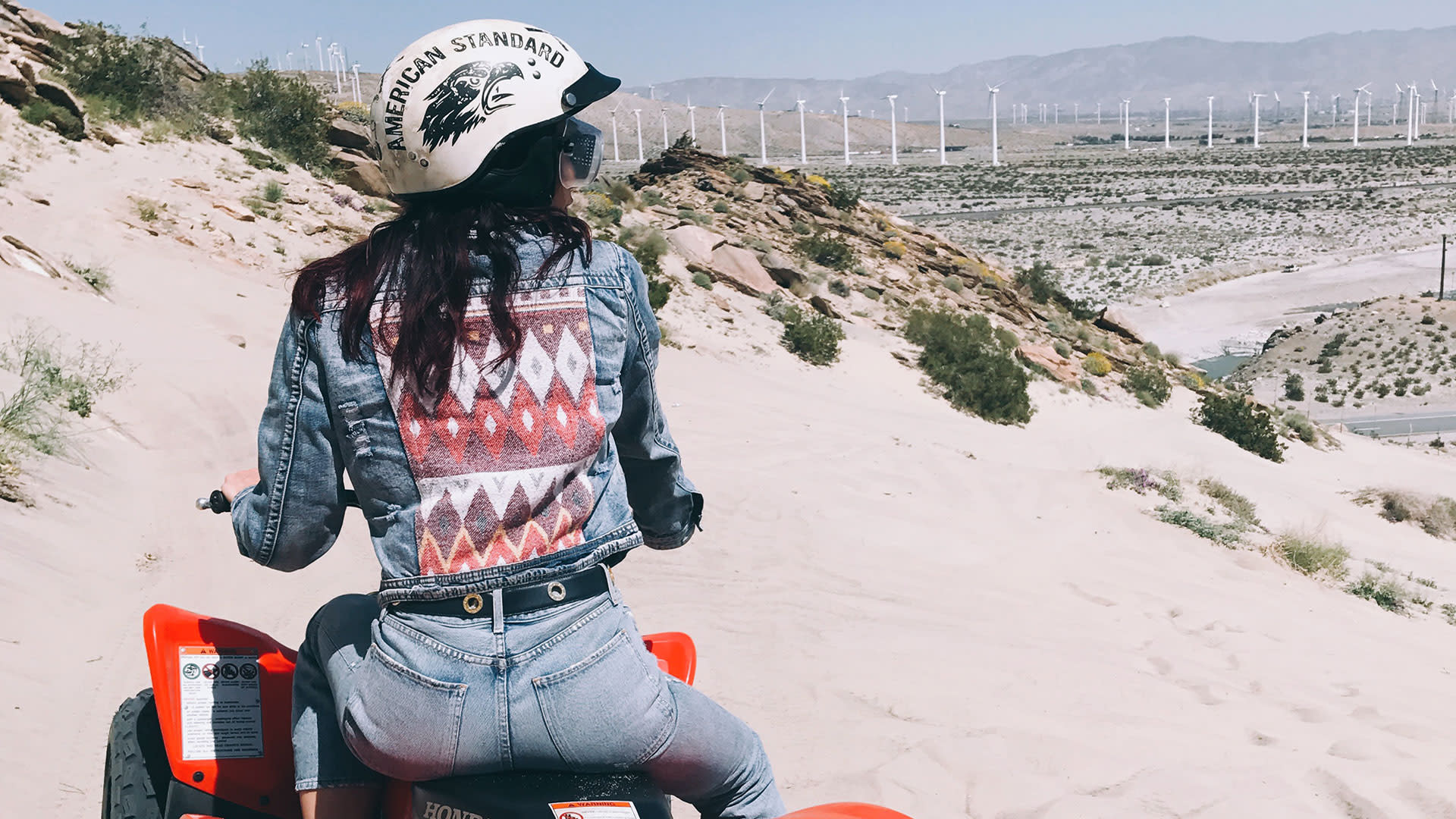 Swing by OffRoad Rentals, just outside of Palm Springs proper, to take the entire family on an off-roading adventure they'll never forget. Ride Honda ATVs and quads on a large, maintained course that offers all kinds of riding, from easier, flat areas to gentle hills and steep grades for the more adventurous. The course also includes an obstacle course and practice area so you can take riding at your own pace. A safety video, hands-on instruction, and a well-trained staff make riding an ATV in the desert both comfortable and exciting. Rides go for between 30 - 45 minutes - but if you listen well and cooperate, they often let you ride for longer for free. They're also open 7 days a week, 365 days a year, from 10 am till sunset and even offer ride-along trailers for riders under the age of 6. Drop by anytime with no reservation, or call ahead for larger parties.
3. Palm Springs Aerial Tramway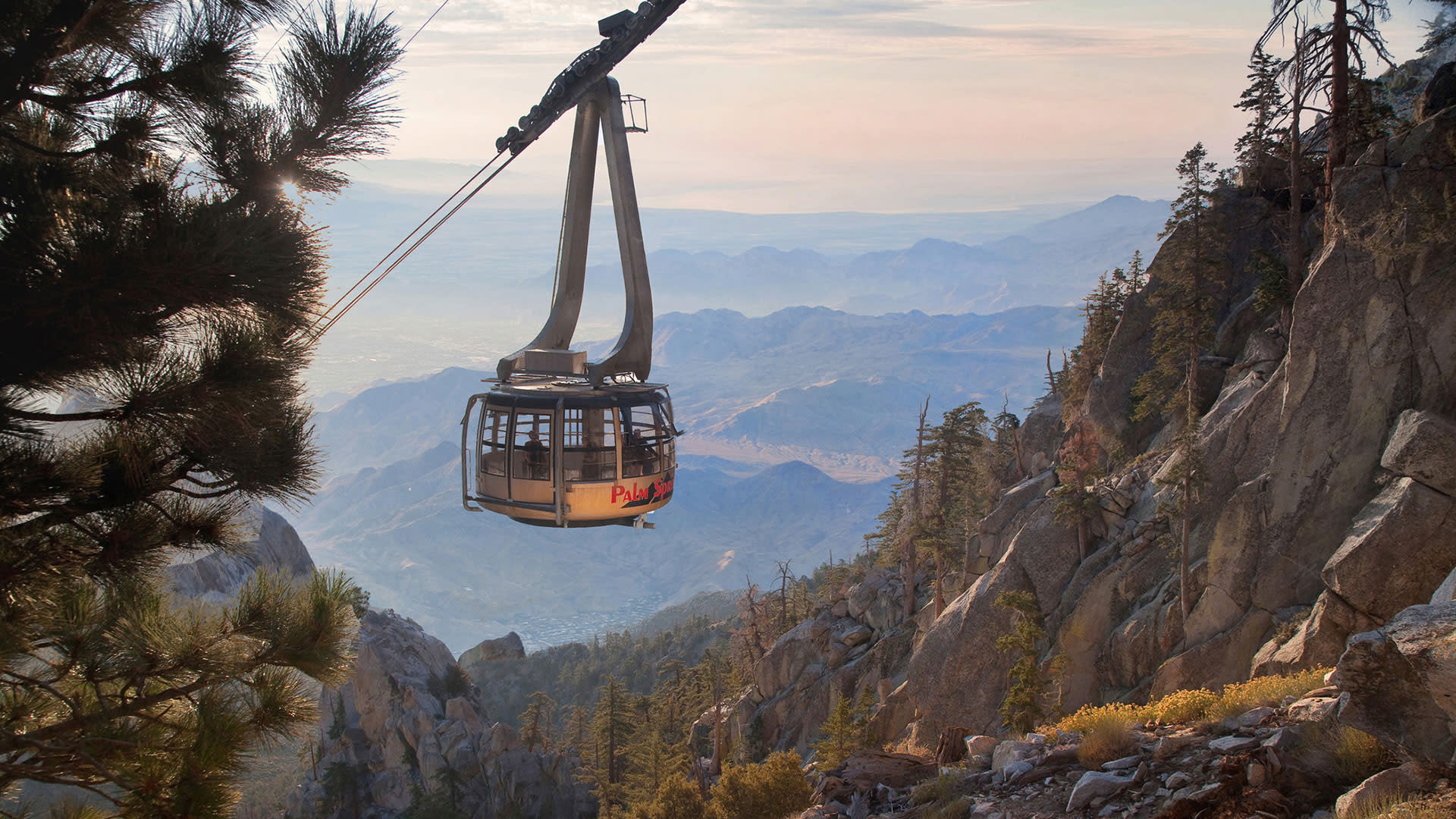 Taking in the entire desert landscape is a completely different experience from above. And there's more than one way to do it! Take the Palm Springs Aerial Tramway in the world's largest rotating tramcar to approximately 9,000 feet above sea level at Mt. San Jacinto State Park to take in some of the highest perches in the area. Hike, camp, or just enjoy the multitude of breathtaking views from the top. Grab a quick snack at the cafeteria or book a reservation at the restaurant for a fine dining experience with a view that's as good as the food.
If your kids are over the age of 5, you could opt for an even more adventurous route and take the family on a hot air balloon ride for a true panoramic experience, via Balloons Above the Desert. Just be sure to book your reservation 7 days in advance!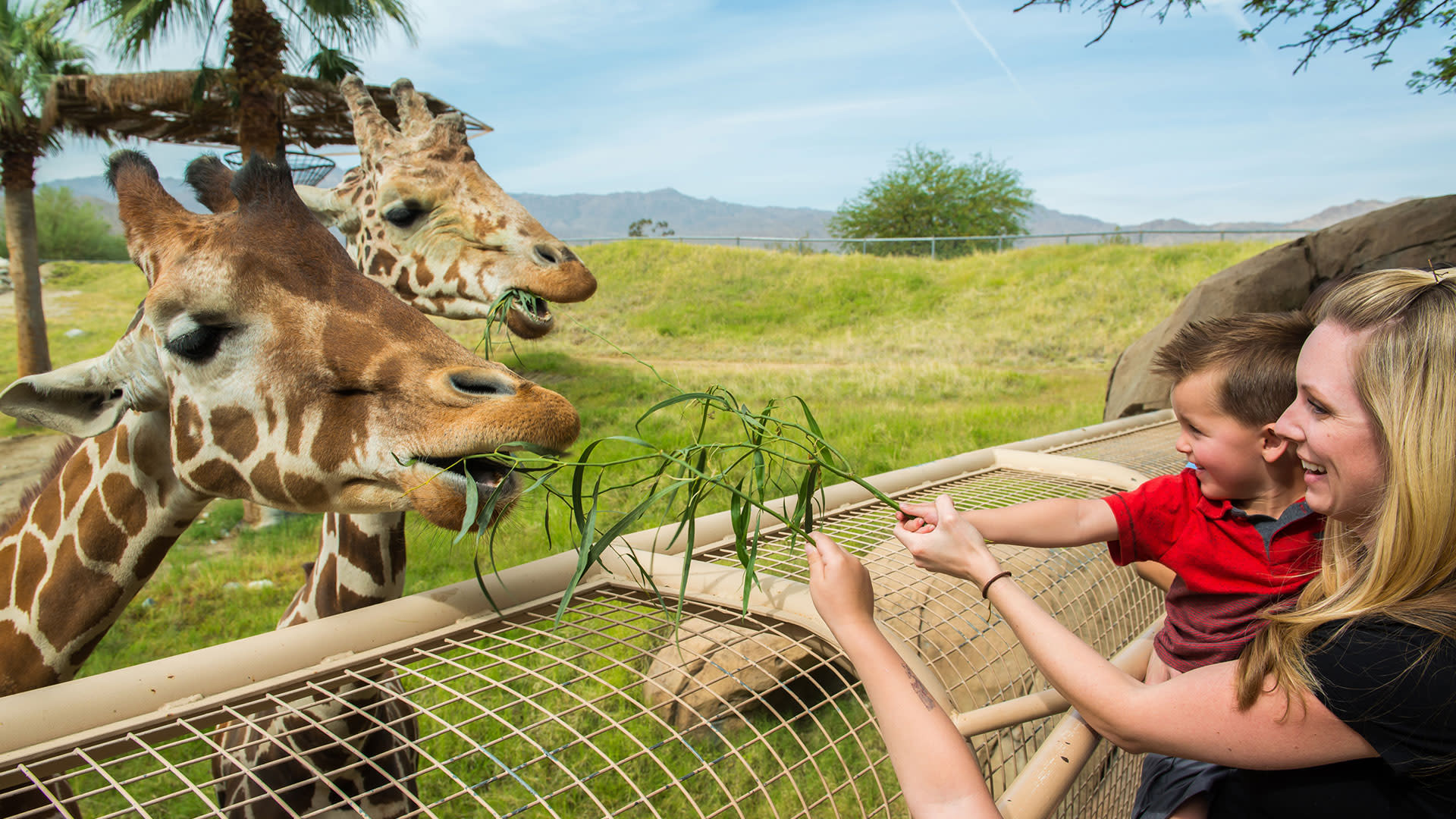 This is no ordinary zoo experience! Feed giraffes, take an extensive, private safari, discover an all-female ant colony of over 10,000 ants, or take in one of many live educational animal shows. You can also wander through the Living Desert's authentic replica of a northeastern African village, observe bald eagles in their natural habitat, tour an animal hospital, and hike trails designed to give you the full experience of the undisturbed Sonoran Desert nature preserve. And believe it or not, that's just a handful of all the activities available at the Living Desert! Make sure to plan ahead to get the most out of this interactive experience that will blow your family away.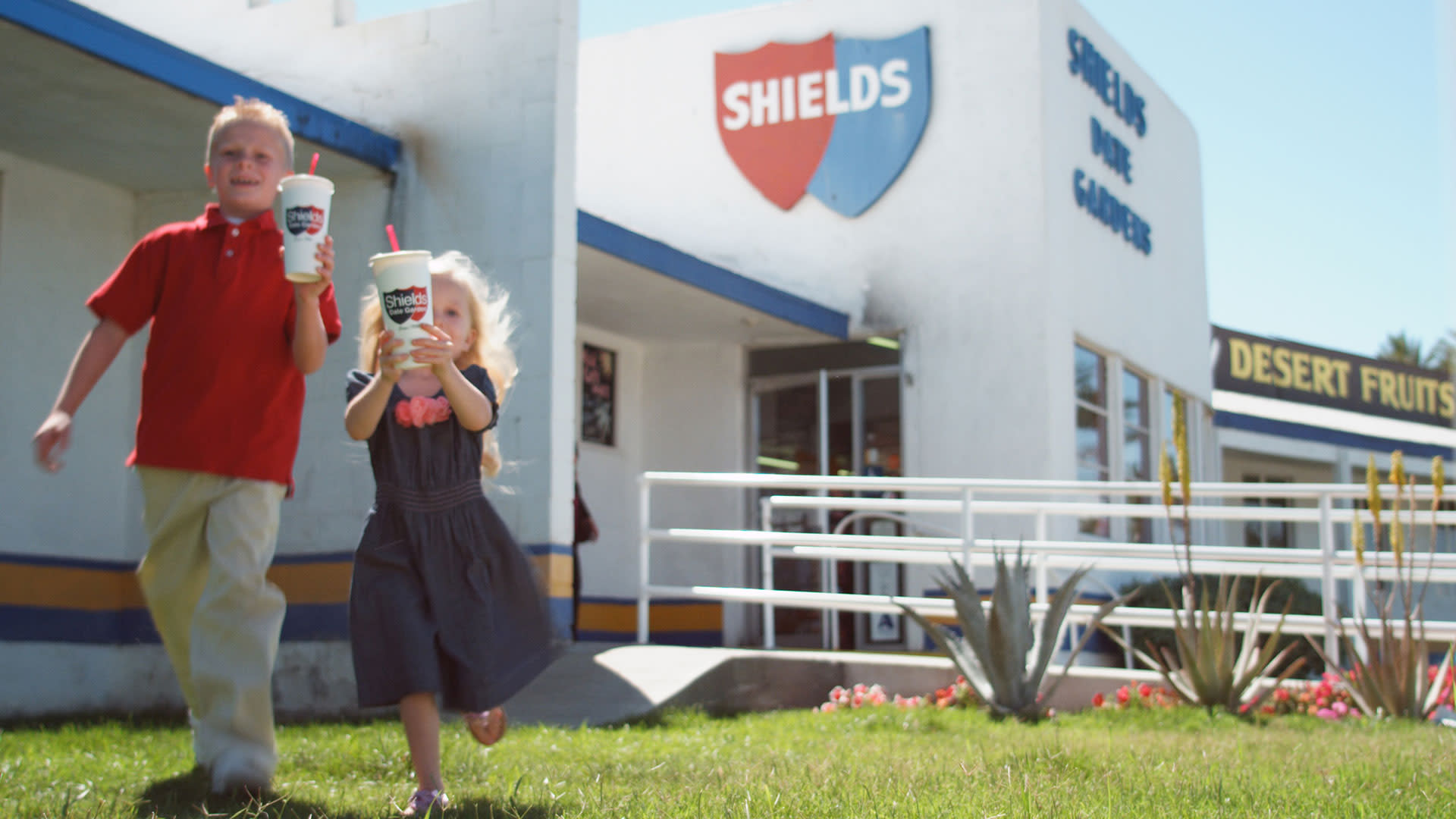 Historic, entertaining and delicious, a stop by the Shields Date Garden has something for everyone. Floyd Shields, inventor of date sugar and the date crystal, helped put Coachella Valley on the map when he founded the Shields Date Garden in Indio, not to mention quite a few famous date hybrids and varieties that are still exclusive to the Shields orchard. 
See the orchard and tour the gardens, take in the now the famous movie Romance and Sex Life of the Date, grab a date shake or an old-fashioned ice cream, and peruse the gift shop. And while you're at it, stay for breakfast or lunch at the delicious cafe. The kids will be entertained and educated, and you'll get to indulge in some of the best food in Indio.
Ready to take the family on vacation? Check out these family-friendly hotels in Greater Palm Springs!