With warm winter temperatures and plenty to see, Greater Palm Springs is the perfect place to get outdoors. Wondering where to start or what to see? Check out these picks that will allow you to experience all the best the desert has to offer.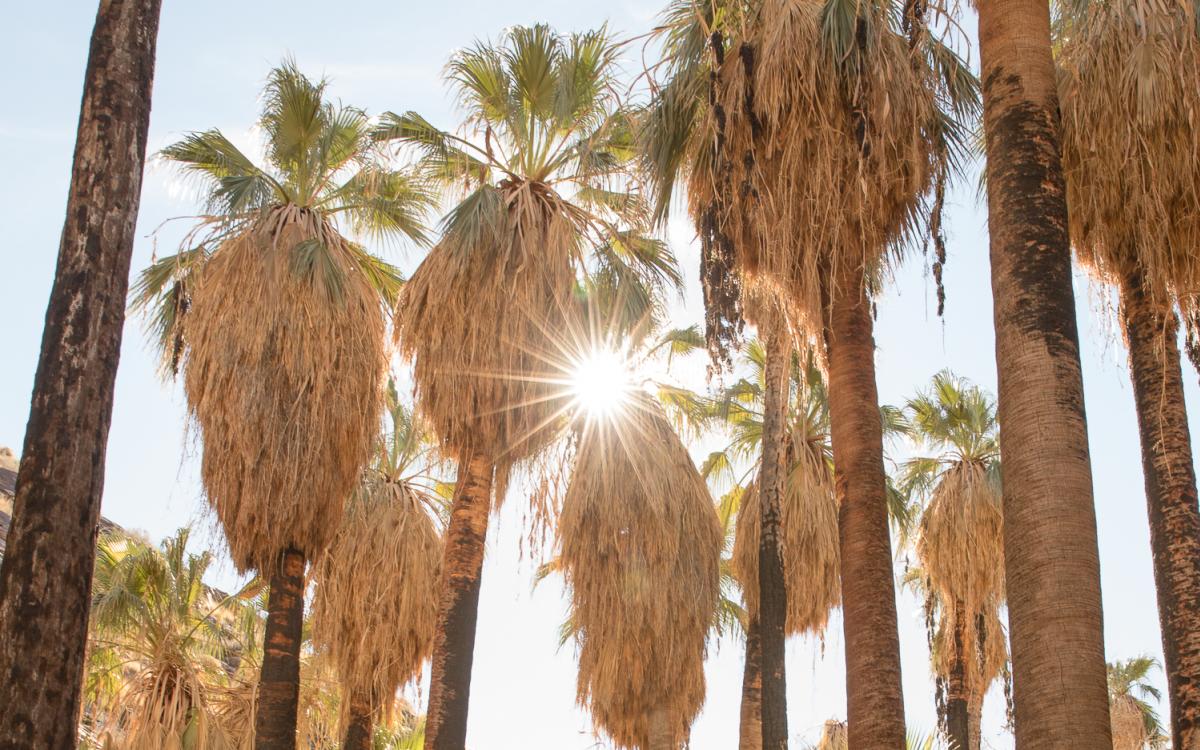 Many visitors have no idea this amazing natural wonder is even here. Thousand Palms Oasis is tucked out in the desert north of Highway 10. This large grove of palm trees has cropped up around a watering hole that's gurgled to the surface thanks to the San Andreas Fault. Fat, towering palm trees encircle the water, and while the ground is swampy in some places, boardwalks and pathways will lead you safely through.
The oasis is an ideal visit on a hot sunny day, as the palm trees provide shade and cool from the desert heat. In several places, the palms part to reveal vast expanses of desert sand. You'll feel like Lawrence of Arabia traversing the Sahara in this gorgeous oasis which is free to visit. (Donations are welcome.)
A small visitor center displays old photographs and artifacts, as well as some history of this place.
The oasis is about a 20-25 minute drive from Palm Springs. You can either plan an hour-long visit just to see the oasis itself, or stay a little longer, and hike one of the numerous trails through the area.
The unexpected beauty of a waterfall in the middle of the desert is a novelty not lost on many visitors. While getting to Tahquitz Canyon and the falls does require paying an admission fee, the stark desert landscapes and craggy rock cliffs make for stunning photos and beautiful views.
The park is owned by the Agua Caliente Band of Cahuilla Indians and you'll find yourself learning about the native history and unique legends of this area while you're here. There's very little shade in the park, so come prepared with water and a hat.
Explore the wilds of the desert with a knowledgeable and enthusiastic guide. Red Jeep Tours offers small group tours in a vintage open-air signature red Jeep. The differing routes and tour options may take you through rocky canyons, into a private oasis fed by water pushed from the earth by tectonic forces, or to a re-creation of an Indian village on the original site where the Cahuilla Indians once lived.
The tours also offer the opportunity to explore on foot if you wish; shimmy through a narrow desert slot canyon and see how the forces of nature have shaped this area, or climb to the top of one of the soft hills and gaze out over the vast Coachella Valley, which you will learn was once a water-filled basin or sea!
The Red Jeeps are comfortable to ride in—and offer natural windswept air conditioning. Tours last around three hours depending on which tour option you choose.

You're likely familiar with the flora and fauna offerings of the Living Desert, but hiking and walking trails are available too.
Your Zoo admission or membership includes access to The Living Desert's nature preserve and three trail loops, which are open October 1 through May 30. Choose the Discovery Loop, a flat, sandy trail with helpful signage that meanders through a paloverde and smoke tree desert woodland.
You can get a little more adventurous on the Adventure Loop. This hike takes you across the desert floor before climbing onto a rocky desert mountain slope or bajada. Stop for a water break and to view the interpretive exhibit about the San Andreas Fault which you'll be standing on.
The Wilderness Loop traverses a very rocky desert canyon if you hike the loop in a counterclockwise direction, or a desert mountain ridge if you travel clockwise. Either way, you peak at a shaded picnic area at 1,000 feet elevation and can clearly see Eisenhower Peak in the distance rising 952 feet. Don't forget to carry and drink plenty of water.
Big Wheel Tours
If your preference is to power yourself around the Greater Palm Springs area, a tour with Big Wheel Tours might be the best bet.
Since 1998, Big Wheel has been chaperoning guests on two wheel excursions that cover everything from geology, to local history, and even native lore. Each rider gets a custom fit bicycle plus a proper helmet for a comfortable and safe ride and a full water bottle is already on board. With one guide for every group of ten guests, there's plenty of opportunity for interaction and questions.
A support vehicle is always on hand with first-aid supplies, walkie-talkies, and cell phones, just in case and snacks and refreshments including home-baked cookies, granola bars are available if the workout makes you hungry.
One of the perks of the  Earthquake Canyon Tour is a stop for a Coachella Valley favorite, a date shake; a must-try that's popular for locals and visitors alike.
If you've got places on your must-see list, Big Wheel can also put together a custom tour for you. From the hard-core cyclist who wants to put in a 50-mile training ride, to the family hoping to check off a variety of stops with the kids, Big Wheel Tours can put together just the itinerary you need.
These five ideas are just the tip of the outdoor iceberg! Check out more of our website for other great ideas for exploring Greater Palm Springs and beyond!