If you're looking for a vacation that provides a lot of vibes for the value, then Greater Palm Springs has you covered.
Many resorts and boutique hotels offer a variety of activities—from water slides and pools to spas and golf courses—along with summer specials that provide respite from life's hustle and bustle and for your pocketbook.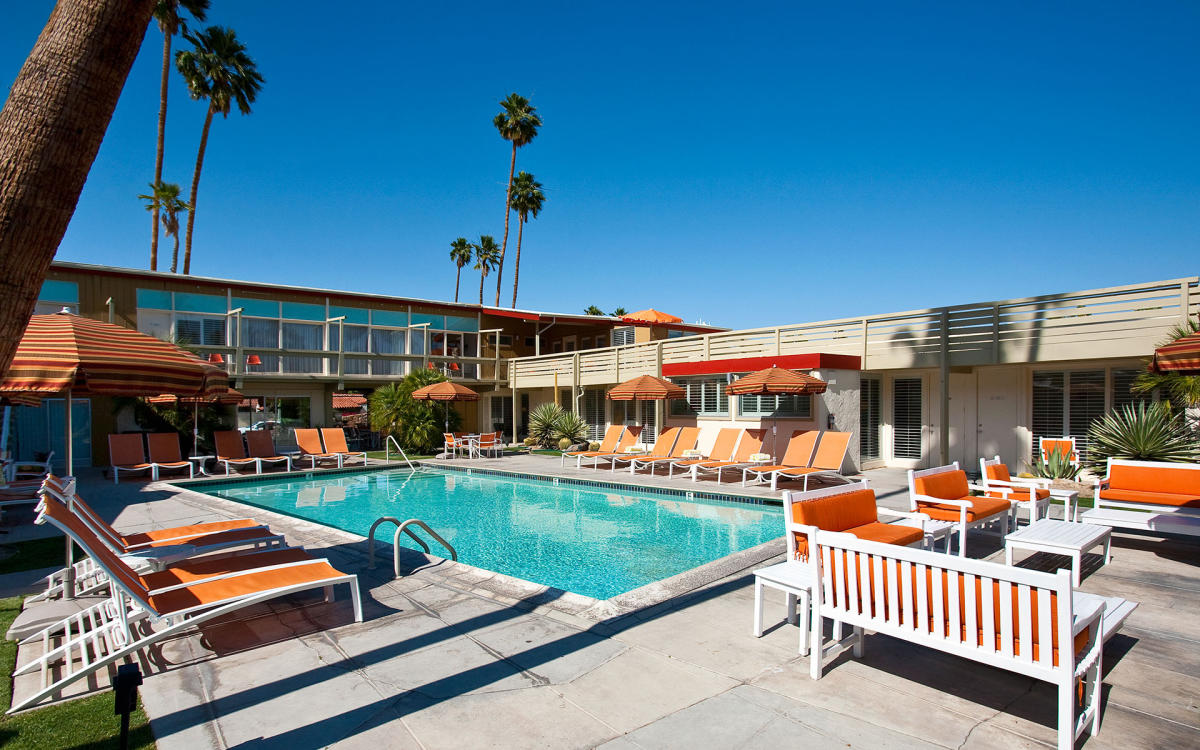 The vibe: Architectural wonder. The historic Del Marcos Hotel was designed by famed architect William F. Cody in 1947. It continues to celebrate the mid-century modern aesthetics that Palm Springs has become synonymous with. It's built with native stone and redwood and has a signature asymmetrical entrance and doorway. The U-shaped design around a pristine pool lends itself to intermingling among the guests. Del Marcos is a 21-and-over-only resort and has bonus amenities like complimentary beach cruisers and pet-friendly room options. While the building is historic the rooms put the "modern" in mid-century modern with remodeled bathrooms and up-to-date amenities.
The value: Take advantage of summer rates from now through Sept. 30. You can book with a 25% discount if you stay on any date between Sunday and Thursday. The resort also has deals with nearby local businesses for everything from windmill tours to chocolate-covered strawberries.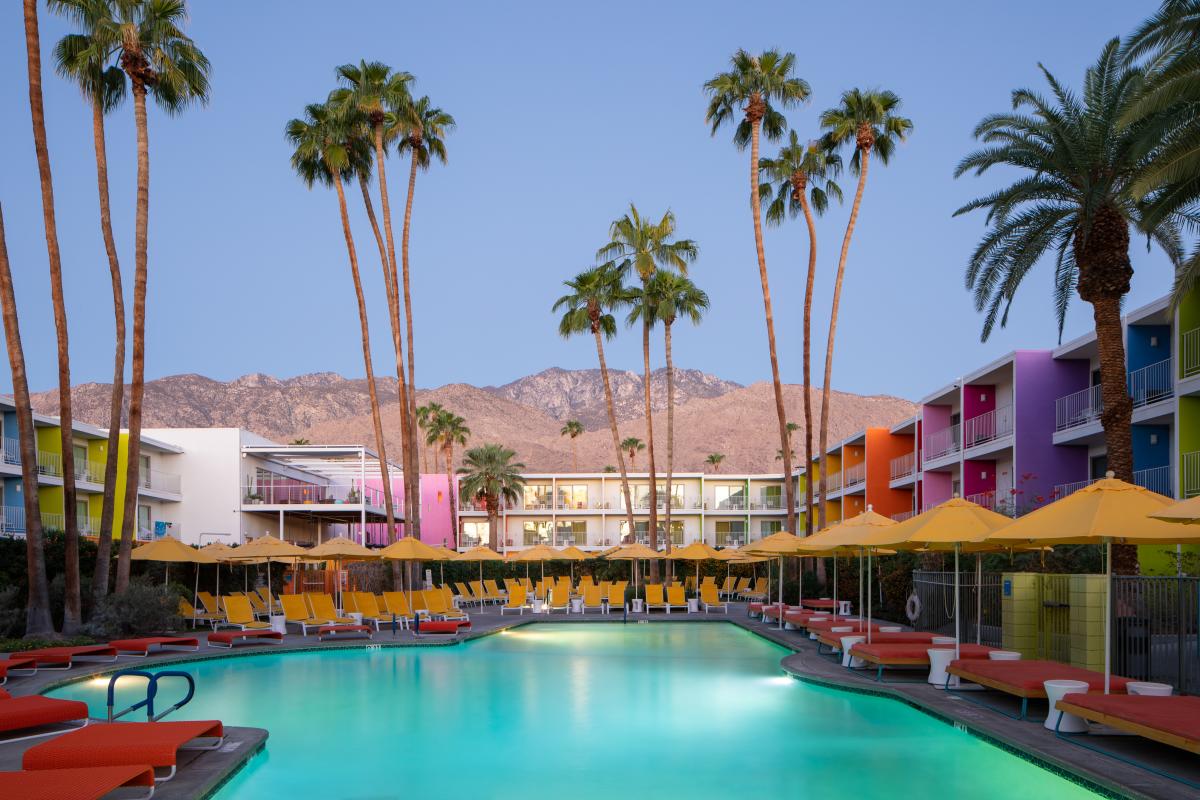 The vibe: Saguaro Palm Springs is known for its technicolored facade with bright hues of red, orange, yellow, green, blue, and purple. The colorful decor sets the tone for the fun and funky hotel which also features a huge pool and spa, unbeatable views of the San Jacinto Mountains, and a hammock hamlet where you can relax and swing your worries away. 
The value: Guests here have a variety of exclusive offers to choose from. The Dine 99 special has stays for as low as $99 a night plus a $99 food and beverage credit at the El Jefe Desert Cantina for stays Sunday through Thursday until the end of August. 
Californians can also take advantage of the Cali Locals offer with special rates starting at $89. Stays of three nights or more get 25% off.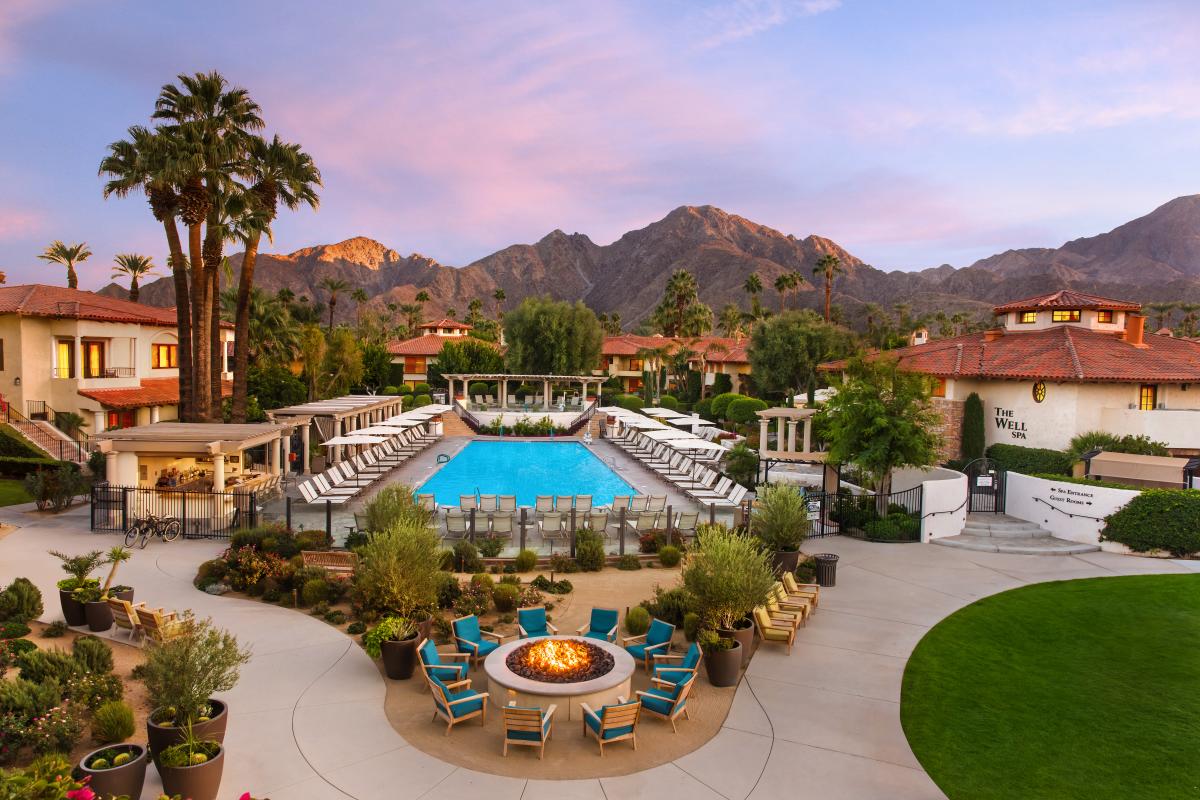 The vibe: Wellness. Nestled in the Santa Rosa Mountains, Miramonte Resort & Spa in Indian Wells offers travelers a tranquil version of all the outdoor opportunities that make staying in this relaxation oasis—great, with an attentive eye on wellness. You can sit by a tranquil pool with a creative cocktail in your hand. The neighboring 36-hole Indian Wells Golf Resort is an option, and it's all anchored by The Well Spa which offers relaxing and rejuvenating treatments. There's even an open yoga class on the lawn every morning if you're interested and live music under the stars on the weekend.
The value: During the less-busy summer months there are deals on stays as well. What they call the "Staycation Offer" includes lower room rates, 20% off food and beverage (excluding alcohol), and a reduced resort fee if you book now through Aug. 31.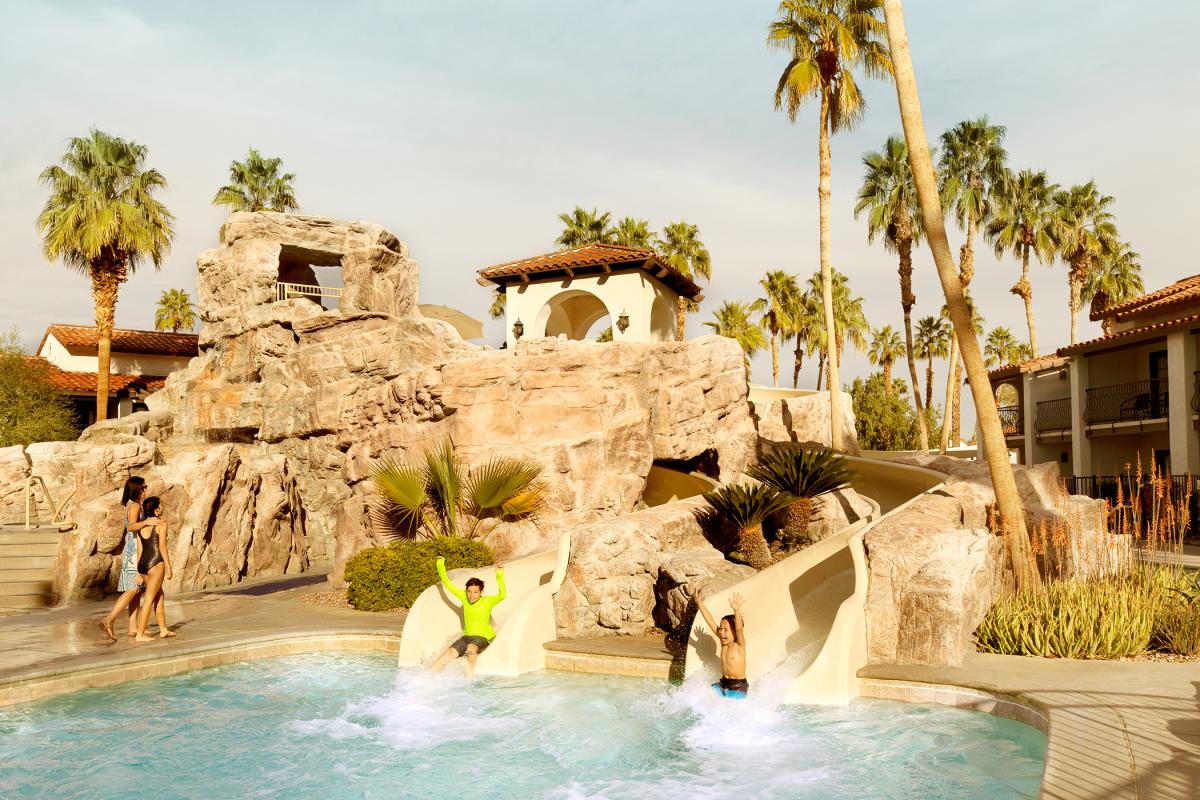 The vibe: With Splashtopia Waterpark, it's all about partying at the pool with all kinds of activities for adults and kids. There are two huge 100-foot-water slides, a 425-foot lazy river, a water play zone with fountains and sprinklers for splashing around, and a sandy beach for tropical beach vibes.
The value: At Omni Rancho Las Palmas Resort & Spa, the longer guests decide to stay, the bigger discount they get with the "Stay & Splash" offer - 10% off for one night, 15% for 2 nights, and 20% for 3 or more nights. 
The resort also has a "Splash of Summer" offer of a $100 food and beverage credit with a custom beach towel. Both are available Sunday through Thursday through Sept. 30. They also offer a few other specials that incorporate spa services at Spa Las Palmas and golf at their 27-hole championship golf course. 
The vibe: Soak your cares away. Miracle Springs Resort and Spa is the kind of place you see in the movies but aren't sure if it really exists. It does. This oasis in Desert Hot Springs features eight natural hot mineral pools where you can just let the rest of the world wash away for a little while. But a stay at this resort isn't just about the mineral baths, there's an award-winning Italian restaurant, full spa services, and poolside lounging. You can book a room or a villa if you want more space for your wellness-seeking squad. Don't want to commit without knowing what a mineral pool is? Try a day pass for just $20 for adults and $15 for seniors or military. You get full access to the eight mineral pools and the Italian Restaurant from 9 a.m. to 6 p.m.
The value: Stay at the resort midweek and enjoy a 10% reduction in-room rate and waived resort fees. As a summer value, the resort is offering reduced room rates from now through Sept. 30 with discounts between 20% and 40%. Also, the spa has a deal where for $247 you can get a 50-minute oatmeal body polish, a 50-minute luxury facial, and a 50-minute center massage combo, and that includes the use of the eight mineral springs.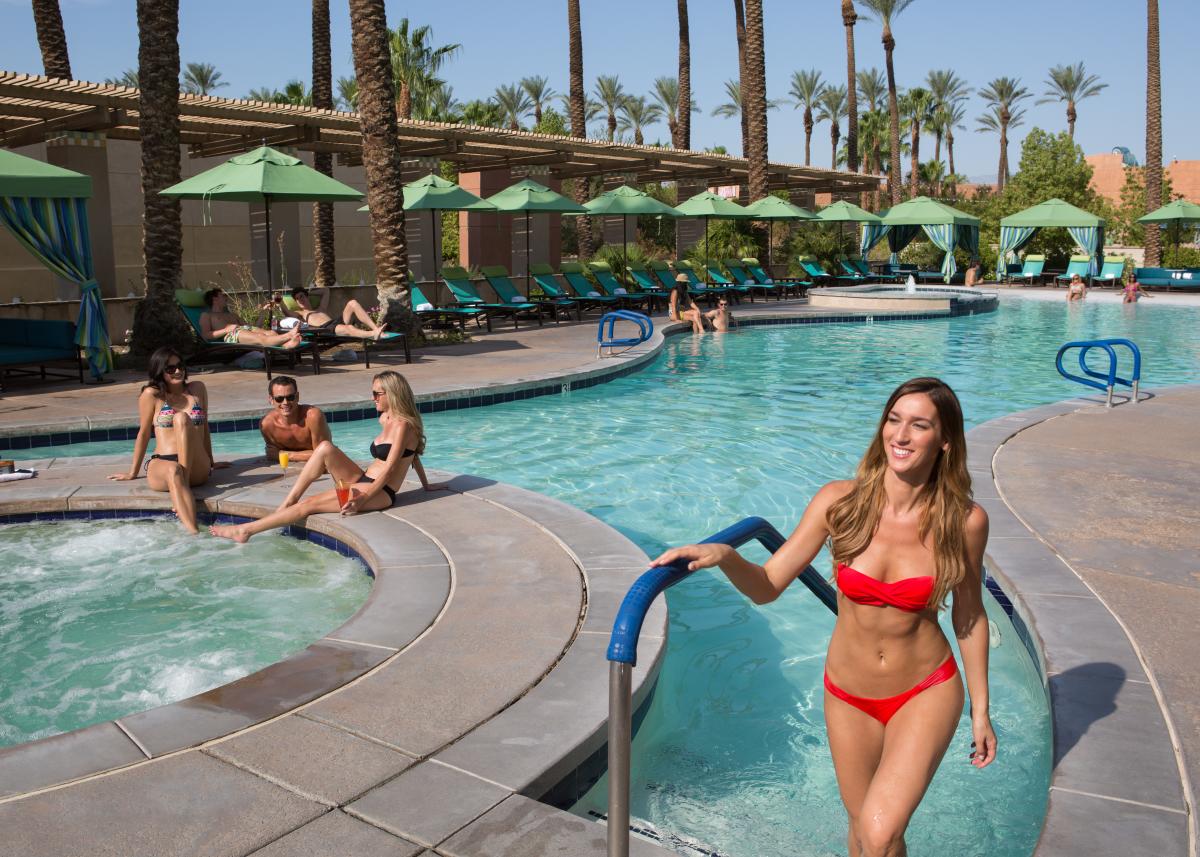 The vibe: Las Vegas in Southern California. Fantasy Springs is the closest thing to the Las Vegas experience with all the classic amenities like slot machines, table games, shows, restaurants, and multiple pools, but it's the extras that make this Indio mainstay stand out. If lady luck hasn't been smiling on you in the casino, you can always test your luck (and skill) at athletic endeavors, too. What separates Fantasy Springs from other casinos is the attached championship-level golf course, a Clive Clark-designed 18-hole gem called Eagle Falls that will test low-handicappers but still provide fun for the average duffer. There's even a bowling alley, too, if that's more in your lane (pun intended).
The value: If you're looking for a package deal this summer, consider the Stay and Play offer. For $239 you get a one-night hotel stay (Monday-Thursday) with a round of golf at Eagle Falls, a $50 food and drink credit, and a $20 free slot play.
The vibe: Lakeside leisure. Put simply, a lake is needed during summer vacation, and that's what makes Chateau at Lake La Quinta stand out. The 24-room boutique hotel provides the tranquility that comes with lakeside leisure like a patio bar overlooking the 25-acre man-made lake. The restaurant Melange which boasts a menu of classic and contemporary dishes also has, what else, a view of Lake La Quinta. Aside from the lake, the resort also has an intimate pool for lounging. Traditional rooms are available, as is an option to rent a bungalow which is a larger space and includes a private lakefront patio. Chateau is also a pet-friendly hotel, providing your pet is under 25 pounds.
The value: If you book in advance, you do receive a special discount with rooms starting at $99 a night in July for mid-week stays.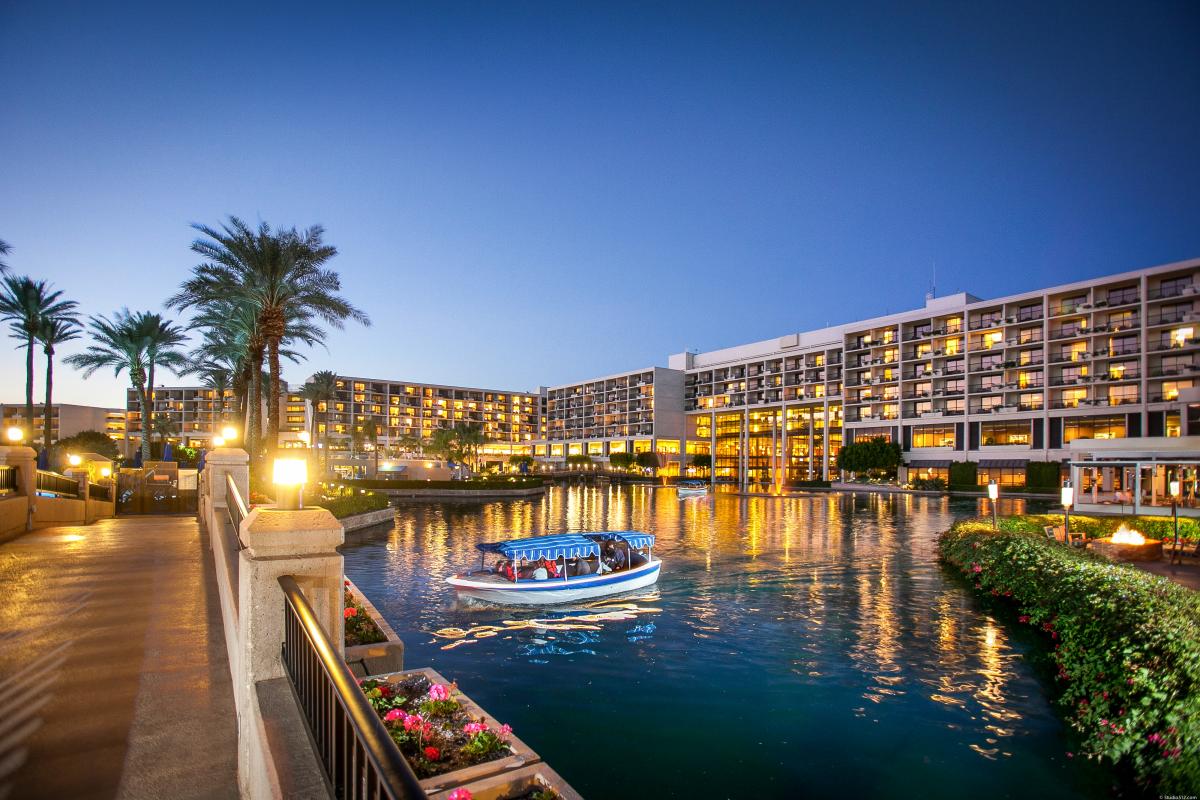 The vibe: Set on 450 acres of lush landscaping with panoramic mountain views, the JW Marriott Desert Springs Resort & Spa has plenty of activities for the family or for a romantic getaway. 
While there, guests can take turns splashing around their four pools, taking a boat ride along the vast waterways that wind around the resort, or try out all the retro arcade games at the Entertainment Zone. 
And don't forget to say "hi" to the resort mascot. A flock of Chilean Flamingos greets hotel guests near the resort's entrance adding to the lush tropical paradise vibe. 
The value: Get 15% off on 3 nights or 20% off your stay of 4 or more nights.  
The resort also has a "Check In and Chill Out" promotion that provides a $150 resort credit with early check-in at 10 a.m. and a late check-out at 5 p.m. 
Ready for your next vacation? Start planning your vacation with these getaway offers in Greater Palm Springs.