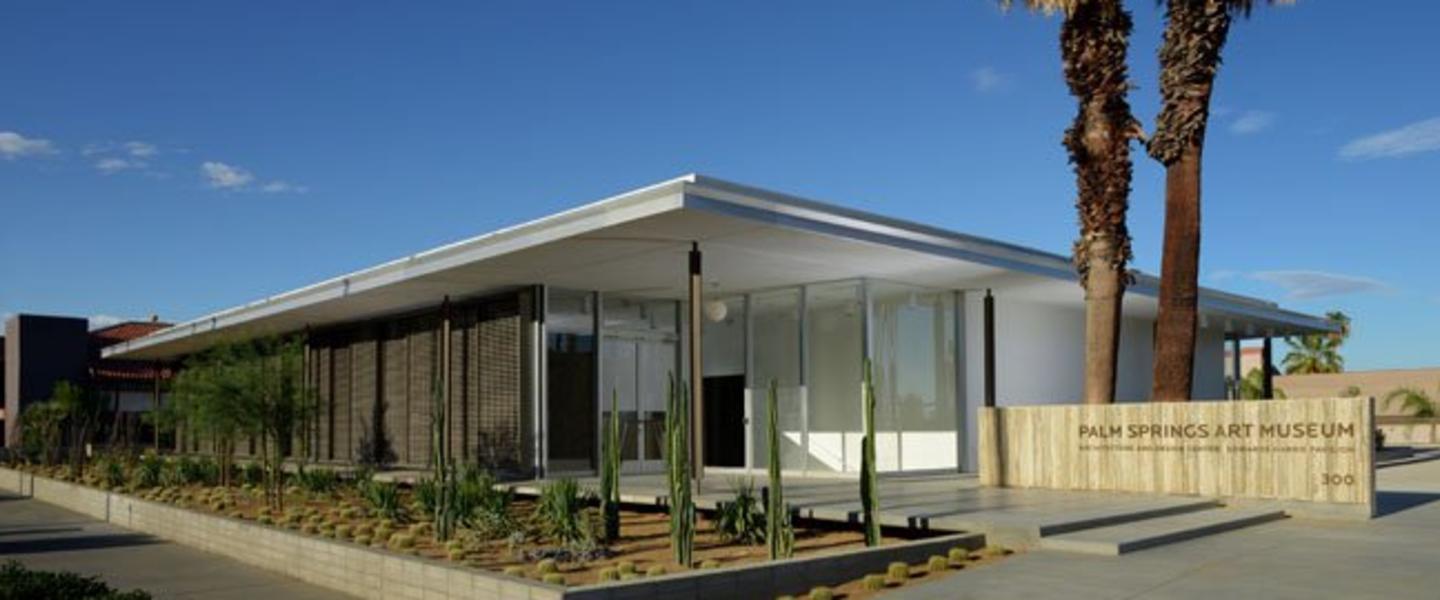 As one of the best destinations in the world for midcentury modern architecture, Greater Palm Springs is the perfect home for the country's first free-standing architecture and design museum. Opened in 2014, the Palm Springs Art Museum Architecture and Design Center, Edwards Harris Pavilion is a must-see for architecture lovers and tourists alike.
Housed in the historic 1961 Santa Fe Federal Savings & Loan building (designed by E. Stewart Williams) in downtown Palm Springs, the Palm Springs Art Museum Architecture and Design Center showcases classic midcentury international style. Not only is the building a Class I Historic Site, but its ground-level glass pavilion space also features architecture and design exhibitions. Whether you're coming to Greater Palm Springs for Modernism Week or want to add midcentury vibes to your next visit, this modernism museum is the perfect stop.
More Modernism
Midcentury modern art and architecture in Greater Palm Springs is particularly noted for its own regional offshoot, known as Desert Modernism, which features a distinctive style that includes ample glass walls and windows, open floor plans, dramatic rooflines and the flow between interior and exterior spaces. In addition to the new architecture center, visitors may celebrate the area's distinctive form of midcentury modern architecture by attending the hugely popular Modernism Week events or taking a custom modernism tour any time of year.
Modernism Week
This annual celebration of all things midcentury modern includes 11 days of design, architecture, art, fashion and culture. Modernism Week features more than 300 events, including home tours, films, lectures, double-decker architectural bus tours, a Modernism Show, nightly parties and live music, walking and bike tours, a prefab Showcase and Modern Living Expo, vintage fashion, classic cars, garden tours, a vintage travel trailer exhibition and more. Don't miss our Modernism 101 guide to enjoying the best that Modernism Week has to offer.
Visiting in the fall? Not to worry: there's so much midcentury modernism to enjoy that organizers also host a Modernism Week Fall Preview every October.
Architecture Tours
No matter when you visit Greater Palm Springs, midcentury modern design is yours to enjoy. Guided tours with companies like The Modern Tour and Palm Springs Modern Tours offer personal experiences through the meticulously preserved historic neighborhoods, capturing the glamour, sophistication and flair of California's swingin' midcentury modern lifestyles.
Looking for even more midcentury modern gems? Discover the hidden architecture of Greater Palm Springs.