The idea of drinking before dinner evolved from the Prohibition era when folks would secretly meet for "cocktail hour" at a speakeasy before dining at restaurants where alcohol could not be served.

After the 18th Amendment was repealed, cocktail lounges continued the trend of "happy hour" before dinner. Lowered drink prices usually between the hours of 4 and 8 p.m. became a way for restaurants, pubs and bars to boost sales during slow times and invite customers to relax and "get happy" before dinner.

Today, the concept also means lower priced, smaller portion bar food menus, that we're calling Happy Meals for adults. Many Greater Palm Springs restaurants offer early and late happy hours to satisfy both the early-bird and the late-night crowds. Some places even have happy hour all day long in the bar.
We've scouted out some great adult Happy Meal deals for imbibing and nibbling. Don't expect a toy action figure or kids movie character, but do expect plenty of food and drinks at reasonable prices.   
The newly reimagined Mr. Lyons Steakhouse, located at the south end curve on Palm Canyon, evokes both the old Hollywood glamour for which the destination is famous – velvet booths, personalized service, classic steaks— as well as a more laid-back vibe in The Lounge.

It's in this more casual setting that you can savor a classic cocktail or something new and seasonal, and enjoy a taste of prime rib medallion with baked potato, fresh ground beef burger with bacon jam aioli and classic sides like iceberg wedge, onion rings and hand cut fries.

Happy hour food and drinks at Mr. Lyons' The Lounge is from 4 to 7 p.m. A three-course prime rib dinner for $29 is available Sundays, 5 to 9 p.m.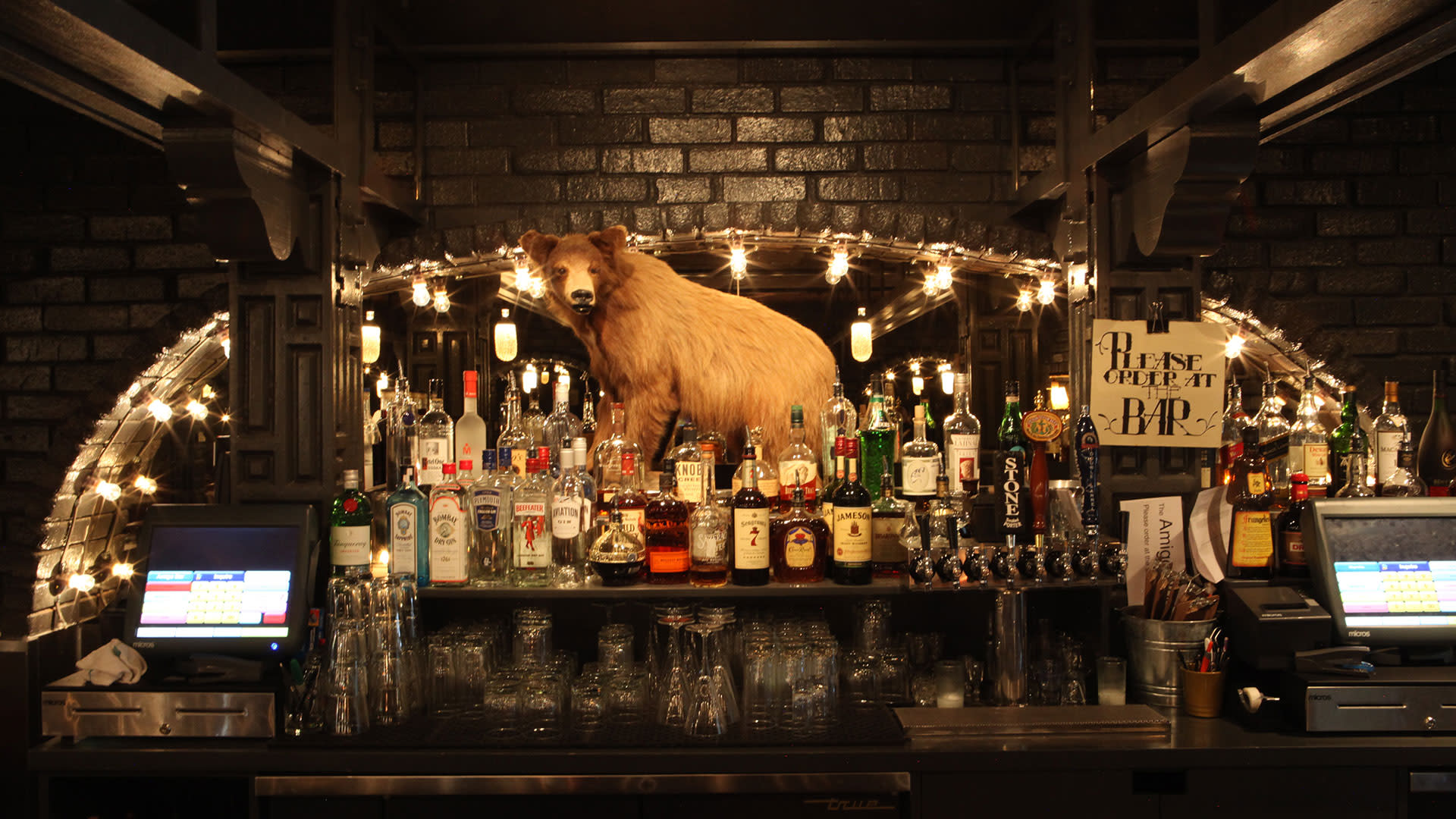 Just a short saunter from Mr. Lyons, the dark and gritty throwback bar, The Amigo Room at the Ace Hotel, is a cool place chow down on charred shishito peppers, a mojo or pollo verde taco, crispy calamari with pickled vegetable and smoked chile aioli, a puffy, cheese-filled quesadilla with pico de gallo and pickled serrano chili, or a classic chips and salsa.  Add crushed avocado for an extra four bucks.

Speaking of throwback: Throw back a pint of Modelo, a beer and shot combo, house made sangria, the Amigo margarita or house wine. Or ante up for a bucket of beer for twenty five bucks.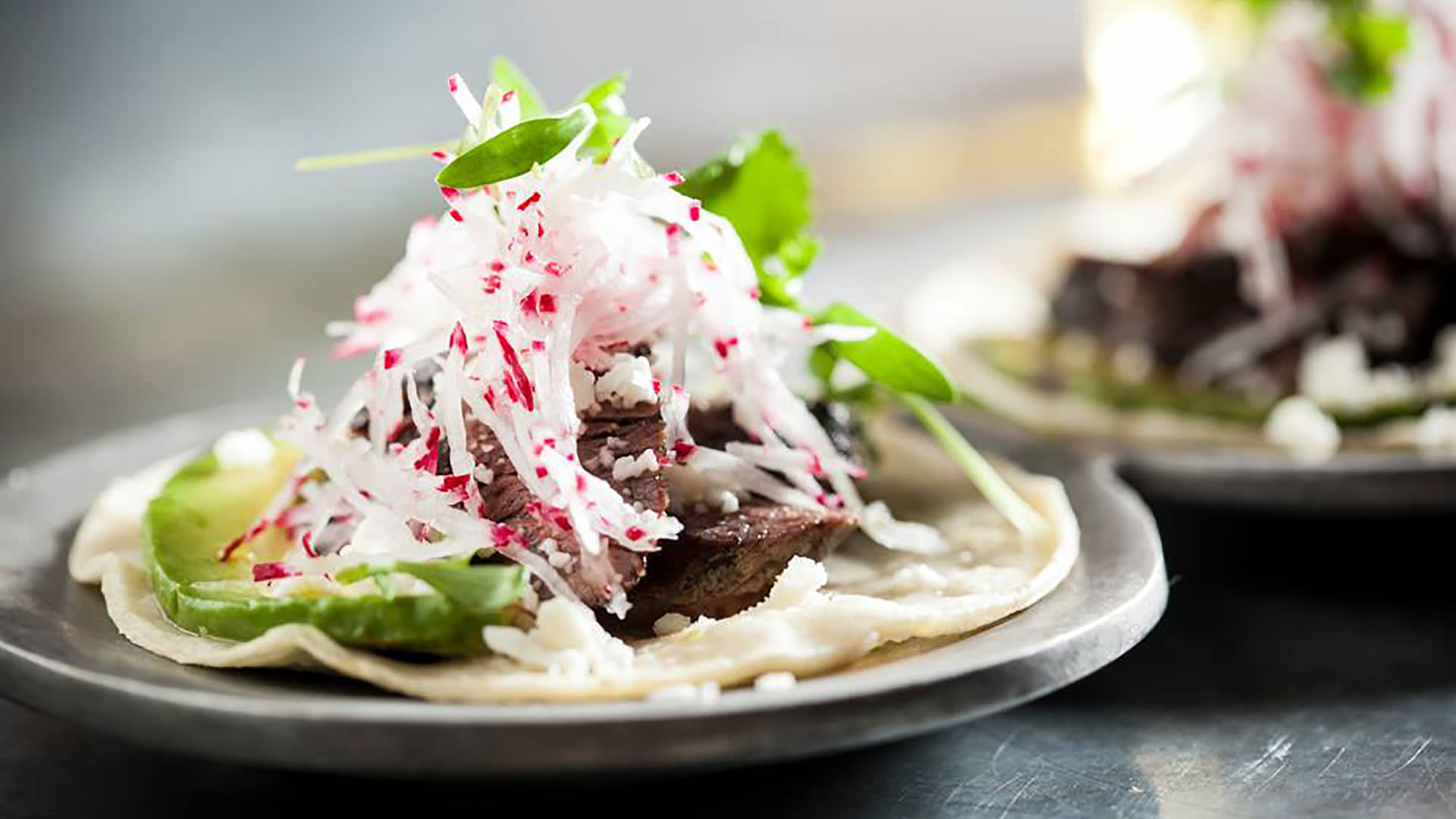 Probably one of the longest running Taco Tuesdays in Greater Palm Springs is at El Jefe, the Mexican street-food inspired bar and cantina at The Saguaro. El Jefe's concept of rough-hewn wood and iron tables, leather seats and a bar devoted predominately to tequilas was created Iron Chef Jose Garces. While the Garces Group is no longer part of the Saguaro, El Jefe's popularity among locals and savvy weekenders makes this place a keeper.

Experience street food tacos such as the Nopales (fried paddle cactus) with baby portabellas and black beans. Or the Mexican beer-battered mahi-mahi fish tacos with remoulade, coleslaw and avocado spread.

Braised pulled chicken is tucked into soft tortillas with tomatoes, crema and chive and fennel salad for the Chicken Tinga Tacos. Orange-braised pulled pork comprise the Carnitas Tacos with mango, papaya and radish salad. Braised short rib tacos are drizzled with demi-glace and layered with pickled jalapenos, onions, carrots and chives.

House guacamole is crafted from fresh avocadoes, lime, jalapenos and cilantro, served with house made tortilla chips. Heft a frosty draft beer, sangria or Cantina Margarita to wash down your tacos.

Taco Tuesday specials are available from 6 to 9 p.m.
One of the more eclectic and romantic places for happy hour is Mitch's on El Paseo with its large, covered outdoor patio overlooking the lush back lawn and fire pits. Located in the former Augusta restaurant at Portola and El Paseo, Mitch's has two distinctive bars with flat-screen TVs plus expansive upper and lower dining areas.

Created by longtime restaurateur Mitch Epstein and Sushi Master and Chef James Holder, Mitch's is a seafood and steak lover's ports-o-call.

Chilled poached shrimp combined with diced tomato, onion, cilantro, cucumber and lime Clamato sauce are the makings of the Shrimp Gazpacho. Mini ahi poke tacos come with diced ahi tuna, mango, sesame poke sauce, chukka salad and avocado on mini wontons.

Devour Hawaiian style braised short ribs sliders with cheddar cheese, caramelized onion, spinach and tomatoes, served with seasoned fries.

The 808 rolls feature shrimp tempura, snow crab, avocado and cucumber in seaweed topped with spicy tuna, crunchy flakes and macadamia nuts. Fresh jalapeno peppers stuffed with crab, spicy tuna and cream cheese are lightly tempura fried and drizzled with Kabayaki sauce and spicy aioli.
Anything shaken, stirred, blended, uncorked or poured is available from the bar during happy hour.
Atop the Gardens on El Paseo, Tommy Bahama's spacious patios with sweeping mountain, desert and city views, and indoor-outdoor bar/lounge area, are an ideal place to soak up the laid-back vibe.

Tommy Bahama refers to it as "Island Time" from 3 to 6 p.m. every day with small plates served in the bar only. Enjoy some of the restaurant's best loved items such as their "world famous" coconut shrimp with papaya-mango chutney, the spicy ahi poke Napoleon with capers, sesame and guacamole layered with crispy flatbread; juicy cheeseburger sliders, and macadamia crusted goat cheese with mango salsa, sweet soy served with flatbread.

Order a duo of dips with the crispy plantain chips; nibble on the house-roasted pork quesadilla with Laura Chenel goat cheese and mango salsa; or tackle the blackened fish tacos in a wonton shell with island slaw and wasabi-avocado crème.

Wines, beer, rum concoctions, signature cocktails and martinis are available during happy hour, 3 to 6 p.m.
One of the hottest spots in downtown Palm Springs, Lulu California Bistro was also one of the first restaurants to offer all day happy hour in the bar from 11 a.m. to closing as well as a late night happy hour Friday and Saturday, 11 p.m. to 1:30 a.m.

Every day find a substantial menu with reduced prices for a sharable feast: From Lulu's extra-large house made chips with herbs and kosher salt, hummus with celery sticks and crisp focaccia bread to Cobb or chicken salad, classic Margherita or pepperoni pizzas.

Skewers of chicken tender or peppered filet strips; Santa Fe or Russian Paninis; black mussels to bay shrimp cocktails, an eclectic mix of dishes is available during any of Lulu's happy hours.

Lower priced well drinks, select domestic, imported and micro-brew beers and house wines are also on tap during happy hour.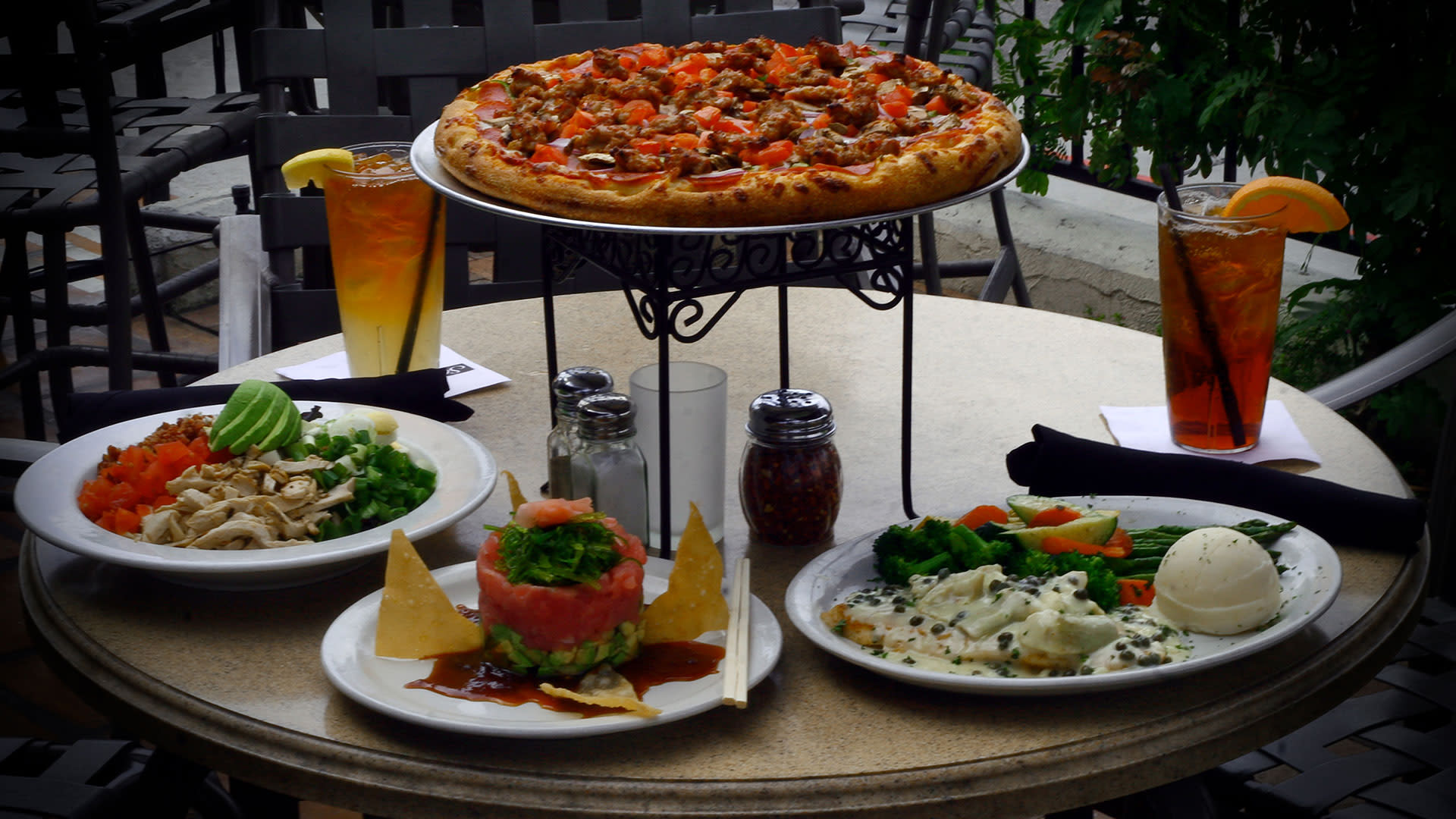 Two family-owned and operated Stuft Pizza Bar and Grill restaurants in La Quinta and Palm Desert are favorite locals' spots for good reason: A wide mix of contemporary American food and drinks at reasonable prices, and lively, well-priced happy hours from 3 to 6 p.m. daily.

Warm ambiance, outdoor patios and friendly servers don't hurt, either.

Choose from over 30 combinations or create your own small pizzas and get $2.50 off the regular price. Asiago mac and cheese, rib bites, veggie spring rolls, street or Baja fish tacos, chicken lettuce wraps and Kung Pao chicken, date and bacon flatbread and calamari steak strips are some of the food specials during happy hour.

Draft beer pints start at $2.50 and mugs at $3.75; select wines by the glass and well drinks start at $4.   
Out on Avenue 60 at Monroe where La Quinta's equestrian ranches, majestic date groves and acres of desert farm land meet sequestered gated country clubs, Bistro 60 at The Golf Club at La Quinta offers a casual dining experience.

With 180-degree views of the towering Santa Rosas back-dropping the fairways at Trilogy golf course, Bistro 60 caters to locals and golfers for breakfast, lunch, happy hour and a tiered-priced three course dinner.

Dishes from the $5 Bar Bites are anything but "bite-sized."

The Bistro fish 'n' chips is a full order of Ling cod dipped in Stella beer and chipotle batter, tempura fried, and served with fresh French fries and jalapeno tartar dipping sauce.

A large flour tortilla stuffed with blackened chicken and melted mozzarella cheese is garnished with a dollop of sour cream, fresh guacamole and green salsa for the chicken quesadilla.

Other Bar Bites include a personal pizza with a sauce and topping of choice, and fresh tortilla chips loaded with ham, applewood smoked bacon, chorizo, beans, cheese, sour cream, guacamole and green salsa.

The draft beer prices from $2 to $3 include Fat Tire, Stella and Coachella Brewing Company. House wines are $4 or $5; well drinks and the Bistro margarita are $5.

Happy hour: 3 to 6 p.m.; live entertainment nightly from 5 to 8 p.m.