It's hard to beat dining under palm trees, mountain views and blue skies in this oasis. Enjoying a warm meal and chill cocktail under a gorgeous California sunset is a vacation must, and these local Greater Palm Springs restaurants have the perfect patios for outdoor dining. Here's where to enjoy your next al fresco meal.
It feels right to start off the list with the highest restaurant in the area, 4 Saints Rooftop. Located on the 7th floor of the Kimpton Rowan Hotel on Tahquitz Canyon Way, the vibe here is chic but relaxed, making this the perfect place for date nights, work meetings, or just getting together for a classy happy hour with friends. Despite being in the middle of downtown Palm Springs, 4 Saints is high enough to be able to see the amazing mountain views, which are excellent both during the day and in the evening.

If you're looking for a lively place to hang out, Spencer's Restaurant on Baristo Road in Palm Springs is never a bad idea. You'll find a lot of locals in casual garb at Spencer's, which is nice because you can get a feel for how living in the region is (if you don't already know). With dozens of different wines available by the glass, half-bottle, and bottle, there are plenty of options for groups of any size. But back to Spencer's fabulous patio: featuring strings of lights, shady trees, flowers, fireplace and fire pits and cool stone underfoot, this outdoor dining area has it all. It's a feast for the eyes, not just your appetite.
This lively patio spills out onto busy Palm Canyon Drive, so it's become a bit of a see-and-be-seen spot where you can get a light lunch or sit down to an al fresco dinner. Kaiser Grille is known for its fresh fare like wood-fired pizzas, but it's also got a great selection of classics like a chilled shrimp cocktail and many salad options.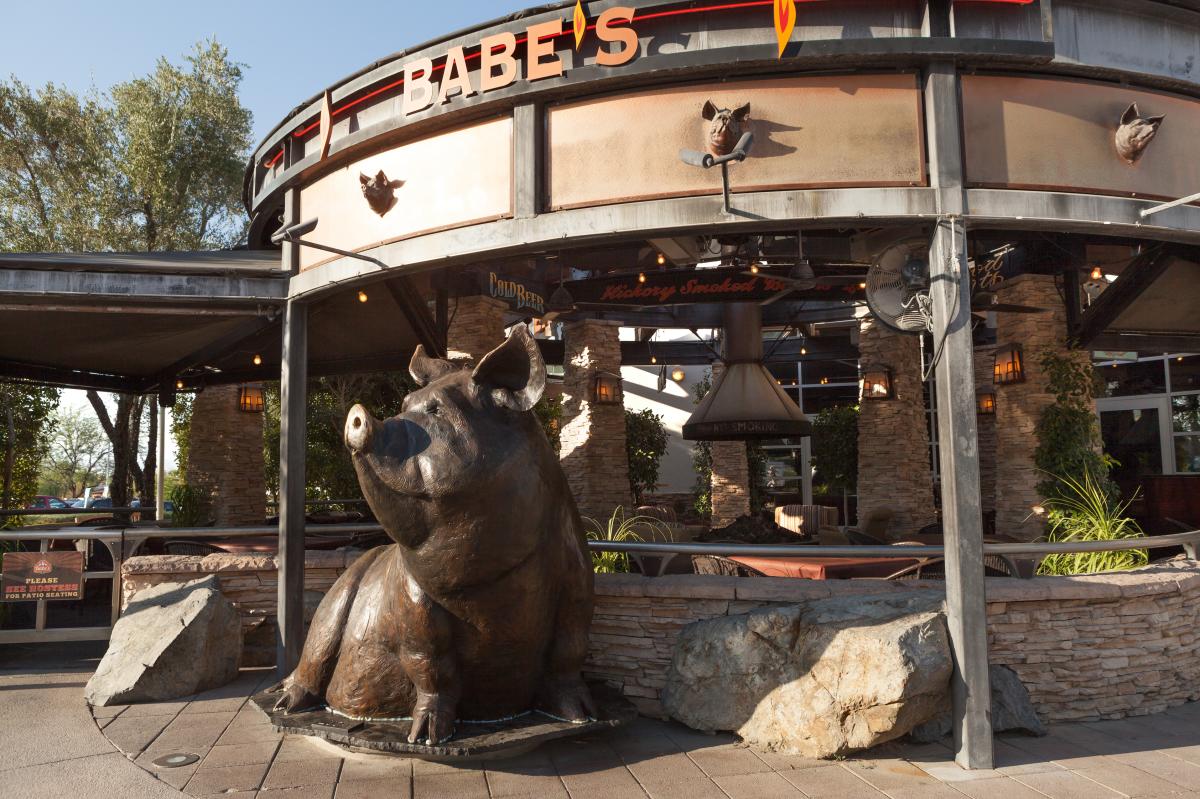 This longstanding resto-bar and brewery is one of Greater Palm Springs' stalwarts when it comes to grabbing a cold one on a warm afternoon. With a spacious patio featuring cooling mist wafting over the seating (and mood-laden interior with touches of 'pig' décor), it's a cool spot to dine all year round. 

Also at The River in Rancho Mirage, Acqua California Bistro is a must-try. Located right alongside a pleasant man-made pond, the outdoor patio offers a unique and relaxed atmosphere. Locals and tourists like to come here after perusing The River's many shops. An added bonus is the restaurant has a slew of options, including delicious gluten-free ones. There are plenty of drink choices as well, including one of the best skinny margaritas you'll ever taste.

This newer restaurant at Hotel Paseo became an instant hotspot for locals and tourists alike, thanks to its chic grounds, welcoming décor, and tasty food. AC3's beautiful, art-filled restaurant opens onto a bright and airy patio on the west side of the hotel facing the main entrance. It's a perfect spot to watch the sunset on cooler evenings or a great place to catch the rays with a cold drink in your hand on an alfresco afternoon after shopping at the adjacent El Paseo. The Blood Orange Margatini is a must-try, along with the Blueberry Basil Lime Chiller.
With 21,000 square feet of space, you've got options galore at Jackalope Ranch in Indio and those options include several patios with a view of lovely landscaping or the property's twin waterfalls. Jackalope Ranch is known for its barbecue, and with the smoker going outdoors, you'll inhale the smell of fresh roasting meats and apple, cherry, and hickory woods too.

You can't go wrong with a patio named as one of the '100 Best Alfresco Restaurants in America in 2019' by Open Table. The outdoor dining area here wraps around the side of a massive rock outcropping on which the Cliffhouse is built (and for which it's named). With ample shade thanks to huge trees and clever roof overhangs, it feels like you're dining in a secret getaway in Tuscany.
Overall, when dining in the Palm Springs region, there are so many beautiful options for outdoor dining with great food and amazing vistas. From casual to formal, each place offers excellent food and drink, with many even offering happy hours where you can enjoy the menu at a discounted price. Patio dining is great for both small and large parties, so gather your significant other or your friends and go have a wonderful al fresco dining experience in one of Greater Palm Springs' fabulous restaurants. 
Ready to dig in and dine in Greater Palm Springs? Take advantage of these Chill Deals and get the most from out of your dollar!