The Greater Palm Springs area is known as a major film mecca. Every January, people trek from near and far to experience the world renowned Palm Springs International Film Festival—studded with stars and hinting at Oscar favorites.  The cinematic glory continues on with a smattering of smaller niche fests ranging from indigenous, short, and non-fiction to avant-garde, classic noir and artsy.
Cinema Diverse: The Palm Springs LGBTQ Festival | September 22-25, 2016
The Palm Springs Cultural Center presents the ninth edition of Cinema Diverse this fall. Last year this compelling showcase, which one writer dubbed "the Academy Awards of Gay Movies" screened more than 30 feature films, 50 short films and several new media selections. Among the many festival favorites were Eisenstein in Guanajuato, an award-winning film that explores Soviet filmmaker Sergei Eisenstein's 1931 trip to Mexico, romantic comedy Paternity Leave, and the comedic short film If We Took a Holiday.
Film-going and industry revelers also enjoy post-screening parties and live Q&A with actors and filmmakers. www.cinemadiverse.org
Palm Springs International Film Festival | January 5-16, 2017
One of the largest and most prestigious film festivals in North America, the Palm Springs International Film Festival, now entering its 28th year, attracts more than 135,000 movie enthusiasts to a stellar lineup of more than 180 features and documentaries from more than 50 countries. The festival's Black Tie Awards Gala also continues to draw major Hollywood luminaries onto its red carpet. Celebrities in attendance have included Brad Pitt, Cate Blanchett, Matt Damon, Sandra Bullock, Meryl Streep, Leonardo DiCaprio, Reese Witherspoon, George Clooney and many more.
Festival highlights include the popular Book to Screen symposiums, Talking Pictures series of conversations with cinema's premier talents, receptions, and Opening and Closing Screenings and after-parties. www.psfilmfest.org
Native Film Fest | February 28-March 5, 2017
Fifteen years ago, Michael Hammond, Executive Director of the Agua Caliente Cultural Museum, started to witness a great emergence of young Native filmmakers into the cultural lexicon and the Native Film Fest was born.
Highlights of the 2016 festival included the award-winning Mekko by Sterlin Harjo, winner of the annual Richard M. Milanovich Award. The film centers on an ex-con who lands in Tulsa's Native American community of homeless "street chiefs." A session of shorts was devoted to Pacific Islanders with a local hula group performing before the show. Also, a broad swath of movies highlighted indigenous life throughout the world such as a Sami film from Sweden and a Maori film from New Zealand. Last year's guest Programmer Elizabeth Weatherford is founder and director of the Film and Video Center of the Smithsonian National Museum of the American Indian. www.accmuseum.org/Films
American Documentary Film Festival | March 29-April 3, 2017
Teddy Grouya started the American Documentary Film Festival (commonly referred to as AmDocs) inspired by a sincere desire to build a forum to celebrate and promote documentary film, as well as independent filmmakers around the world who bring knowledge and awareness through their stories about real people and issues to the public. The first festival was held in 2012, with academy award-winning director Oliver Stone being honored on opening night with the Filmmaker Who Makes a Difference award and the screening of his provocative documentary Commandante. Since then, AmDocs has grown exponentially each year, with annual honorees including Dionne Warwick, Peter Coyote and Peter Bogdanovich. 
Last year's lineup was chock full of subjects from social justice to food to the environment to ordinary people overcoming incredible odds. One film of note was the opener—Director Joe Berlinger's Tony Robbins: I Am Not Your Guru. The festival also featured North South Doc Network offerings from Europe (The Balkans), Mexico and South America.
While relatively young, AmDocs has already established important credentials, being recognized internationally as an important venue for filmmakers and being named by MovieMaker Magazine as one of the "five coolest documentary film festivals in the world."  www.americandocumentaryfilmfestival.com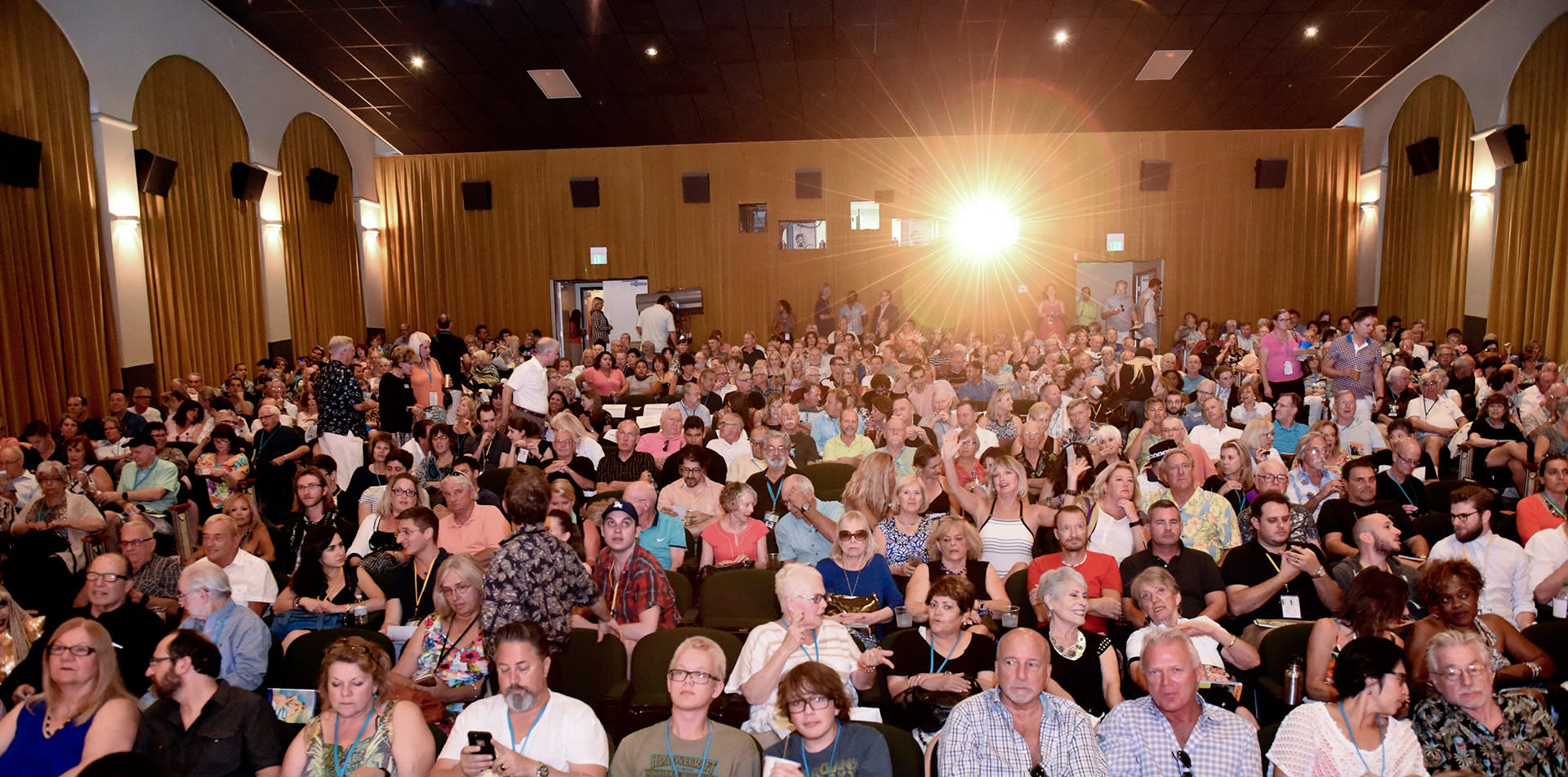 Arthur Lyons Film Noir Festival | May 2017
In 2000, mystery writer and Palm Springs-based community leader Arthur Lyons and his wife Barbara started the Arthur Lyons Film Noir Festival in celebration of the distinctive genre. The festival has since become known for an eclectic mixture of landmark and obscure vintage movies from the classic film noir era. Laden with period post war cynicism, these glorious black and white films are laden with suspense, sexuality and crime portrayed from the perspective of the criminals.
Although there are a number of film noir festivals around today, the Arthur Lyons Film Noir Festival is one of the oldest and is particularly well known for being able to find films that have not been screened in recent years. The festival also screens many of its films from either original or restored 35mm prints. Many of the original stars of the films participate by contributing time to post-film Q&As or attending special parties and events in their honor. www.arthurlyonsfilmnoir.ning.com
23rd Annual Palm Springs International Short Fest | June 2017
Celebrity Mayor Sonny Bono founded the Palm Springs International Film Festival in 1990 in hopes of enhancing tourism to the Greater Palm Springs area. The programming team loved short films and could see that it was especially challenging for talented emerging shorts filmmakers to get any exposure. So in 1995, PSIFF added ShortFest as a way to celebrate this great art form in the summertime.
According to Acting Director Helen du Toit, ShortFest is the largest Short Film Festival in North America and hosts the only Short Film Market. It showcases the best of international short film and is widely perceived as the greatest launching pad for young filmmaking talent.
As in years past, the 2016 festival presented an extraordinary selection of world cinema, featuring the world's most celebrated short films along with many world premieres.  The roster of parties that accompany the festival are the best places to meet the next generation of international movers and shakers in the industry. www.psfilmfest.org