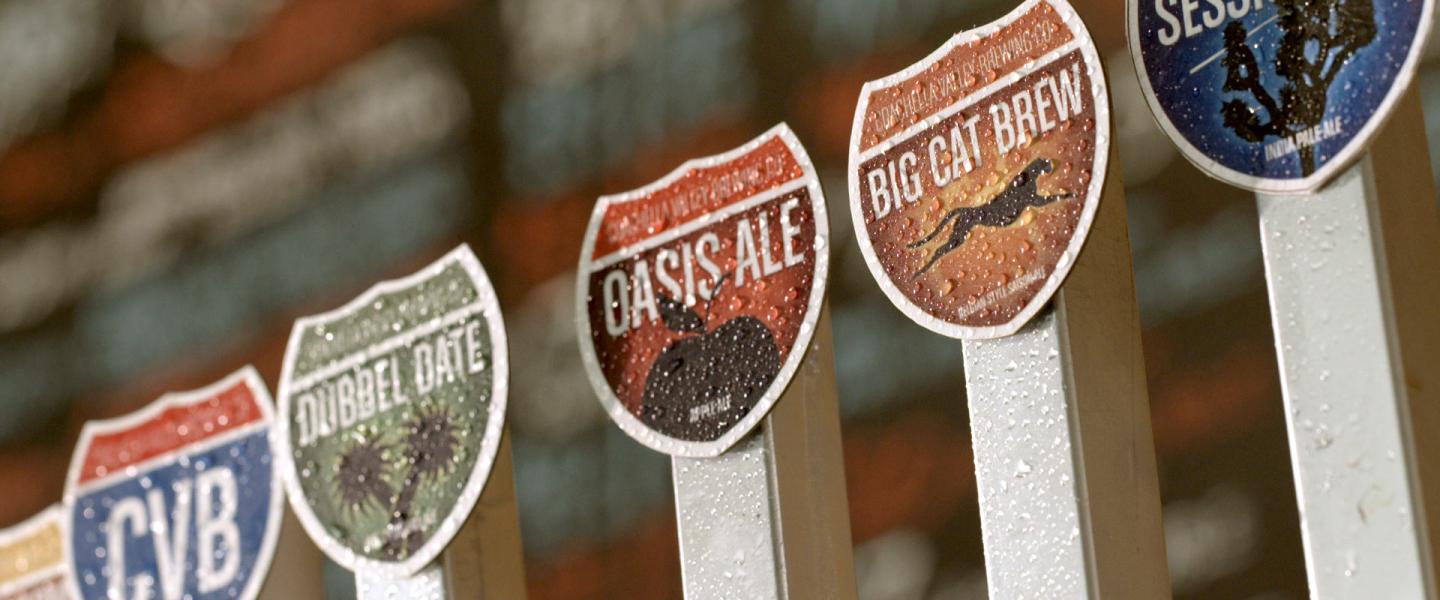 While handcrafted martinis and cosmos have always been a popular beverage in Greater Palm Springs, beer lovers have had to work a little harder to find great local brews. In fact, it seems the microbrew phenomena that began sweeping through California and the rest of the nation in mid 1980s skipped Greater Palm Springs altogether. But times are changing.
When Babe's Bar-B-Que & Brewhouse, the oldest craft micro-brewery in the Coachella Valley, opened in 2002 at the upscale River at Rancho Mirage shopping complex, it immediately began raking in accolades for its excellent cuisine. Its signature brew, Blackfin Lager even medaled at the LA County Fair and the Australian International Beer Awards in 2003. But Babe's was mostly known, even by locals, as a place to get great food.
The oasis' craft beer scene started to shift into high gear in 2013, with the opening of two additional microbreweries, the Coachella Brewing Company in Thousand Palms and La Quinta Brewing Co. in Palm Desert, both of which quickly earned medals in international beer competitions.
Earlier this year, Greater Palm Springs' craft beer scene hit a new high, when Babe's skyrocketed ahead of hundreds of other notable California microbreweries to become the top brewery in California. Selected by judges in the California Craft Brew Competition at the California State Fair, Babe's earned the prestigious Golden Paddle award as "Brewery of the Year." Babe's Blackfin Lager also took second place in the "Best in Show, Beer" category at that same competition.
While the oasis might have arrived late to the microbrew party, it has rapidly distinguished itself as a leading beer destination. Ready to explore Greater Palm Springs award-winning craft beer scene? Here are a few great ways to get started.
Microbreweries
If accolades are important, then Babe's Bar-B-Que & Brewhouse is the place to go and its Blackfin Lager remains the "winningest" beer in the Coachella Valley. This locally owned restaurant was founded in 2002 by famed restauranteur Don Callendar—of Marie Callendar's fame—and the menu features barbecue cuisine from around the world. The best time to visit Babe's is every Monday for Beer Appreciation Day, when select brews are half price from 3 p.m. until closing.
Coachella Valley Brewing Company
When it opened two years ago, Coachella Valley Brewing Company (CVB) became the valley's first dedicated microbrewery. The artisan beer makers at CVB are taking the concept of "Farm to Glass" to a new level by crafting distinctive blends using locally grown produce and spices. The popular Desert Swarm for example incorporates locally grown Killer Bee Honey, kumquats and coriander, resulting in a tart but slightly sweet product.
The valley's newest microbrewery, La Quinta Brewing Co, also opened in fall of 2013. The founder, a native of the Coachella Valley, Scott Stokes is a one-time home brewer who always dreamed of opening a desert-based microbrewery. A favorite here is the Koffi Porter, which won a bronze medal in the 2014 world beer championship and is brewed using locally roasted coffee beans from "Koffi" in Rancho Mirage. Keep an eye out for regularly scheduled Koffi Porter Ice Cream Float nights.
Craft Beer Tasting Tours
All three microbreweries offer tours, tastings and beer flights, and their products are also sold at hundreds of hotels, restaurants and specialty shops throughout the Coachella Valley and California
For a more unique outing, the Social Cycle is a 16-passenger bicycle that offers an eco-friendly twist to the party bus. A Social Cycle Captain guides cyclists on a pub crawl of downtown Palm Springs, making stops at a variety of bars along the way. Customized routes are also available. 
Craft Beer Events in Greater Palm Springs
Brew at the Zoo
Every spring, The Living Desert gives attendees the chance to "Save Wildlife One Beer at a Time." Tickets for the annual Brew at the Zoo event include unlimited beer and food samples from dozens of local breweries and restaurants. Live music is also staged throughout the zoo and gardens.
Props & Hops Craft Beer Festival
Every November, the Palm Springs Air Museum rolls out a craft beer extravaganza, Props & Hops, where West Coast breweries display their products alongside the museum's vintage airplanes. The event also includes food vendors, live music and a home brewing competition.