Whether you like your bacon sweet or savory, here's where to enjoy some tasty bacon treats around Greater Palm Springs.
Bacon Flight | Cheeky's
With five flavors on the menu at Cheeky's, you can choose a single strip or a flight of four from the weekly selection created by chef/owner Tara Lazar. Add them to your Bloody Mary to make it a meal or choose your favorite for an order of buttermilk and fresh corn pancakes and bacon.
House-Made Bacon Crumbles & Jam | Mr. Lyon's Steakhouse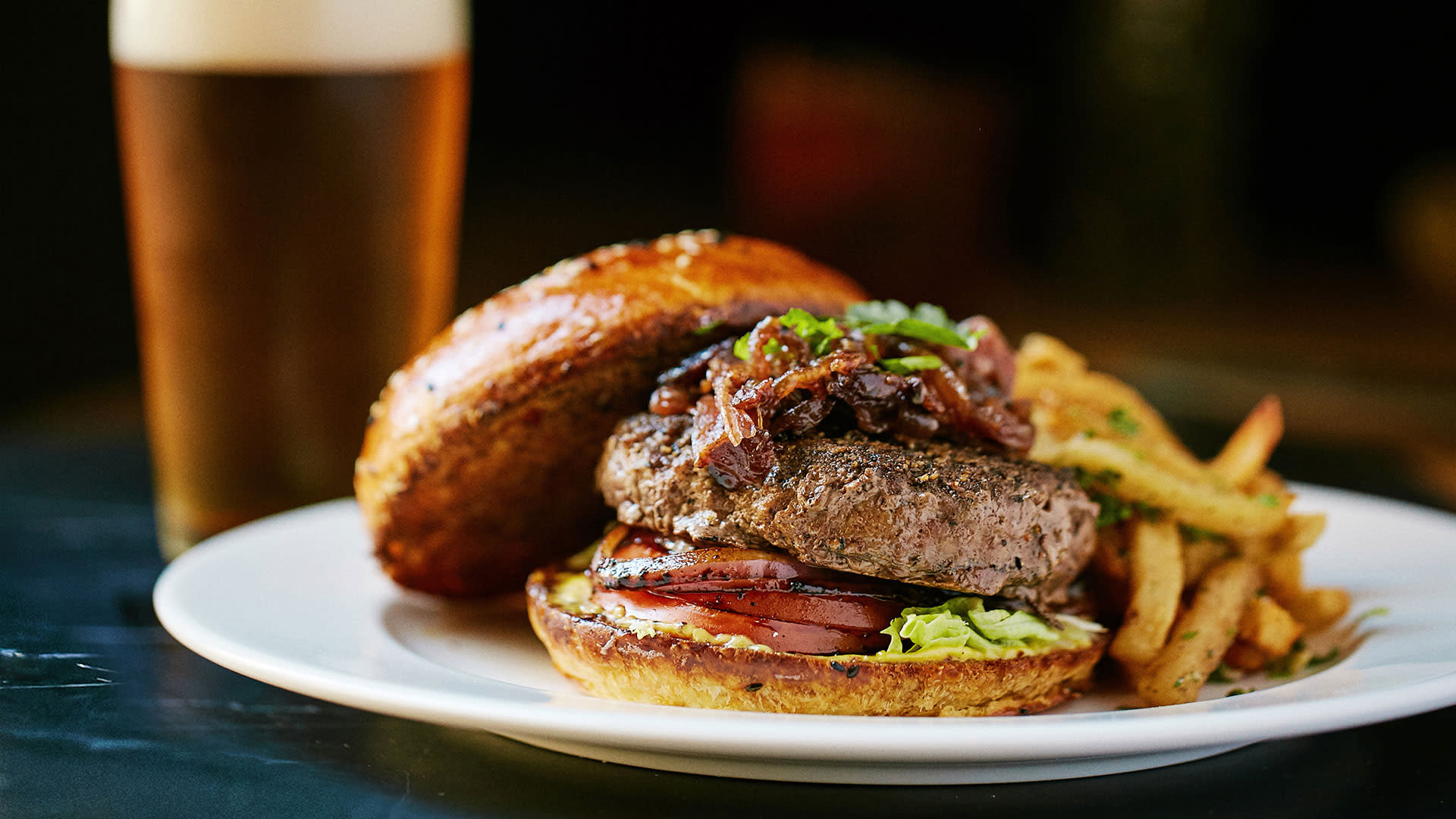 You don't generally expect to find bacon at a steakhouse—unless it's wrapped around a filet mignon. At Mr. Lyon's, also owned by Tara Lazar, you have two bacon options. First is the baby iceberg wedge salad with house-made bacon crumbles. Second? The Mr. Lyons Burger (on the Lounge menu) with house-made bacon jam! Slightly sweet, slightly salty. Not enough bacon? Add a slice or two from the sides menu.
Maple Candied Bacon | Tipper's Gourmet Marketplace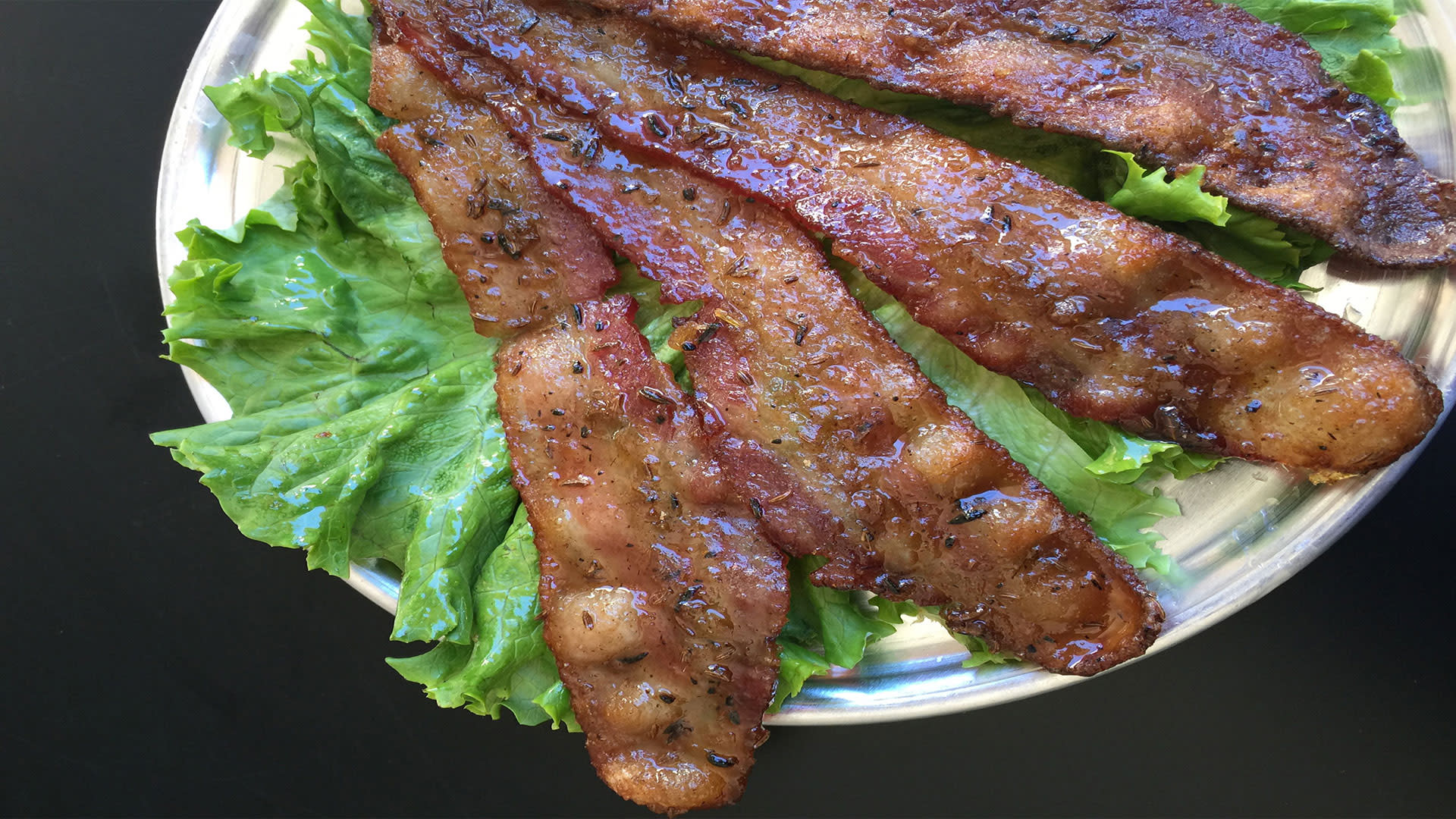 Everyday smoked bacon is good, but maple candied bacon is better. At Tipper's, you have your choice of either, both or even turkey bacon, but honestly, the candied stuff is the best. Add it to an order of avocado toast or a short stack of sour cream pancakes.
Apple-Smoked, Maple and Basil Pesto Bacon | Jake's
In Uptown Palm Springs, Jake's is one of the hidden gems in desert dining. When it comes to bacon, the restaurant offers a choice of apple-smoked bacon, maple bacon and basil pesto bacon with its classic three-egg breakfast.
Bacon & Caramelized Onion Jam | Trio
Pork comes two ways in one dish at Trio: A center cut, bone-in pork chop topped with bacon and caramelized onion jam. Now, you could say that this is gilding the pork chop, but truthfully, a juicy pork chop that's been topped with slow-cooked jam could be heavenly.
Bacon Balls and Cupcakes | Over the Rainbow Desserts
Not every bacon dish has to be savory. Bacon for dessert is perfectly acceptable—especially when Chef Roman Blas of Over the Rainbow Desserts turns it into a Maple Pancakes and Bacon cupcake, a combo of maple syrup cupcake, maple buttercream and brown sugar smoked bacon. Also, don't miss the Maple Chocolate Bacon Balls with moist maple cake, rolled into balls, coated in pure white or dark chocolate and rolled in smoked candied bacon.
Bacon Jam | State Fare Bar + Kitchen at The Ritz-Carlton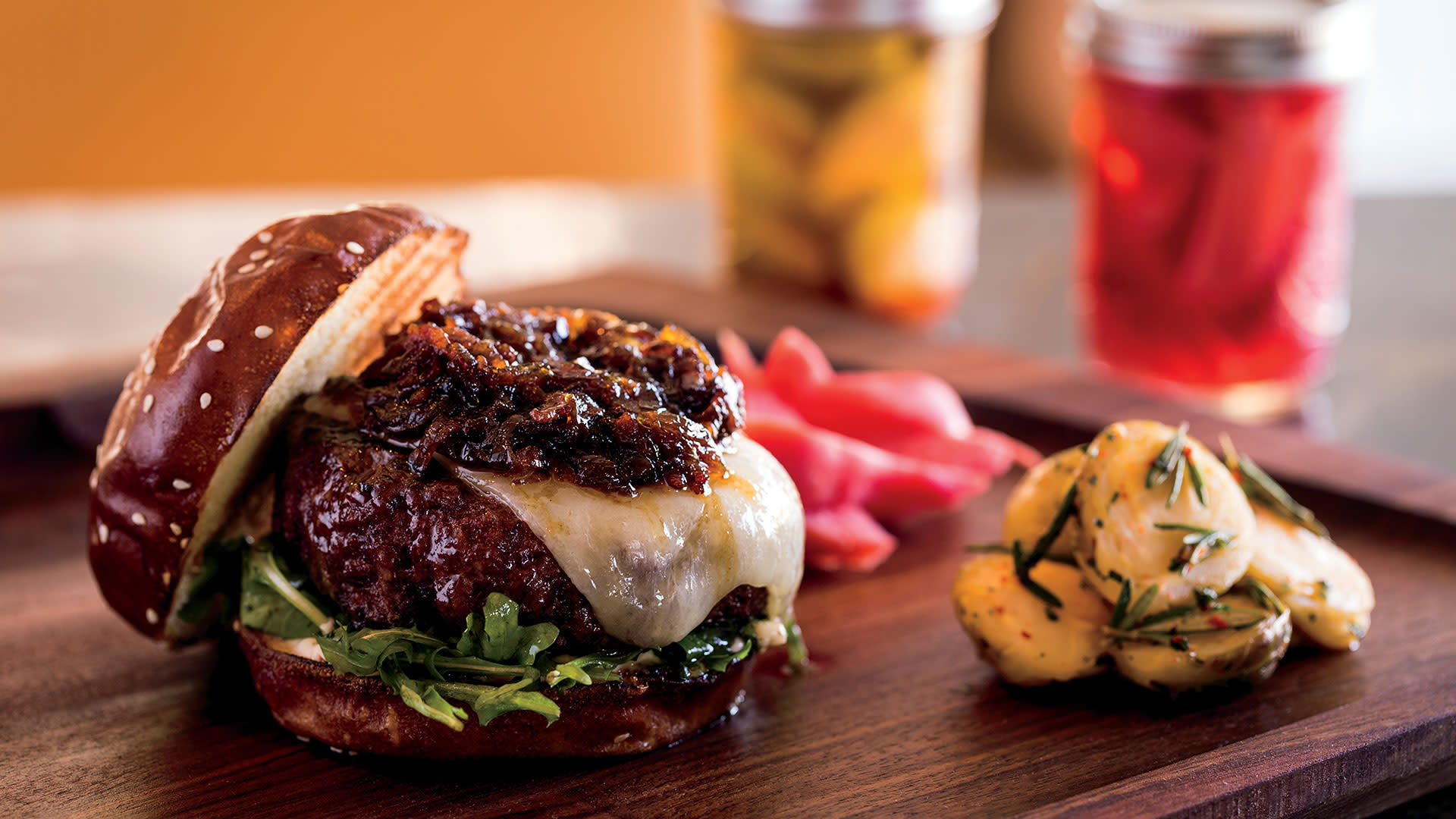 Sure, you could get a burger with bacon almost anywhere, but this burger at State Fare Bar + Kitchen has Hopscotch cheddar and house-made bacon jam with caramelized onions. It's slow-cooked so that all the aromatic goodness of the onions and the bacon are given the time and love to make this burger one you want to take your time eating.
Brown Sugar Bacon | The Grill on Main
OK, so you're jonesin' for a burger with bacon but just any burger won't do. Down in Old Town La Quinta at The Grill on Main, the chef makes brown sugar bacon for the burgers, chopped BLT salad, roasted turkey BLT sandwich and basically every dish with bacon in it.
Hungry for more? Sign up for the dineGPS newsletter for foodie news in Greater Palm Springs.
Mr. Lyons image by Audrey Ma.