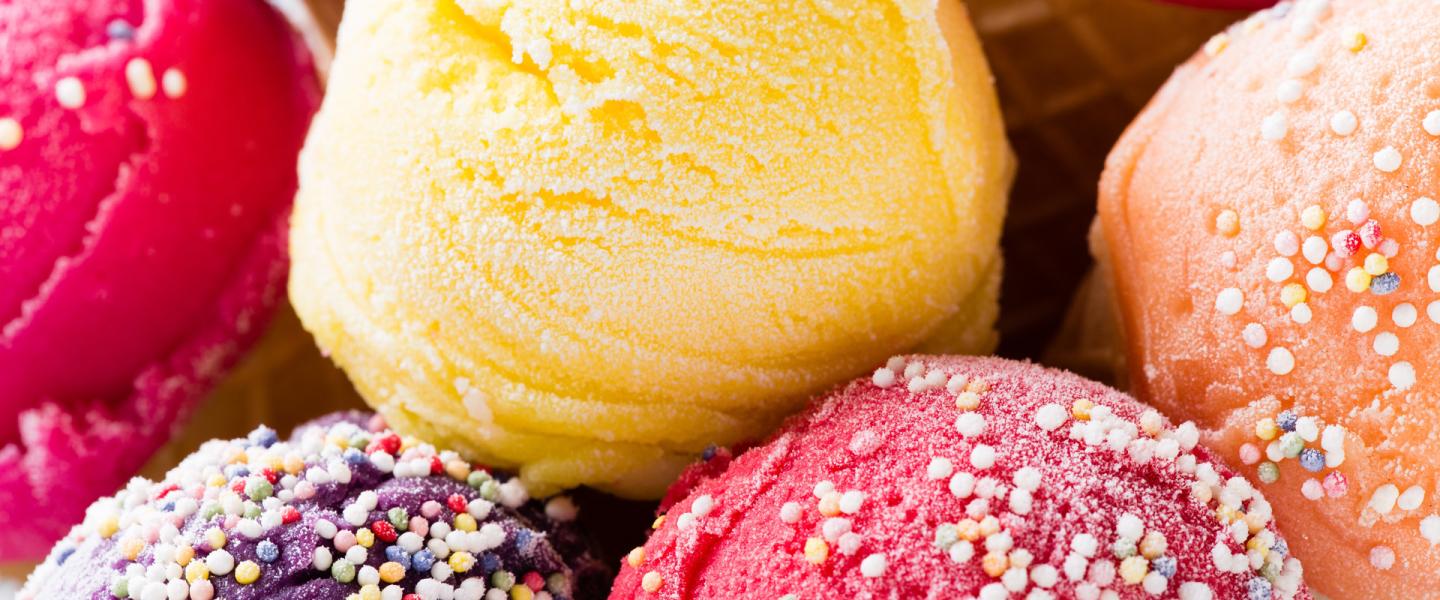 Chill is the buzz word this summer in Greater Palm Spring. Delicious frozen drinks and innovative ice cream creations are the coolest thing around – poolside, under misters or chillin' in front of the AC.
Whether it's watching your fresh cream base or gelato freeze up with a blast of nitro, concocting your own frozen yogurt creation, savoring that triple-scoop of yum or sipping a big frosty adult slushy, here's the latest "scoop" on great ice cream and frozen drinks in the Oasis this summer.
Below Chill Factor at Nitronfusions
Using fresh organic cream with liquid nitrogen, the handmade-to-order ice cream at Nitroinfusions has no preservatives or additives. The quick freeze method –minus 321 degrees!!! –eliminates ice crystals and air intensifying the natural flavors of cream and whatever delicious ingredients you choose.
Some of the creative summer tastes are banana lavender; organic vanilla with caramel and Mediterranean Sea salt; roasted pistachio with extra virgin olive oil; chocolate espresso topped with finely ground espresso beans and chocolate syrup; and the strawberry mojito gelato with muddled berries and mint.
Try the affogato – vanilla ice cream with a double shot of expresso, whipped cream and chocolate sauce. Malt and fresh date shakes, sundaes, root beer and coke floats are also on tap.
Lapping it up at Lique
Lique, a casual dining café at Fantasy Springs Resort Casino, offers cool fun indulgences like ice cream cones, sundaes, shakes and sodas.  Try the New York Cheesecake Sundae, a decadent combination of strawberry cheesecake ice cream, New York cheesecake, chocolate syrup, strawberry topping and whipped Cream. The Brownie Bear Sundae is an ooey gooey mix of cookies and cream ice cream, brownie chunks, hot fudge, whipped cream and chocolate sprinkles. The Caramel Apple Sundae blends dulce de leche ice cream, hot caramel, mixed nuts and apple slices with whipped cream.
Each of these creations is topped with Lique's signature chocolate covered cherry.  What's not to like at Lique?
Light and Refreshing at Ice Cream & Shop(pe)
Colorful, refreshing, innovative flavors and decor are what makes Ice Cream & Shop(pe), located at ARRIVE, uptown Palm Springs' newest hotel, a fun and inviting place to enjoy cool yummy stuff.
The space is as light, airy and as refreshing as the tubs of colorful ice creams and sorbets with inverted V-shaped roof line, clerestory windows framing palm trees, clean lines, crisp white walls, turquoise accents and silver ducting suspended from lofty wood-paneled ceiling.
Tastes like Coachella Valley date, lavender, pink ginger, pistachio, cappuccino crunch and birthday cake are created by a private label ice cream company exclusively for Ice Cream & Shop (pe). These and a roster of 30 rotating flavors may be scooped into cake, sugar, waffle or salted pretzel cones.
"My favorite is avocado ice cream in a salted pretzel cone," said owner/operator Athalie Laguerre. Also an investor in the hotel, this is Laguerre's first ice cream and retail venture. Half of the space is an up-style, fun souvenir shop.
Weigh In at Beach House Yogurt
You'll practically feel the tide swirling around you toes when you dive into a cool cup of frozen yogurt or sorbet at the Beach House at Desert Crossing in Palm Desert.
Grab a small or medium cup, choose your flavor(s) and pull the level to fill as much or as little as you want. Next, select your toppings from fresh berries and sliced fruits, popular candy crushes, hot or room temp syrups and splurge with whipped cream if you like.
Your chubby tub is weighed, then paid.
Choose from non-fat yogurts, premium, no added sugar and sorbets. Summer flavors range from wild berry tart, island banana, Hershey's kisses, outrageous orange and original tart to cookies and cream, snickerdoodle, Reese's peanut butter and more, rotating frequently. Very berry, mango tango, ginger lemonade and Jolly Rancher are some of the awesome sorbets.
PS: You can buy pre-packaged cups of peanut butter banana yogurt for your pooch called Yopup!