Continuing its influence as one of the must-see sporting events on the west coast and expanding its reputation as one of the premier tennis tournaments in the world, the annual BNP Paribas Open returns to Greater Palm Springs with more hardware on the mantle.
Held from Monday, March 9 – Sunday, March 22, 2020, at the Indian Wells Tennis Garden, the event comes off a 2019 season which saw the BNP voted by the players as the ATP Tour Masters 1000 and WTA Premier Mandatory Tournament of Year for a record-setting sixth consecutive season.
Ready to serve-up attendance to the world's largest WTA and ATP combined two-week event? We've got your base line covered.
The Field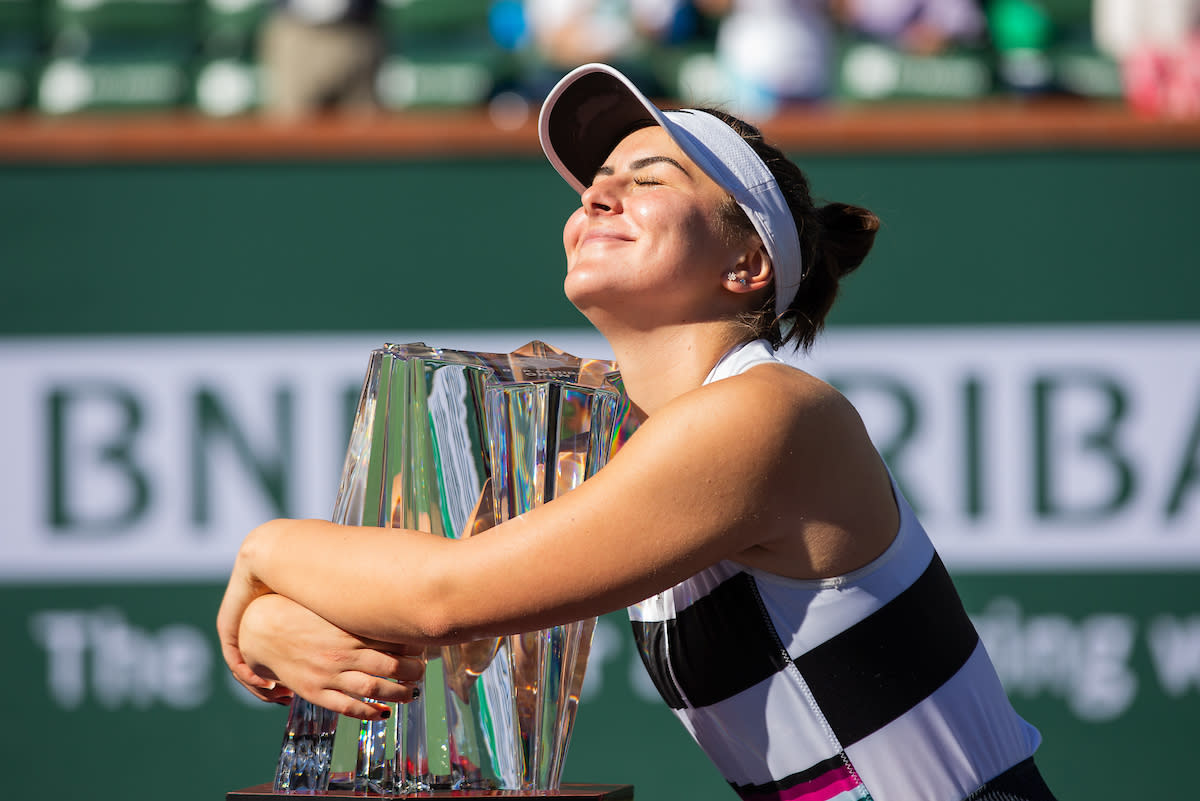 Image courtesy of the BNP Paribas Open 
The legendary, usual suspects are back in play, as luminaries Novak Djokovicr and Rafael Nadal all return to the BNP this year – although in a rare instance with no title defense in-tow.
That pressure falls upon the shoulders of Dominic Thiem, who took down Federer in a stated three-set comeback in 2019, earning the Austrian upstart the first of five singles titles he'd claim last year; Thiem's stellar season also included championship appearances in both the French Open and ATP Finals.
The game's historic Big Three – all still ranked as the top three players in men's tennis – will respectively seek reclaim of the BNP Crown, with Federer and Djokovic both five-time BNP champs, and Nadal aiming for his fourth BNP title (and first since 2013).  
On the women's side of the draw, the BNP witnessed a superb Cinderella story last year, as 18-year old Bianca Andreescu because the event's first-ever champion to win as a wild card entrant.  En route to the title, the Canadian defeated four top-20 players in the final four rounds; the upset BNP win would pave the path for Andreescu's claim to the U.S. Open later in the season.
The world's sixth-ranked player as of late January, Andreescu will seek to become to BNP's first repeat women's champion since Martina Navratilova in 1990-91. 
The Scene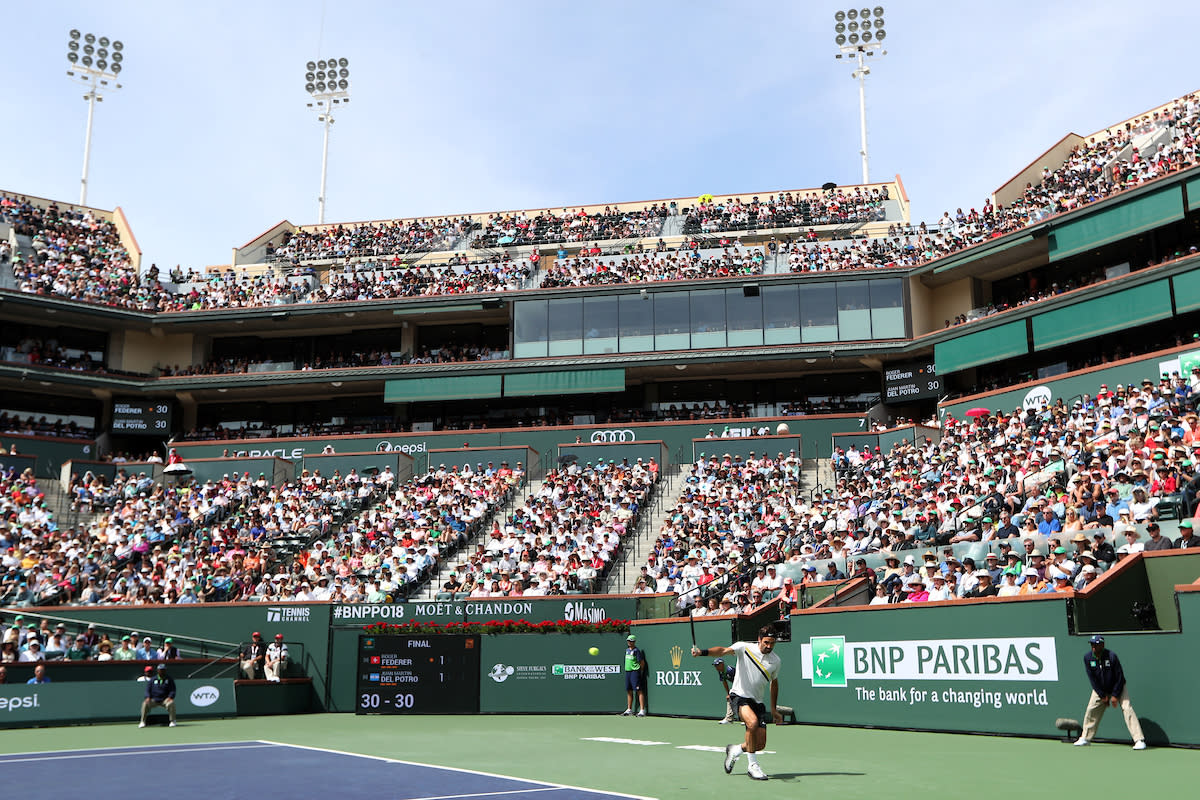 Image courtesy of the BNP Paribas Open 
Across the celebrated setting, an ongoing host of daily vendors and special events dot the BNP calendar, and guests will enjoy no shortage of opportunity to enjoy all manner of strings – from shopping for a new racket to taking in the nightly music acts on the Village Stage from 5:00-7:00 p.m.
Throughout the event, BNP has partnered with more than 60 local businesses to both co-brand, and offer regional wares across the grounds.
For select dates: Both Monday, March 9 and Tuesday, March 10 offer free attendance across WTA and ATP qualifying rounds (remember what Andreescu did last year as a wild card entrant).
The event's maiden Friday night of March 13 presents a special Salute to Heroes night honoring veterans, military, police and fire personnel, while the Saturday ensuing is Emirates Day, offering a day-long slate of prizes and giveaways.
On-site dining at the Indian Wells Tennis Garden continues to impress, led by the Nobu's Stadium 2 restaurant experience.  For a Stadium 1 sit-down, Wolfgang Puck's Spago offers an ideal California-style meal to complement the action.
Fans seeking a casual cool-down amid the sporting atmosphere should check out the air conditioning environs of The Sports Bar, where 50 television pair the matches with cocktails and bar fare.
For 2020, a full menu of new and exciting dining experiences will greet BNP Paribas Open guests. Serving at the exterior of Stadium 2, Fuku -- of the world-renowned Momofuku Restaurant Group -- will warm-up cool desert nights with some excellent fried chicken.  And for some South of the Border flavors, BNP guests will no doubt recognize the local platings of Fresh Agave Mexican Bar and Grill, a longtime Palm Desert favorite.
A full Food Court for those looking to casually stroll the grounds finds a fine local touch with Neapolitan flavors of Piero's PizzaVino, overlooking the Stadium Plaza.  
Off-site: The yearly Citi Taste of Tennis event held at the Hyatt Regency Indian Wells Resort & Spa takes place on March 9, 2020.  Featuring an appearance by top-ranked American John Isner, the exclusive night of dining gets the BNP underway and includes chef-driven local talent from restaurants including Mister Parker's, Catalan Mediterranian Cuisine and Cork & Fork.
Stay and Play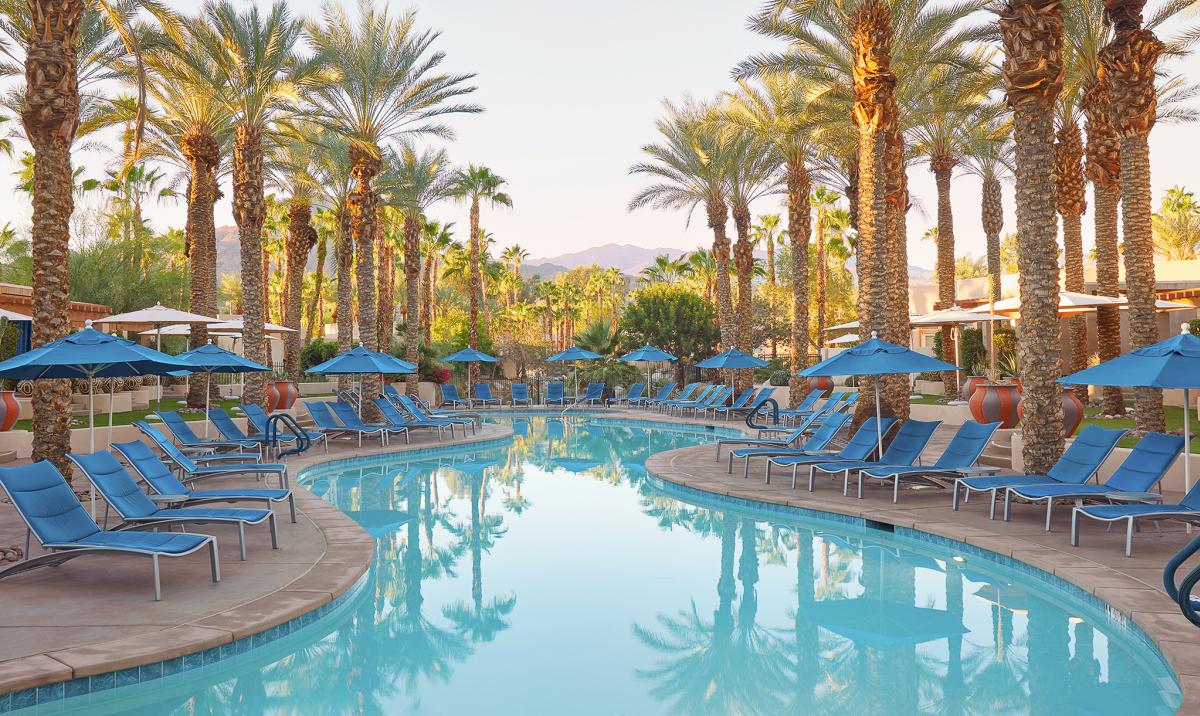 Tickets to attend the BNP Paribas Open span a host of options, ranging from Single Session seating; custom Mini Packages for those looking to attend a few days; Group Packages for guests coming with a crew of 10 or more; and Series Packages for the tennis lover aiming to see as much action as possible.
For a premier seating opportunity, attendees should review Stadium 1 Suites, which provide a luxury viewing experience.
Desert guests seeking a chance to serve-up a Stay & Play in Greater Palm Springs will find a full-menu of accommodation experience to pair with the BNP.  Local hotel package partners are all within eight miles of the Indian Wells Tennis Garden, and visitors will find a diverse lineup of vacationer choices, ranging from a few fun nights up to a "Masters Week," seven-night stay running in concert with the final rounds of BNP play.  
Come for tennis, and stay for much more— Make the most of your visit to Greater Palm Springs with these thrilling events and activities. We'll see you here!