This spring, the oasis will burst into colors as desert wildflowers bring a "super bloom" to Palm Springs and Southern California, and we have your guide to seeing Greater Palm Springs in full bloom!
While the oasis blooms with colorful wildflowers and luscious greenery in 2019, it's the perfect time to plan a wildflower-inspired trip to Greater Palm Springs. Here's everything you need to know on where to see wildflowers in Palm Springs and beyond.
Where to Find Wildflowers Near Palm Springs

Friends of the Desert Mountains Executive Director Tammy Martin and Conservation Coordinator Colin Barrows share that the "spring bloom shows what the desert is really all about."
Whether it's adventuring on trails or taking a guided tour, you can find flowers blooming everywhere right now. In fact, experts are saying we should have a strong super bloom season with a peak set to flourish in March through April.
Self-Guided
The oasis is known for its vast hiking trails that swoop in and out of the desert mountains. Below are a few of the top places in Greater Palm Springs where visitors can explore the fields of yellow and purple desert flowers.
Martin and Barrows encourage visitors to experience these beautiful desert spring flowers but to also "be mindful to stay on the trails" during your wildflower hunt. Below are recommendations for wildflower hikes around Greater Palm Springs.
Coachella Valley Preserve | Thousand Palms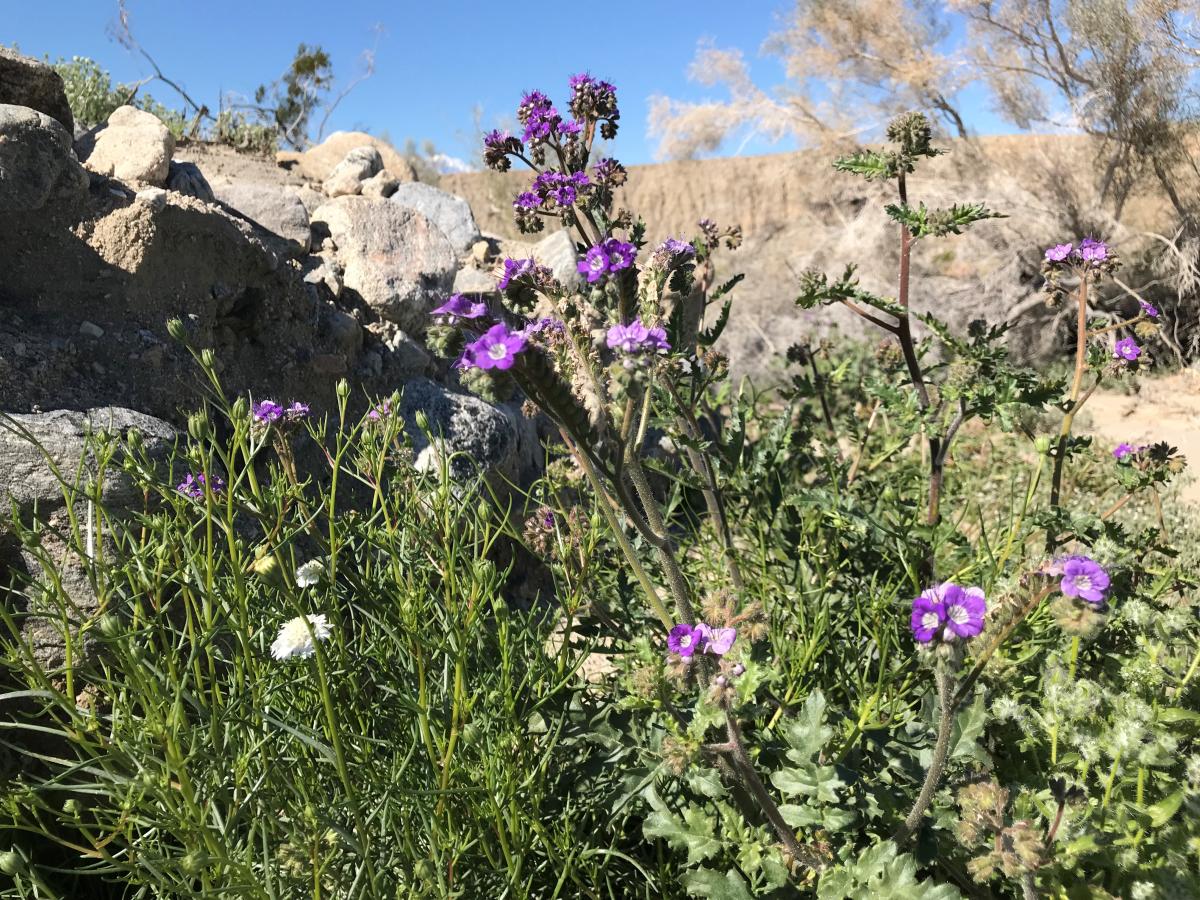 (Notch Leaf Phacelia at Thousand Palms Oasis Preserve)
Known as a hidden gem of palm trees, the Coachella Valley Preserve has an array of beautiful flowers all over this vast expanse of nature. This is the perfect place to get an Instagram-worthy shot!
The Santa Rosa and San Jacinto Mountains National Monument Visitor Center | Palm Desert
Learn about wildflowers at this Visitor Center nestled against a backdrop of desert mountains. Here, you'll find flowers like Brown-eyed Primrose, Beavertail Cacti, Fishhook Cacti and Barrel Cacti.  
The La Quinta Cove to Lake Trail | La Quinta
This is one of the best trails in La Quinta to find wild plants growing alongside the trail. Throughout your 6.6-mile hike, you'll find blooms such as the Desert Five-Spot and the Ghost Flower. Plus, you might just spot a bighorn sheep!
Lykken Trail | Palm Springs
About a mile to two miles into Lykken Trail, hikers will reach a peak called "Vista Point." Here, visitors can spot Desert Sunflowers growing alongside the mountain. Further along the trail, hikers are also treated to a stunning view of the oasis. 
East Indio Hills Badlands | Indio
This 4.7-mile hike through rock terrain is alive with yellow and purple petals. Desert wildflowers are in full bloom here. 
Guided Tours with Desert Adventures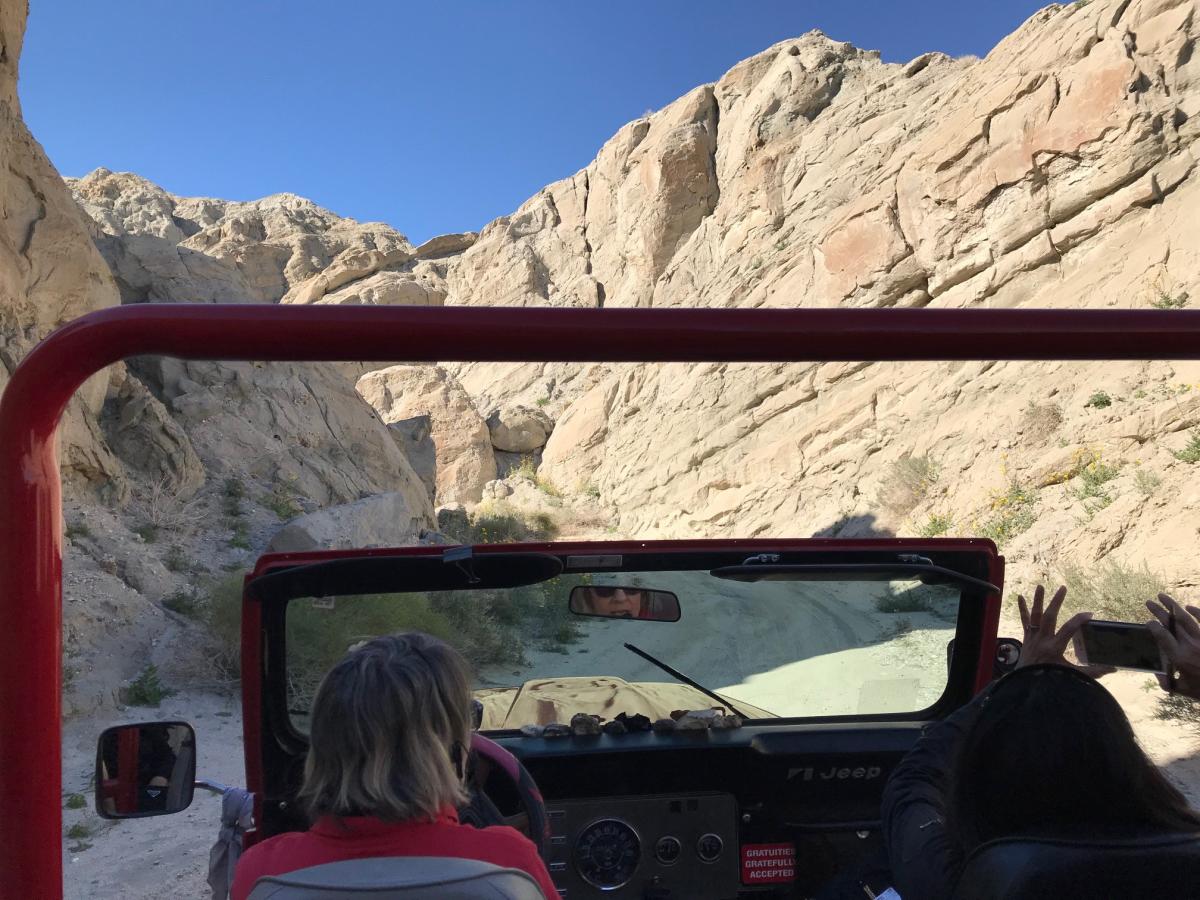 Desert Adventures Red Jeep Tours & Events makes it easy to explore the oasis, thanks to four-wheel drive and a professional guide. Hop on a Jeep and get ready for an adventure of a lifetime. Learn about the rich history of Greater Palm Springs from experienced professionals who will take you on an exciting journey of the oasis, and see wildflowers near the San Andreas Fault.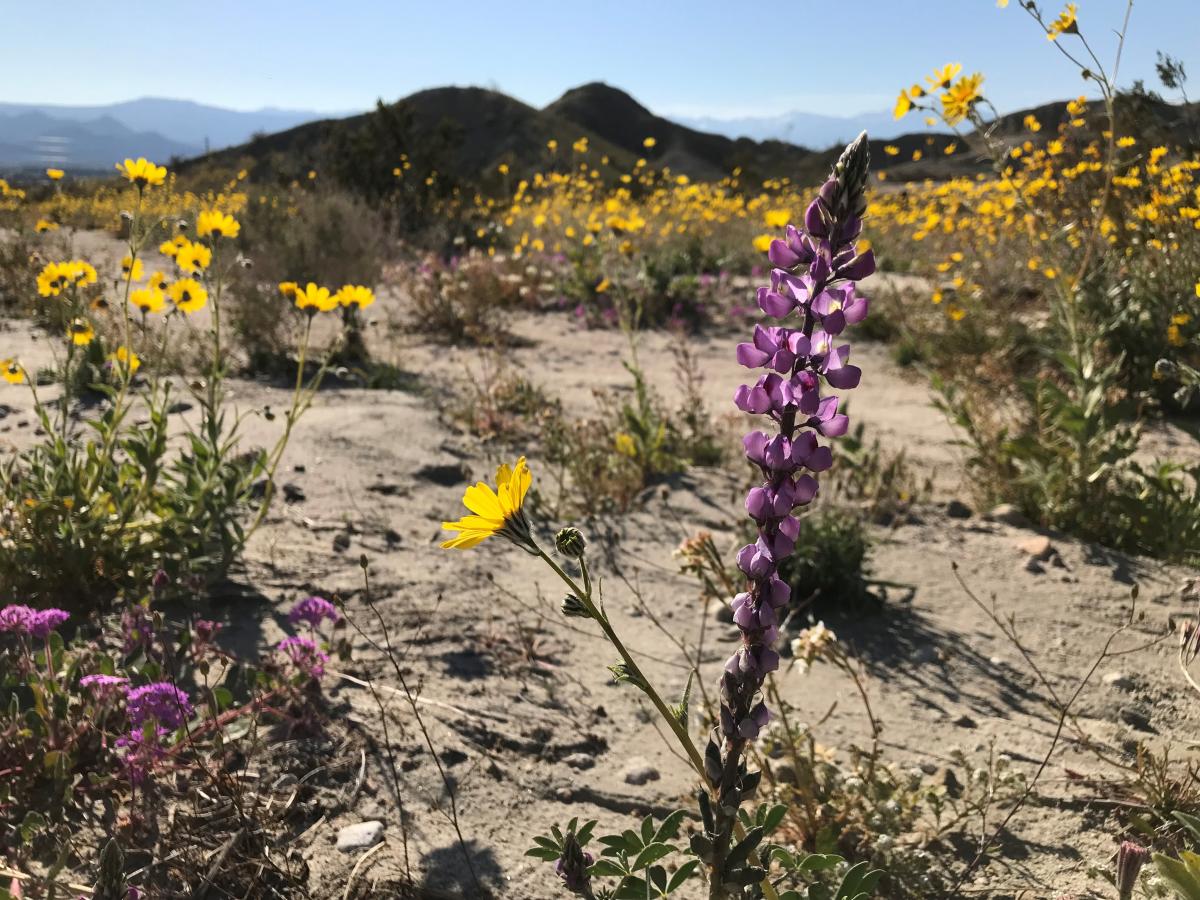 (Desert Sunflowers and Arizona Lupine at Metate Ranch, Red Jeep Tour)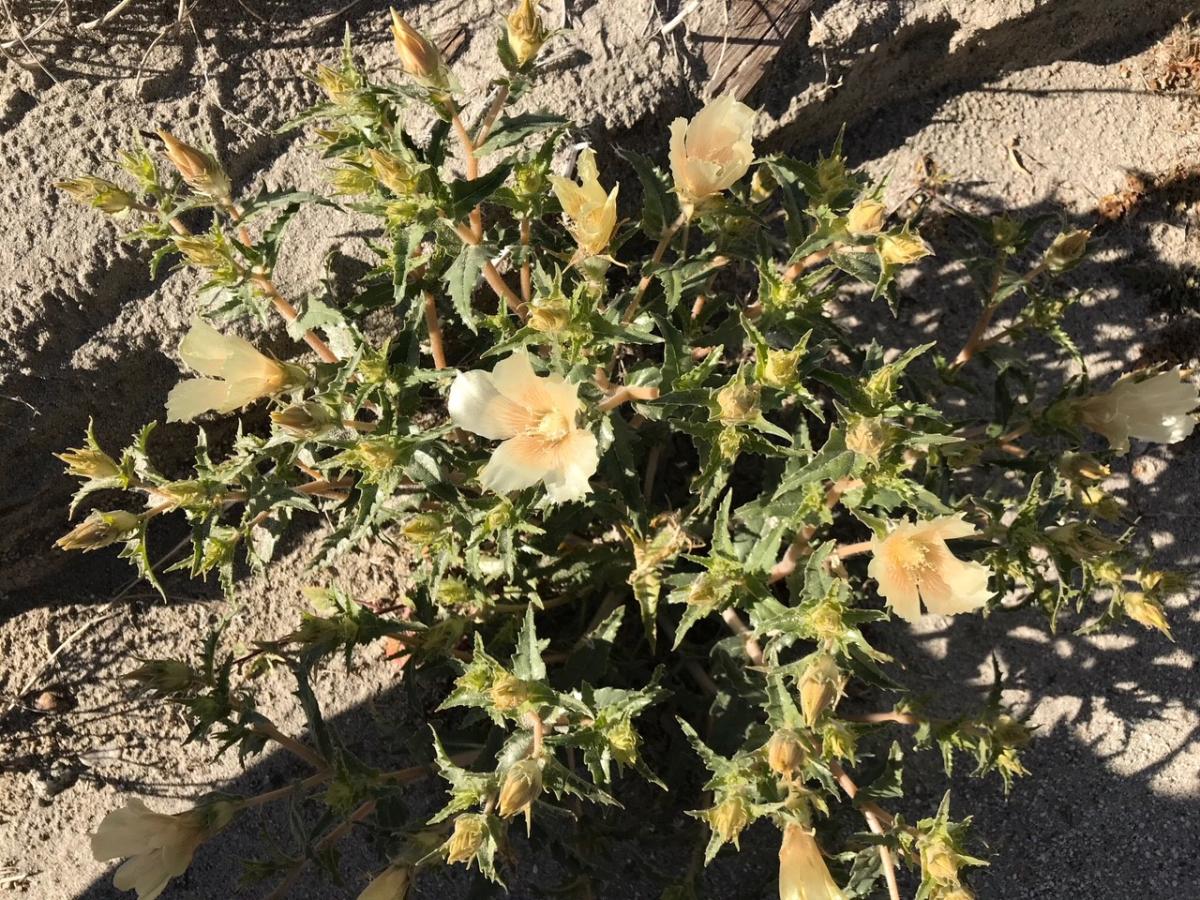 (Sand Blazing Star at Metate Ranch, Red Jeep Tour)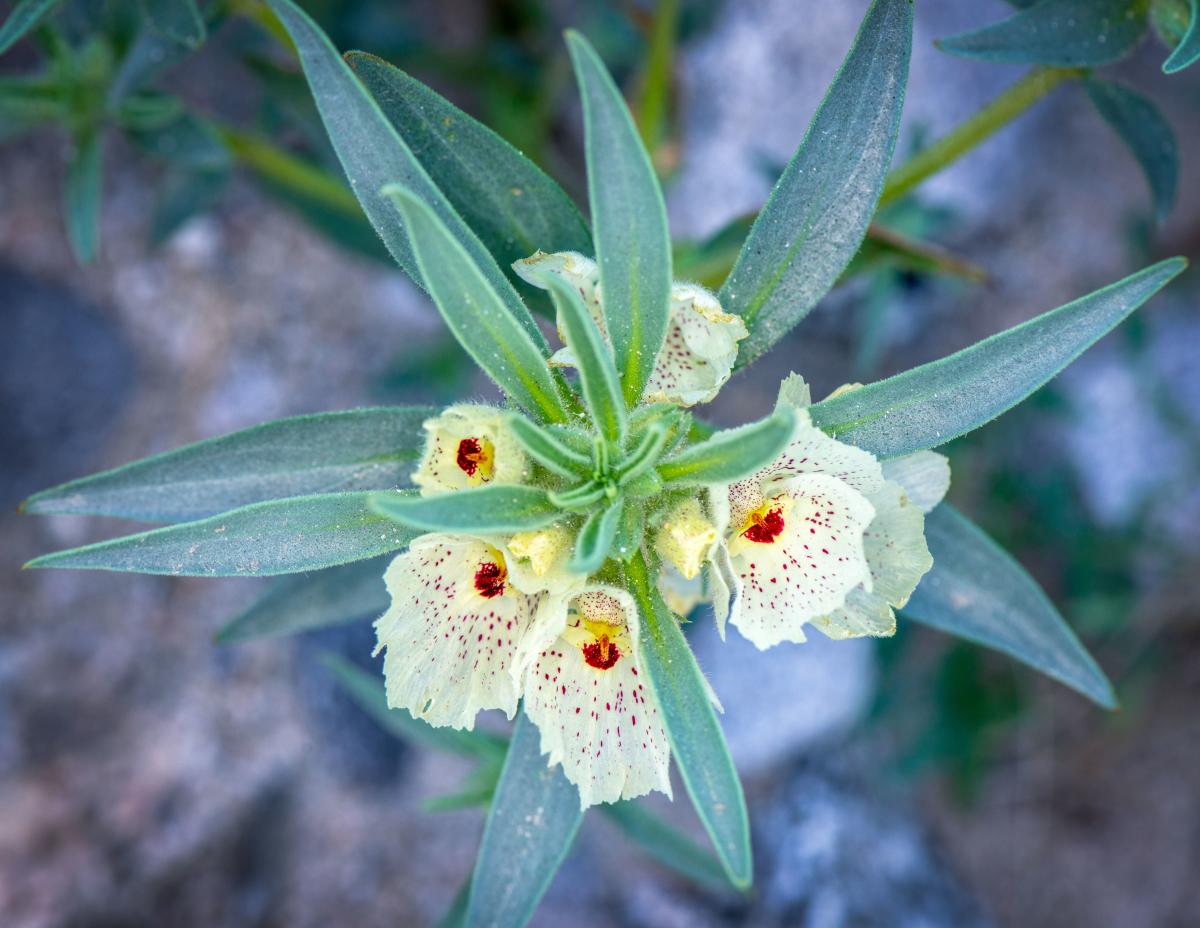 (Ghost Flower at Metate Ranch, Red Jeep Tour)
Guided tours offer a special chance to find wildflowers that might otherwise be missed. "There are super rare flowers that we haven't seen in over 20 years, like the Ghost Flower," says Emelie Pittendrigh, Reservations and Group Booking Coordinator for Desert Adventures.
Naturalist Guide Lane Romans adds: "These seeds were waiting in the desert for rain all this time, and now that they're blooming, it is a sight you have to see."
San Andreas Fault Jeep Tour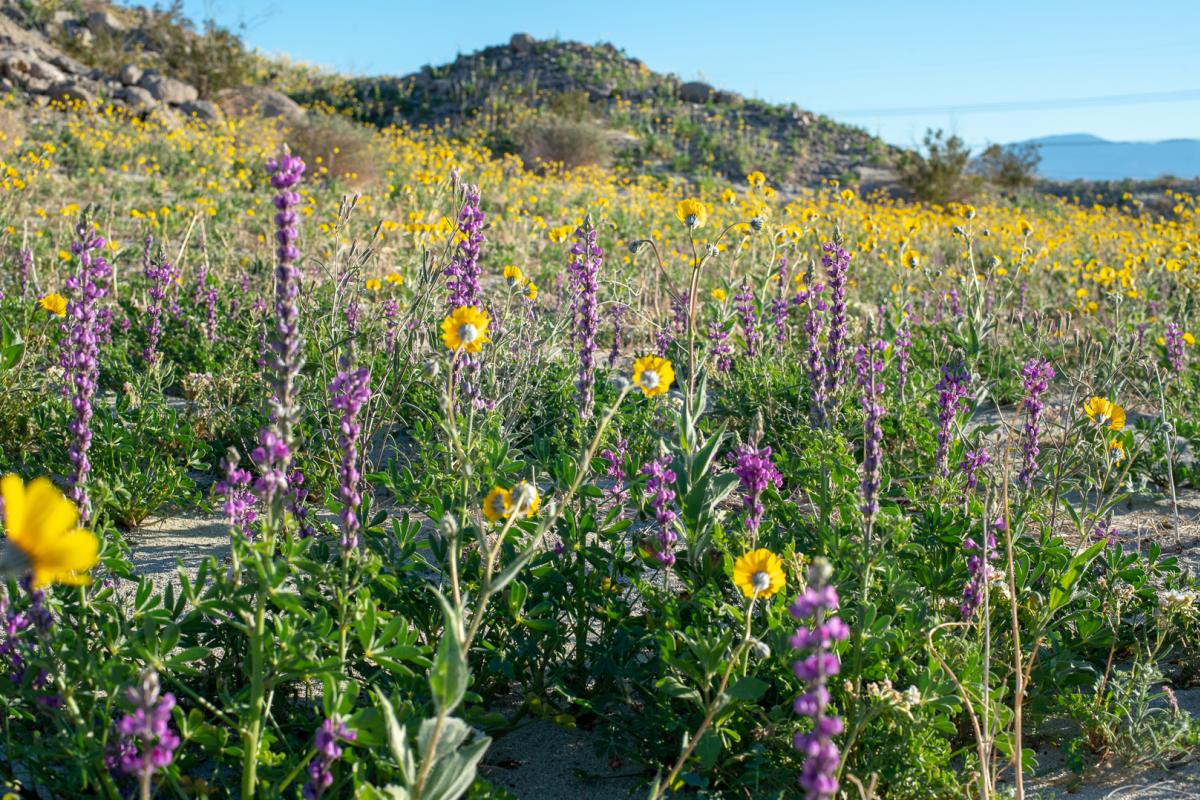 (Wildflowers at Metate Ranch, Red Jeep Tour)
Take a private tour through Metate Ranch preserve on the San Andreas Fault, where you'll spot a sea of wildflowers as you learn the history of Greater Palm Springs.
This tour highlights flowers like the Sand Blazing Star, Rock Daisy, Desert Sunflower, Sand Verbena, Arizona Lupin, Brown-eyed Primrose, Red Barrel Cacti, Notch Leaf Phacelia, Ghost Flower, Suncups and more.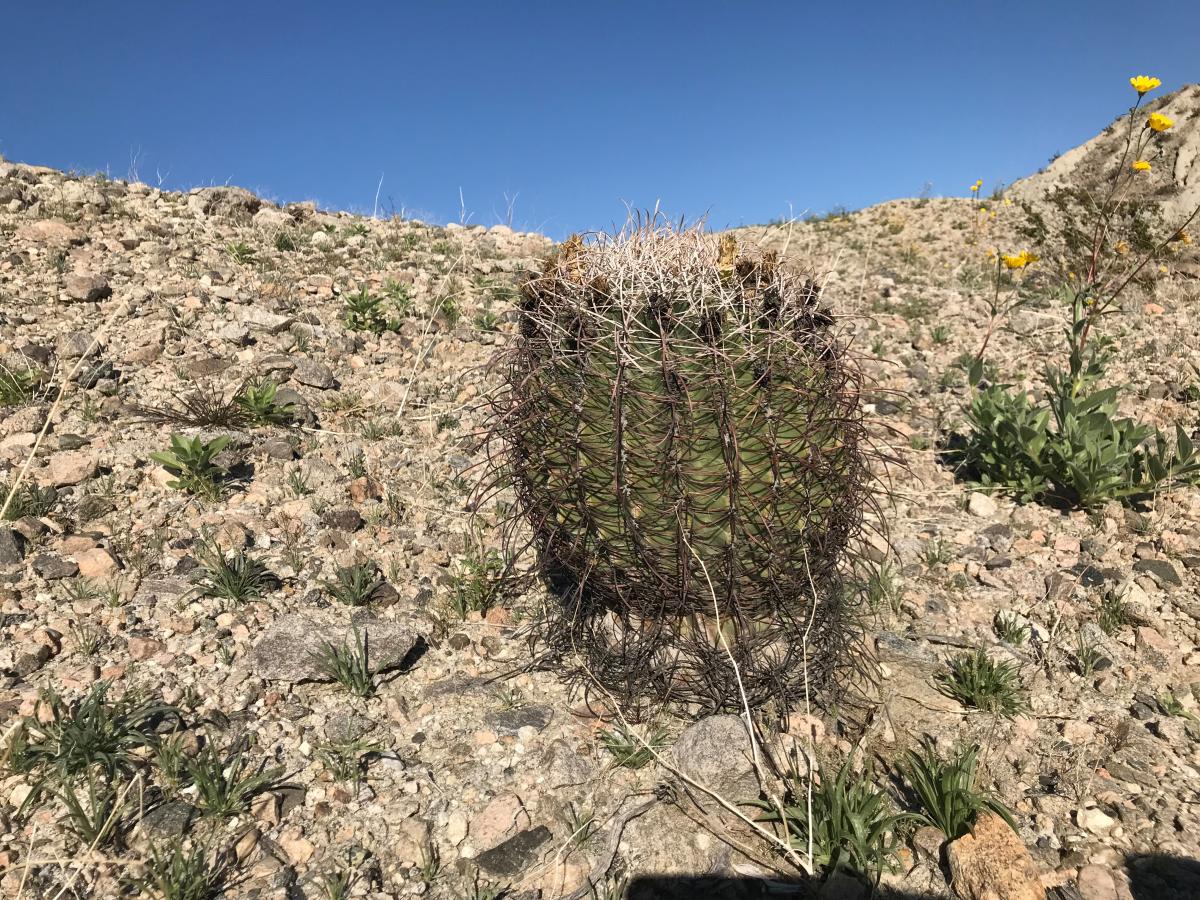 (Red Barrel Cacti at Metate Ranch.)
Joshua Tree National Park Tour
Explore the 16th largest park in the nation with this private tour of Joshua Tree National Park. Not only will you get to see the famous Joshua Tree, but visitors will also experience a unique view of the iconic national park as wildflowers bloom.
Anza-Borrego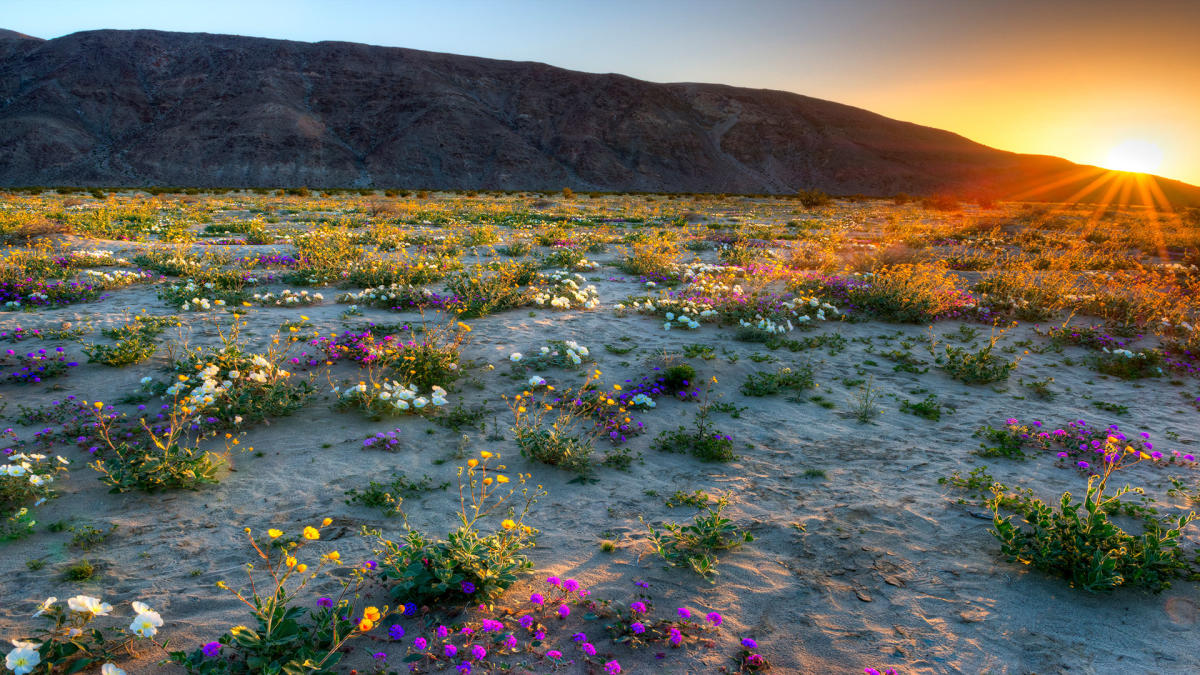 One of the largest state parks in California is blooming with lively wildflowers and plants. Head to Anza-Borrego State Park to be able to explore two different wildflower locations. Spot flowers like Sand Verbena, Brown-eyed Evening Primrose, Desert Sunflowers, Spectacle-pod, Desert Lilies, Lupine, Dune Primrose.
Read more about exploring Anza-Borrego State Park and staying in Borrego Springs. 
Wildflower Events
Celebrations, hikes, exhibits and tours are among the many ways you can get in the super bloom spirit. Be sure to check out Friends of the Desert Mountains for upcoming spring events. 
Wildflower Nature Walk | Saturdays through March 23
Enjoy a stroll on Randall Henderson trail where you will learn how to identify the various wildflowers. 
Wildflower Bus Tour | March 20
See what all the buzz is about on this bus tour that will help you discover local flowers. Field guides, handouts and hand lenses are provided.
Birding Walk
Bring your friends and family to walk Art Smith Trailhead with experienced birders to discover the local inhibits of this area.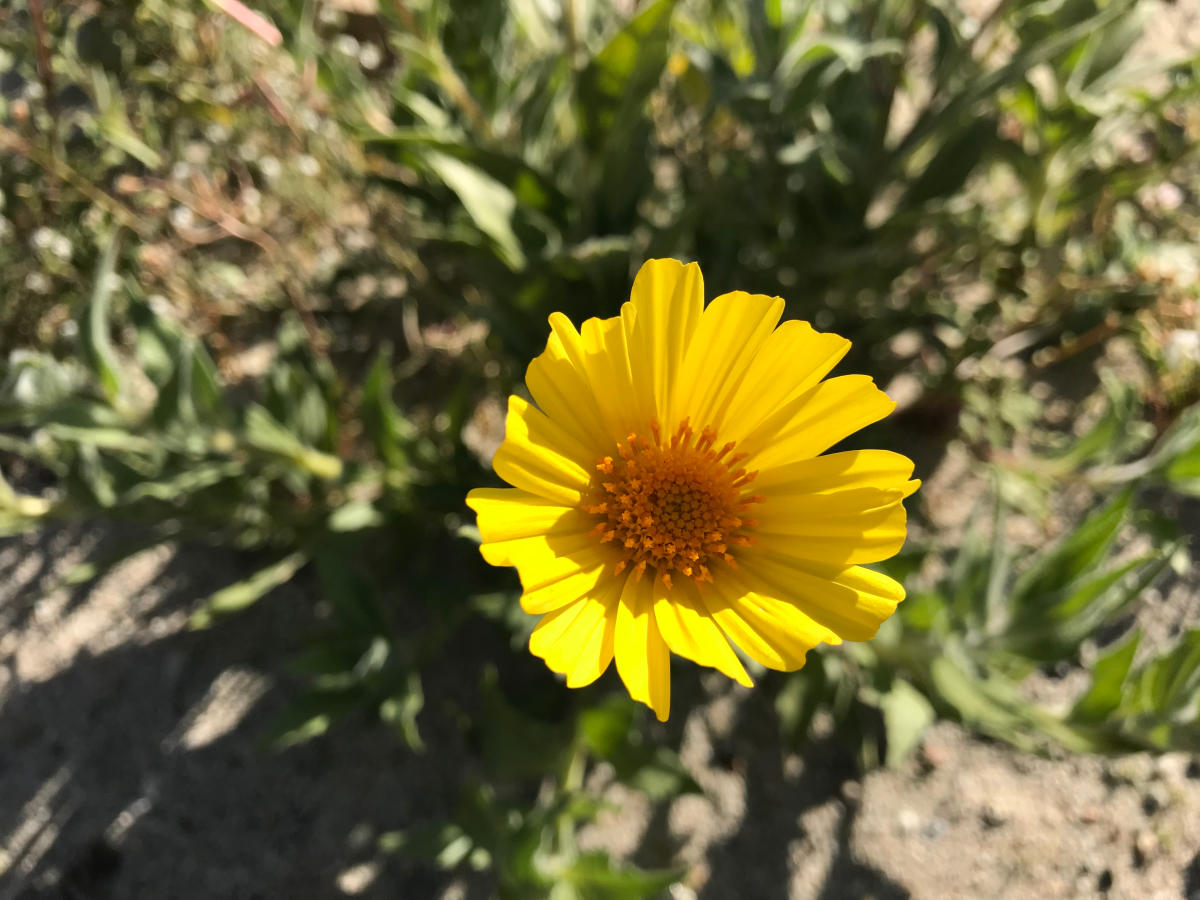 (Desert Sunflower at Metate Ranch)
The super bloom is expected to last through April 2019. For more natural beauty, check out The Plant-Lover's Guide to Greater Palm Springs.