A refreshing cocktail by the pool is the perfect scenario for a sun-kissed afternoon—but don't expect to crack open a novel at trendy resorts. Over the weekends, several hip properties in Greater Palm Springs transform their chilled-out pool scene into wet-and-wild, action-packed affairs. With high energy, live DJs and pumped crowds—under that signature, desert canyon backdrop—these essential, all-day pool parties make the biggest splash over summer 2017.
Summer 2017 Pool Parties in Greater Palm Springs
Splash House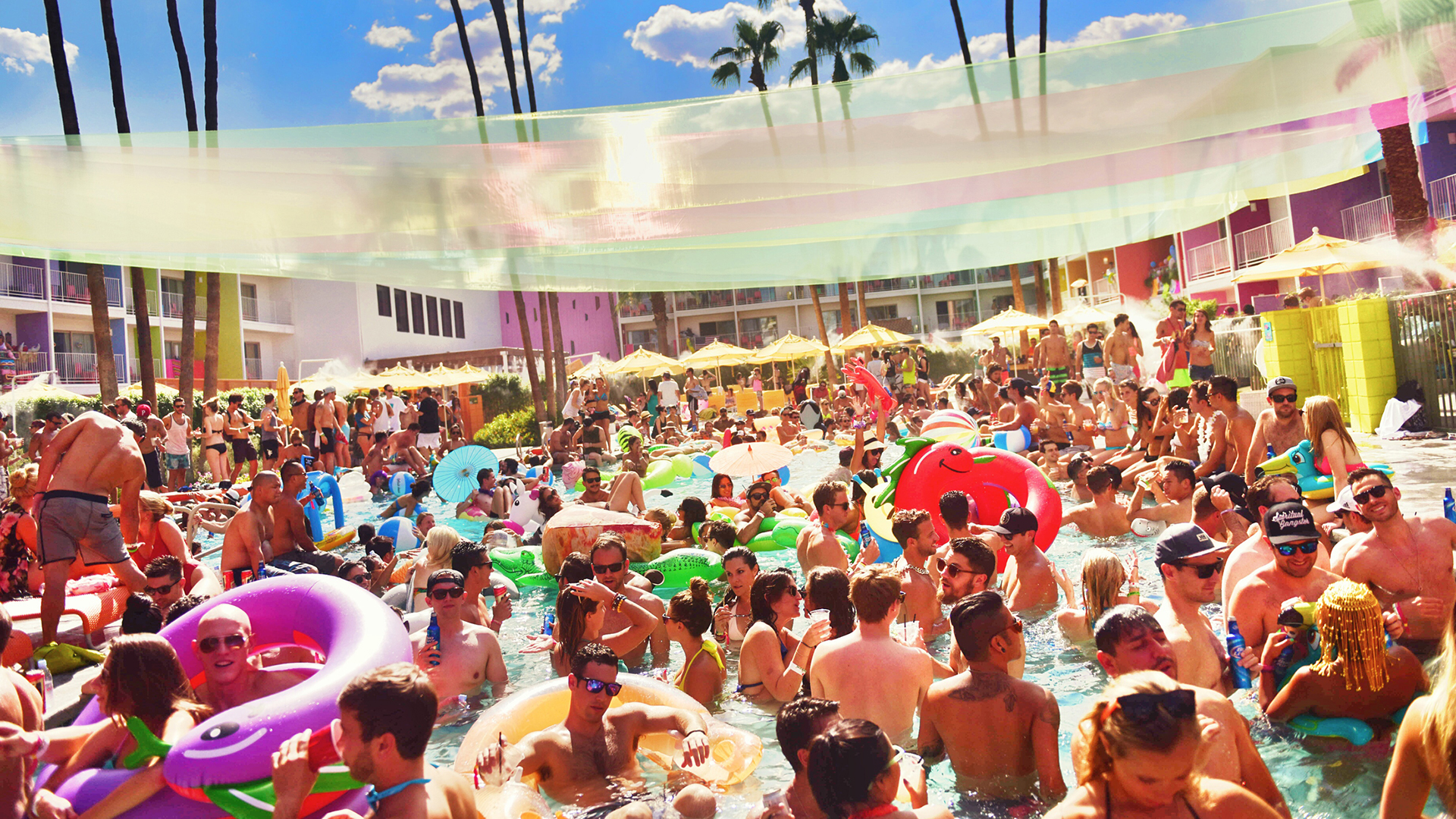 The mother of all pool parties, the annual Splash House pool party will take over three resorts—The Renaissance, The Riviera and The Saguaro— for two weekends, June 9-11 and August 11-13.
It's considered the Coachella of pool parties with some of the world's most famous DJs helming the decks, like Bonobo, Hot Chip, Big Gigantic and Kaytranada. Swarms of EDM junkies, weekenders and millennials alike party with non-stop beats, adult beverages and even a contest where the best decorated balconies overlooking the pools win prizes.
Spurring a desert-chic lifestyle, Splash House parties now extend to post-pool "after hours" events at Palm Springs Air Museum, with live sets by Classixx and James Murphy of LCD Soundsystem.
The Saguaro Palm Springs
The Saguaro is unarguably pool-party headquarters. The stylish resort has served as one of the original locations for Splash House, it's seen thousands of pumped fists at Coachella-themed pool festivities, and it's home to LGBT-themed pool party SummerTramp.
The newest Saturday poolside event, RINSE, from 12-6 pm, is a lively affair at the pool oasis with Olympic-sized pool and two outdoor hot tubs. Visitors can expect a stable of live DJs, special pitchers of sangria and signature pool floaties that make the perfect Instagram. Daybeds are also available for rent.
Hard Rock Hotel Palm Springs
With a striking canyon backdrop and a flair for music, Hard Rock Hotel Palm Springs sets the perfect scene for poolside shenanigans. In fact, the party-centric hotel brand famously invented the day pool party (in Las Vegas), so visitors are in good hands with the experts.
Over the weekends, guests can expect similar Vegas-style vibes as DJs hit the turntables, and loads of partiers sprawl out at the pool with 10 luxe cabanas, daybeds and proper bottle service for the ultimate, killer pool party.
ARRIVE Palm Springs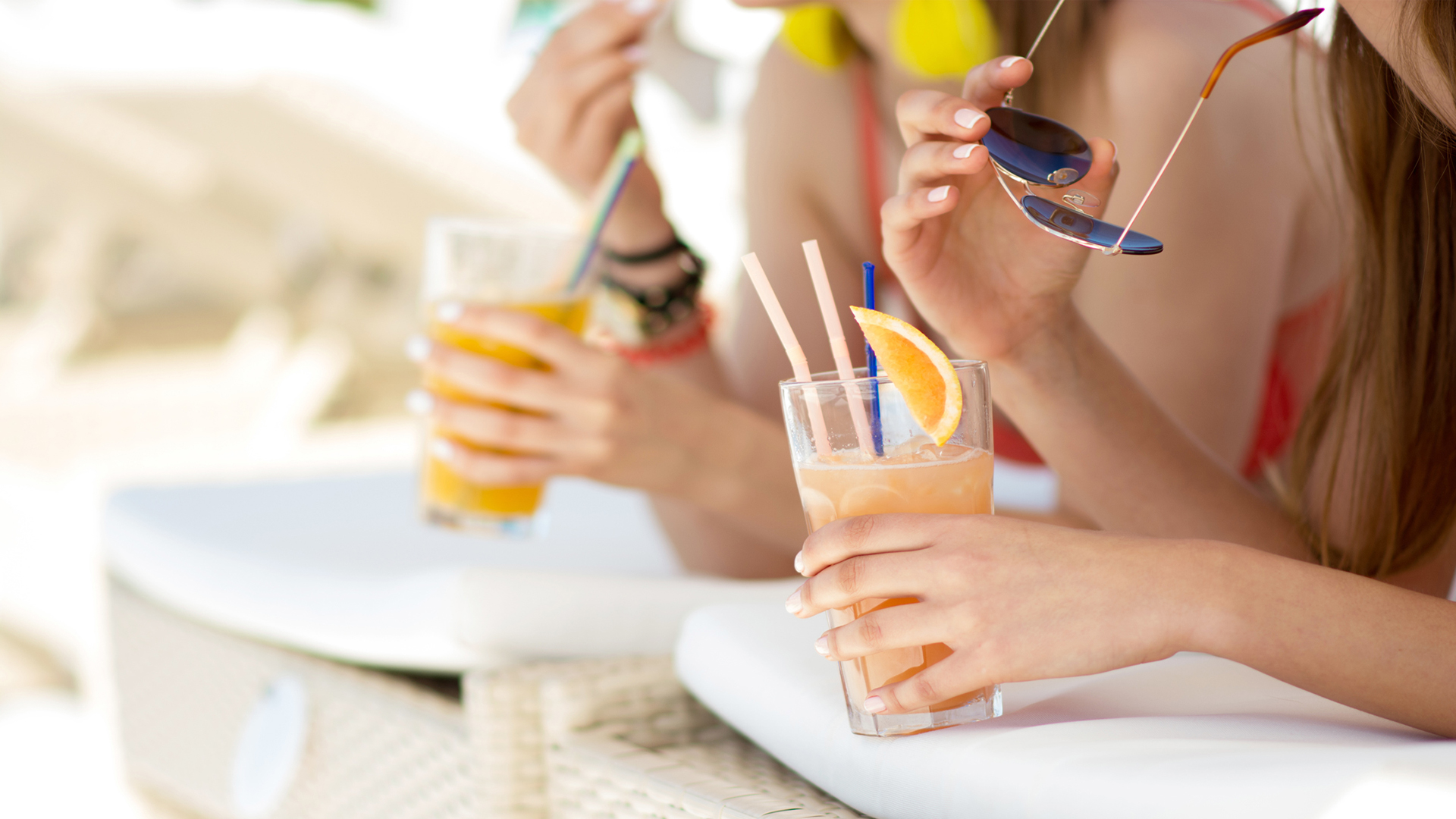 ARRIVE Palm Springs may be a bite-size, intimate, 32-room boutique hotel, but it packs a lot of punch on Sundays. #AssistedLiving Sunday afternoon pool parties, from 12 to 6 pm, have become legendary for chilled-out, laid-back, recreational vibes thanks to comfy pool cabanas, a 22-foot jacuzzi, board games, bocce court and ping pong. It's somewhere between "lazy Sunday" and "Sunday funday," so prepare for the art of doing nothing at all—but having fun with it!
Despite the fact the resort is tech forward (it was opened by a former Facebook employee), nobody's on their phones here with the social-heavy atmosphere. Proper pool partying isn't official without the delicious burgers and a craft beer.
Ace Hotel & Swim Club
We predict a lot of new hipster friends in your future, thanks to Ace Hotel & Swim Club's legendary weekend parties. The Swim Club weekend pool parties have garnered a massive cult following since Ace truly established Palm Springs' pool party scene when it opened almost a decade ago.
The acclaimed hot spot for an eclectic, artsy crowd, Ace Palm Springs' Swim Club is a fun day scene of dancing, splashing, boozing (including craft cocktails and PBR) and late-night bonding in the massive hot tub. While it's mostly fronted by live DJs, the pool party often has drum circles on special occasions.
Cool Resort Pools to Check Out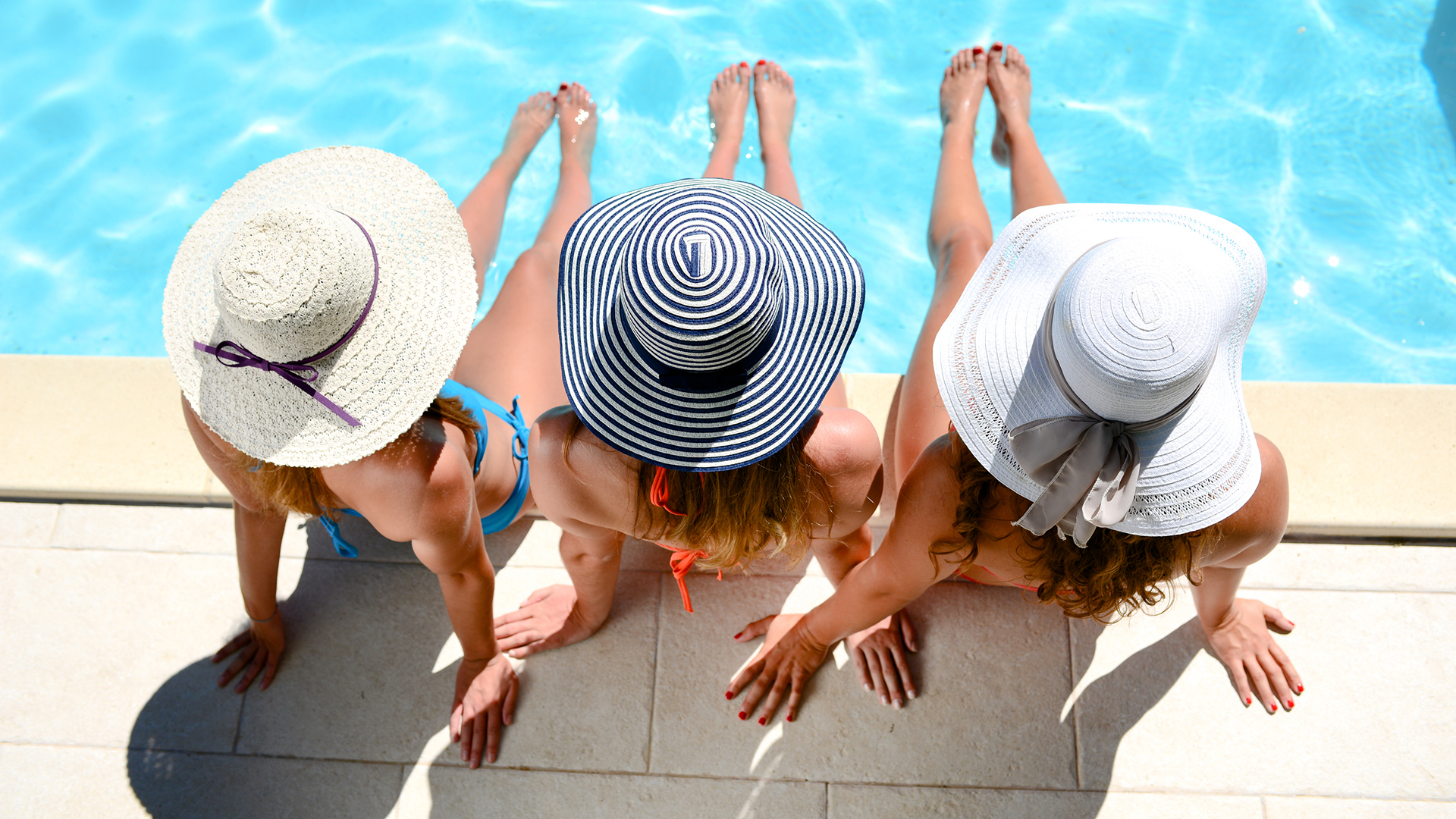 For more poolside fun, don't miss these resort pools around town:
Want to plan the ultimate summer getaway? Check out our guide to Summer 2017 in Greater Palm Springs.