The annual Coachella Valley Music and Arts Festival is one of Southern California's biggest attractions. The yearly event brings in music lovers from around the world for two weekends straight to revel in daylong concerts beneath the sun on the sprawling Empire Polo Field grounds.
For years, festival producer Goldenvoice has showcased its commitment to art as well by providing an arena for artists to create site-specific installations and experiences for festivalgoers side by side with their favorite bands. But in 2016, the bar was raised as major international artists were commissioned and given a platform to create large-scale contemporary pieces within this unique environment, positioning the Greater Palm Springs area onto the worldwide arts and culture map.
World-class artworks at this year's festival range from the conceptual to the political with an emphasis on spaces created to reflect upon within the overall energy of the hugely populated event. This includes two local art stars of the moment who, although from Greater Palm Springs, are making names for themselves on a global scale.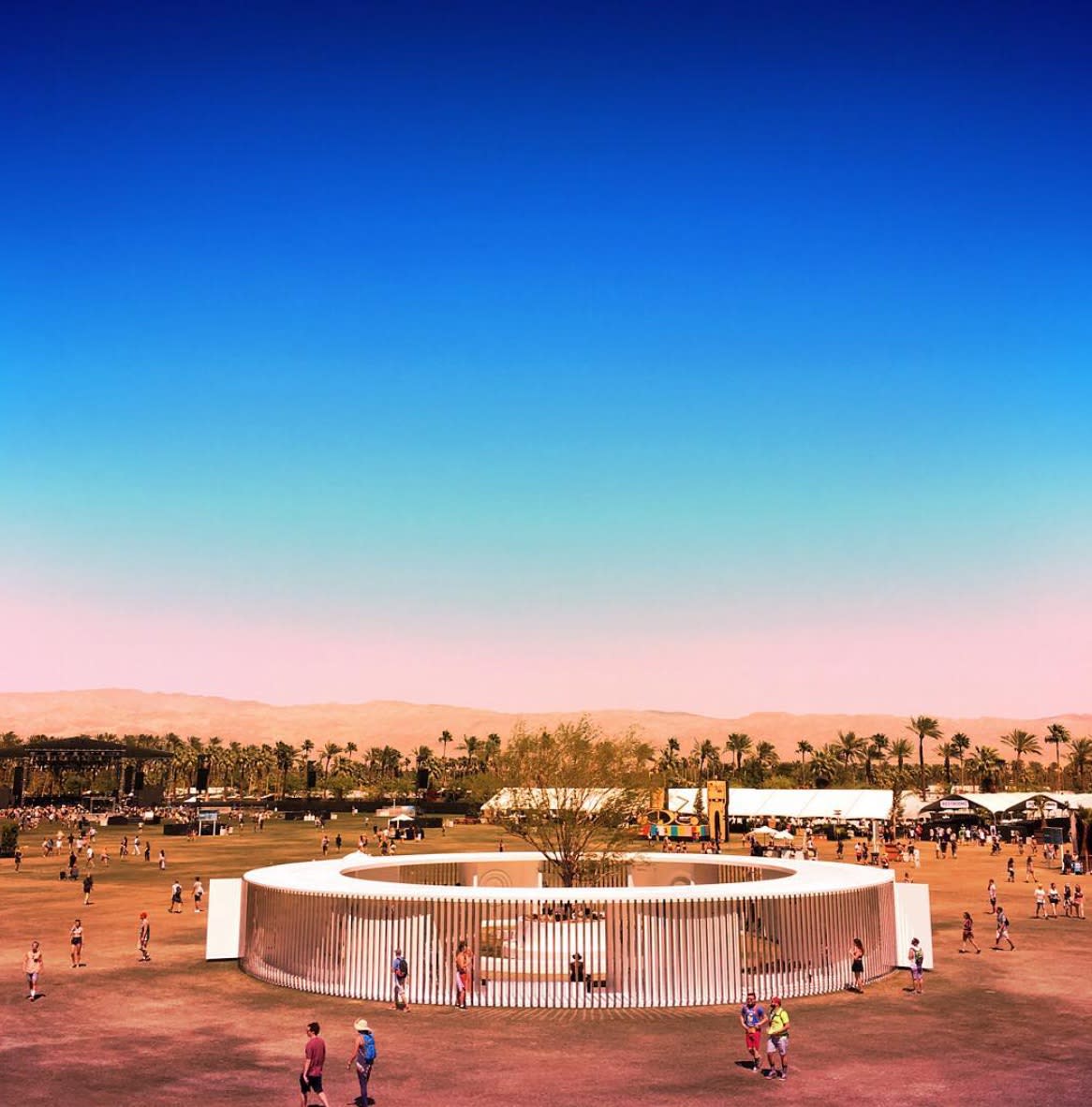 Phillip K. Smith III, who was raised in Indio before attending the prestigious Rhode Island School of Design, returns to the festival after his debut of Reflection Field at the 2014 Coachella Fest. This year, he built a massive circular pavilion ringed with mirrored slats that alternate with voids of empty space. From afar, the space hovers like a mirage on the lawn, reflecting the environment back upon itself. Upon nearing, one can suddenly see through the structure into its inner berth where a grand planter holds a tree and provides seating around its base for weary visitors who need a break from dancing. Once inside the pavilion, its interior periphery features alternating white squares. In some, benches splay for those who want to lie down and take in the eerie calm of this installation. In others, three-dimensional globular sculptures hang on the walls transitioning between various colors of vivid and gradient light. The result is a hypnotic opportunity to become part of a mini ecosystem of humanity within an larger body of humanity, witness gorgeous transformations of light and space and to perhaps capture a little of the magic through myriad permutations of the selfie.
The other desert star is the duo The Date Farmers. Armando Lerma and Carlos Ramirez, who grew up not far from the festival grounds, are known for their Chicano motif paintings, collages and constructions that remark on life in the Coachella Valley, growing up amongst the farming community that has always provided a silent backbone for the area's agricultural economy. Their piece Sneaking Into the Show features a 30 foot tall figurative sculpture of a man and a woman and a low rider bicycle. The title represents the irony that many of the local youth who come from generations of families who have worked hard in the fields of the area, are the very same youth who can not afford to attend the pricey festival on the very same grounds of their childhood homes.
Latvian artists Katrina Neiburga and Andris Eglitis were commissioned to construct an edition of their piece ARMPIT, which was originally shown at the 2015 Venice Biennale. The piece is a gargantuan structure made of cobbled together wood and found materials, appearing as a large armadillo shaped futuristic ark on the lawn. Visitors line up to take a few moments inside its chamber, which is strewn with a multitude of videos showing various Russian men at work in their garages tinkering on mechanical or shop-related projects. It inspires reflection on the idea of the "man cave" and the industriousness of hobby and the underpinnings of labor that define male society and pastime.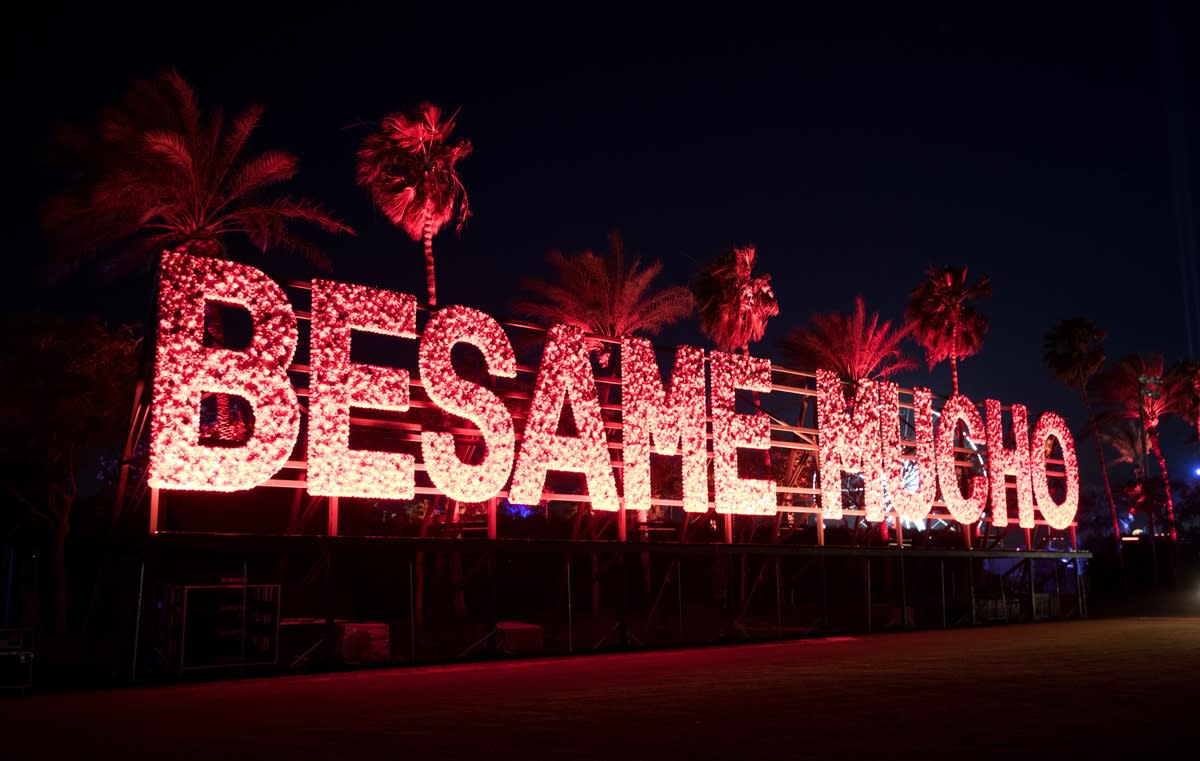 Besame Mucho is the Miami-based R&R Studios' love letter to California, seen by the collaborative duo of Roberto Behar and Rosario Marquardt as a land of flower power, free love and liberation. 100,000 silk flowers in dynamic hues of red, orange and pink create these words across a 130-foot long and 28-foot tall wall inviting festivalgoers to treat it like vibrant mistletoe beneath which to seize the day with glorious kisses.
Katrina Chairs by Cuban-born Alex Arrechea is a poignant homage to the hurricane that devastated New Orleans in 2005. The piece is a 30-foot tall sculpture of four yellow chairs that each holds its own stack of foundational squares. The piece invites viewers to reflect upon the notion of a community holding itself up through the communion of its people and indeed, does just that within the festival setting as participants walk into its towering quadrant and look up from within its four corners. From there, they can imagine themselves a part of something larger than themselves but something that still needs maintenance as the parts become the sum of, and responsible for, the whole.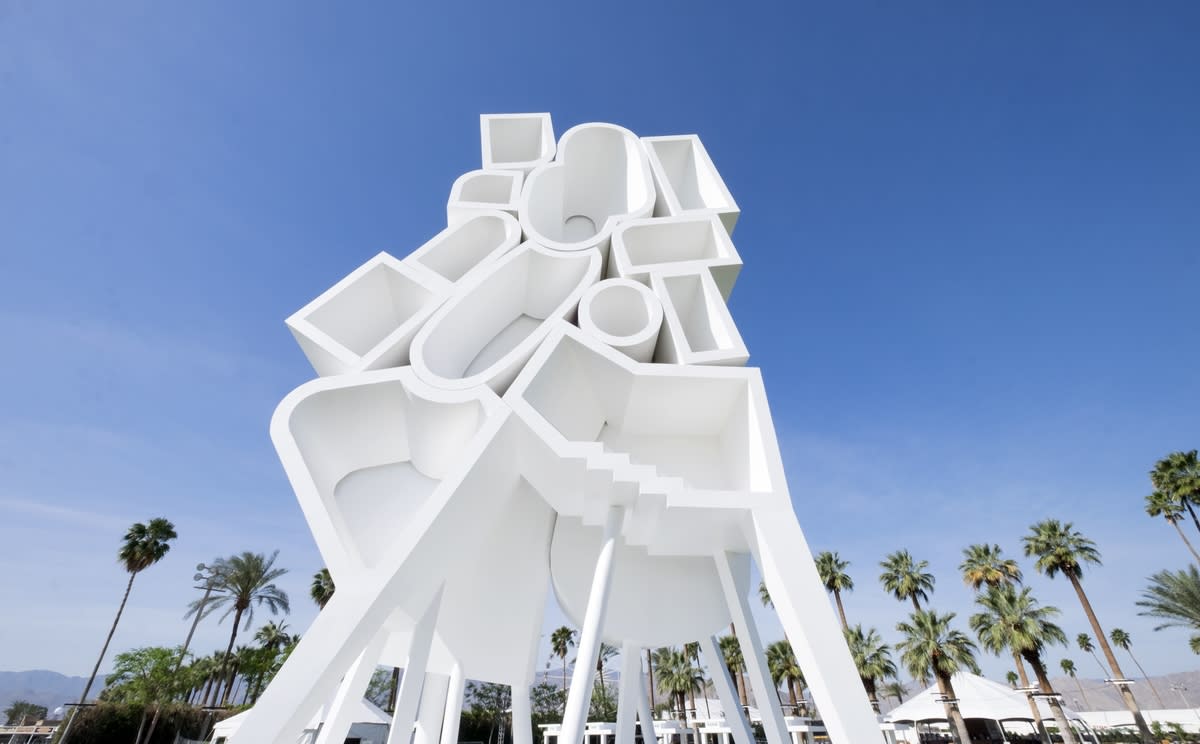 Last but not least, is the glowing white statue The Tower of Twelve Stories by Jimenez Lai, a Taiwan-born architect currently working in L.A. as founder of Bureau Spectacular. The 20-foot tall body of collaged shapes appears as half of a larger piece that was seemingly cut down the middle to expose its voluminous shapes' insides. The almost cartoon-like cross section looms white all day and at night turns into a carnival of permutations based on various projections of light that dance across its façade from boldly colored individualities to strategically and hue-specific portraits. It is as diverse as the population of festivalgoers and delightful in its random surprises. 
The work can be seen for one more weekend and then will be dismantled, the impermanence of the exhibition as frenetically fluid and existential as the festival itself.