No doubt about it: The Greater Palm Springs area is a burgeoning foodie destination. Creative chef-driven restaurants, gourmet retail stores, and even a local library are attracting more fans with cooking classes and demonstrations.
Classes vary from an hour or two to a full series at all levels from the eager novice to experienced gourmet. Whether demos or hands-on experiences, all include plentiful tastings to full meals with wine pairings in the bargain.
Attend a class to meet other foodies or plan a custom event with your own group; new ideas, recipes, inspiration—and delicious fun—are guaranteed.
Cooking with Class | La Quinta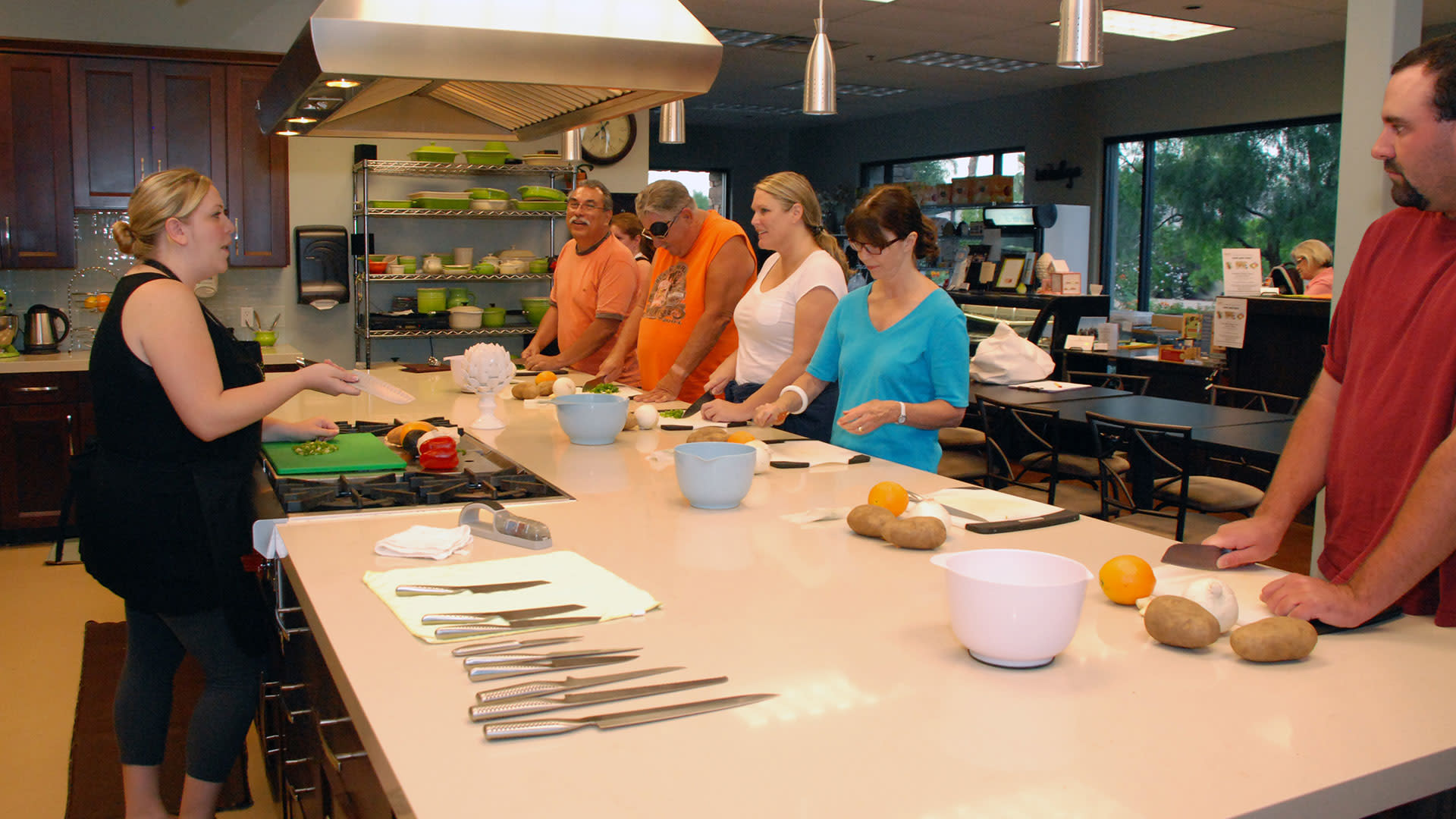 In La Quinta, Cooking with Class is the desert's longest-standing private cooking school in the Greater Palm Springs area. Founded in 2008 by Executive Chef Andie Hubka and her business partner mom, Jane Angwin, Cooking with Class offers a variety of day and evening classes in specific cuisine and techniques as well as wine and food pairing series.
Popular classes include Couples in the Kitchen, Cork & Fork Summer Series and the innovative Cooking with Trader Joe's. The school also offers professional certificate level programs.  The Cork & Fork series inspired the name of Hubka's restaurant right next door.
Kitchen Kitchen | Indian Wells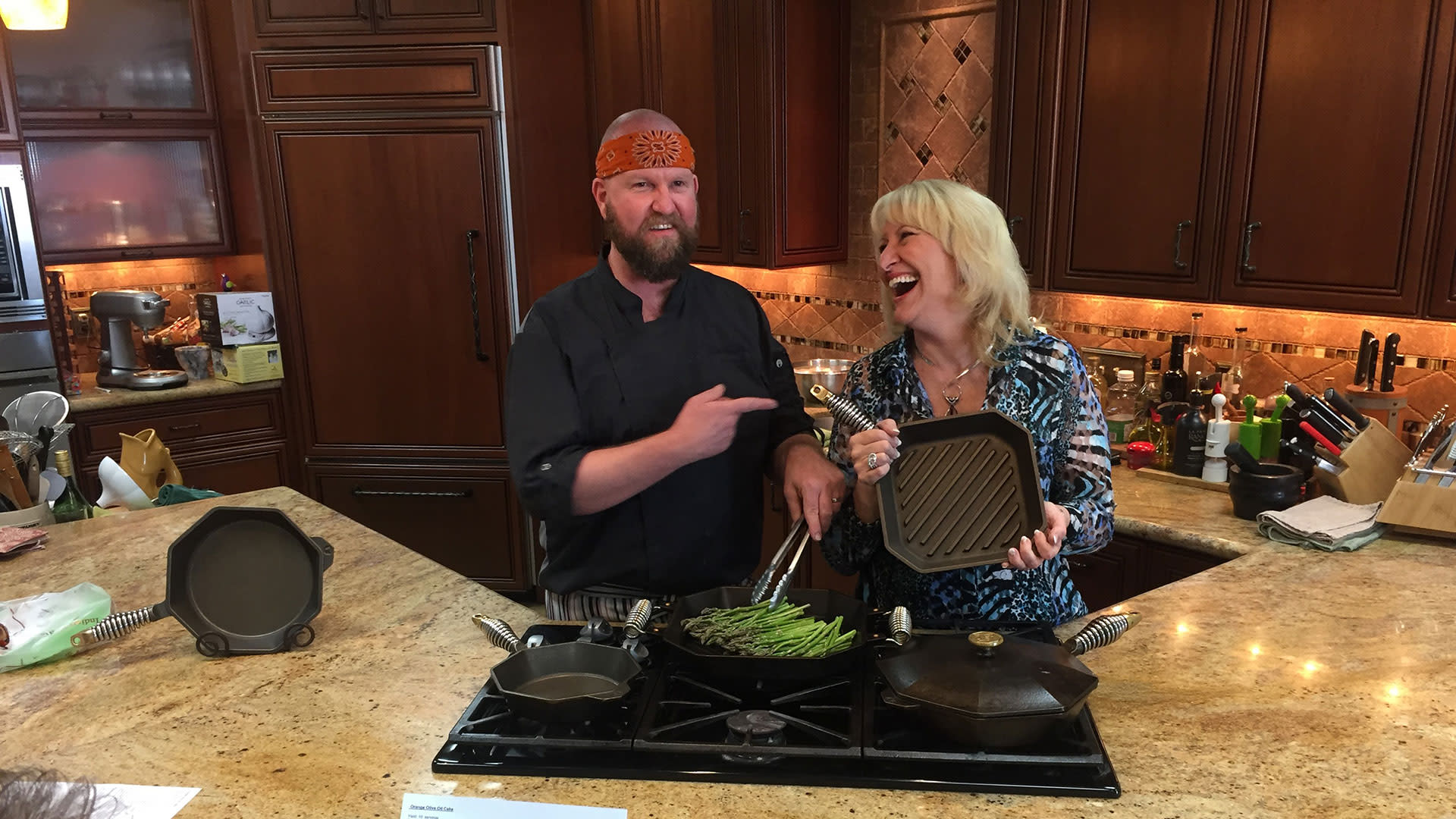 The affable "Gadget Gal," Jan Boydstun's Kitchen Kitchen cookware shop and demonstration kitchen is an Indian Wells icon. Founded by her parents in 1979, Kitchen Kitchen is a treasure trove of gadgets, cutlery, and hard-to-find cookware. Boydstun earned her moniker from giving hundreds of gadget demonstrations live and on local television. The 24-seat custom kitchen with closed-circuit TV screens provides close-up views of guest chefs-in-action during the 2 to 3-hour classes. Enjoy such classes as cast iron cooking, authentic Mexican tamales, flatbreads, appetizers, brunches, Italian cuisine and more. Private events are also available. 
Savory Spice Shop | Palm Desert
Follow your nose on El Paseo and you'll discover the tempting Savory Spice Shop whose aromas waft a fragrant welcome. Owner Mary Cardas is passionate about fresh herbs, spices, salts, vinegars, and other taste-enhancing treats. Cardas and her in-house chef, Gene Ware, regularly host free after-hours "tours" called Spice 101, as well as private tastings and teachings about kombucha and fermentation, starting at $35 per person. Classes feature tastings, recipes, spice samples and more, focusing on spices and products sold in store.
Le Vallauris | Palm Springs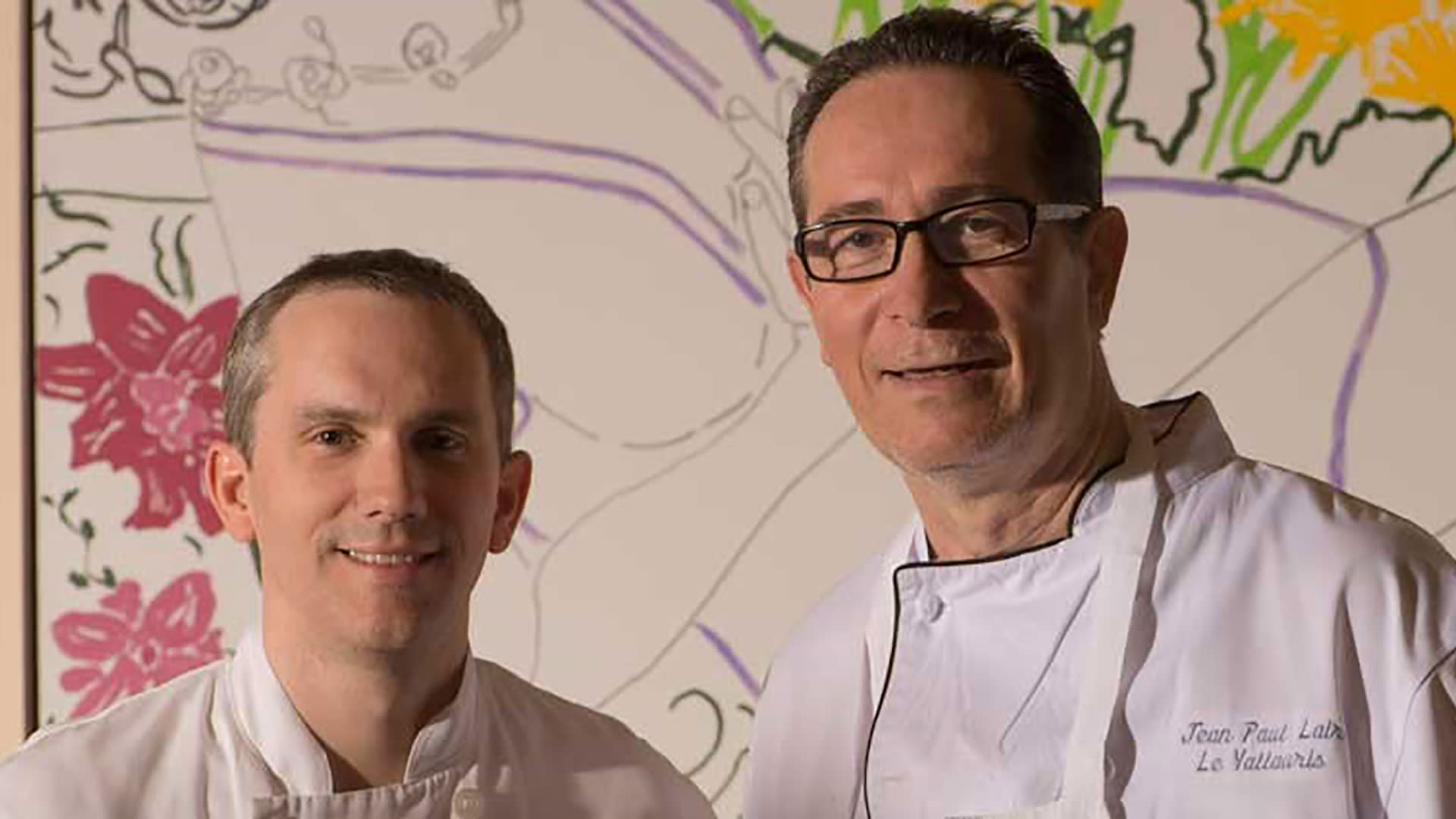 Le Vallauris is one of the Greater Palm Springs area's finest historic and longest-standing restaurants serving contemporary French-California cuisine. Tucked near the mountain at the end of Tahquitz Way, its tree-shaded patio and charming 1920's era house has been host to celebrities and glitterati for more than 40 years. During the season, October to May, Executive Chef Jean-Paul Lair and Pastry Chef Laurent Dellac offer cooking demonstrations the second Monday of each month at 10:30 a.m., followed by lunch. The cost is $62 per person. The chefs create innovative but achievable three-course seasonal meals.
Williams Sonoma | Palm Desert
Founded in 1956 in Sonoma, Calif., this gourmet cookware shop featured then-unheard of classic French kitchen equipment. Williams Sonoma has become one of the most recognized culinary and home goods companies in the United States.
The El Paseo store features hundreds of specialty foods, hard-to-find and upscale kitchen and culinary equipment, and offers technique classes, product training, cooking classes, and private appointments in-store. Technique classes range from $10 to $30 per person and include lessons such as cooking with a salt plate, knife skills and summer favorites in the instant pot. Junior Chef's classes, like the ice cream party, cost $30 per child and also benefit No Kid Hungry. Reserve a spot for one of the special events such as cooking in color, grilling for women, and ice cream week.
Wabi Sabi Japan Living | Palm Springs
Partners and owners Darrell Baum and Osamu Sagara visit Japan every year to visit family, and their love for these experiences brought Wabi Sabi to life. This Japanese lifestyle store is about the "impermanence and imperfection" of Japanese art and design.
Aside from fine kitchenware and knives, they offer a class series and a variety of events. Their class series offers lessons on knife sharpening and hands-on knife skills, cold noodle salads and gyoza. Events range from tea & coffee tasting, Bleu Monday and Tokyo tasting Tuesday.
PIRCH | Rancho Mirage
This appliance store takes a different approach to time spent in the kitchen. Rather than focusing on "things" that would enhance one's cooking experience, they cherish the moments spent in the kitchen. Every PIRCH showroom is designed as a place to gather, dream and play. Their Elements of Joy Manifesto paints a perfect picture of what PIRCH is all about.
The Rancho Mirage store offers a variety of hands-on demonstrations ranging from $30 to $50 per person depending on the class type. There is a minimum group size of 10 people, so this is perfect for a group of friends and family as anyone over the age of 7 is welcome to participate. Book a 2-hour baking session or cooking class on their website. They also offer culinary experiences, wine tastings, patio reception and showroom closure for larger groups and events.
Still hungry? Sign up for the dineGPS newsletter for foodie updates from Greater Palm Springs.