It's officially summer in the desert, with the warm temps calling for cool cocktails. We have a soft spot for beverages that are both pretty and delicious, and we've rounded up some must-try options below that easily fit the bill.
Azúcar & Sugar High at La Serena Villas
Trio of cocktails at Sugar High
Boutique hotel La Serena Villas in Palm Springs is rolling out their seasonal summer cocktail menu this week at their poolside restaurant, Azúcar, as well as their new rooftop lounge, Sugar High, with offerings featuring fresh juices, house made ingredients and unique flavors.
The "Beetini" combines beet-infused vodka, Pama liqueur, pomegranate juice, house made lime cordial and fresh lime juice, while the "Sugar Kell" uses tequila blanco, Combier Liqueur de Rose, pamplemousse liqueur, lemon juice, agave nectar and muddled raspberry, with a rose sugar rim and dried rosebud garnish. The "Joshua Tree" features gin, Génépy herbal liqueur, lime juice, house made syrup and egg white.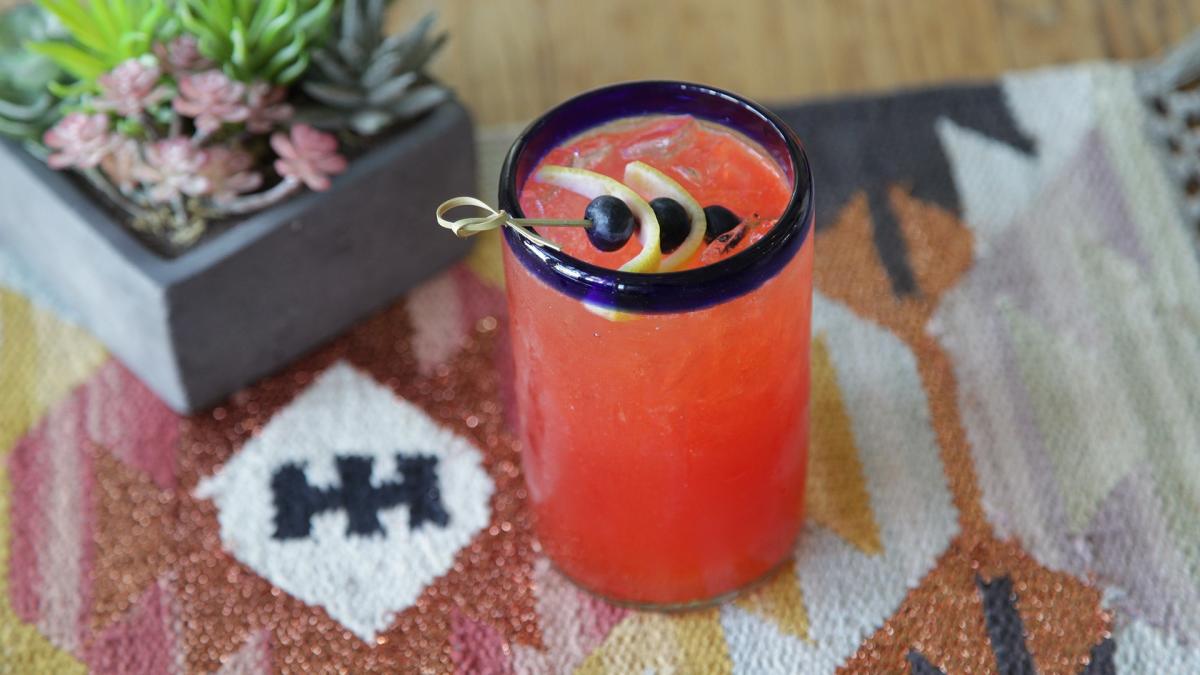 "Blue Bayou" cocktail at Azúcar
For a refreshing beverage over ice, try the "Blue Bayou," with blueberry tea-infused whiskey, Peychaud's Aperitivo, fresh lemon juice, house made syrup and club soda, garnished with blueberries and lemon.
High Bar at the Rowan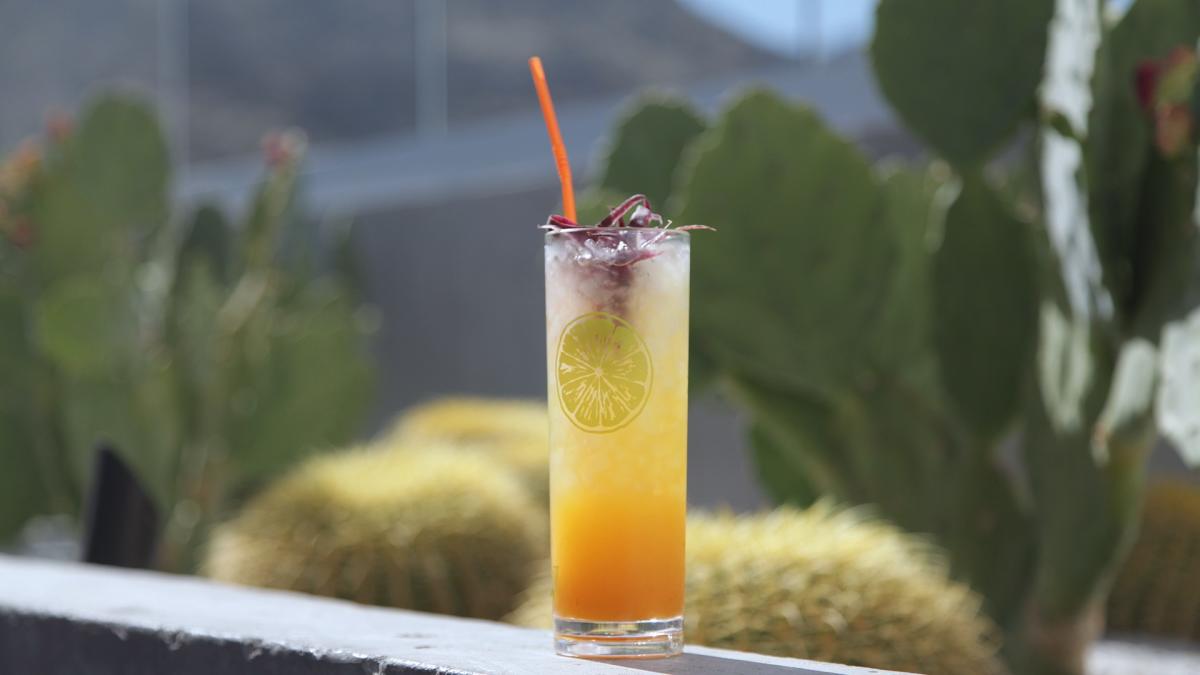 "Passion of the Rickey's" cocktail at High Bar
Elevate your cocktail hour at High Bar at the Kimpton Rowan in downtown Palm Springs, where you can sip overlooking the hotel's seventh floor rooftop pool. Try the "Passion of Rickey's," made with Tanqueray No. Ten, passion fruit, lime and soda water, topped with purple carrots.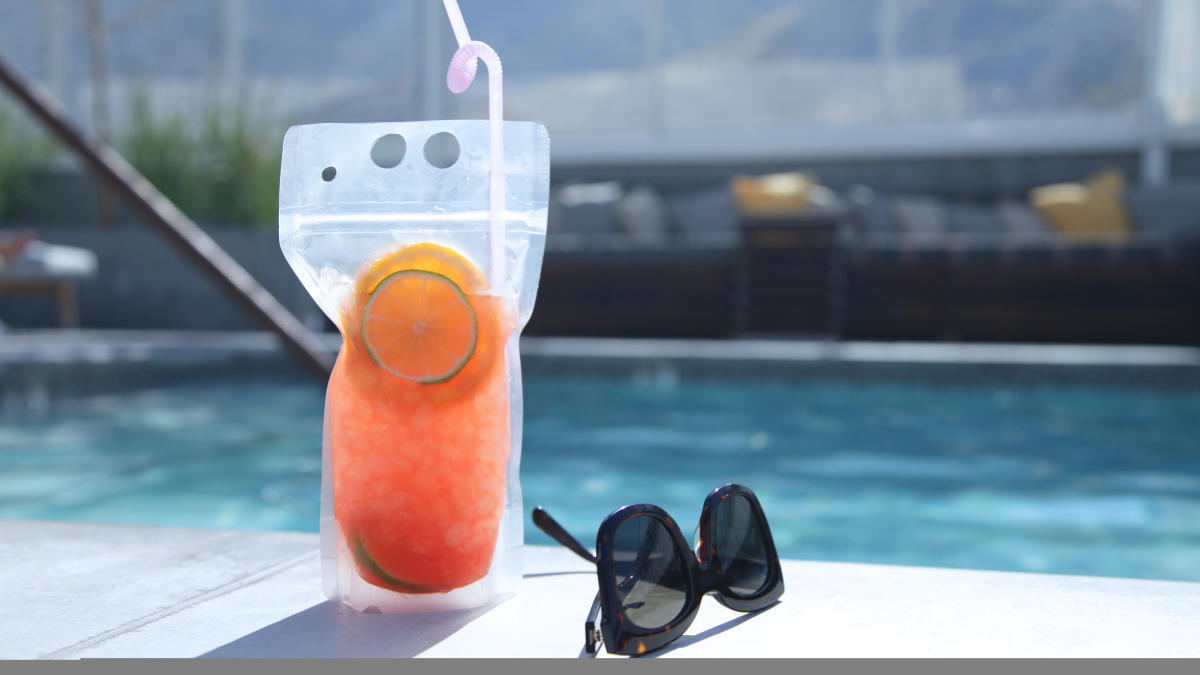 Capri-Sundays frozen cocktail pouch
For a Sunday-funday treat head over for Capri-Sundays, featuring frozen cocktails inspired by the Capri Sun drink pouches of your elementary school days. High Bar is open to the public starting at 4 p.m. (open all day to hotel guests).
Casuelas Cafe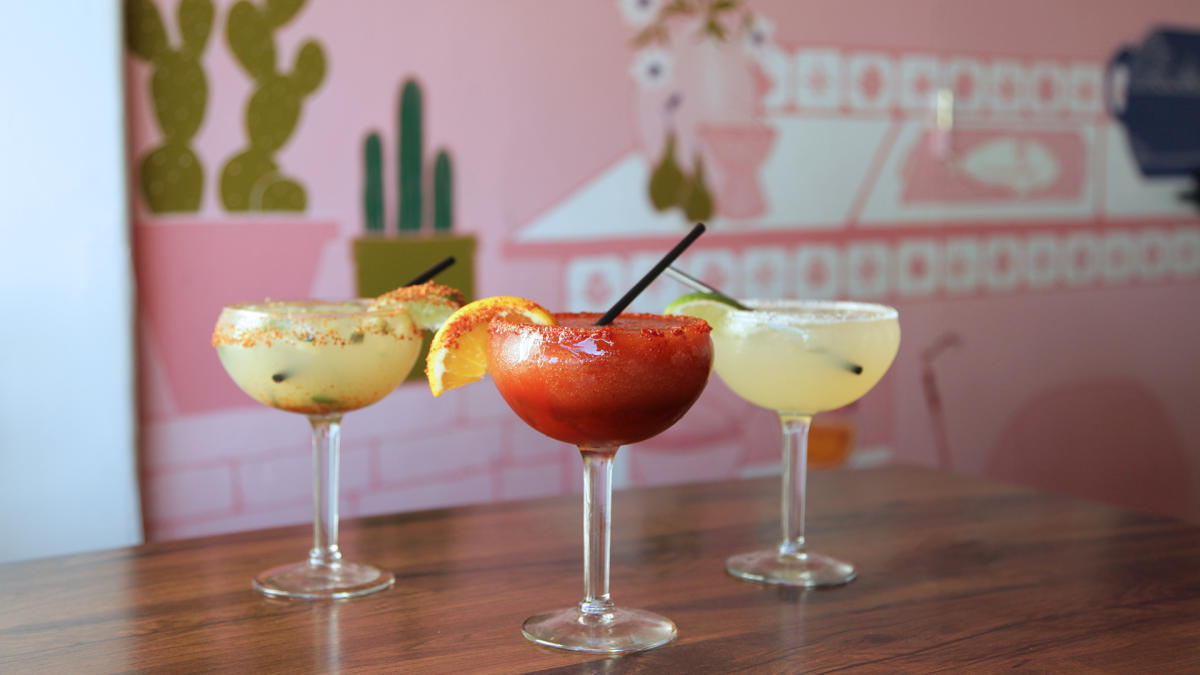 Margaritas at Casuelas Cafe
There's just something about a frosty margarita on a hot day! Casuelas Cafe in Palm Desert just reopened after a major renovation, now featuring a large outdoor patio and stage for live music. Keep it simple with a "Classic Patron Margarita," made with Patron Silver tequila, fresh lime juice and agave nectar, or try something adventurous like the "Pepino con Chile Margarita" (tequila with fresh cucumber, sliced jalapeños and fresh lime juice) or the "Tamarindo Margarita" (tequila, tamarind and fresh lime juice in a Tajin and Chamoy-rimmed glass).
The Pink Cabana at Sands Hotel & Spa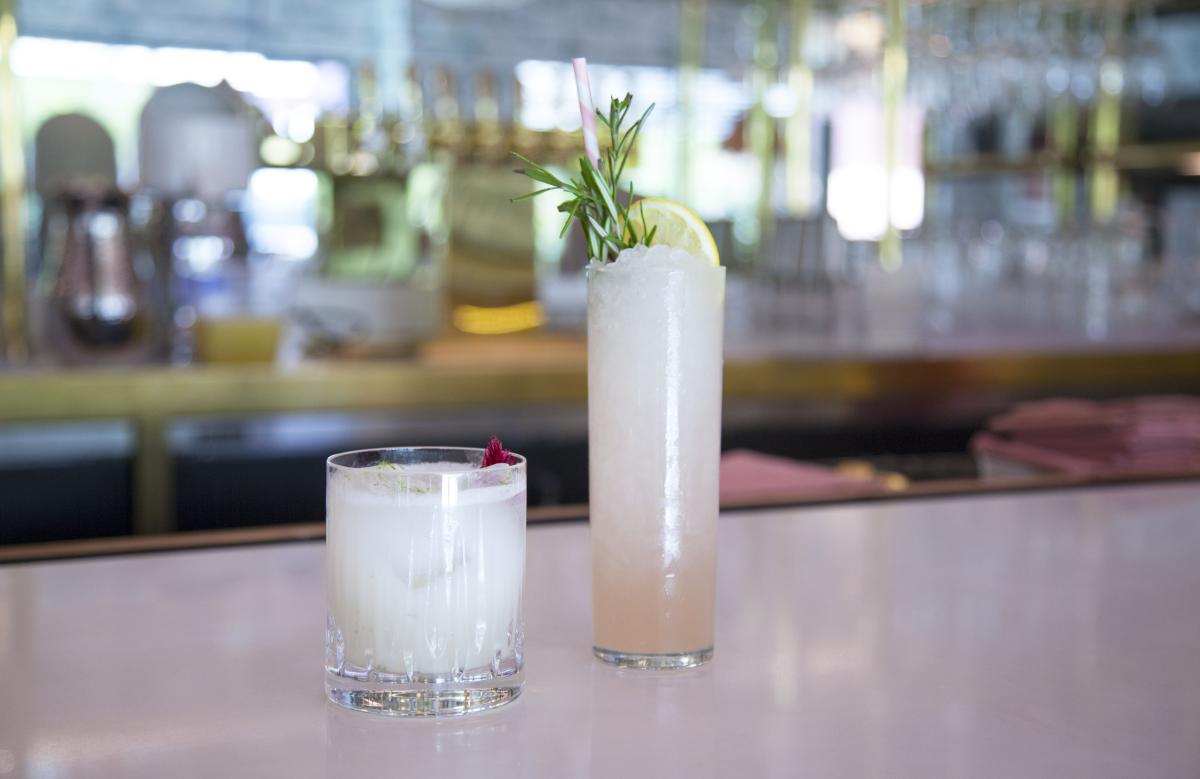 "Cabana Colada" and "Pink Lemonade" at the Pink Cabana
The Pink Cabana restaurant is now open at the new Sands Hotel & Spa in Indian Wells. Enjoy some outstanding cocktails in this stunning space designed by Martyn Lawrence Bullard, like the "Cabana Colada" (gin, coconut cream, fresh lime juice, coconut soda), the "Pink Lemonade" (vodka, herbs de Provence, fresh lemon juice, pink sea salt" and the "50 Shades of Pink" (masala & cilantro infused brandy. Mescal, ginger berries). Be sure to try Chef Jason Niederkorn's Mediterranean-meets-Moroccan cuisine while you're there!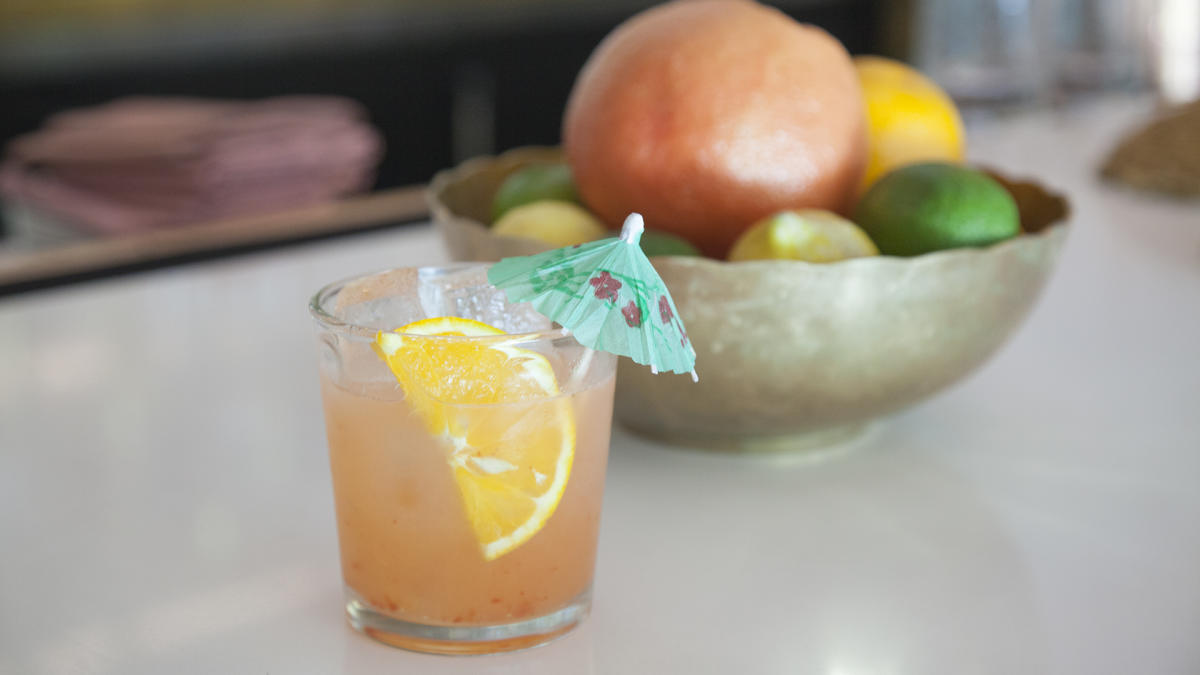 "50 Shades of Pink" cocktail at the Pink Cabana
Tommy Bahama Marlin Bar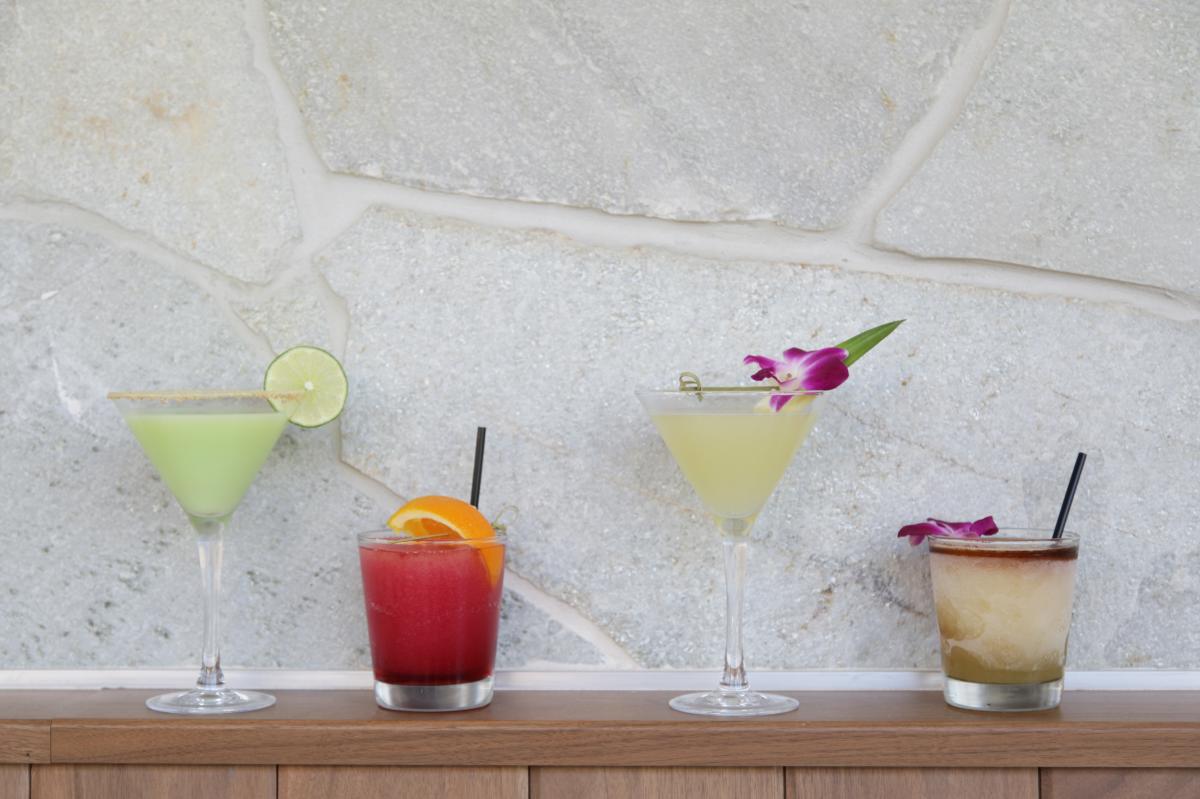 Cocktails at the Marlin Bar
The Tommy Bahama Marlin Bar is a new addition to the downtown Palm Springs redevelopment, featuring a fast-casual concept and tropical-inspired drinks. It's hard to pick a favorite from their cocktail menu, so you may just need to try a few, like the "Pineapple Paradiso" (Bacardi Pineapple, St-Germain Elderflower, 99 Bananas, scratch sour, fresh pineapple), the "Key Lime Martini" (Tito's vodka, Licor 43, Keke Beach Liqueur, fresh lime, graham cracker rim) or the "Mai Tai" (Flor de Cana 4 Year rum, Orgeat, orange curaçao, lemon, lime, pineapple, dark rum float). They also offer seasonal frozen cocktails like the "Pink Marlin," made with mango rum, cranberry juice, simple syrup, and orange curaçao float.
Cheers!