The oasis gets a little bit country every April as the Stagecoach Festival rolls into Indio. After catching the hottest country acts at the Empire Polo Club, keep the country vibes going with some of the best barbecue, watering holes and horseback riding in Greater Palm Springs. Saddle up, cowboys and cowgirls!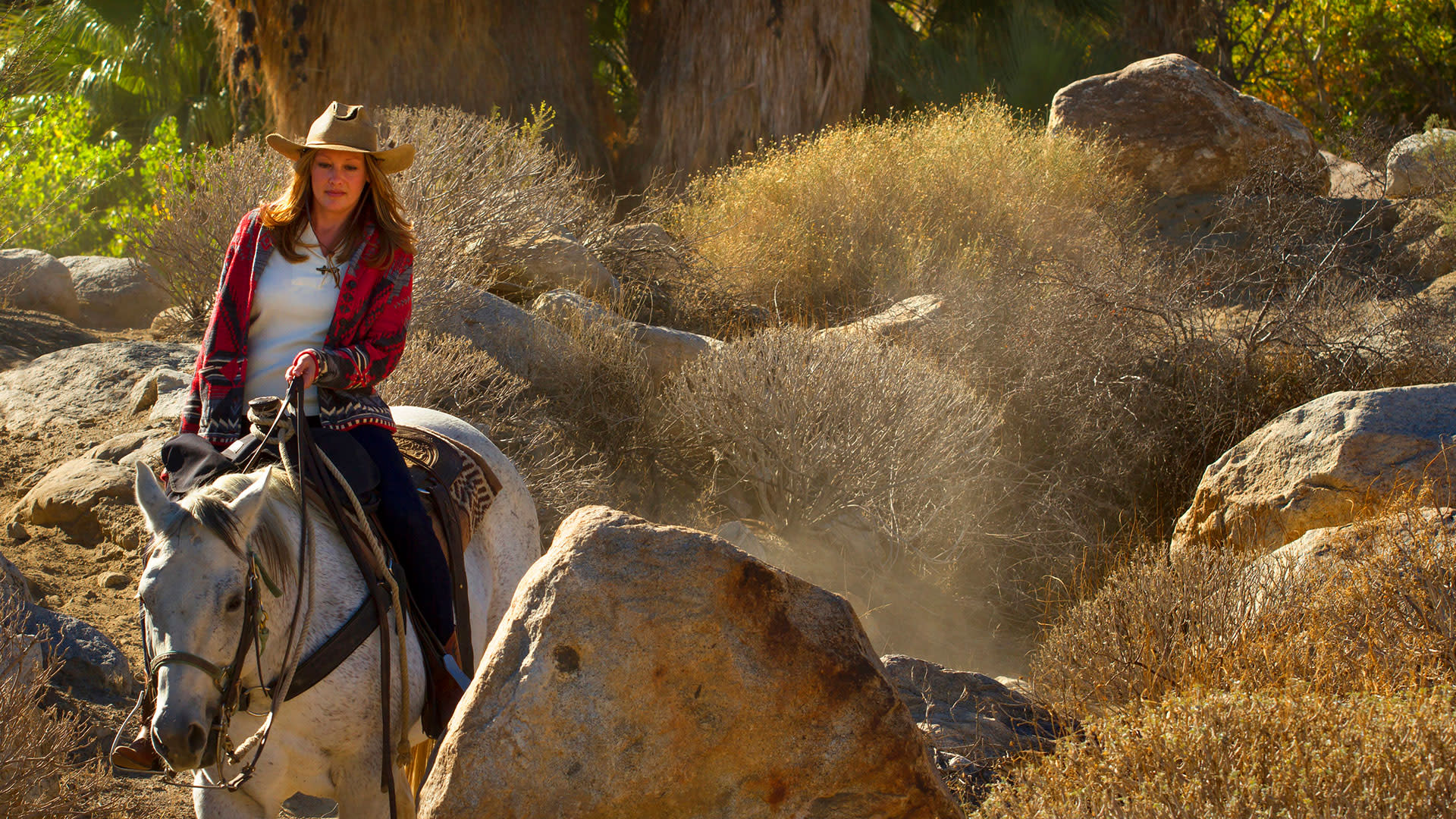 Let your inner cowboy run wild as you experience the natural side of Greater Palm Springs on horseback. Whether you're a seasoned rider or it's your first time on the saddle, you'll feel like you've been transported back to the Wild West as you explore Murray Canyon or the trails along the Santa Rosa mountains. Smoketree Stables makes it easy to be a cowboy for a day (horses, riding gear and a tour guide are included), so giddy up!
Before or after a polo match, head over to the Tack Room Tavern for a country-fueled meal—all without ever leaving the polo grounds. This rustic restaurant offers country comfort, complete with saddle seats at the bar and horseshoes on the wall. In the evenings, live music and karaoke are often on the menu, so get ready to dosey doe.
No country-themed trip to the oasis is complete without a pilgrimage to Pioneertown—or a plate of good ol' fashioned barbecue at Pappy & Harriet's.  A cornerstone of this preserved Old West pioneer town near Joshua Tree National Park, Pappy & Harriet's is a bar and restaurant that exudes country character. Think rustic wooden interiors, a full country menu with steak, ribs and chili and plenty of pool tables. Also not to be missed is the open picnic area in the back, where you can dine under the sun or stars as you soak up the magic of this high desert gem.
Fun fact: Pappy & Harriet's doubles as one of the top music venues in the area, regularly hosting local acts and big names alike. Your visit to Pioneertown just might include an unforgettable performance.
What happens at Stagecoach doesn't have to end at Stagecoach—especially if you wander over to Indio's famed Western-themed watering hole: Neil's Lounge. Cowboy silhouettes welcome you to this low-key saloon, best known by locals as one of the top spots for karaoke. While you're there, channel your inner country music star as you belt out your favorite hits on the mic.
Fun fact: Stagecoach headliners like Keith Urban have been known to pop into Neil's Lounge—and even take the karaoke stage—during the festival, so keep an eye on who's taking the stage.
It doesn't get much more country than a hoedown, cowboys and cowgirls. Get your boots on the dance floor every Thursday night at LIT Lounge at Fantasy Springs Resort Casino, where live country music will have you line dancing all night long to country's top hits. The lounge even boasts a special country-themed menu and drink specials to keep this hoedown going all night long. Or you can start your evening at POM restaurant, where Thursdays are designated BBQ nights. There's no cover at LIT to enjoy a night of country music and dancing, so cut a rug, cowboy.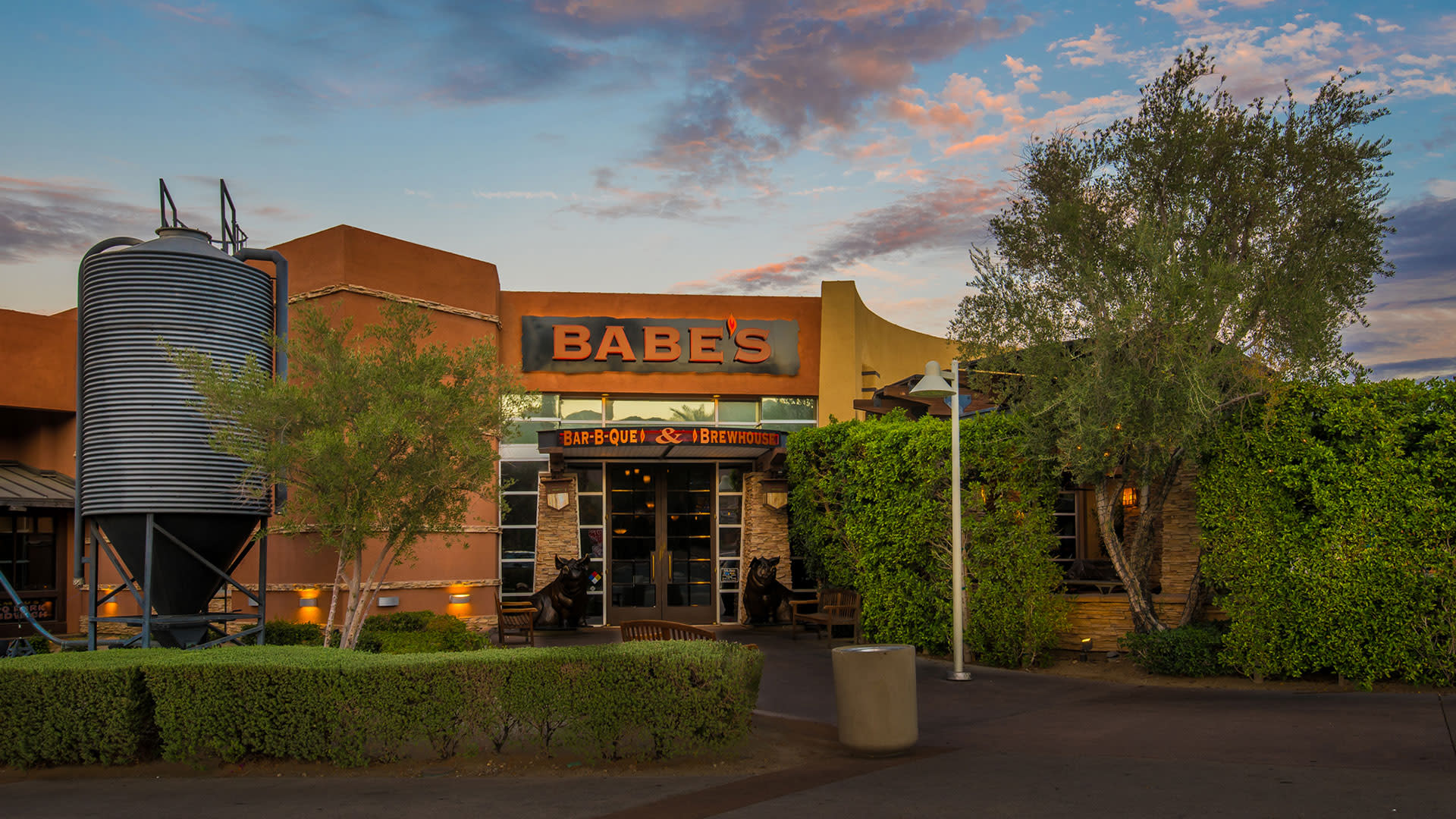 Cowboys and cowgirls have to refuel after a weekend of country music fun at Stagecoach, and there's plenty to satisfy at Babe's BBQ and Brewhouse at The River in Rancho Mirage. Hearty racks of ribs, tri tip sandwiches and barbecue chicken are served up with heaping sides of coleslaw, garlic mashed potatoes or baked beans—and they're best washed down with a cold glass of Babe's award-winning beer. Dig in, cowboy.
For down-home country barbecue in Palm Springs, mosey on down to Smoke Tree BBQ Bar & Grill. Distressed wood and an intimate interior set a cozy mood for heaping plates of barbecue, with styles from California to Texas to Kansas City all on the menu. Think Carolina smoked pulled pork, Texas beef brisket and Louisiana po' boys. Top it all off with bread pudding or a slice of pecan pie—yeehaw!