In Partnership with DoubleTree by Hilton Golf Resort Palm Springs
The DoubleTree by Hilton Golf Resort Palm Springs is glorious with its stunning views of the regal San Jacinto Mountains, it's hard not to love a place that also boasts expectational dining, luxurious amenities, a world-class golf course. Brace yourself for a truly immersive experience in Palm Springs and give yourself the freedom to escape to paradise. While the resort provides everything you could ever desire, making it unnecessary to venture beyond its grounds, we have compiled some notable highlights to ensure your stay at the DoubleTree by Hilton Golf Resort Palm Springs is unforgettable. 
Location
Nestled in the heart of Greater Palm Springs, the resort offers a prime location that caters to various interests. Adventure seekers will delight in the proximity to breathtaking hiking trails, allowing guests to explore the natural beauty of the surrounding mountains. For those seeking a splashing good time, the 5,000 square-foot sundeck at the resort features an Olympic-sized swimming pool with stunning views of the San Jacinto Mountains and two hot tubs to soak in. When the sun sets, head to downtown Palm Springs for a vibrant nightlife, featuring an array of bars, restaurants, and live entertainment venues where visitors can soak in the culture. Families visiting this hotel will appreciate the proximity to the Living Desert, where children can experience interactive wildlife exhibits and hands-on learning experiences.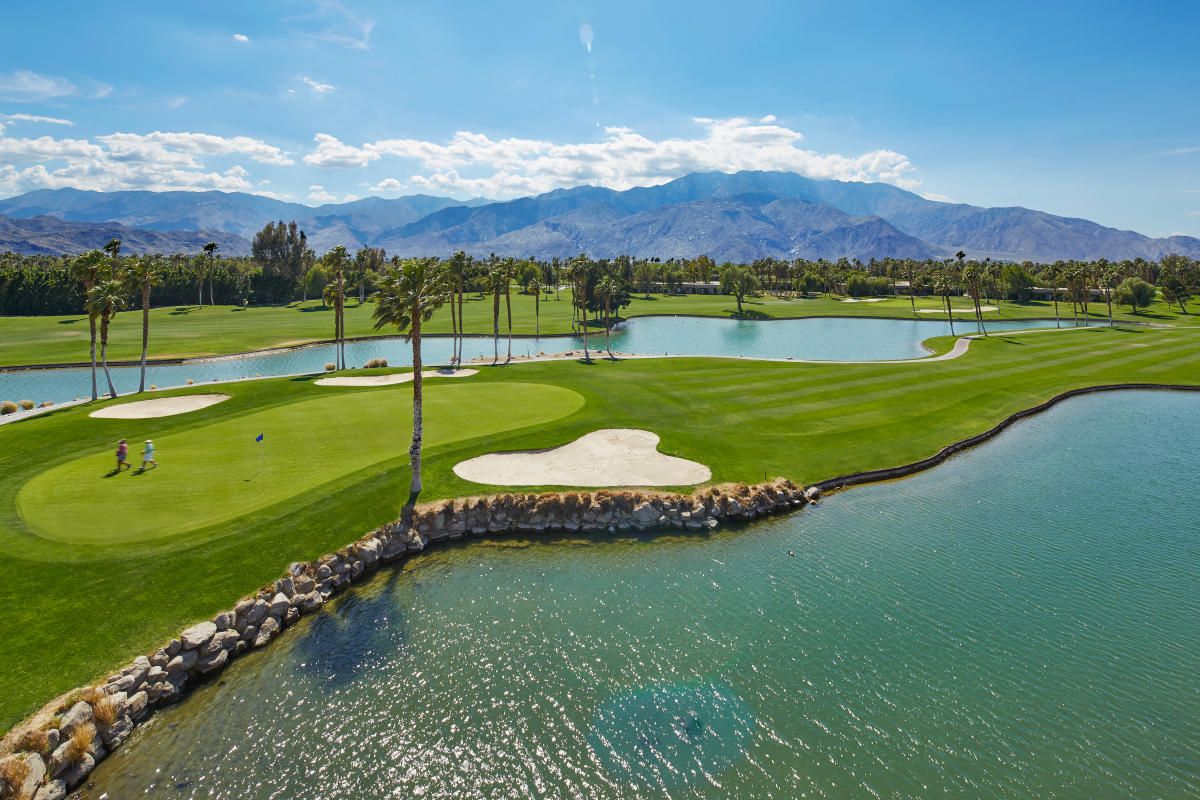 There's good reason this 27-hole championship golf course leaves nothing to the imagination. Between its rolling terrain, lush green fairways, and resplendent landscaping, the experience includes 85 sand traps and 21 lakes. Something to note: here things are separated into three nine-hole courses — The Vistas, The Lagos, and The Cielo. Each one holds its own obstacles and various skills are required. Some additional nice touches include a driving range and putting green, group golf, and golf lessons with a pro. The resort's Stay & Play Package, designed for guests, includes one round of golf per registered guest (per night) a golf cart, and access to the practice facility. Make your tee times in advance by the guest. In the meantime, get swinging and enjoy that remarkable view, perhaps the best among all courses in Greater Palm Springs.
 

Experience the newly re-imagined Polanco Kitchen for Breakfast and Mira Bar for Lunch, Dinner & Small Bites. Renowned for its "casual gourmet dining," you'll be treated to a delightful selection of inspired Southern California cuisine. The menu showcases a diverse selection of delectable choices, including Baja-inspired tacos with homemade guacamole, Crispy Salmon Bowl, Short Rib Nachos, and a refreshing kale and quinoa salad, among other exceptional offerings. There's even a "juicy" burger to consider, and the venue's unique take on flatbread. Meanwhile, local craft beers and signature cocktails, such as the popular Watermelon Margarita, round out the dining experience here. Bar seating is available here; again, we cannot emphasize enough how much the mountain views transport you to another realm. It's as if you feel at home enveloped in these surroundings.
Something to consider: the room service menu includes many of the restaurant offerings so in case you prefer to stay enveloped in our stellar room, you can dine in luxury — especially good for couples on a memorable getaway. 
All rooms, no matter the size — from suites to singles — are exceptionally noteworthy. Comfort and first-class accommodations go hand in hand here. One thing that's worth noting is the variety of offers DoubleTree by Hilton Golf Resort Palm Springs has. Families should take advantage of the Family Fun Package, which features a few memorable "activities" for the young ones. A complimentary breakfast is a nice perk, too. The 3-day Another Day in Paradise offering affords solo travelers and couples some quality time away. An added perk, the resort is pet friendly, so your fur baby can relish the getaway in Greater Palm Springs as well. Go for it — indelible sunsets, exquisite spa services, inventive meals, and those San Jacinto Mountains await you in an immersive experience that you'll brag about at home. (And on social media.)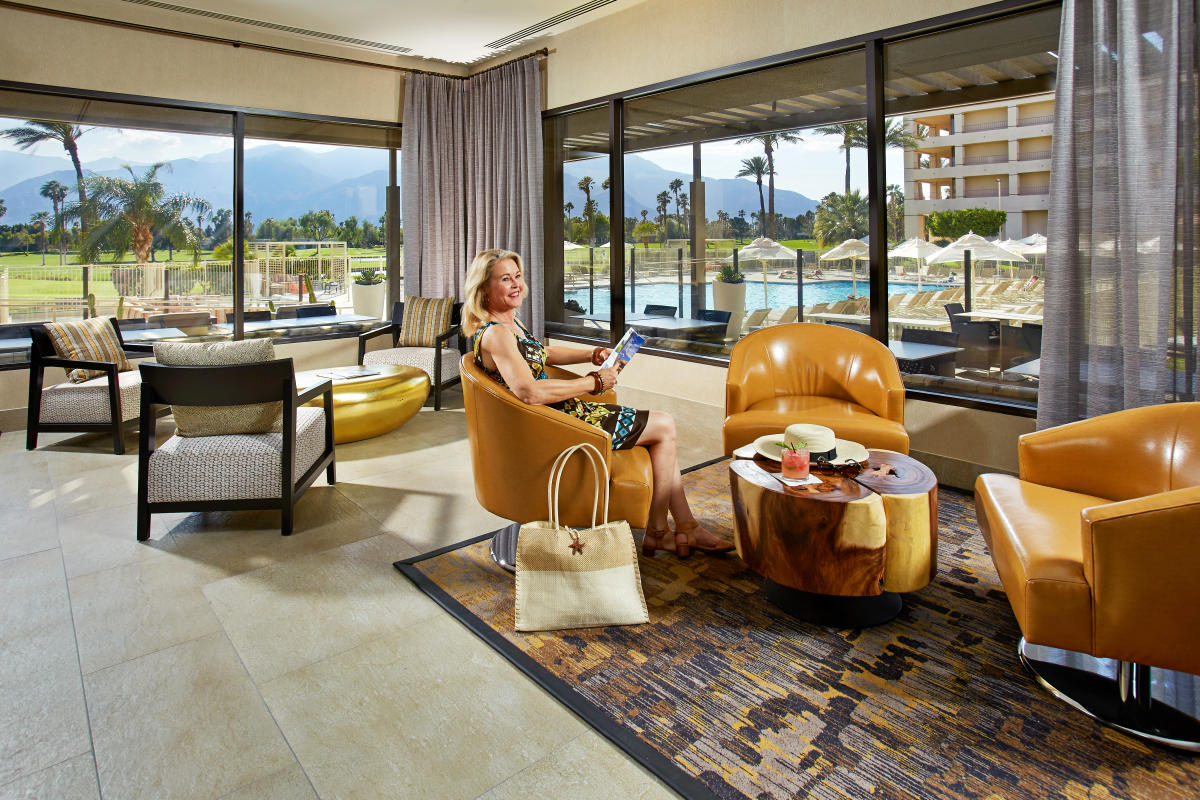 Whether you're on a business trip or planning a family vacation, DoubleTree by Hilton Golf Resort Palm Springs has you covered with planning here. The resort boasts 23,000 square feet of dedicated conference space located in a centralized area. Two ballrooms can accommodate up to 1,200 guests. Spacious meeting rooms work well for break-out sessions, meals, or small gatherings. Several indoor-outdoor spaces are a nice touch — good to have variety. In-house audiovisual and IT teams are ready for you. All of that, plus high-speed T1 wireless and wired internet also filters into the mix.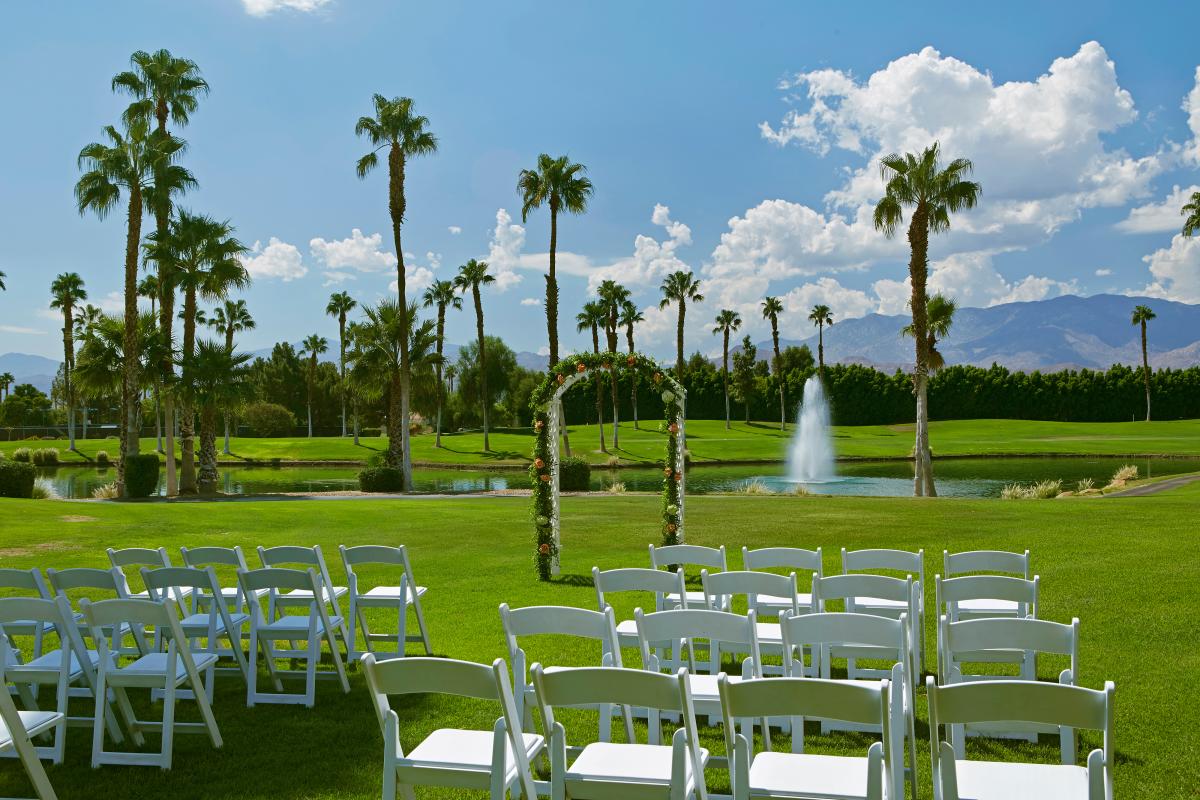 Dreaming of your perfect wedding day?  Start your happily ever after here. Everything from "micro" weddings to larger celebrations are available. You and yours can say "I do's" at the indoor or outdoor space, which includes the stunning Veranda Patio. For a truly magical setting, consider tying the knot with the panoramic backdrop of the breathtaking golf course and the majestic San Jacinto Mountains—an awe-inspiring scene that will be cherished forever. 
Dreaming of your next vacation to paradise? Start planning your getaway to DoubleTree by Hilton Golf Resort Palm Springs.