This is a guest post by Gay Desert Guide.
By day, they may wait on your table, sell you a condo or volunteer at the local LGBT center. But after the sun goes down, the fabulous drag performer emerges from her work-a-day cocoon. She sings, dances, jokes and lip syncs to driving electronic beats—all in full make-up, evening gown and nine-inch heels.
Drag queens of the desert have become such smash hits here that Desert AIDS Project, the local AIDS service organization, produced a 2017 calendar featuring the top performers in the Coachella Valley. Since 2014, DA.P. has been producing an annual drag competition, called Queen of the Desert lip-sync competition that has been a leading fundraiser and awareness vehicle for the agency.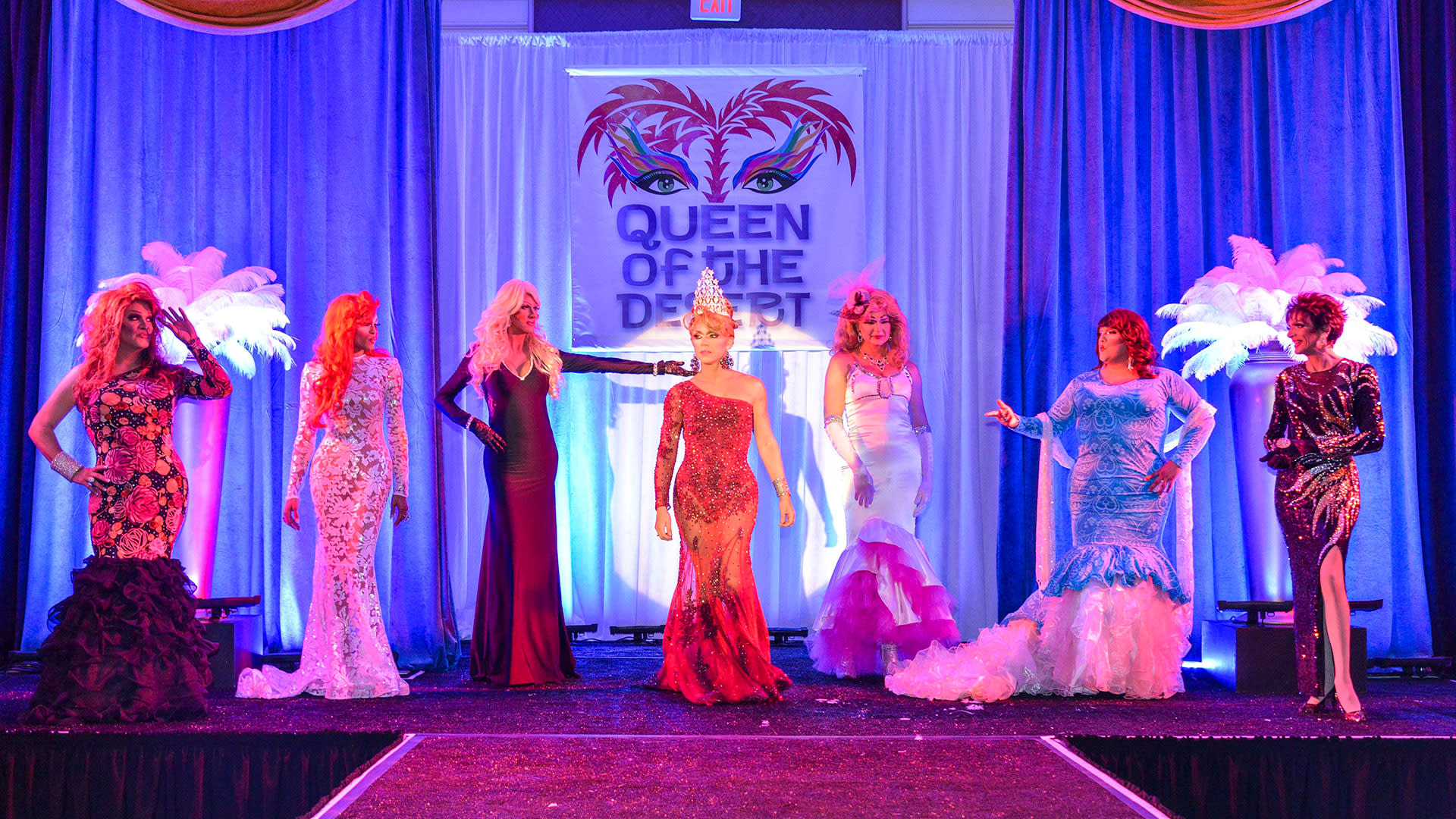 Photo by David A. Lee Photography.
Queen of the Desert showcases the desert's most colorful drag queens and launched more than a few careers. It crowned Jazmyn Simon-Echelon Queen of the Desert in 2015. Prolific fundraiser and HIV activist Pinkie Meringue Shimmer was a fan favorite in 2016. She and Bella da Ball have been staples at LGBT-friendly fundraisers and community events as co-hosts and performers for years. Ethylina Canne co-hosted the 2015 Steve Chase Humanitarian Awards Gala benefiting D.A.P. Champagne Showers and Tommi Rose, Queen of the Desert for 2014 and 2016, respectively, remain on the circuit.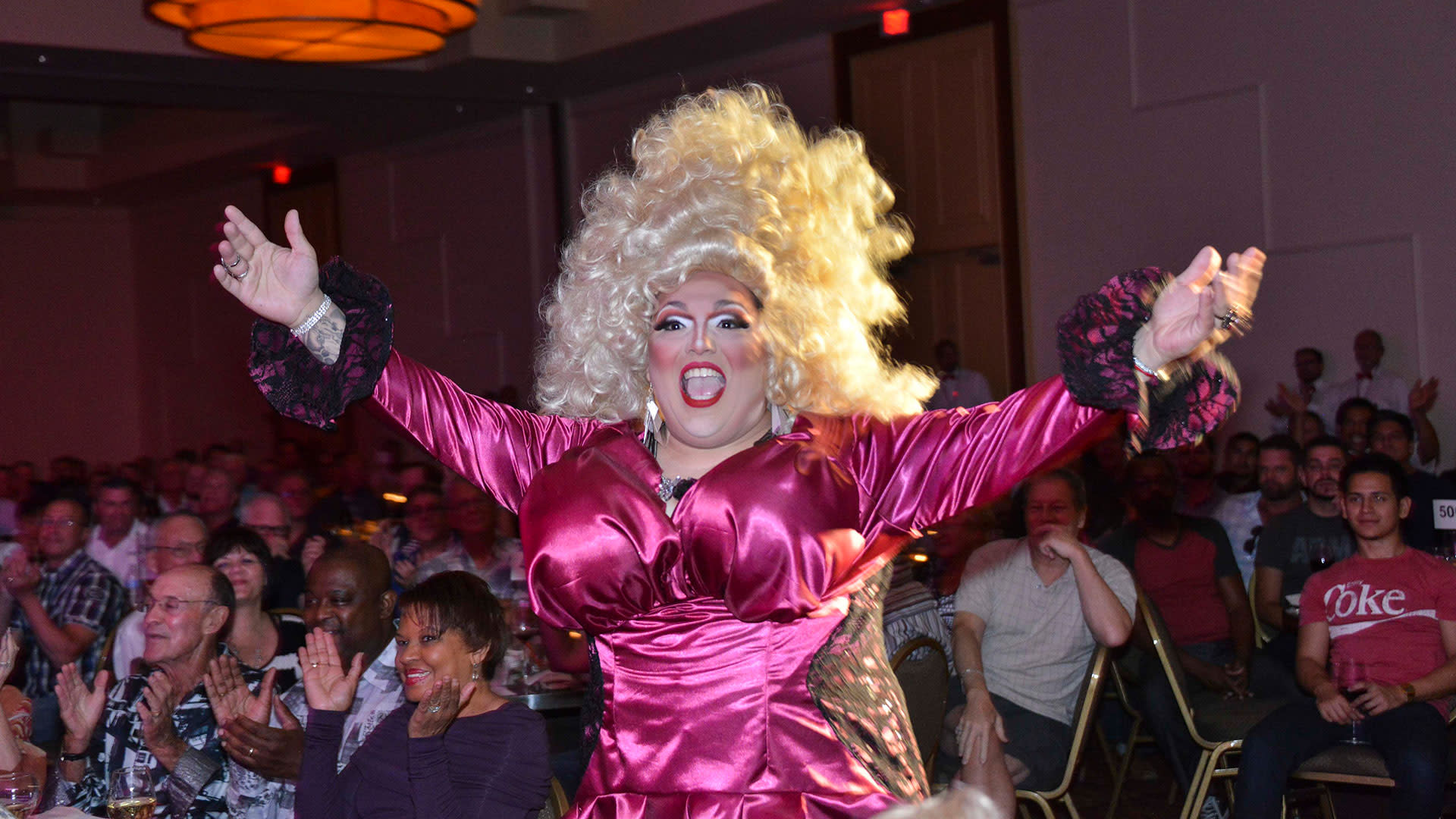 Photo by David A. Lee Photography.
All these gals have unique styles and rock to the beat of different drummers. To accommodate all these painted, coifed and bedazzled ladies, the Coachella Valley has a variety of styles, venues and scenes from which to choose. We break it down day-by-day and night-by-night.  And while most drag shows are at night, you can also enjoy a drag for brunch complete with Mimosas, if you like!
Here's where to catch drag shows every day of the week:
SUNDAY
Drag brunch is a signature event in Greater Palm Springs with shows that are full-on productions.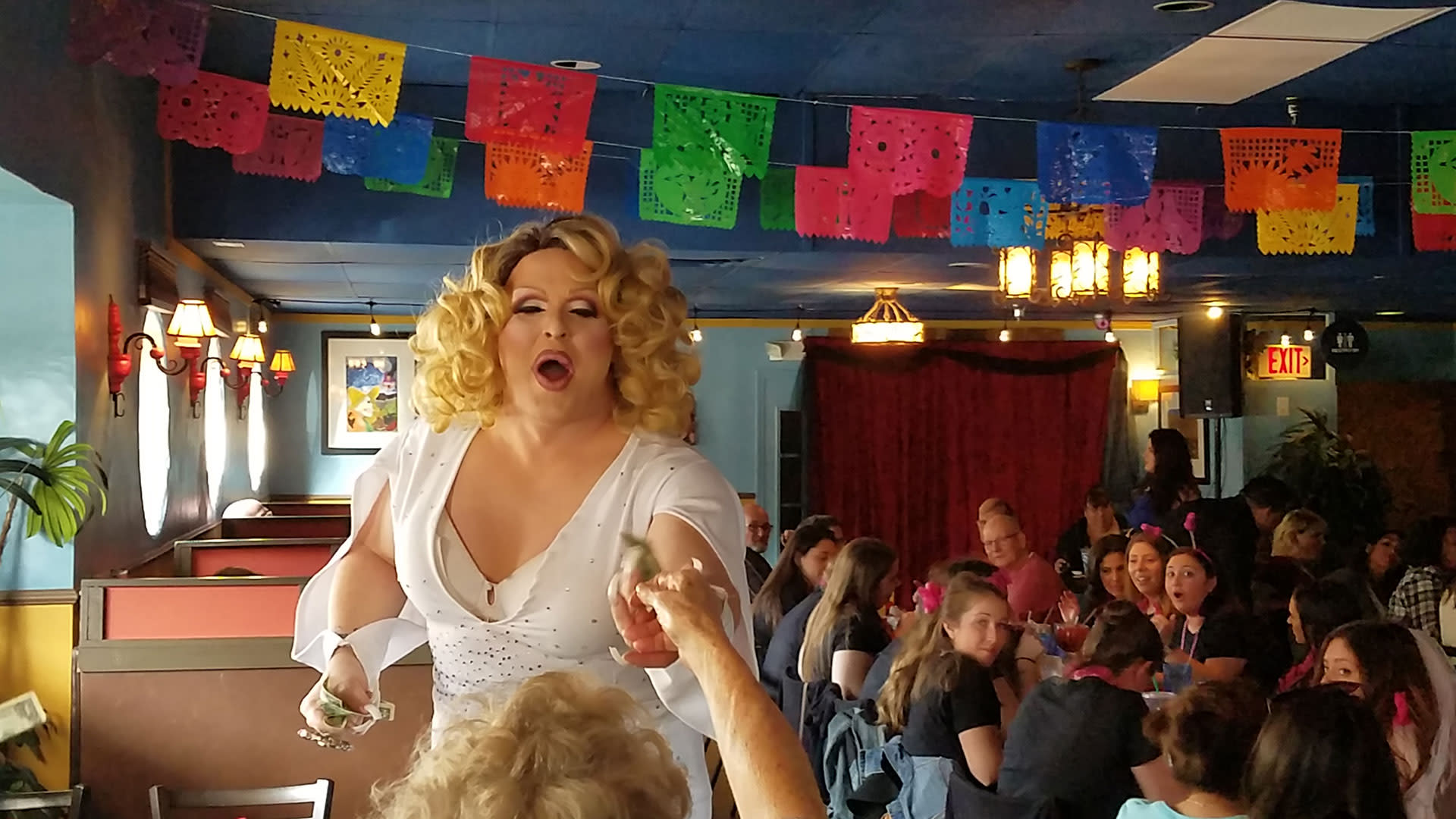 Rio Azul produces the longest-running drag brunch in the valley. The Desert Divas Drag Brunch is hosted by 2017 Queen of the Desert Winner Vanity Halston. Besides the show, area residents have adopted Rio Azul's food as a local signature, and plates for brunch are $16.95. Drinks include $5 House Margarita's and $10 bottomless Mimosas at 11:30 a.m. and 1 p.m. Sundays.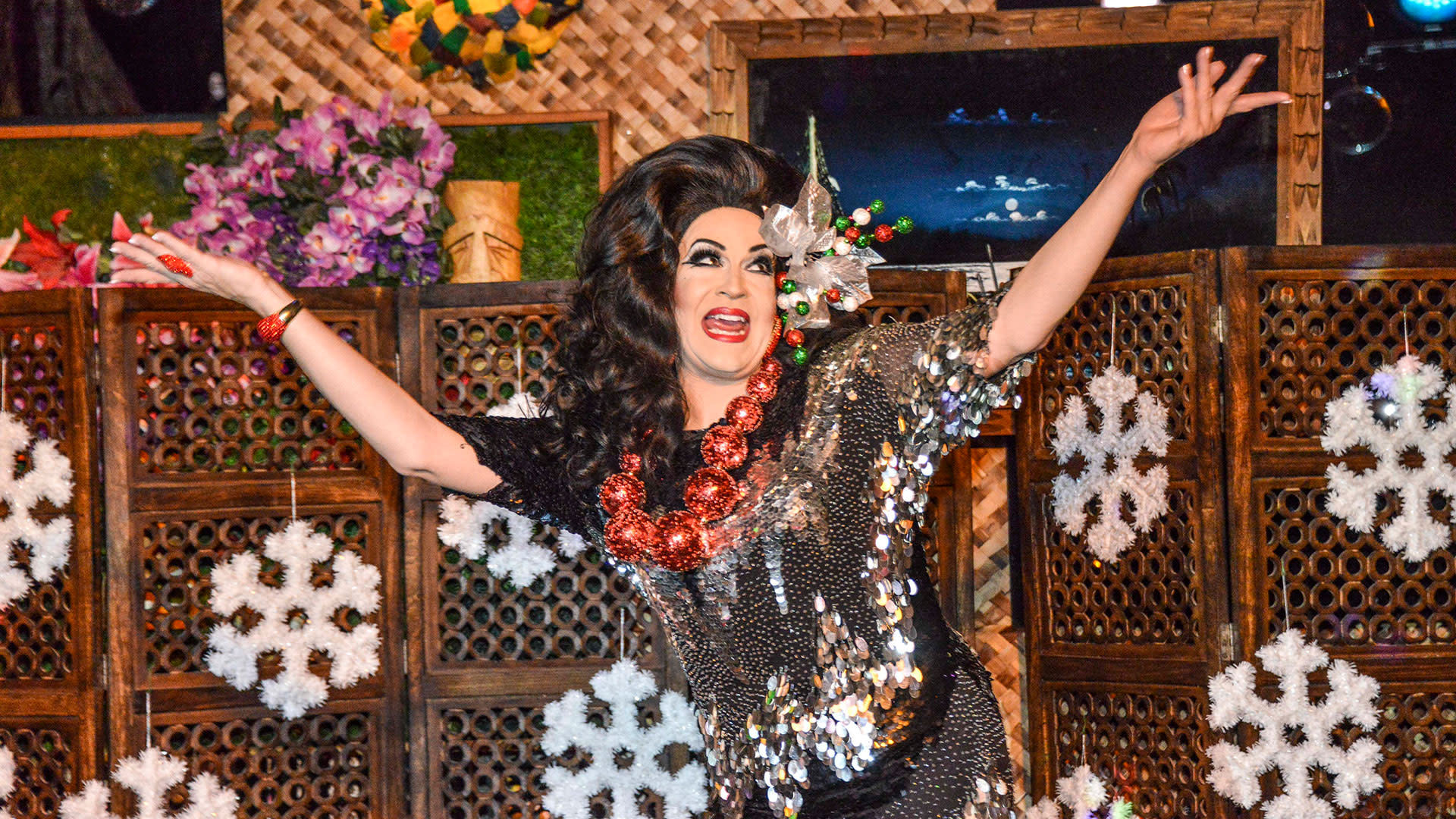 Photo by David A. Lee Photography.
Toucans Tiki Lounge in North Palm Springs brings out the stars on Sunday night. See Tommi Rose & the Playgirls and Morgan McMichaels at South Pacific-themed nightclub. These shows might get a little naughty: They're rated "Triple-X!" mostly for language and innuendo.
A more classic presentation, The Judy Show, starts at 7 PM at the Purple Room Supper Club. Michael Holmes presents The Judy Show is riotous parody of 1963 Judy Garland Show and other classic performers. Dinner at 5 PM. Performances are accompanied by pianist Joel Baker and unlike most drag performers, Holmes actually sings with your supper!
TUESDAY
Ever try Drag Queen Bingo? Well, that's what they do at 9 p.m. at The Hood in Palm Desert. It's free to play and free to win. The gay-owned bar is also known for live music.
WEDNESDAY
The monthly "Rainbow Night" on the last Wednesday of the month has placed Playoffs Sports Bar on the drag circuit. This tends to be where drag performers cut their teeth, but you'll be pleasantly surprised at the energy and passion put forth by the young performers.
"Drag Me to Bingo" with Miss Rusty Waters from 6 p.m. to 8 p.m. at Hunters Night Club, please! The venerable LGBT club and bar is located on Arenas Road, the storied strip in Palm Springs.
THURSDAY
At 9 p.m., Toucan's features The Playhouse with Jazmyn Simone along with half-off drink specials until midnight.
Bella da Ball is back again hosting Lipstick, An Evening of Drag Stars and Show People at 8 p.m. at the Copa. Celebrate birthdays and anniversaries amongst the headdresses, glitter, glam and, of course, lipstick.
Check out Drag Karaoke with Jayla D Foxx from 8 p.m. to close at the Retro Room.
FRIDAY
Oscar's Cabaret rekindles Lawrence Welk, Dean Martin and the Fabulous Palm Springs Follies variety shows with Gypsy's Follies hosted by James 'Gypsy' Haake. At 85, Gypsy still is wowing the crowds and has just come off a stint with Miley Cyrus for Miley's new music video Younger Now and her performance at the MTV Video Music Awards.
SATURDAY
Wang's restaurant invites you to Drag On Girlz hosted by Anna Rexia and Anita Rose. The show starts at 6 p.m. and is held the first Saturday of the month.
The Retro Room throws the Diva and Friends Drag Show from 10 p.m. to midnight. Reservations for this popular gig are highly recommended, and the cover charge is $10.
The schedules change, so consult the websites of each or search for drag performances on our partner's website HERE.
Featured image by David A. Lee Photography.