Drag queens in the Greater Palm Springs area are not a rare sight. As a matter of fact, they have become just as iconic to the cultural lexicon as the palm tree, the Tiki bar, the Modernist home or the manicured golf course green. From highbrow to lowbrow, from kinky to kitschy, these statuesque beings are recognizable around town, not only as entertainers, but also essential and unabashed tokens of what makes our unique valley tick.
Bella's Ball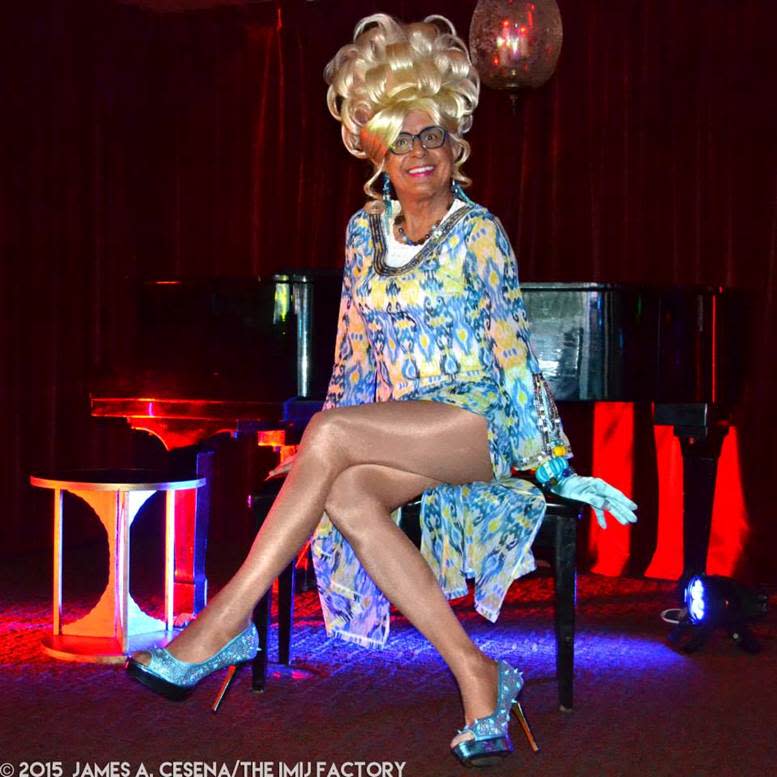 Monday nights at the hipster haven Ace Hotel, the long legged dazzler Bella Da Ball calls out numbers for hilarious rounds of bossy Bingo in the funky King's Highway Restaurant. Guests from all around the world squish in to the booths and straddle chairs around packed tables to play their luck at the classic game of chance. Bella, like a retro Donna Reed on speed, flits and flirts amongst the crowd handing out individual prizes after each win. After that, trivia takes place in the adjoining Amigo Room bar. One group of regulars even wears shirts emblazoned with "Bella's Babes."
Bella has been a desert staple for years, known as much for her work at the local bars and clubs, as her timeless efforts in the charity realm. She is constantly dressing up to motivate donors to part with dollars for organizations such as Desert AIDS Project, and she even has a star on the Palm Springs Walk of Fame. She's been called Social Ambassador, Hostess with the Mostest, Party Planner and Big Hair Director of the local scene. She lives and breathes drag, seemingly having a finger in almost every major drag revue around. When she's not fluffing her 1950's bouffant with pink powder, she looks forward to attending desert events such as the yearly Festival of Lights Parade, Palm Springs Pride, Modernism Week and various film festivals.
During the week, she puts in her hours elsewhere. Every Tuesday, she holds a no-cover charge Cabaret Variety Revue at Georgie's Alibi Azul in downtown Palm Springs, which serves her signature cocktail the Bellatini. On Thursdays, she presents the Lipstick Show at the Copa's sizzling space, an evening which features drag personalities as well as vocalists like Marina Mac, Sassy Ross and Jersey Shore.
Gypsy at Oscar's
Around town, many other girls walk the boards in glittery gowns. On Thursdays, Fridays and Saturdays, Oscar's Café & Bar offers up a three-course dinner and a show called Carnival Cabaret that has toured the country to much aplomb. One never knows who might grace the stage from Marilyn Monroe to Dolly Parton to Reba McEntire. "Mastress" of Ceremonies James "Gypsy" Haake is an 83-year-old comedian and actor who was the star at the original La Cage Aux Folles nightclub in Beverly Hills. He has been named "oldest working female impersonator in the world" by Guinness Book of World Records.  
Brunch with the Divas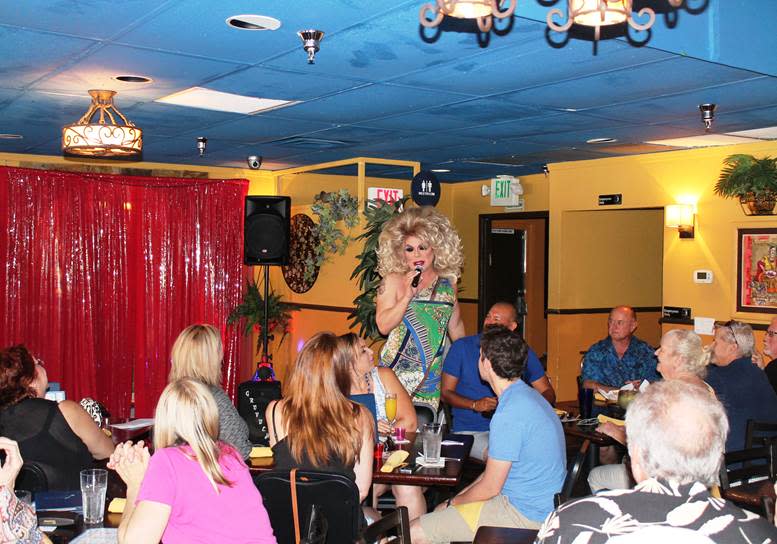 On Sunday mornings at Rio Azul Mexican Bar & Grill, guests enjoy signature chilaquiles, frittatas, carnitas con huevos, mango crepes and high octane five- dollar house margaritas during The Desert Divas Drag Brunch. This popular drag brunch features local talent like Vanity Halston, Fabeyonce, Bootz Dreya, Nebuer Styles and Syren Halston.
Holmes' Judy and Friends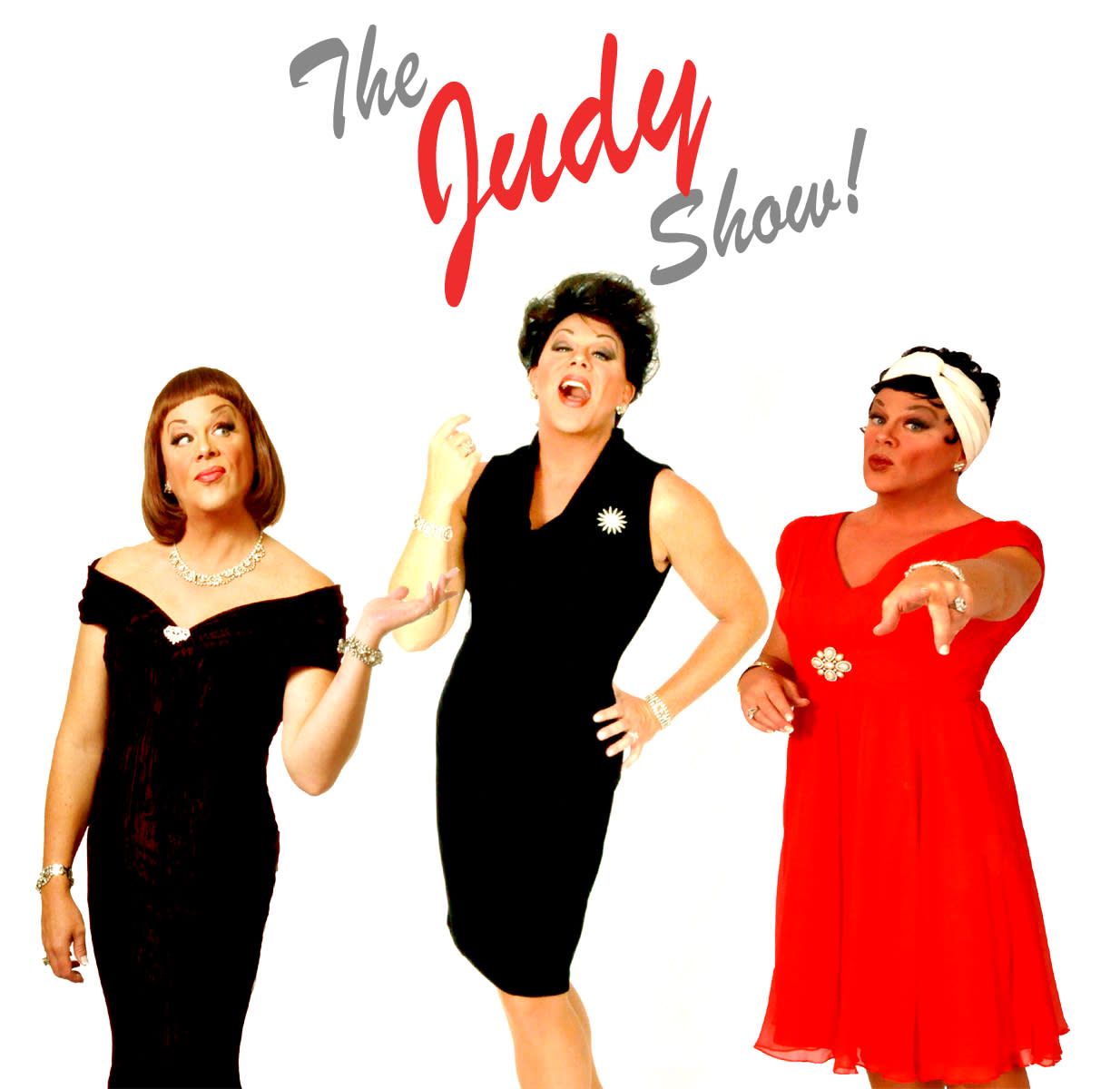 On Sunday evenings, Michael Holmes transforms into Judy Garland for an outrageous after-dinner show at The Purple Room Restaurant & Stage. The show blends music, song, comedy and nostalgia for Judy with a lively cast of her "friends" including the likes of Katherine Hepburn, Tallulah Bankhead, Carol Channing, Mae West and more.
After dinner, a different type of "Ay, Caramba!" ensues on one of the valley's oldest, decidedly gay streets, East Arenas Road. Flamboyance at Hunter's delivers hostess Jayla D. Fox as she commandeers the crowd and shares the spotlight with a rotating cast of delicious dames including Nebuer Styles, Bootz Dreya, Simone Miller and Mystic BeFierce Miller. 
Also on Sunday at the Northern End of downtown Palm Springs at Toucans Tiki Lounge, which has held reign as a Sunday night go-to for the drag scene for years, world-renowned Tommi Rose regales an all ages and sexy crowd with her outrageous numbers and a bevy of beauties. Toucan's also brags a Thursday drag competition, at which the winners are chosen based on audience fervor.
The over-the-top sisterhood does not stop there. During Pride or other noted weekends, or at the one of the yearly humanitarian balls, drag queens are often at the top of the evening's entertainment offerings. These larger than life ladies in satin and lace are a treasured part of the cultural landscape.   
A round up of current offerings is below:
DRAG BRUNCH
RIO AZUL MEXICAN BAR AND GRILL
Sundays at 11 a.m.
Reservations: 760-992-5641
350 South Indian Canyon Drive
Palm Springs
BINGO with BELLA DA BALL
ACE HOTEL – KING'S HIGHWAY RESTAURANT
Mondays at 7 p.m.
701 East Palm Canyon Drive
Palm Springs
760-325-9900
TRIVIA with BELLA DA BALL
ACE HOTEL – AMIGO ROOM
Mondays at 9 p.m.
701 East Palm Canyon Drive
Palm Springs
760-325-9900
CABARET VARIETY REVUE
GEORGI'S ALIBI AZUL
Tuesdays at 7:30 p.m.
369 N Palm Canyon Drive
Palm Springs
760-325-5533
LIPSTICK SHOW
COPA
Thursdays at 8 p.m.
244 East Amado Road
Palm Springs
760-866-0021
CARNIVAL CABARET
OSCAR'S CAFÉ & BAR
Thursdays, Fridays and Saturdays at 8 p.m.  
125 E. Tahquitz Canyon Way, #108
Palm Springs
760-325-1188
Tickets Here
THE JUDY SHOW STARRING MICHAEL HOLMES
PURPLE ROOM RESTAURANT & STAGE
Sundays: Dinner at 5:30 p.m. and show at 7 p.m.
1900 E. Palm Canyon Drive
Palm Springs
760-322-4422
FLAMBOYANCE
HUNTERS
Sundays at 9:30 (except for big holiday weekends-make sure to call or visit the website for confirmation)
302 East Arenas Road>
Palm Springs, CA 92262-6633
(760) 323-0700
TOMMI ROSE & THE PLAYGIRLS
TOUCANS TIKI LOUNGE
Sundays at 8 and 10 p.m.
(First Sunday of the month is Tommie Rose presents MAYDAY-with Mayhem Miller)
2100 North Palm Canyon Drive
Palm Springs
760-416-7584
LATIN DRAG
TOUCANS TIKI LOUNGE
Every 1st and 3rd Monday at 10 p.m.
2100 North Palm Canyon Drive
Palm Springs
760-416-7584
THE PLAYHOUSE with JAZMYN SIMONE
(A weekly drag competition)
TOUCANS TIKI LOUNGE
Thursdays at 10 p.m.
2100 North Palm Canyon Drive
Palm Springs
760-416-7584
Cover Photo Courtesy of James A. Cesena/TheIMIJ Factory