Music is clearly the foundation of Coachella, but with over 100 top chefs, restaurants and bartenders participating, it may also be one of the best food and drink events you've ever attended. The culinary and beverage lineup at this year's festival is even bigger and better than ever, with returning favorites and exciting new additions.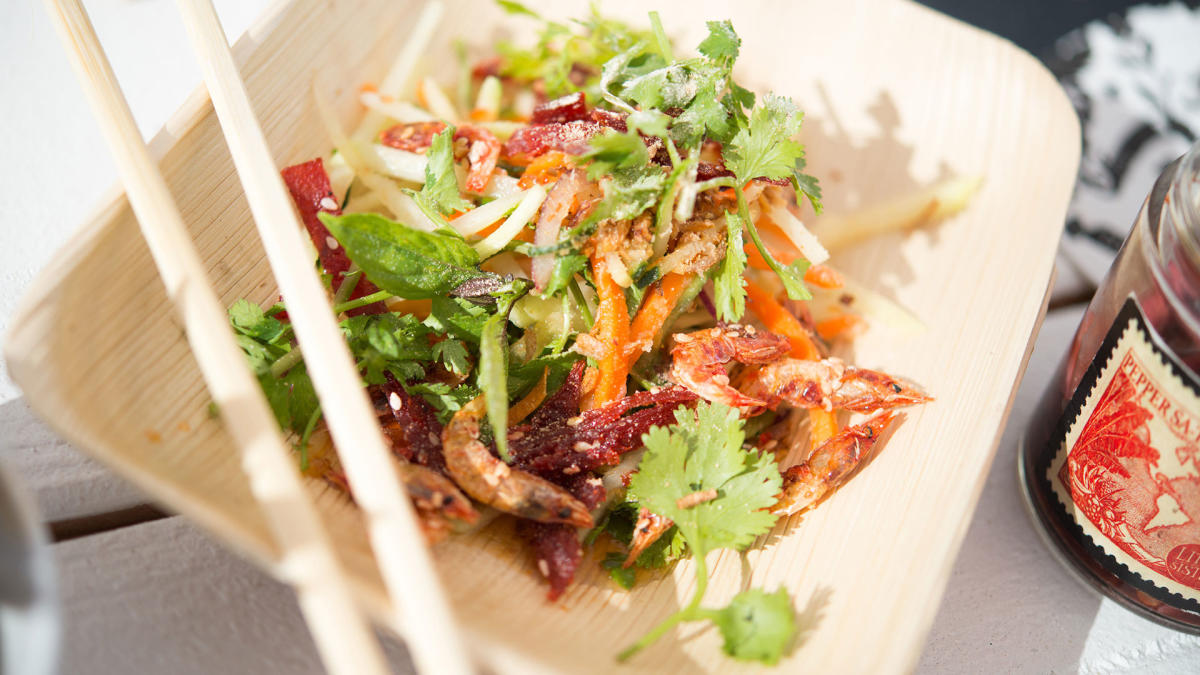 Joining the festival this year is Indio Central Market – a food-lovers haven inspired by L.A.'s Grand Central Market, featuring 15+ celebrated restaurants from around the country, located in a 40,000-square-foot shaded tent (the festival's former Mojave music tent) with lots of seating. Some highlights in Indio Central Market will include New York hotspot Fuku, a casual chicken concept restaurant by Momofuku, specializing in fried chicken sandwiches and slushies; L.A.-based food stand Cena Vegan, serving up vegan burritos and nacho boats; and Wingman Kitchen from Santa Ana, offering puffle cones (fluffy egg waffle cones similar to those sold as street food in Hong Kong) filled with their signature popcorn chicken.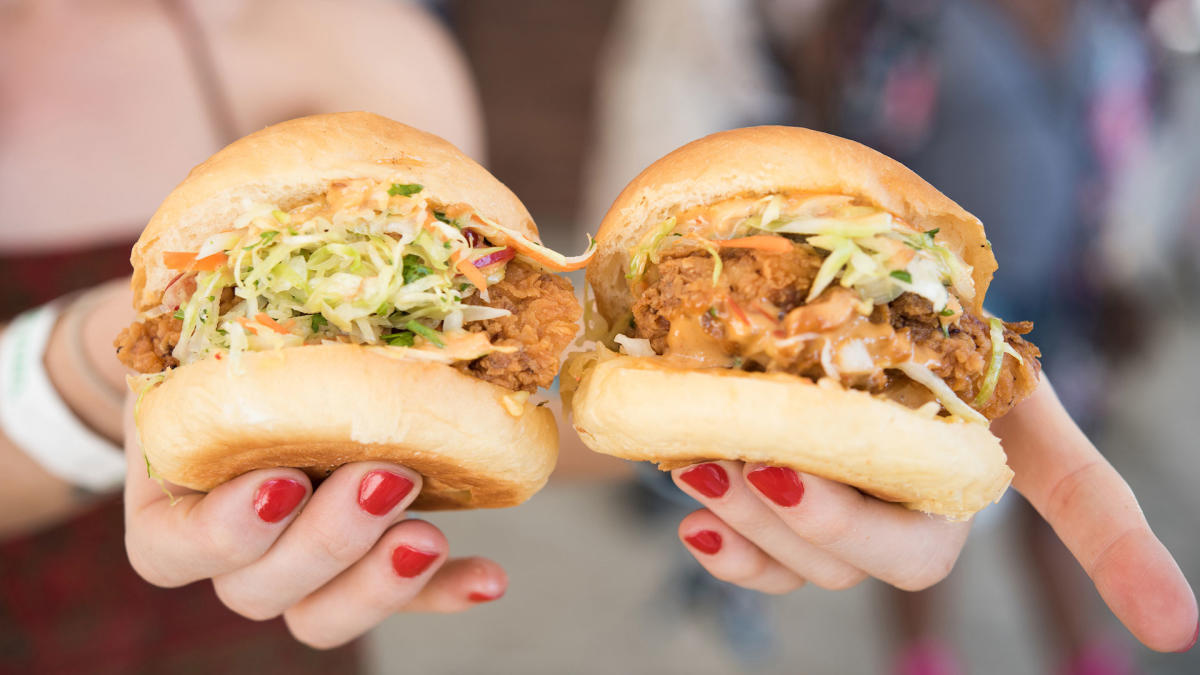 Varied culinary experiences are available during Coachella, from casual food stands and food trucks to more formal sit-down dinners. In the festival's VIP section, there are three pop-up restaurants this year with advance reservations available: Gwen by celebrity chef Curtis Stone, The Exchange from downtown L.A.'s Freehand and musician Moby's Little Pine. Seats are $50 per person and include a prix fixe tasting menu with options (see each restaurant's link above for menu details and reservations).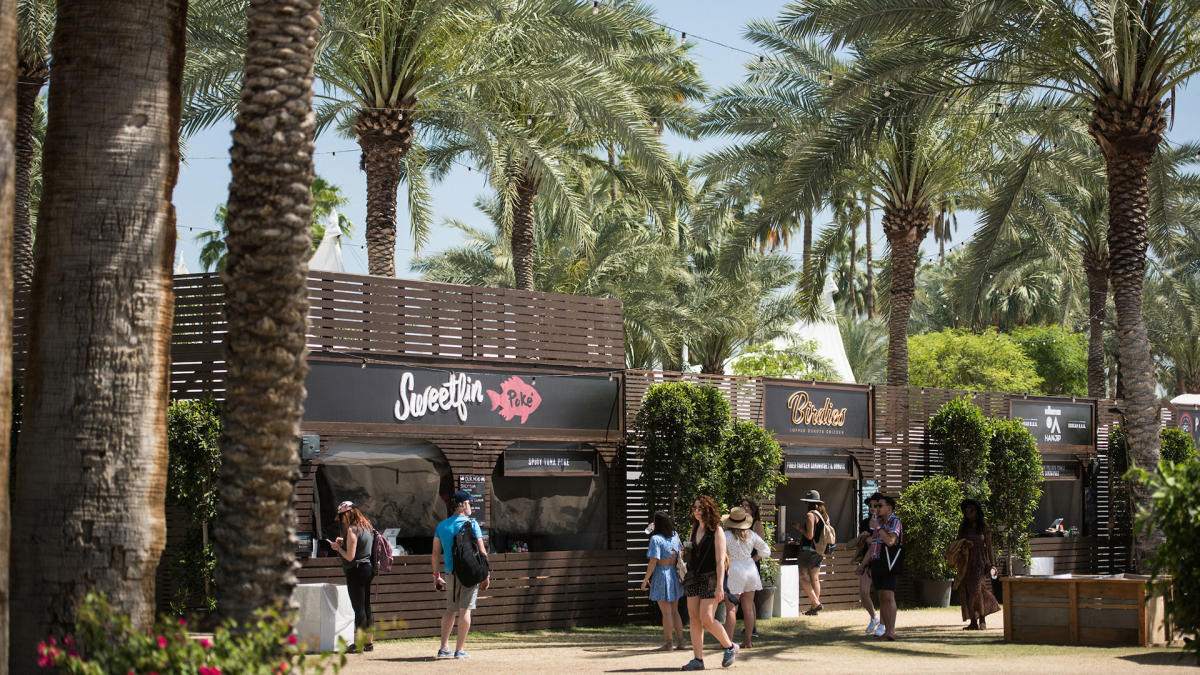 The other seated dinner option is Outstanding in the Field, the popular roving farm-to-table dinner that travels throughout the country featuring acclaimed chefs in unique outdoor dinner settings. The Coachella edition of Outstanding in the Field features six different chef lineups over the course of the two festival weekends, with the four-course dinners held in the Rose Garden VIP area at the polo fields. Those with general admission Coachella tickets may purchase Outstanding in the Field dinner seats and will have access to the Rose Garden VIP during the dinner. Tickets are $225 per person (must be purchased online here) and each day's seating begins at 6 p.m. This year's Outstanding in the Field chef lineups are:
April 13: Bruce Kalman (of Union in Pasadena and Knead in Grand Central Market in L.A.) and Tyler Anderson (of Millwright's Restaurant and Tavern in Simsbury, Connecticut)
April 14: Brooke Williamson (of Playa Provisions in Playa del Rey) and Shirley Chung (of Ms Chi in downtown L.A.)
April 15: Kyle Johnson (of Bourbon Steak in Glendale) and Josh Smith (of Bardot Brasserie in Las Vegas)
April 20: Christian Page and Elia Aboumrad (of Cassell's in Koreatown L.A.), Fabian Gallardo (of La Esquina in New York) and Oso Campos (of Tacos Kokopelli in Tijuana)
April 21: Pawan, Nakul, and Arjun Mahendro (of Badmaash in downtown L.A.)
April 22: Sara Kramer and Sarah Hymanson (of Kismet in Los Feliz and Madcapra in downtown L.A.)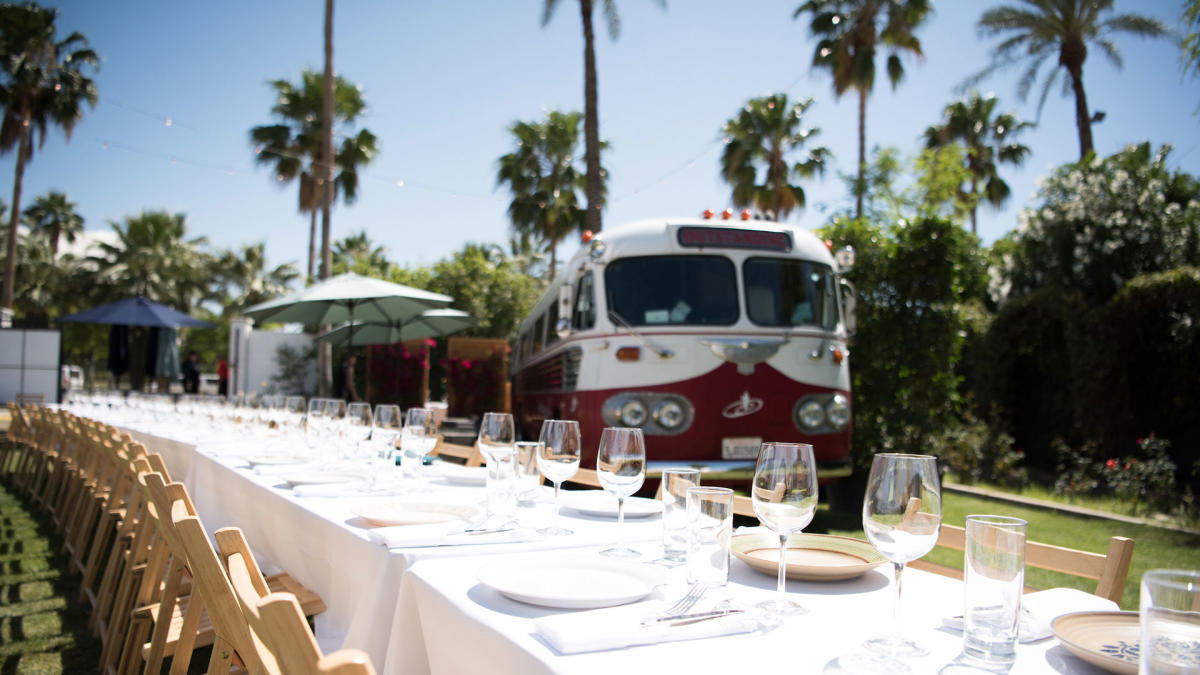 The popular burger chain Shake Shack is new to the Coachella food scene this year, but instead of a basic stand or food truck, they are creating a full replica of their original Madison Square Park burger stand. Van Leeuwen ice cream is also going big this year, creating a full pop-up ice cream shop where you can enjoy your treat in air conditioned bliss.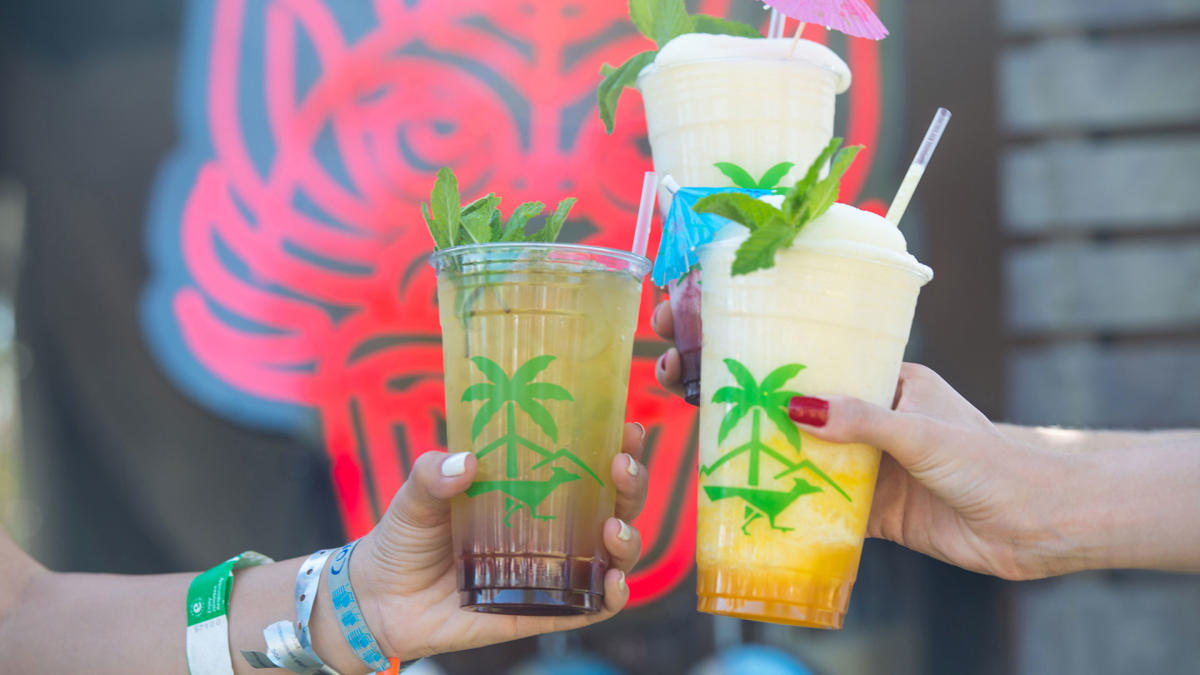 Last year the festival's secret tiki bar PDTiki made a splash and will be returning again (the location is still a mystery!). The folks behind Broken Shaker at Freehand in L.A. will have a craft cocktail bar in the main VIP section, as will downtown L.A. mescal bar, Las Perlas, and the Craft Beer Barn is back, including Beer Belly's Rare Beer Bar. New in nonalcoholic options is Bar Not Bar, serving cocktails sans booze, as well as a full kombucha bar in the Indio Central Market and "refreshment pods" located throughout the festival, serving cold pressed juice, wellness shots, sparkling matcha and more.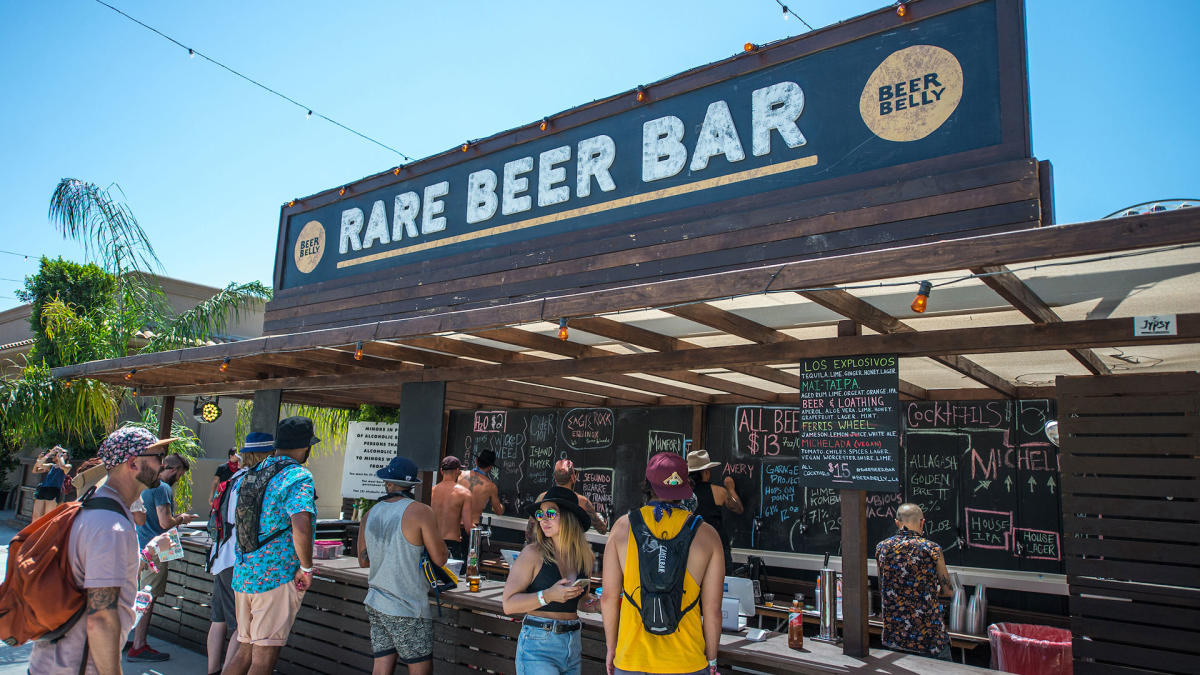 For a full list of the over 100 food and drink vendors featured this year, visit the Coachella Eat & Drink Guide here or download the Coachella mobile app to access food and drink location information while you're at the festival.
Photos by Neil Husvar, courtesy of Coachella