From hiking and biking to golf and tennis, the recreational bounty of Greater Palm Springs provides an ever-active canvas for the exercise-seeker and serious sporter. But, hey, one can't be on the go all day, every day, without some healthy nourishment to match that body in motion.
For the hiking set across the oasis, take your pick from a host of delicious and healthy "post-adventure" drink and dining destinations that keep the healthy glow going way into the night-time hours.
Indian Canyons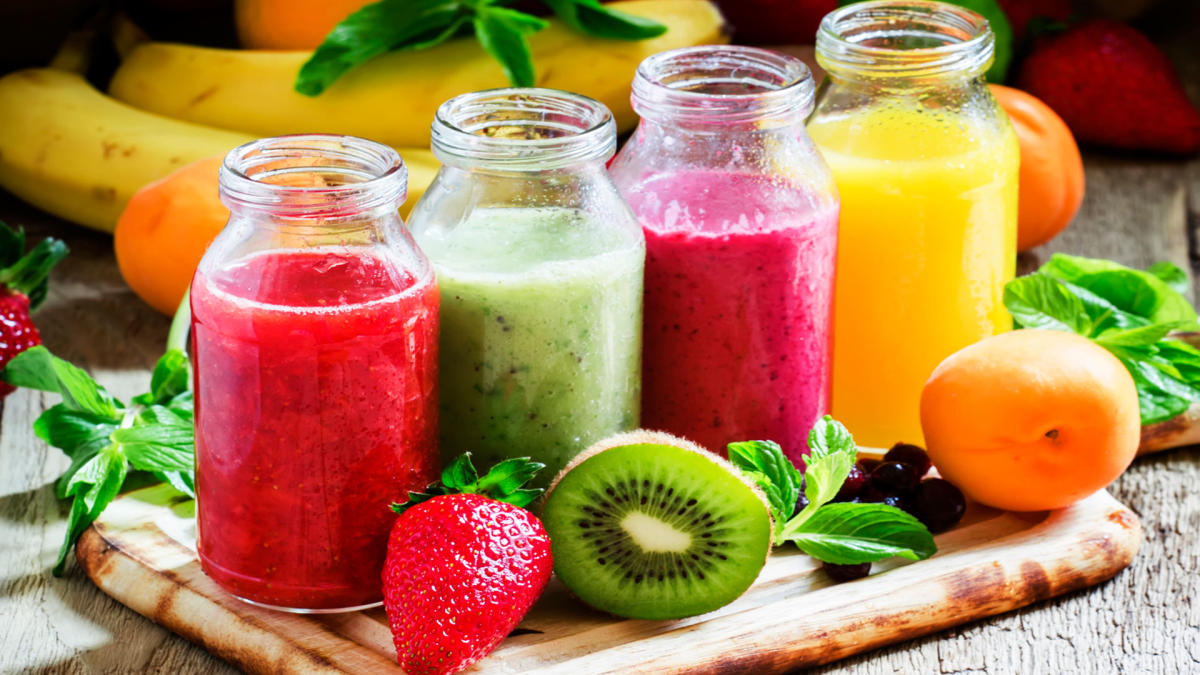 Start the day off with a leisurely, two-mile hike through the stream-lined surrounds of Andreas Canyon Trail at Indian Canyons before a flowing transition over to Nature's Health Food & Café in Palm Springs. Open seven days a week, the café sports an all-vegan and vegetarian menu (including breakfast all day), along with the juice bar's abundant freshly-squeezed organic offerings, ranging from Pomegranate Iron to the beet, lime and ginger-driven Red Stinger.
Hike to Health distance: 5 miles
Lake Cahuilla Recreational Park
A mere six miles from Old Town La Quinta, the ever-popular Lake Cahuilla Recreation Area provides visitors a 710-acre park of hiking trails and recreational space to explore. Post-stroll, shake in on over to Fresh Juice Bar in La Quinta (sister locales are also in Palm Desert and Palm Springs), where a full menu of raw and organic juices, smoothies and snack bowls await.
Hike to Health distance: 10 miles
Clara Burgess Trail
More advanced hikers will revel in the panoramic valley view atop Murray Hill at the crest of the Clara Burgess Trail in Palm Springs. After descending the 1,400-foot gain in elevation across 3.5 miles of terrain, refuel the body at the nearby Palm Greens Café, where a full breakfast through dinner menu (including gluten-free offerings) and a philosophy of clean, organic foods is certain to please the healthy appetite. Start with a superfood smoothie or an organic beer (or wine) before exploring an excellent Homegrown Breakfast menu in the morn or a popular wrap, salad or sandwich in the p.m. hours.
Hike to Health distance: 4.2 miles
Bump and Grind Trail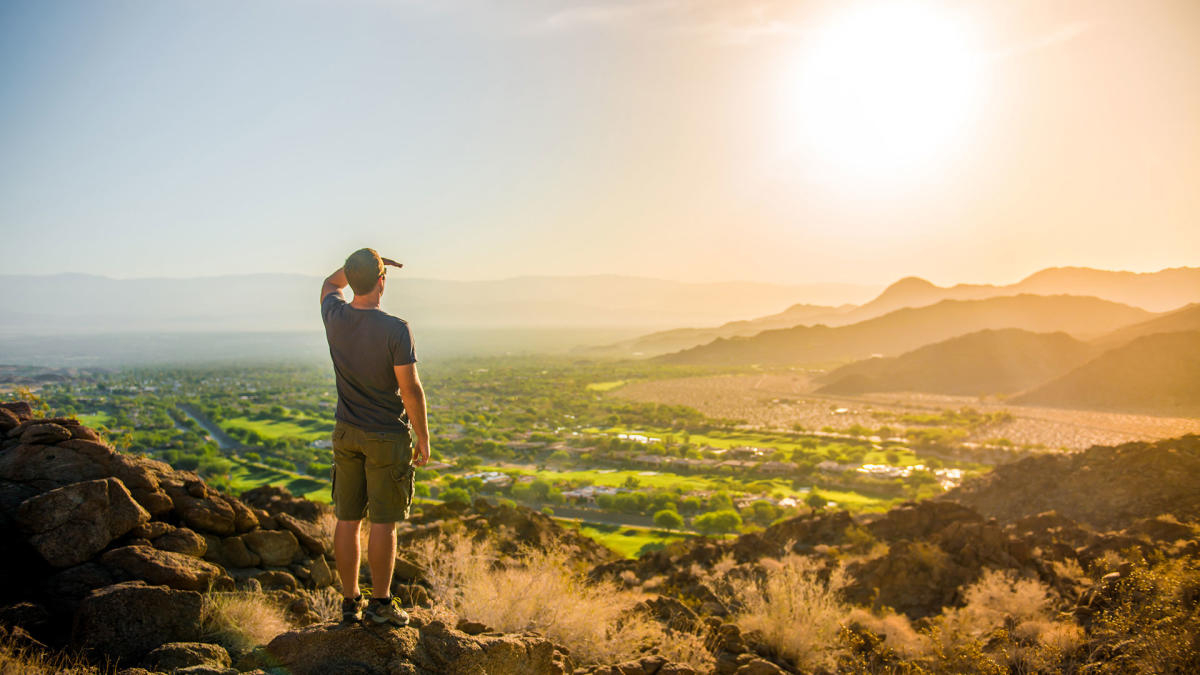 Long counted among the mid-valley's most popular hikes, the Bump and Grind Trail behind Highway 111 in Palm Desert provides an easily-accessible, three-mile ascent of 1,000-feet, and as of May 1, 2017, the top portion of the trail will be open for the first time in a decade. After concluding your quest, it's neither bump nor grind to transition over to Luscious Lorraine's, where a terrific and affordable menu of nutritious, organic and locally-sourced juices and dishes is certain to keep the healthy day aflow.
Hike to Health distance: 2.2 miles
Joshua Tree National Park
Enjoy a four-mile journey taking the Joshua Tree National Park's Lost Horse Mine & Mountain hike before a well-deserved post-exercise respite at the Joshua Tree Saloon. Sure, the tempted may go for a burger, baby back ribs or Hungry Cowboy breakfast amid the western-style environs, but know that healthy options also abound across a full menu of salad and seafood choices.
Hike to Health distance: 19.1 miles
Earl Henderson Trail
After a three-mile loop hike across the flower-laden routing of the Earl Henderson Trail in Palm Springs, treat the blood flow with a stop at Native Foods Café. Among the pioneers of the sustainable, plant-based food movement, the Palm Springs locale, founded in 1994, was the first of Native's seven restaurants and has maintained a popularity and presence with its homemade, freshly-made menu of ingredient-driven care.
Hike to Health distance: 2 miles
The Healthy Libations
Let's not forget that some hike exertion will no doubt work-up a good thirst.  For some healthy food choices mixed with great beverage options, check out these elixir opportunities.
Situated behind the Palm Springs Art Museum, the earnest, uphill demands of the two-mile Museum Trail hike will put those calves and quads to work. After an afternoon or evening workout, keep the leg muscles moving with a close walk to Bootlegger Tiki, which has gained widespread toasts for its rum-driven artisanal cocktail crafting matched with freshly-squeezed juices.
Distance: 1.1 miles
Is beer good for you?  In moderation, it can be indeed, with such benefits as staving off inflammation and aiding digestion.  After exploring the more than 25 miles of hiking and the San Andreas Fault at the Coachella Valley Preserve, keep the evening going with a stop at the Coachella Valley Brewing Company in Thousand Palms. Open for tastings until 10:00 p.m. on Fridays and Saturdays, the local brewer's Belgian-style Desert Storm Honey Double Wit (made with locally-grown Kumquats from Coachella) is a must-taste.
Distance: 7.5 miles
Following your two-to-six mile hike across the Murray Canyon Trail at Indian Canyons (the extent of which goes all the way to the Seven Sisters Waterfall), go watch the sunset at one of Greater Palm Springs' most scenic patio views at Escena Lounge & Grill. As the golfers round home, pair the close of your hiking day with a Salmon Nicoise Salad and a Bees Knees classic cocktail, mixed with gin, fresh lemon juice and agave.
Distance: 10.3 miles
There's plenty more to explore, too. Find a full list of hiking trails in Greater Palm Springs at HikinginGPS.com.