Dreaming of a desert getaway to Indian Wells? The alluring desert region has been calling your name for months now. But before you book the room, maybe you're curious about what new safety measures have been put in place to ensure you and your family will stay protected? Rest assured, hotels across Greater Palm Springs are way ahead of you.
With a slew of new health and cleanliness protocols designed to keep both guests and staff safe. To give you peace of mind before you even pack your bags, here is a round-up of new services you can expect during your upcoming trip. This way, the moment you walk through the doors, the only thing you'll have to do is rest, relax and, most of all, have fun.
Meeting of the Minds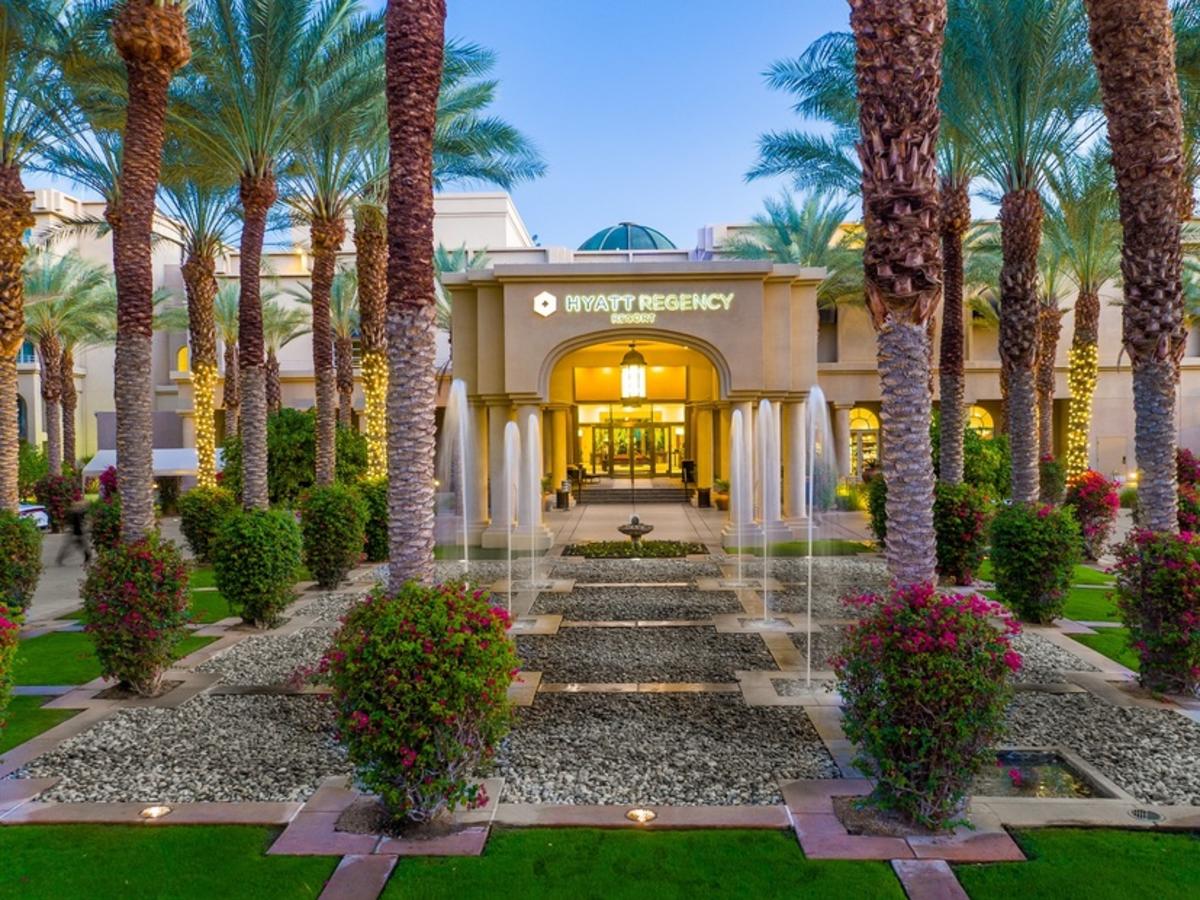 From the onset of the Covid-19 pandemic, the focus of each Indian Wells hotel has been on creating a safe experience for guests and team members alike. This is unchartered territory for the entire hospitality industry and the major hotel groups didn't hesitate to call upon the experts to ensure they're making the best decisions possible for their guests' safety. Hyatt worked with a variety of medical professionals, including those from Cleveland Clinic, to develop their comprehensive Global Care & Cleanliness Commitment. Implemented across all their hotels, including Hyatt Regency Indian Wells, the program also ensures that a specially trained hygiene and wellbeing leader is at each property, with the sole focus on the health of guests and staff.
Over at Hilton's Miramonte Indian Wells Resort & Spa, a partnership with HB/Lysol and Mayo Clinic resulted in their overarching and thorough CleanStay measures that include the use of Lysol's premium cleaning products. Renaissance Esmeralda Resort & Spa is more than covered by Marriott's Cleanliness Council--made up of their most experienced senior leaders as well as expert advisors from food safety and public health, infectious disease, food science and more. That all adds up to some serious brainpower working together to ensure the highest safety standards are being followed and your wellbeing is accounted for.
Put Your Mind at Ease - Commitment to Clean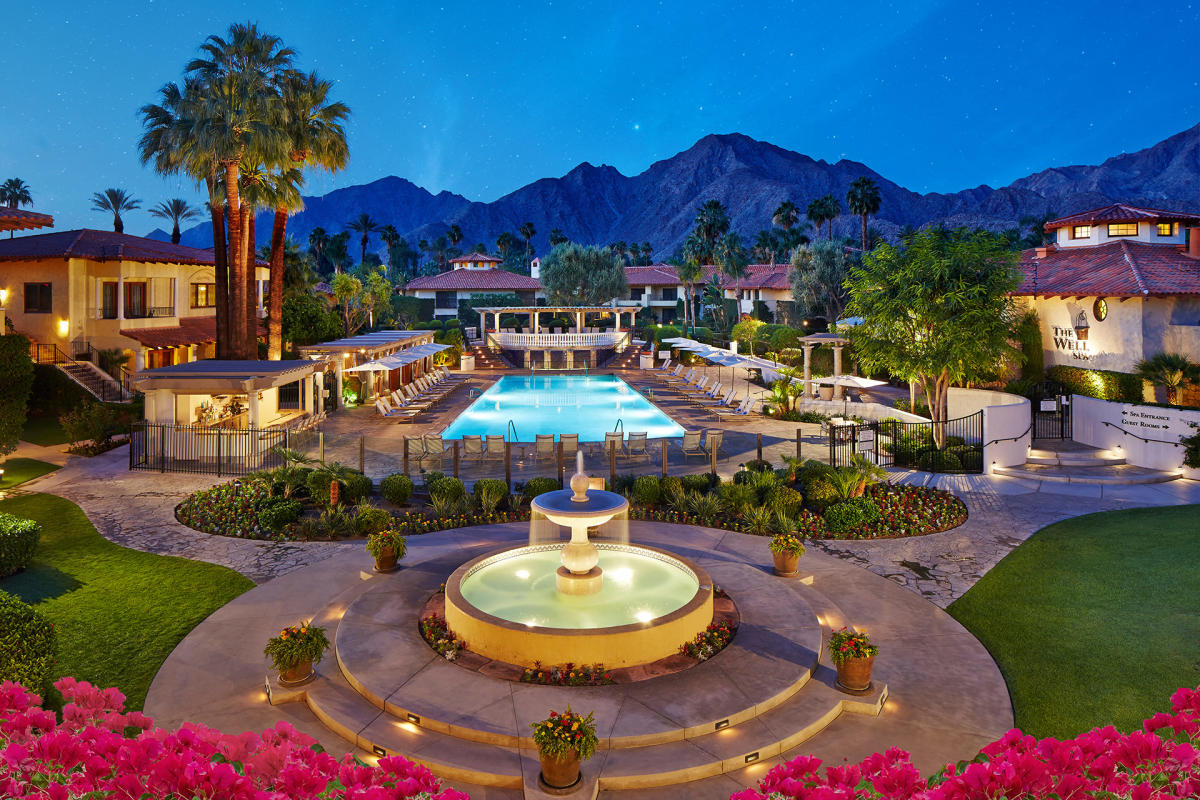 When it comes to health and safety, Indian Wells deliver– -and then some. All hotels have enhanced their cleaning protocol, with special attention being paid to high-touch areas in the public spaces and in rooms. Hospital-grade disinfectants are being used to sanitize surfaces, and hotels like Renaissance Esmeralda are taking it a step further by introducing technology such as electrostatic sprayers and air purifiers.
When you check into your room at Miramonte, you can expect to see a CleanStay Seal which means no one has entered your room since its last cleaning, while Hyatt Regency has earned a GBAC STARTM accreditation which includes detailed cleanliness training for the staff. No matter where you stay, you won't be far from a hand sanitizer station throughout all the properties to clean your hands or wipe down high-touch items such as elevator buttons. That means you can truly relax while you're out enjoying the hotels' amenities or getting some much-needed downtime in the room.
Socially Distanced Service
It shouldn't come as a surprise, but one thing hotels have not forgotten about is hospitality. You can still expect the utmost level of service—just a bit altered to meet our current safety needs. You'll find more digital amenities that can be accessed from your personal device have been introduced. Keyless entry, contactless check-in and check out, easy access to to-go items and more are common features throughout the hotels. The added bonus is that waste is being reduced so your stays are even more sustainable. Just don't forget to bring your favorite mask (or masks--coordinating masks with outfits is totally a thing now). All resorts require that not only their guests but their team members as well, mask up at all times. Don't worry, they're all still smiling under there.
Let's Eat

Indian Wells' prime desert location means year-round sunshine and al fresco dining options abound throughout the resorts. Hyatt Regency is serving bites from the poolside Roadrunner Cafe so you can grab a snack in between spins through their new HyTides Plunge Waterpark and Desert Twist Lazy River. Their casual Citrus Marketplace and Cafe is also available for outdoor dining when you're back on dry land.
Over at Renaissance Esmeralda, you can grab your morning coffee at Cafe Biscotti, lunch at the Pool Cafe--overlooking their sandy beach pool--then sip cocktails and nibble on light bites at The Place to close out your evening. For a touch of old school glamour, The Pink Cabana at Sands Hotel & Spa pays homage to Greater Palm Springs' tennis and racquet clubs of the 50s and 60s; or Miramonte's Citrus and Palm specializes in farm-to-fork cuisine that can be sampled in the restaurant, poolside or in-room.
I'm Ready to Explore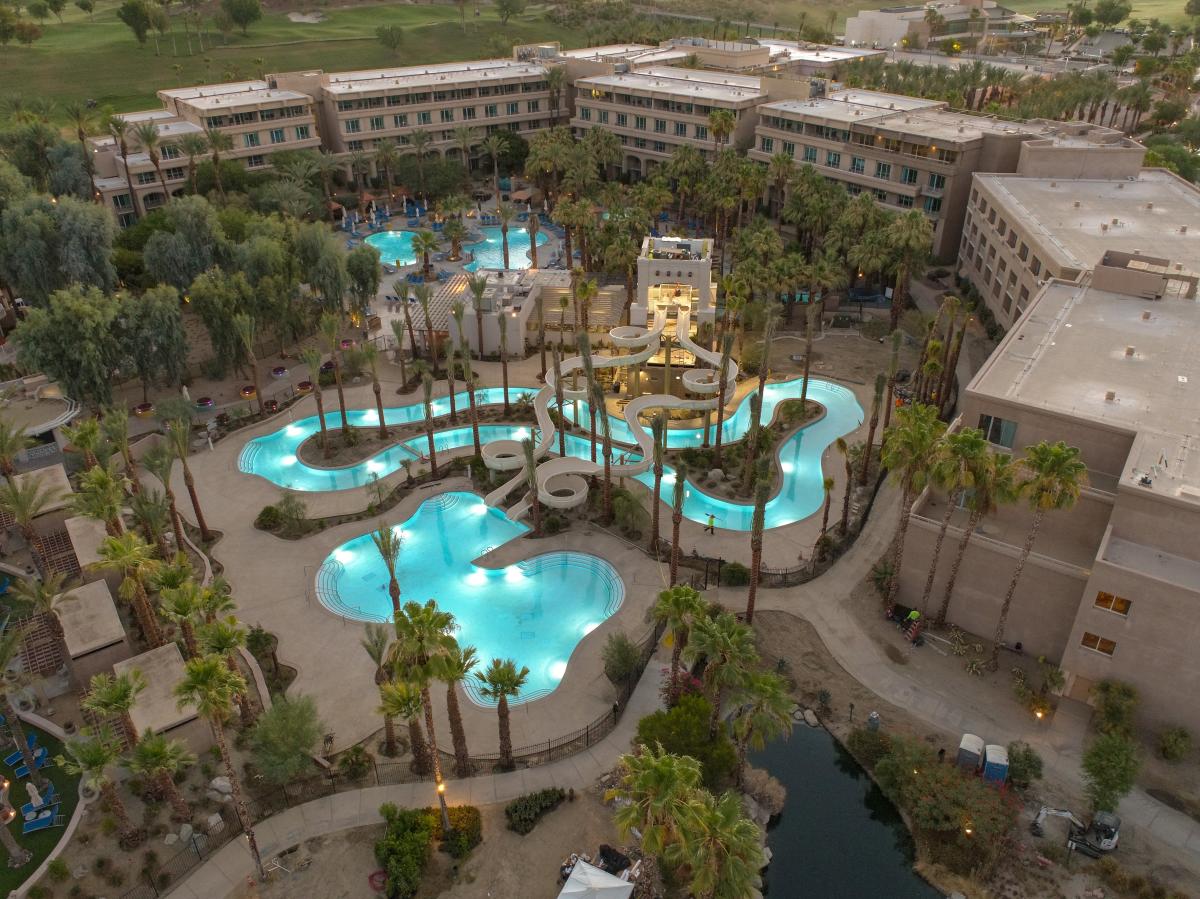 Looking to venture out and explore the area? That's easy, simply look for businesses that have taken the Safer Together, Greater Together Pledge. This means they've committed to implementing core safety practices to keep visitors and the community protected. More than 440 businesses have committed and you can view them all here to start planning your adventures. Thanks to being centrally located in Greater Palm Springs, Indian Wells offers easy access to all of Greater Palm Springs' attractions.