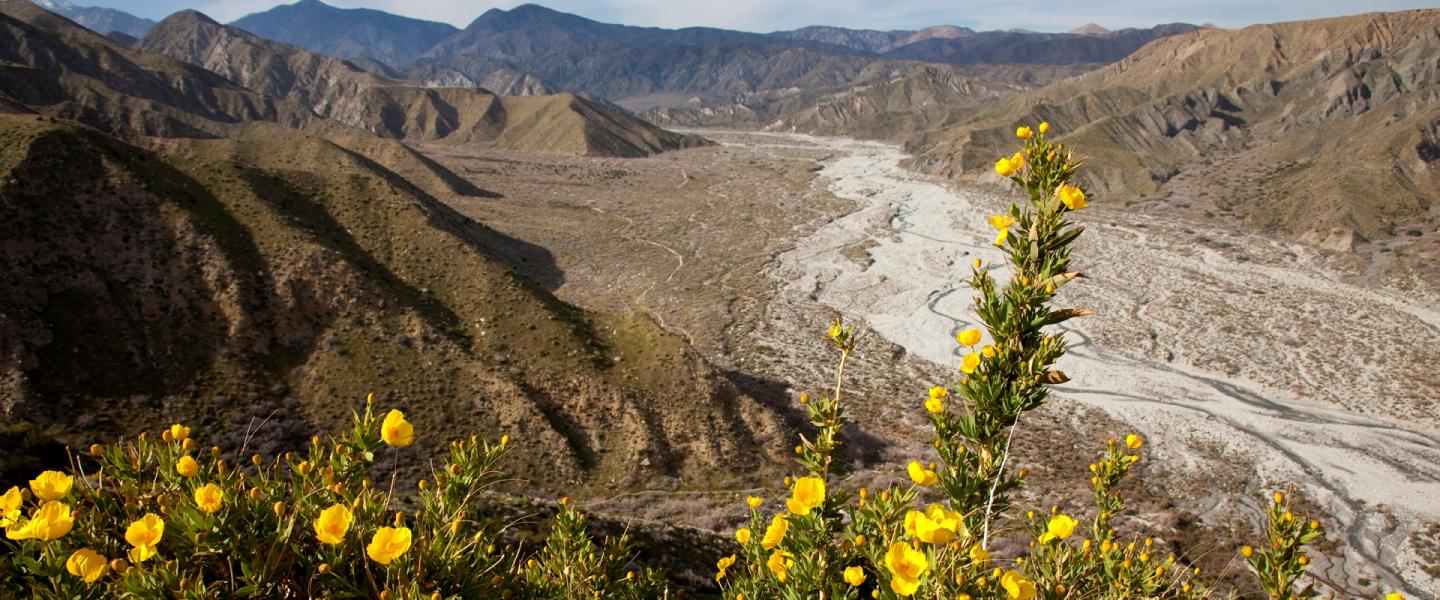 National monuments are national treasures, oftentimes providing an awe-inspiring communion with nature that may lift the heart and calm the spirit. Now, visitors to the Greater Palm Springs area can experience one of these treasures in a less than half-hour drive to the newly designated Sand and Snow National Monument through the portal of The Wildlands Conservancy's Whitewater Preserve.
Overall, Sand to Snow provides protection to lands that serve as biological corridors linking plant and animal populations throughout the San Bernardino and San Jacinto Mountains and Joshua Tree National Park. According to Director of Desert Preserves for The Wildlands Conservancy and Manager of the Whitewater Preserve Jack Thompson, Sand to Snow boasts one of the most biologically diverse mountain ranges in North America.
"For us locals, we experience this landscape through the stark beauty often associated with the desert," said Thompson. "The rocky cliffs, sparse and spiny plants and sand dunes are typical of everything we've come to know about our environment. To many, the iconic mountain skyline dominating the northwestern horizon as seen from virtually anywhere in the Coachella Valley is almost unreal, like the painted backdrop on a film set."
The Whitewater Preserve is one of three special areas now maintained for tourists looking to revel in Sand to Snow's natural splendor. With over 2,500 acres that were largely inaccessible for years while home to a trout hatchery, today it provides a bevy of opportunities for travelers of all kinds to enjoy.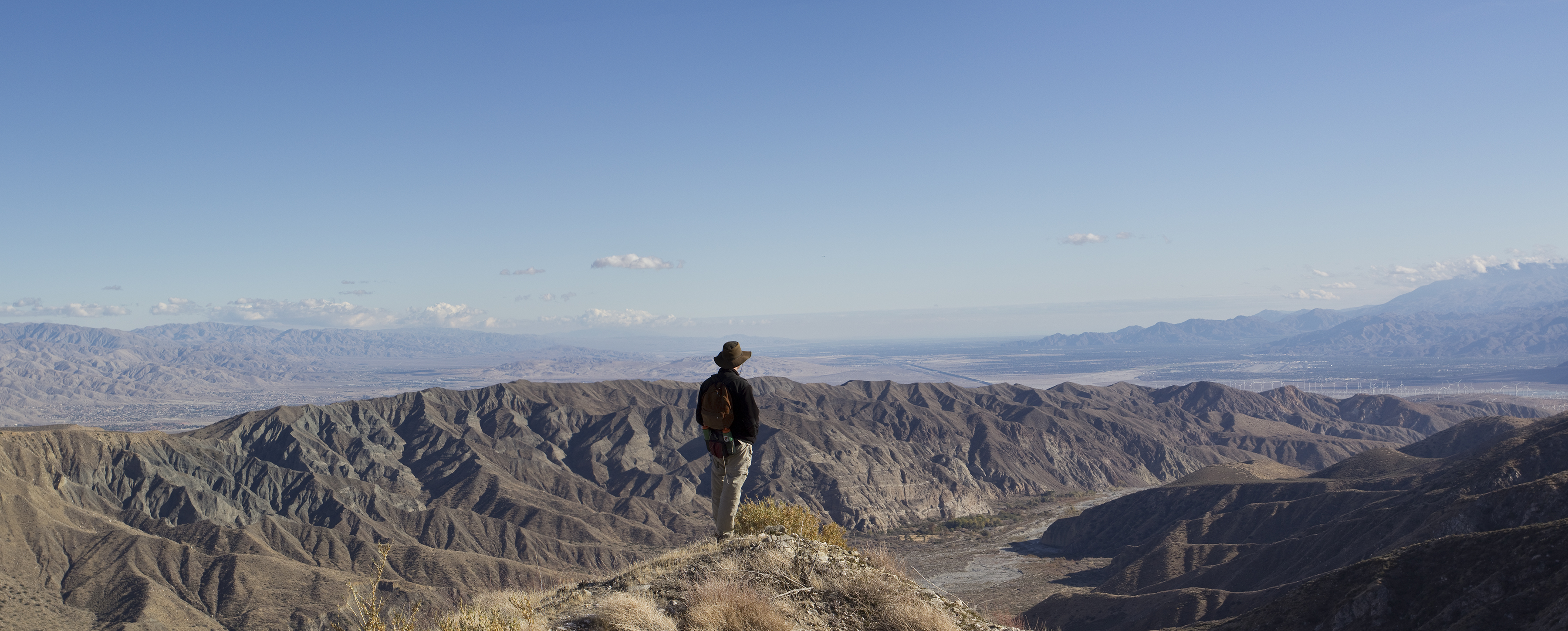 Only have a few hours? A short walk in the Preserve is a perfect start as its geography is emblematic of the entire monument. Visitors can walk on the Pacific Crest Trail (yes, the world famous trail that runs all the way from Mexico to Canada!) to witness the dynamic transition of desert into the alpine peaks of the San Bernardino Mountains.
Have all day? Choose from a wide variety of hikes that fit all athletic abilities and punctuate the hours of walking with a picnic in the beautiful park. Explore the Whitewater River, home to frogs, toads, lizards and a wading pond, where splashing is encouraged during the hot days of summer. The river's pristine waters flow unrestricted from the snow melting off Mount San Gorgonio, the highest peak in Southern California. Look out for wildlife in the form of bobcats, coyotes, foxes, jackrabbits and cottontails. It is very common to see the area's iconic bighorn sheep roaming the banded cliffs.
There is also an abundance of bird life, including the endangered southwest willow flycatcher, Bell's vireo, and the Peregrine Falcon, which Thompson says is the fastest animal in the world. Interested parties can join an organized bird walk led by knowledgeable docents.
Have a couple days? Adventurous backpackers can experience traversing terrain from desert to mountain range on foot and for most of the year, and do it accompanied by a paradise climate. It is even common to meet serious trekkers walking to far off places along the way.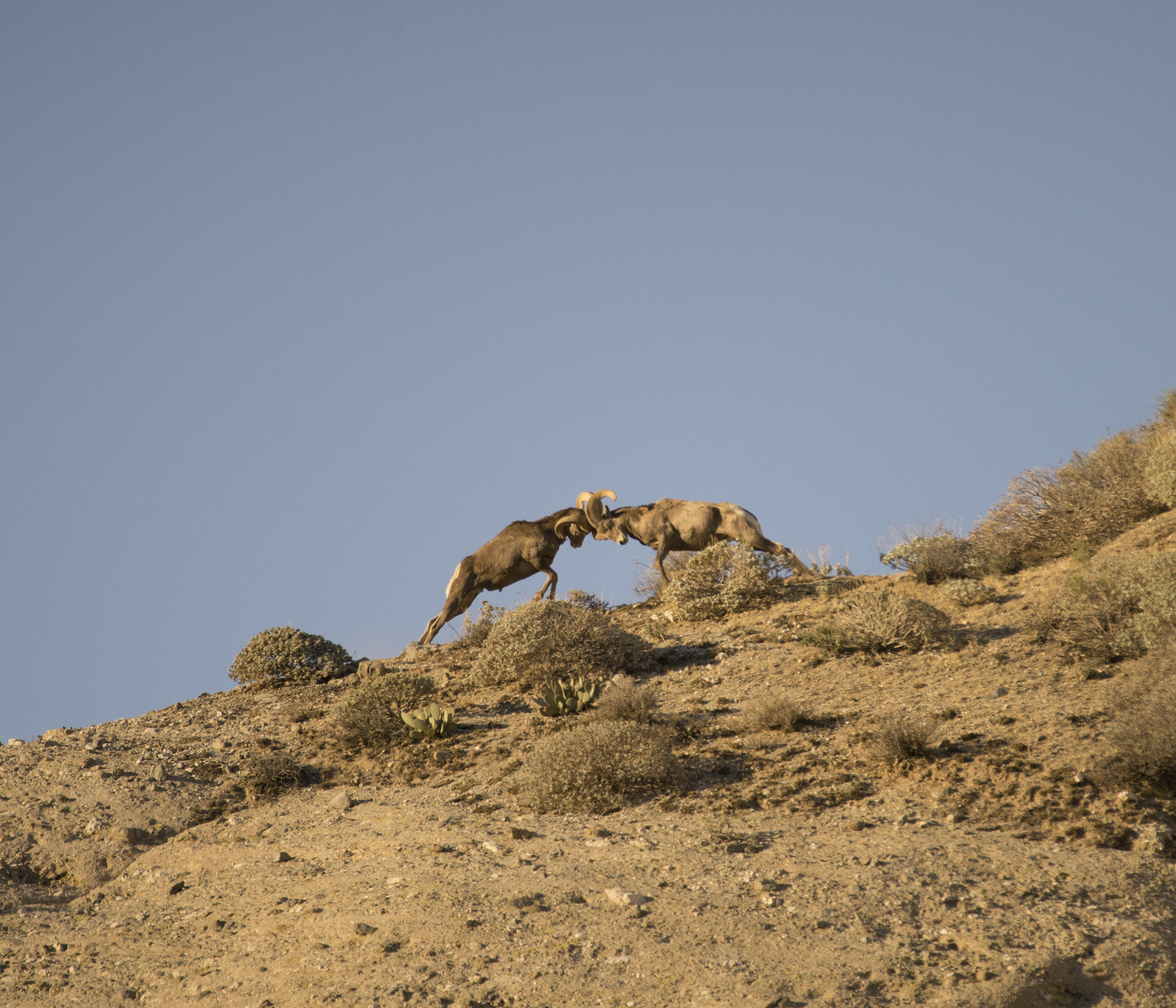 "In the eight years I've lived and worked in Whitewater Canyon, I've seen some incredible things," explained Thompson. "I've watched a mother bighorn sheep race across nearly vertical cliffs to scare a golden eagle away from her newborn lambs; lambs we watched take their first steps. While high on a peak in Sand to Snow, I had a family of three Golden Eagles flying abreast of one another pass by me close enough to touch, the one closest to me looking me directly in the eyes.  On a busy day at the preserve, we saw an Osprey, sometimes called a sea hawk, with a massive wingspan well over five feet dive underwater into one of the preserve ponds and emerge with a rainbow trout in its talons. Visitors were stunned, many of them having never seen anything like it."
The perks at Whitewater Preserve are endless, including the fact that all access is free, even camping. Guests can visit online for special events and offerings such as outdoor education programs and star gazing or find a friendly onsite ranger to help navigate an optimal time.