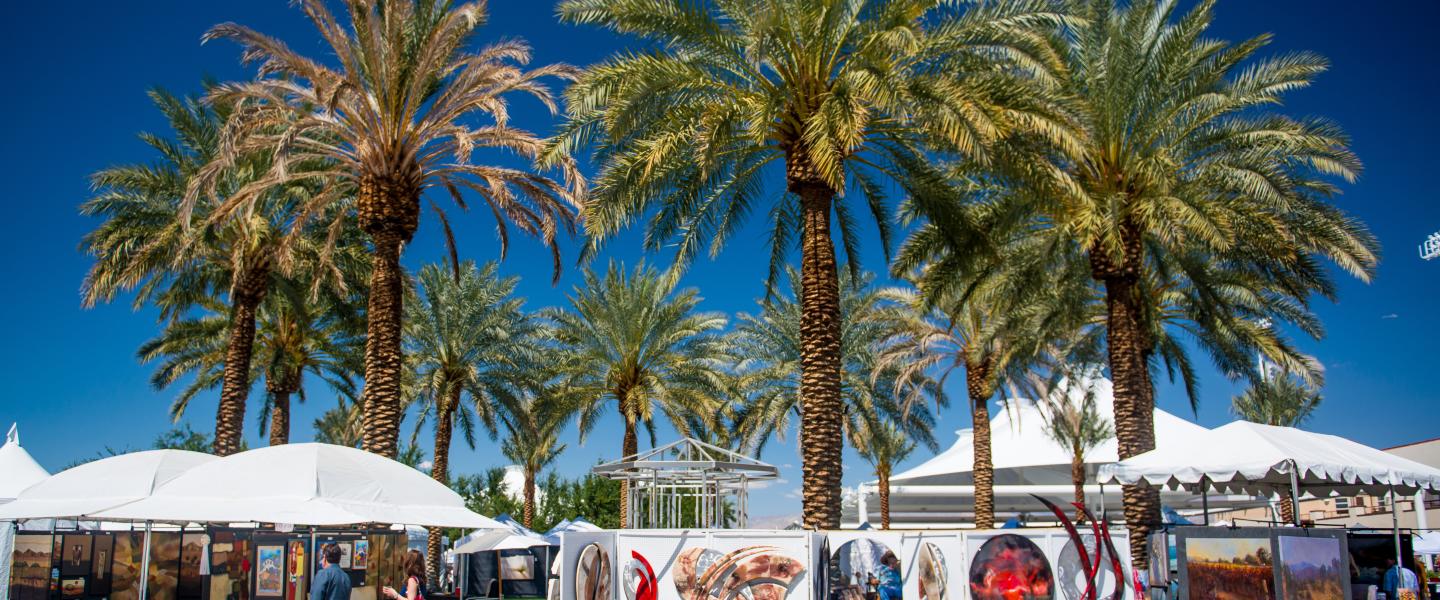 Greater Palm Springs is a mecca for art lovers, with numerous shows and festivals throughout the season and across the valley. Whether you're a serious collector or just looking for a special piece for your living room, you will be inspired and impressed by the high quality of creativity on show.  Nearly every weekend from October to March, there's an art event to enjoy.  Many take place in downtown areas where shops and restaurants rub shoulders with artists' booths, or they are held in scenic parks where artworks are complemented by live music and good food.
Cathedral City recently extended its 'Town Square Park," adjacent to Hwy 111, and the new venue started hosting art festivals in 2015. This February, the Fine Art Festival includes 75 exhibiting artists and featured a dozen or more Hot Air Balloons adding to the colorful display.  www.westcoastartists.com/events.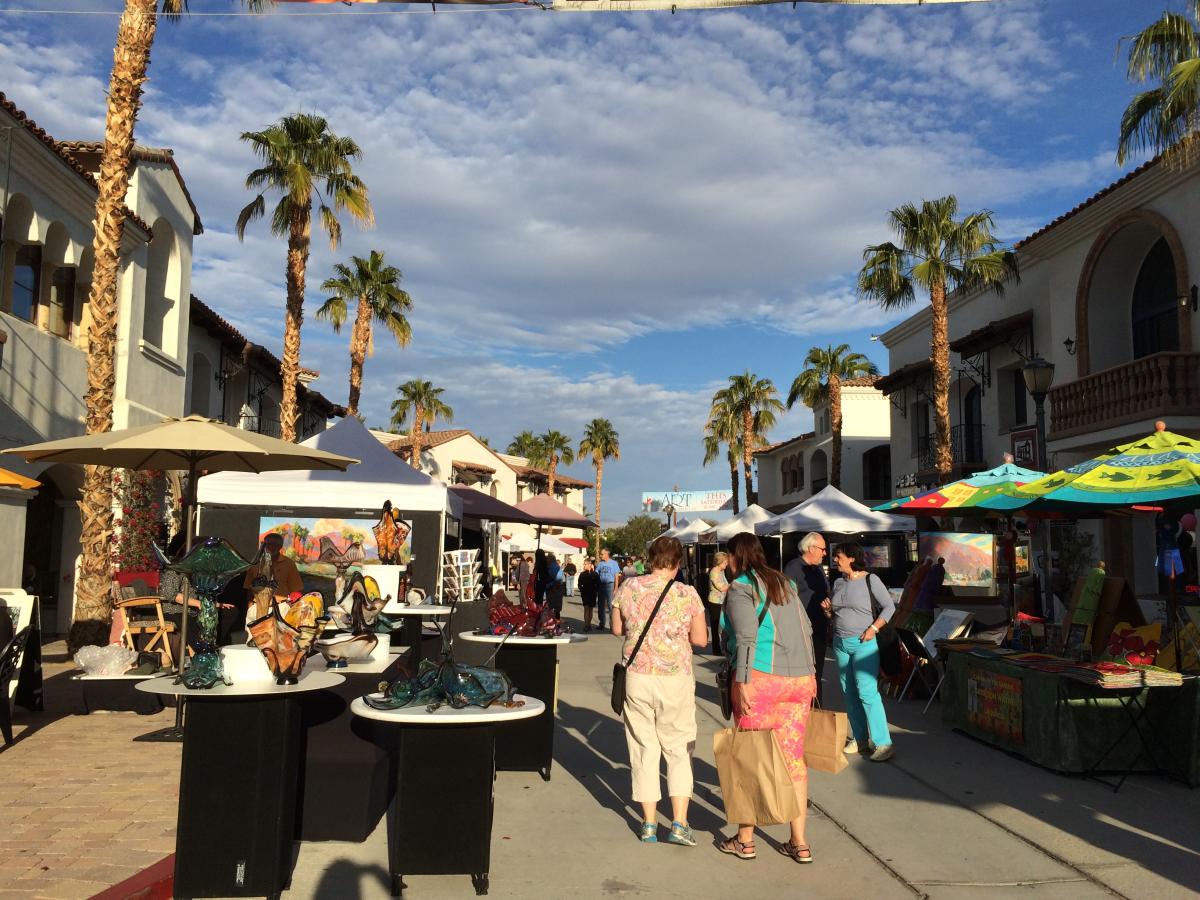 La Quinta's flagship event is the annual La Quinta Arts Festival, ranked #1 in the nation and attracting thousands of visitors to the Civic Center Park to enjoy art, entertainment and gourmet food at the festival's 'Restaurant Row.'  Now in its 34th year, the four-day show runs from March 3 – 6.  The juried show selects 220 applicants from more than 1,000 entries worldwide, with new artists at each festival.  Artworks are in every conceivable medium, from pencil drawings to fiber and feathers. The organizers, La Quinta Arts Foundation, also hold 'Art Under the Umbrellas' fairs on Saturdays throughout the season from October to March, once or twice a month.  A select group of 80 regional artists sell their creations in the attractive shopping and restaurant district of Old Town La Quinta. www.lqaf.com/cultural-events/art-under-the-umbrellas/
Indian Wells is hosting the prestigious Spectrum Art Show for the first time in 2016, from March 17-20 at the Renaissance Esmeralda, to coincide with the second week of the BNP Paribas Open tennis tournament.  Spectrum's focus is on contemporary art selected by fine art experts; it features international artists and galleries.  www.spectrum-indianwells.com/
Ranked among the Top 100 art fairs in the USA, the annual Indian Wells Arts Festival runs from April 1 – 3, 2016.  Nearly 200 juried artists from more than 25 countries make this an international event, transforming the Indian Wells Tennis Garden into an artisan village and outdoor marketplace.  The Tennis Garden provides plenty of shady spots to relax, listen to live jazz and sip refreshments at the Champagne Circle Bar and the RumChata Bar.  The 2016 event features 'Eggs & Champagne in The Gardens' brunch on Saturday and Sunday, and the venue's top restaurants open for lunch. www.indianwellsartsfestival.com.  
Palm Springs has hosted the Desert Arts Festivals since 1985, held on six weekends from Thanksgiving through to late March and benefiting non-profit arts-related organizations.  More than 80 juried artists gather at the central Frances Stevens Park, bordered by Palm Canyon and Indian Canyon Drives.  The festivals feature a diverse range of innovative works in all styles and all media by an ever-changing group of artists.  Weekend shows are open from 10 a.m. – 4 p.m.  Find more information at www.westcoastartists.com/events.
Since 2012, 'Artwalk at Indian Wells' features about 50 artists displaying original work in various mediums It's held at the Village Business Park at the corner of Cook and Hwy 111.  Visit Artwalk Feb 20 – 21,  from 10 a.m. – 5 p.m. www.westcoastartists.com/events
Every year, Rancho Mirage kicks off the art high season on the first weekend of November with its 'Art Affaire' now in its 16th year, held in Rancho Mirage Community Park.  This two-day, juried fine art festival showcases more than 100 artists displaying and selling work in every medium from painting to photography, metalwork, glassware and more.  Music performances take place throughout the day; in 2016, they will be held in the new 600-seat amphitheater. http://www.ranchomirageca.gov/art-affaire/
Indio's celebrated Empire Polo Grounds features the first fair of the year in late January, giving visitors a colorful way to get over those post-holiday blues.  The Southwest Arts Festival celebrated its 30th anniversary in 2016.  Mark this in your calendar for next year's trip and take in arts and crafts by more than 250 national and international artists.  www.discoverindio.com/Southwest-Arts-Festival