Embracing the boundless energy of inspiring natural landscapes, Greater Palm Springs and its nine distinct cities showers with a buffet of exclusive diversions that engage everyone from hikers and bikers to those into art, animals and architecture. Find your special oasis at one of these.
It's daunting to wrap your mind around this engineering marvel that reduces Coachella Valley to miniature status in a mere 10 minutes. Scaling North America's steepest escarpment, 80-passenger rotating tramcars travel through 12 climate zones along the 2.5-mile cactus-to-clouds climb. Those with loftier aspirations can boost this vertical journey beyond 8,516-foot Mountain Station with a 5.5-mile hike to San Jacinto's 10,834-foot peak. Up to 40 degrees cooler than the valley floor, Mount San Jacinto State Park's pristine wilderness engages with 54 miles of trail experiences pivoting from summer hiking to winter Alpine cross-country skiing. Pack light and rent gear at the Adventure Center from mid-November to mid-April.
Lauded among the top 14 aviation museums by CNN in 2014, the museum is home to one of the world's largest collections of flyable WWII aircraft. Forget the ropes. Visitors are encouraged to go touchy feely and hop aboard such vintage warbirds as a Boeing B-17 Flying Fortress and Douglas C-47 Dakota. Other big guns include a Douglas SBD Dive Bomber, Grumman F4F Wildcat, Curtiss P40 Hawk and North American P51 Mustang.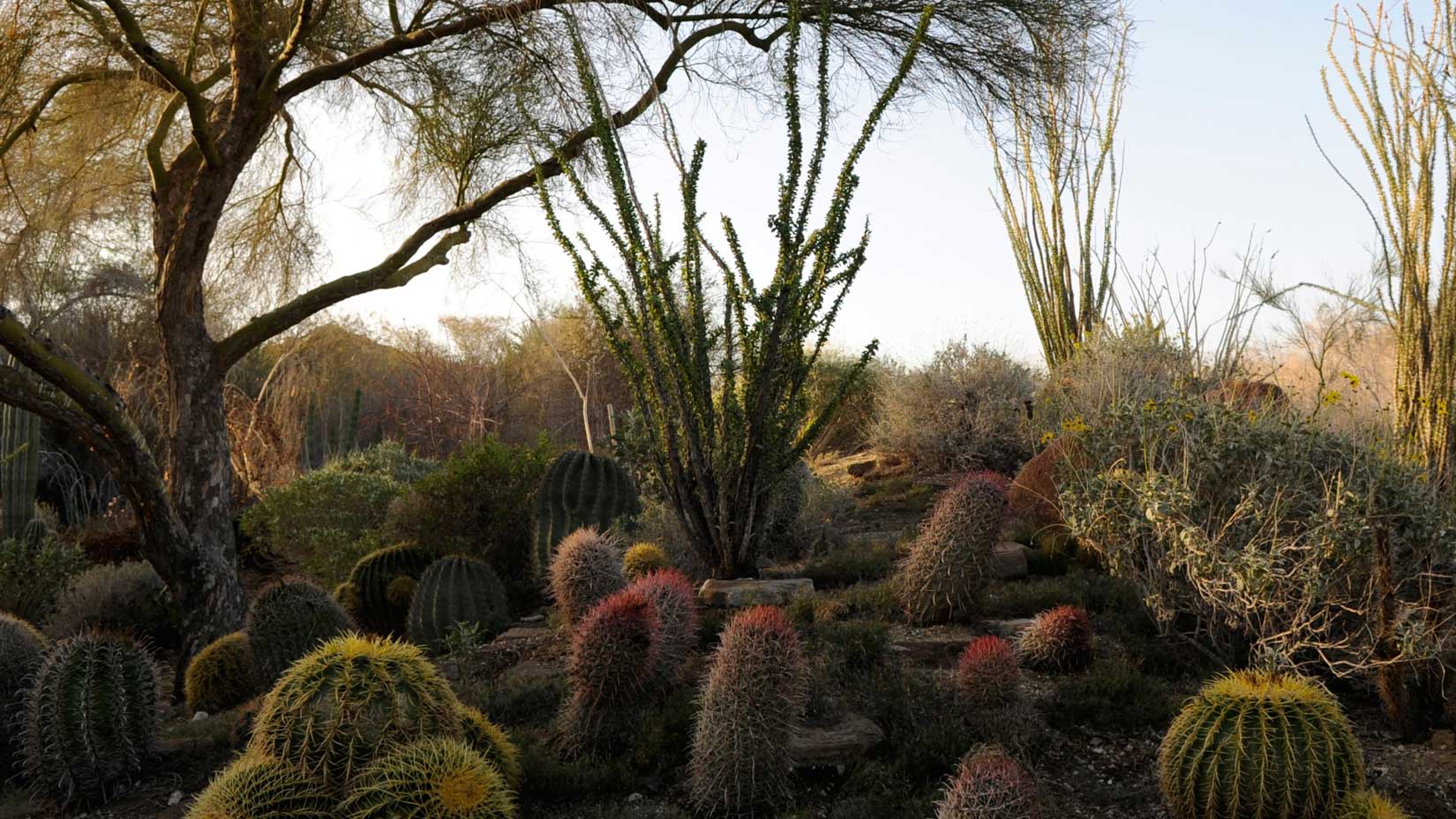 The only American zoo and botanical garden dedicated exclusively to sandy habitats around the world, this 1,200-acre jewel dazzles with opportunities to observe its 450 feathered, furry, shelled and scaled dwellers. From Southwest U.S. bighorn sheep and California kingsnake to Africa's endangered slender-horned gazelle and winged wonders of the Australian Outback, these carnivores and herbivores cohabitate in a lively, educational environment that trots the globe.
Hike on the Wild Side
Enveloped by more than one million acres of untamed protected land, Greater Palm Springs' nine communities flow to a dramatic wonderland sculpted by seismic activity, wind, water and time. Coveted for its labyrinth of geological cuts and canyons is the San Andreas Fault Zone, the only place in the U.S. where two tectonic plates bump and grind it out. This action in the 125,000-acre Meccacopia Wilderness has created what geologists dub the most tortured landscape on earth. Operators like Desert Adventures share the splendor through off-road vehicle jaunts and backcountry trail hiking on a private 840-acre adventure ranch where naturalists weave in Indian culture, local geology, and plant and animal life. As a bonus, you can traipse across a bridge straddling the San Andreas Fault.
Greater Palm Springs has traveled light years since its days as a dusty cowboy and pioneer town. Credit Hollywood studio honchos for much of that evolution, with the "Two-Hour Rule" requiring actors under contract to remain within two hours of Tinseltown for last-minute shoots. Cinema elite not only drove over for quickie escapes, but eventually purchased hideaway homes for lounging poolside and mixing martinis away from the microscope. Legendary Rat Packers like Frank, Dean and Sammy kicked off a desert domain bash attended by such celestial cronies as Liberace, Lucille Ball, Bing Crosby, Dinah Shore, Bob Hope and Kirk Douglas. You'll gawk at some 50 to 60 A-lister abodes tucked within Las Palmas, Old Movie Colony, Racquet Club Estates and other star-studded neighborhoods.
Put the Pedal to the Metal
In a trailblazing concept that showcases autos instead of golf, is the revved up BMW Performance Driving School West, one of only two BMW Performance Driving Schools in the U.S. This pedal to the metal paradise is designed to push both amateur and professional drivers to their limits. Occupying 32 acres on the club grounds, the adrenaline-pumping facility features a dedicated 1.4-mile road course, 6.2 acres of paddock, a skid pad and an 8,500-square-foot performance facility. The private racetrack has a "no holes barred" attitude, with attendees grabbing gusto in responsible driving classes before strapping in for signature Hot Laps with pros scorching the track up to 135mph.
Shift into Modern Mode
Tagged as the Mecca of Modernism, Greater Palm Springs is a living anthology showcasing the sleek style of California's midcentury modern design. Architectural guide Robert Imber's Palm Springs Modern Tours cruise to ultra-cool structures that have been maintained or meticulously restored to perpetuate the era's swinging sophistication and glamour. Characterized by large glass windows, flat planes, clean lines and open spaces, icons include the Tramway Gas Station, Palm Springs City Hall and Frey House II. Even if you're not an architecture junkie, you'll be hooked by intriguing history, celeb haciendas, quirky Araby Cove and the Vista Las Palmas neighborhood where Elvis and Priscilla honeymooned in the "House of Tomorrow."
Catch A Little Culture
Since debuting art in the heart of Palm Springs in 1938, Palm Springs Art Museum has burgeoned into a three-location treasure trove. With Greater Palm Springs boasting the world's greatest concentration of midcentury modern architecture per capita, it's only fitting that the new Architecture and Design Center, Edwards Harris Pavilion satellite has unveiled in the historic Santa Fe Federal Savings & Loan building designed by celebrated architect E. Stewart Williams.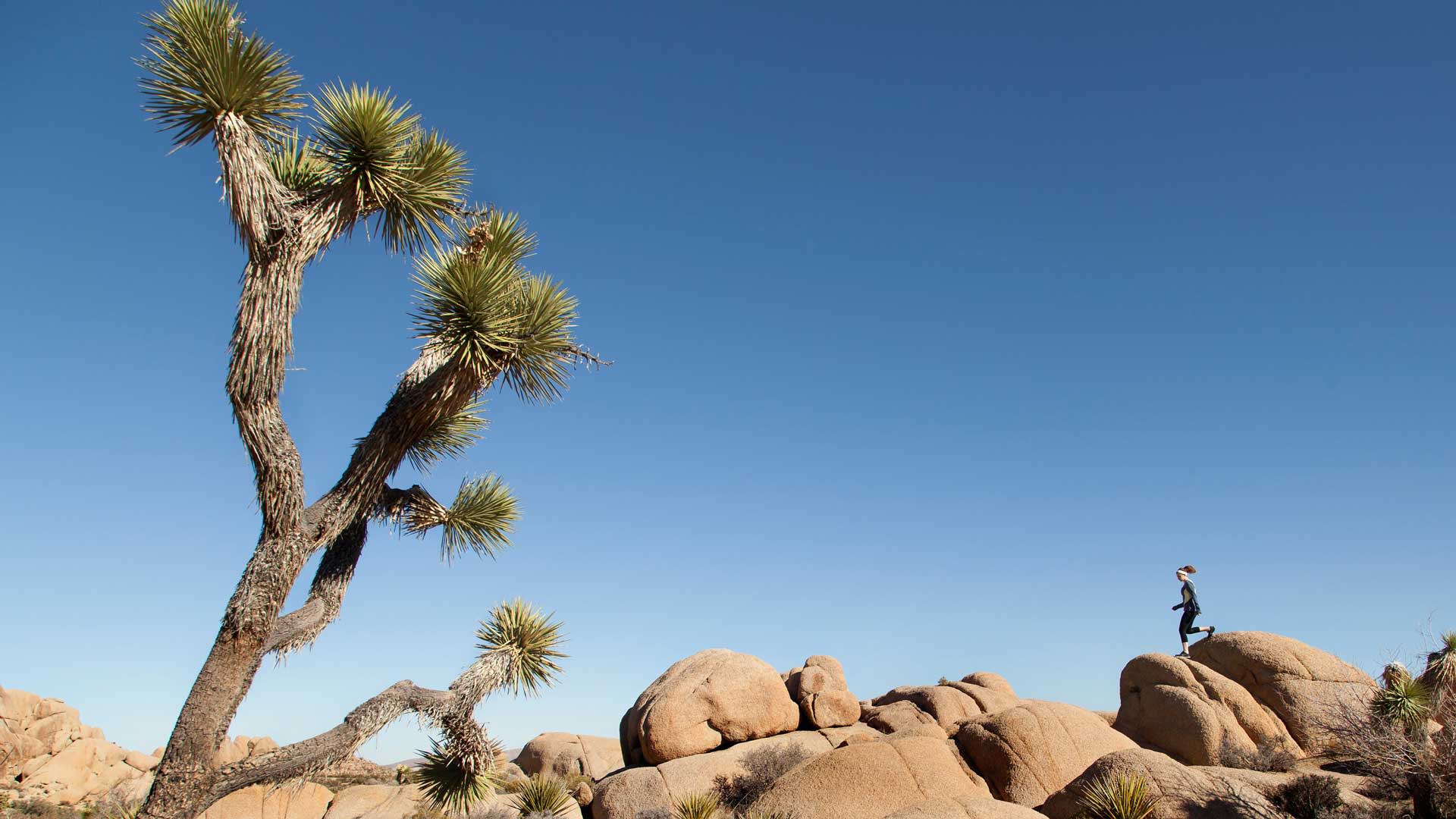 Merging ecosystems of the Colorado Desert, Mojave Desert and Little San Bernardino Mountains, majestic Joshua Tree National Park turns 180-degrees from all the hipster hoopla an hour away. Studded with jagged and rounded rocks 100 million years in the making, this moonscape is a magnet for climbers who rock out while scaling the smooth granite surfaces of dramatic outcroppings.