Greater Palm Springs has always been known as a destination for rejuvenation and relaxation, and the year-round sunshine combined with healing waters make for perpetual pleasure. Take some time to tap into the healing power of our oasis to get energized and relaxed simultaneously. Try a new spa experience every time you visit!
This adult-only seventy-seven acre sanctuary recently completed a 3.5 acre solar field that generates all of the resort's electric power needs through renewable energy. The natural spring grotto features two mineral water pools kept at a consistent temperature to ensure therapeutic and mood-enhancing properties. Guests are encouraged to relax in the waters before enjoying a menu of spa treatments including facials, massages, mud baths, immersion therapies, Watsu and more.
A luxury day spa surrounded by the beauty of the oasis and rugged mountain tops offers the perfect retreat where indigenous herbs and plants enhance treatments designed to awaken the senses, refresh the body and renew the spirit. Rich with walking and hiking trails and mountain vista views, waterfalls and unusual rock formations, this is a tranquil getaway. The spa offers a variety of treatments, from aromatherapy massage using a blend of essential oils to customized facials that hydrate and smooth your complexion.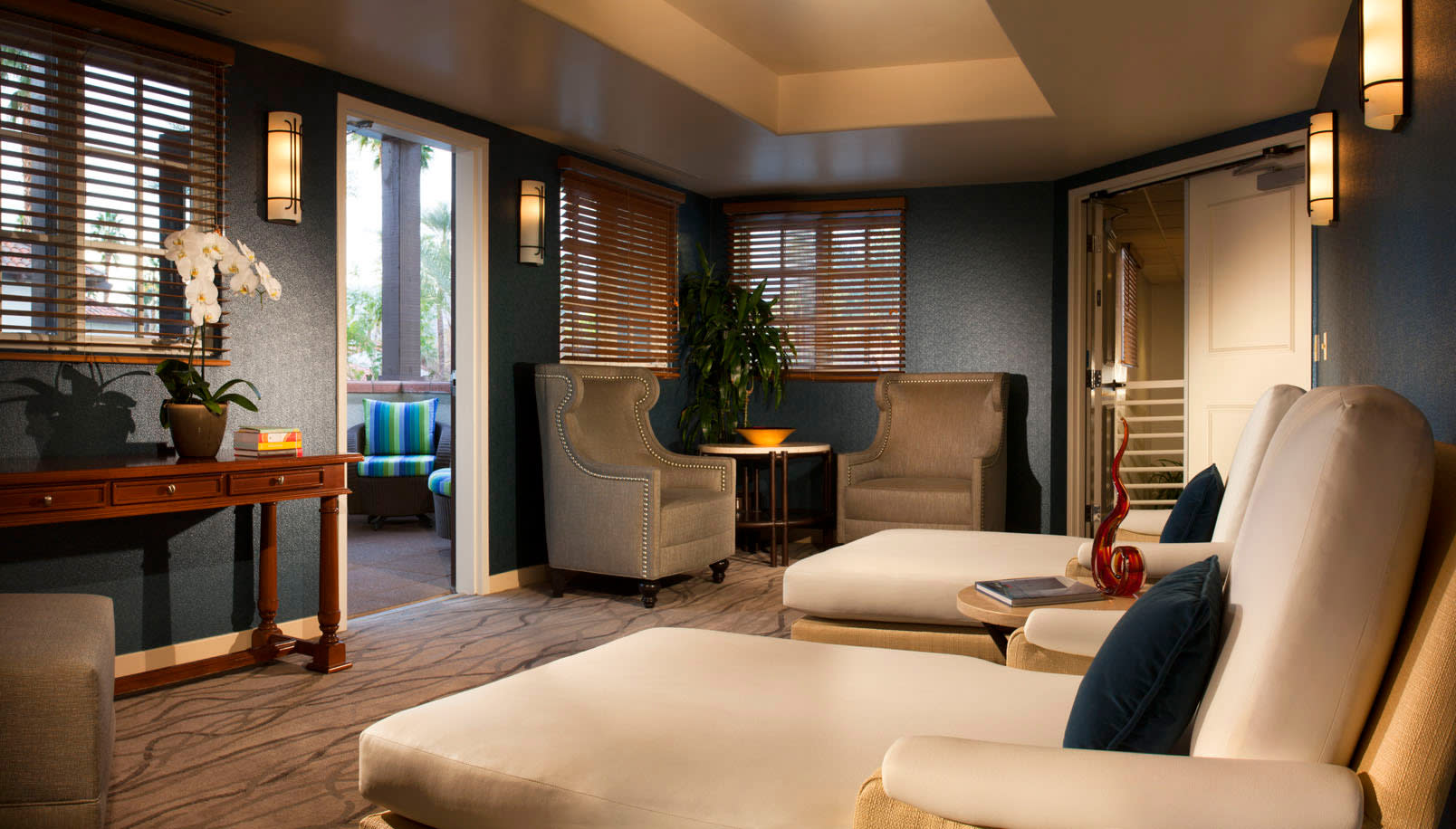 Our oasis is known for its healing power and Omni Rancho Las Palmas Spa has combined the natural elements of pure organic botanicals, such as sage, lavender and verbena, to nurture you with Desert Elements Scrubs and Baths. All of the spa's signature aroma essences are 100% pure blended healing flowers, plants and herbs.
You'll feel totally connected to our oasis with the Flowing Palms Swedish Massage treatment at the Agua Serena Spa. It's inspired by the soothing fan palm oasis found in the San Jacinto Mountains that offer shade, water and tranquility. This full-service spa offers treatments that combine the synergy of unique products and human touch to create ultimate therapy. Spa guests can enjoy the complimentary use of private men's and women's facilities, including relaxation and steam and sauna rooms, Jacuzzi and outdoor showers.
Grapefruit and citrus trees fill the opulent grounds of Spa La Quinta at La Quinta Resort & Club, so it is a natural to unite the organic fruit with a nourishing treatment. The Grapefruit Glow combines grapefruit and Dead Sea salt to polish and nourish the skin. The treatment is followed by a Vichy shower and hydrating lotion. For a special treat, plan to relax in one of 15 pools and 53 spa tubs.
For more information on unique spas and luxury stays, visit Spa, Beauty & Wellness