Sure, it's easy to stick to a fitness routine for a week or so, but the trick to maintaining your exercise routine is to find activities that are both affordable and fun enough that you'll want to keep coming back for more! Greater Palm Springs area has a fabulous amount of fun, free fitness activities that might be the perfect way to try—and stick—to something new.
Workout with Friends
For many, one of the easiest ways to motivate yourself for fitness is to work out in a group setting or with others. The Greater Palm Springs Area offers nearly any group activity you can possibly think of - and the best part is that there's a free option for quite a few of them.
Get your morning stretch on surrounded by gorgeous scenery and like-minded people. Power Yoga Palm Springs offers Yoga in the Park at Ruth Hardy Park every Saturday at 8 a.m. during the summer and 10 a.m. in the winter. The class is free; however, if you really love it, a suggested donation of $10 is always appreciated.
Ruth Hardy Park is also known for its great pick-up tennis games on their eight public tennis courts. Arrive early, and you're bound to find a partner to play with. If you love the idea of pick-up games but want to try something other than tennis, Civic Center Park in Palm Desert has two pickleball-only courts that are open from 8 am to 1:30 pm. Pinnacle Soccer Academy also runs free pick-up soccer games Tuesday through Friday, starting with kids from 4-6 p.m. and adult games from 6-8 p.m.
If you want something a little less competitive but still love the idea of company, there are quite a few walking groups scattered throughout the Coachella Valley, such as the International Front Runners, a local LGBTQ walking and running group based out of Palm Springs, or the La Quinta Outdoor Fitness Club, which focuses its group workouts around walking, running, and low-impact, outdoor cardio, all with a healthy dose of fun, of course!
Explore New Experiences
Finding a free workout that's actually fun is already a pretty big score—but what if you could also expand your horizons and learn something new at the same time?
Cultivate your energy and lose weight at a bi-monthly Qi-Gong practice in Indian Wells, or learn the art of Chi-Walking in Palm Desert, which combines running and walking with the principles of Tai Chi for a more injury-free approach to fitness. If you're looking for something a little more challenging, a one-day instructional rock-climbing trip in Joshua Tree is bound to expand horizons (literally) and get your heart moving. Note that while the instruction is free, you will still need to pay park admission.
Go Solo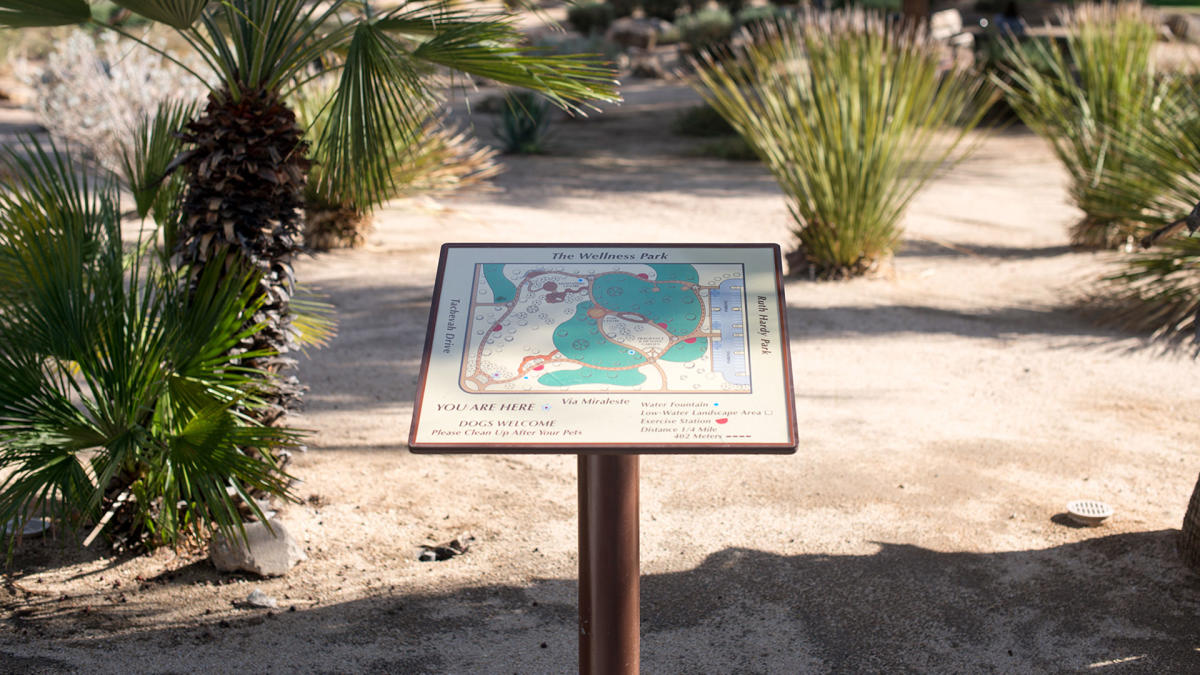 Not everyone likes to socialize when they work out and there are plenty of other fun, free workout options that you can do on your own. The Wellness Park in Palm Springs, situated conveniently right next to Ruth Hardy Park, lives up to its name with a range of do-it-yourself fitness options that includes a quarter-mile running trail outfitted with various outdoor workout stations to help build your strength. And if you've never used an outdoor workout station before, you're in luck! Each one has a brief summary of the exercise and how to do it correctly. The Wellness Park also has a meditation garden and a healing garden filled with aromatic plants and herbs, so you can work on your mental fitness (and olfactory skills) at the same time. Plus, you can easily bring Fido along for the workout, so long as she or he is on a leash.
And if you love the idea of tennis but don't want to play with others, Fritz Burns Park has a tennis wall, in addition to its other 6 public tennis courts, so you can play by yourself. There's also the Palm Springs Skate Park, which is considered by many to be the best skate park in all of California. And if you have a local ID, the Palm Springs Fitness Center offers a free 30-day pass to try out their gym, no strings attached.