This is a guest post by Thoughtful Misfit.
With a history steeped in architectural wonders and Hollywood glamour, Greater Palm Springs has decade upon decade of stories to tell—especially when it comes to the hotels, many of which have been here since when the destination got its start. From the architects who put Palm Springs on the map to local heroes, and of course a long string of A-list patrons, here are a few of those stories.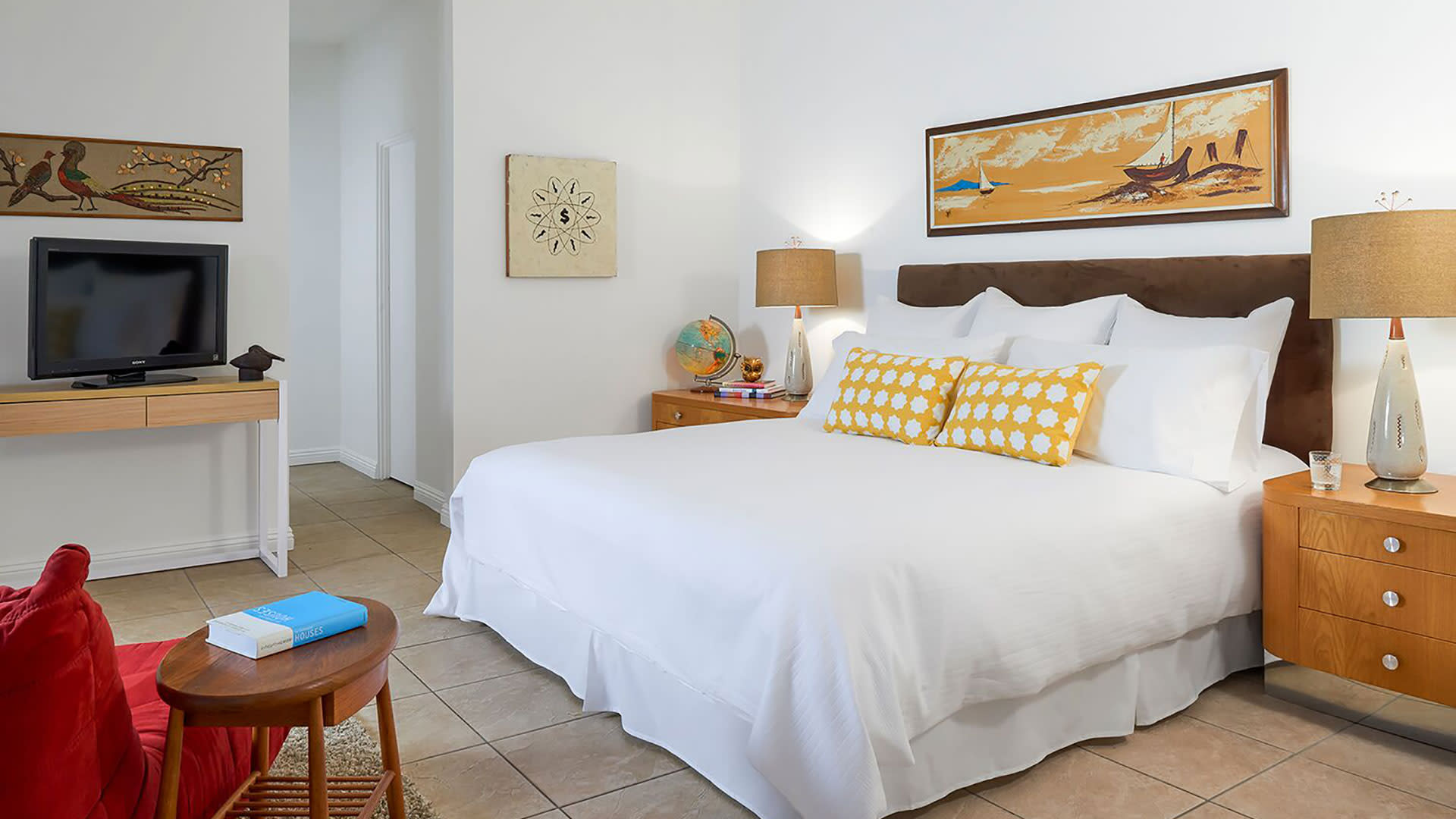 Enclosed behind a wall of stone and two large doors that ensure the privacy of every guest, The Monkey Tree Hotel holds a wealth of fascinating historical tidbits. It was designed by renowned architect Albert Frey, who secured his name in history by developing a style of modernism that has become a trademark of Greater Palm Springs architecture. One aspect that makes Frey's architecture truly stand out is his attention to the landscapes of the natural surroundings. The slanted roofline of The Monkey Tree Hotel is a perfect example, harmoniously framing the sweep of the San Jacinto Mountains behind them.
But that's just where the stories begin. The Monkey Tree Hotel has hosted a roster of some of the most famous guests to visit Palm Springs including Lucille Ball, Katherine Hepburn, Gene Wilder, Eric Clapton, and the Beatles (sans Paul), to name just a few. The most famous guests of all might be JFK and Marilyn Monroe (who stayed in room 15, guarded by secret service, of course).
It also briefly served as a nudist colony before coming into possession of its latest owners, who have restored the hotel to the peaceful, midcentury respite it now is. And while not quite a piece of history just yet, it's worth mentioning that the gourmet breakfast spread laid out for guests each morning is homemade and farm-to-table whenever possible. 
The name says it all—but the stories behind this popular A-list hangout are too good to go unmentioned. Another Frey design, the Movie Colony Hotel was home to none other than "Ol' Blue Eyes" himself during the time Sinatra was having his own house built. And while mimicry is not encouraged, it's fun to imagine Jim Morrison jumping into the pool from a top floor balcony in the late 60s. 
Originally created by painter Gordon Coutts, with the goal to mimic his previous lifestyle in Tangier, Korakia Pensione was built in 1924 as a Moroccan Villa/hideout for the painter and quickly became a local gathering place for a large social group of creatives such as Grant Wood (known best for his painting, American Gothic), modernist Agnes Pelton, and actors Rudolph Valentino and Errol Flynn. But perhaps the most surprising guest to ever spend time at Korakia is Winston Churchill, who was rumored to have painted in the Artist Studio, which you can still book today.
After Gerald Ford retired in Rancho Mirage, he would regularly hold board meetings at none other than what is now the Ritz-Carlton Rancho Mirage. He was there so much, in fact, that he would use a secret door that lead to an underground garage so that he and his secret service could come and go with ease. You can still imagine what it must have been like when Ford was there. The boardroom panel walls have been restored and it has been redecorated in homage to the former president.
Winston Churchill wasn't the only surprising guest to visit Greater Palm Springs. As one of the top 10 oldest buildings in Palm Springs, The Willows is a local landmark and another destination for Hollywood glamour and great minds of our time. One of these great minds includes Albert Einstein, who was often a guest of the owner. In fact, he stayed so many times that they named his room Einstein's Garden Room. You can still book this room and the included private garden patio.
Also known as "The Original Desert Hideaway" or "The Original Palm Springs Resort," La Quinta Resort & Club has an impressive wealth of history. With esteemed architect Gordon B. Kauffman onboard, the hotel quickly became a secluded hideaway for the Hollywood crowd. Amongst the famous were Greta Garbo, Clark Gable and director Frank Capra, who was known to write screenplays at the resort. The atmosphere is still just as luxurious, boasting over 41 pools and five golf courses—enough to make you feel as though you yourself are one of the Hollywood elite.
As the oldest hotel in Palm Springs, Casa Cody has naturally seen quite a lot of travelers, including photographer Julius Shulman and actor Charlie Chaplin, who actually kept a house on the grounds. But famous guests aren't the only ones who stayed here. A few casitas were moved to the property from the 1932 Los Angeles Summer Olympics, and Casa Cody has also accommodated the US Military during training for WWII.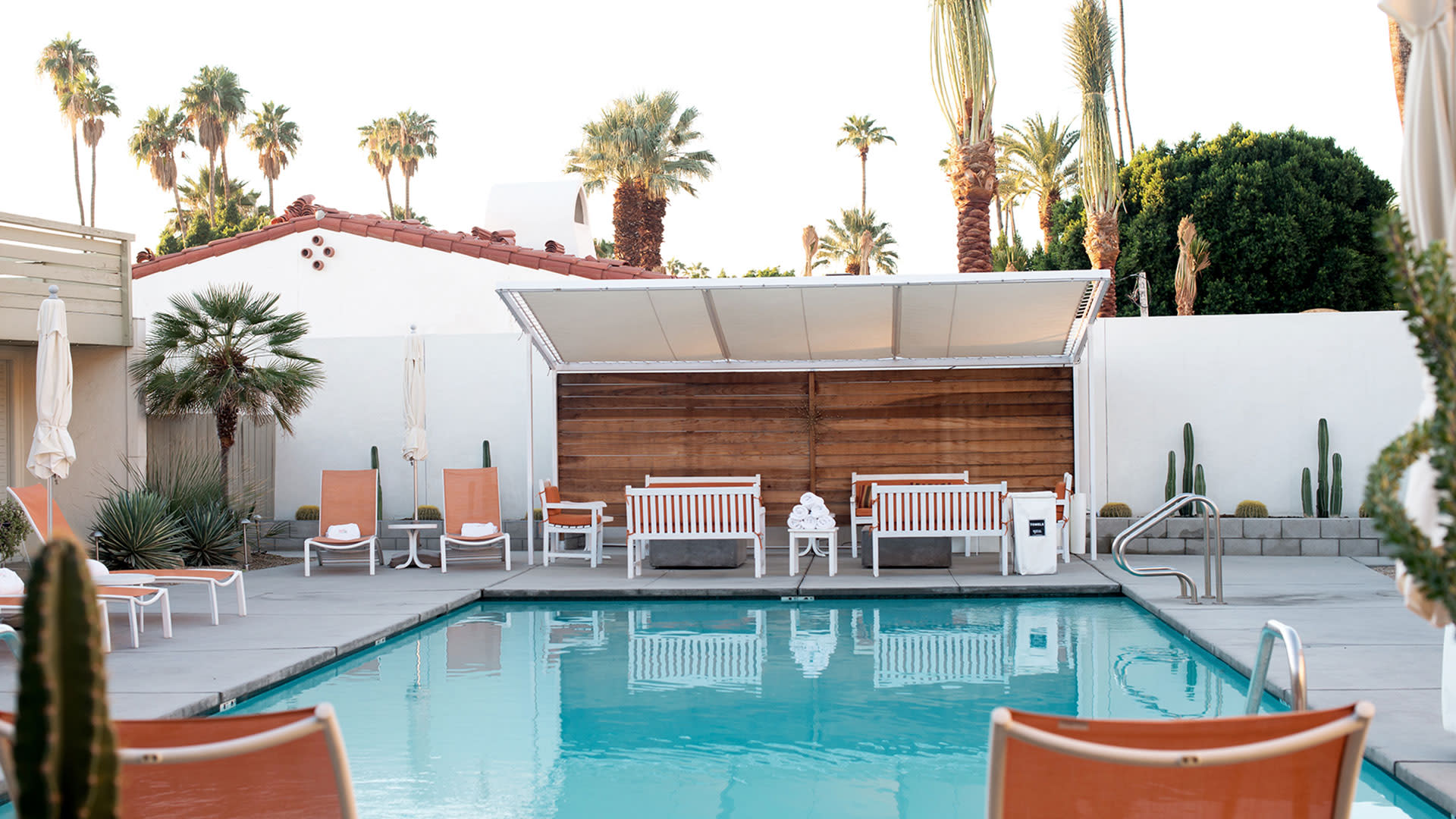 Greater Palm Springs is where so many iconic architects got their start, and the Del Marcos Hotel was the career jumpstart of famed architect William Francis Cody. As his first independent commission, he saw massive success, winning the American Institute of Architects Design before moving on to design a slew of clubhouses, restaurants, private residences and country clubs. The Del Marcos Hotel is also supposedly inspired by Frank Lloyd Wright and remains highly popular to this day.
Ingleside Inn rose to fame thanks to Ruth Hardy, who later went on to become Palm Springs' first councilwoman. Her knack for hosting attracted all the right people from Howard Hughes and John Wayne to Salvador Dali, Elizabeth Taylor, Spencer Tracy, and even J.C. Penney. The inn became so popular, in fact, that guests could not make reservations; instead, they'd have to be invited by Mrs. Hardy in order to stay at the inn. The hotel restaurant, Melvyn's, was famously a favorite hangout of Frank Sinatra, with many of the waiters still working there to this day. Plus, you can still order a Steak Diane, cooked tableside, which was known to be Frank Sinatra's favorite dish.
Interested in more places to stay? Check out the full list of hotels in Greater Palm Springs.