While Palm Springs is known as the mecca of modernism, sometimes you just want to get away from it all. Hiking off into the wilderness is a nice way to unplug and unwind, but what's a Greater Palm Springs visitor to do if you want an adventure somewhere between urban architecture and rural solitude? Glamping, of course!
Glamping is that term coined for a particular style of camping where you don't have to rough it so much. It's perfect for the adventure seeker who still enjoys their comforts or the nature lover who also enjoys Egyptian cotton sheets. These are our picks for a great glamping getaway in Greater Palm Springs.
Starry Safari at The Living Desert
If you've got a keen interest in desert wildlife, or you have kids who are also blessed with an adventurous spirit, consider an outdoor overnight adventure at The Living Desert.
Starry Safari is a weekly camp-out at Greater Palm Springs' best-known wildlife venue. On the first Friday night of each month from October-June visitors can stay past closing time, camping out in the park. In the colder months, sleepovers are indoors, and when it's warm, you'll sleep under the stars, just the way the bighorn sheep do.
Each Starry Safari overnight features up-close animal presentations and a nighttime guided walk through the park. Add in some campfire stories and roasted s'mores, and it's everything you love about camping, but with amenities like bathrooms and fresh water nearby—plus a continental breakfast the next morning.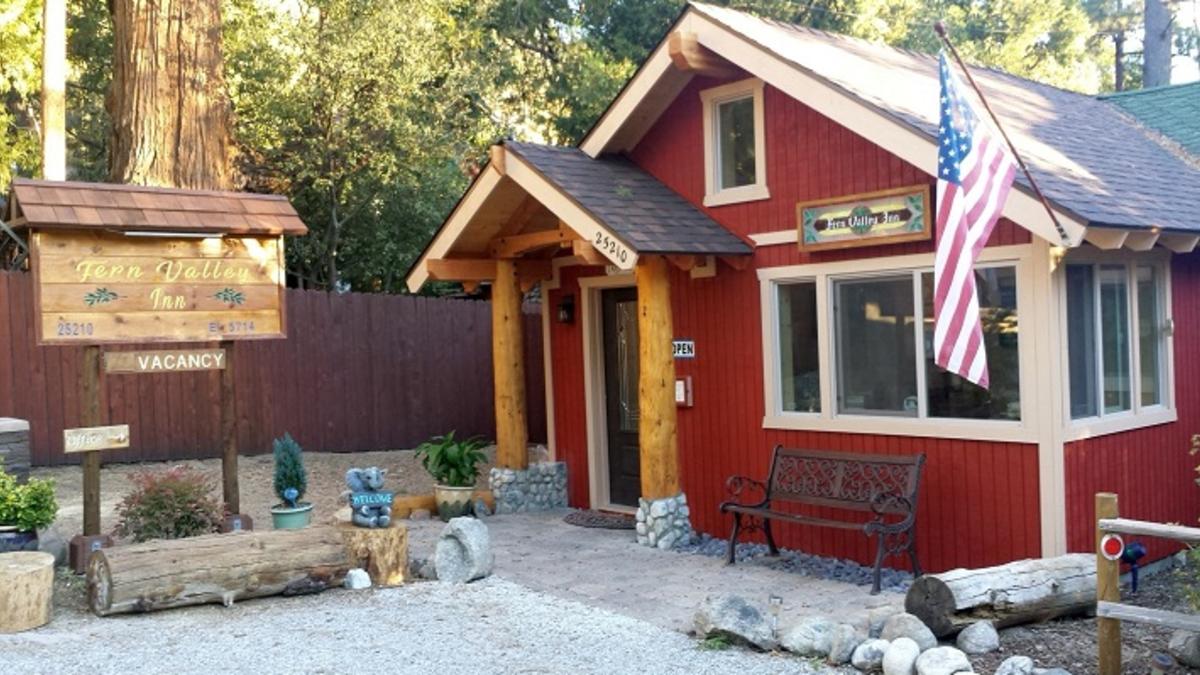 Get That Rustic Feel In The Woods
A short drive from Greater Palm Springs is the tiny mountain village of Idyllwild, and it's here you'll find The Fern Valley Inn. It's a rustic mountain retreat that's an oasis of cool mountain air and rustling pines. Stay in one of the small but quaint mountain cabins; each one is decorated in a unique style reflective of the town's outdoorsy vibe.
"You'll think you're in Yosemite without the long drive," enthuses Gary Erb, of The Fern Valley Inn, "We have cozy fireplaces or wood-burning stoves in every cottage, and Fern Valley Inn reflects its surroundings with a serene, rustic charm."
 
If it's hiking you're looking to do on your glamping getaway, Fern Valley Inn is one of the closest inns to Humber Park, at the base of famous Lily Rock (8,000 feet), which is the epicenter of local outdoor activities like hiking (the Pacific Crest Trail is accessible a few miles northeast of the inn), rock climbing, mountain biking, stargazing, and even cross-country skiing in winter.
Take the scenic route along the way, driving the Palms to Pines highway (read more about that route here) then unpack and unwind at your chic glamping cabin.
"We have it all; shopping, wine tasting, and fabulous food, all served up with characteristic Idyllwild small-town friendliness," says Erb, "You'll immediately feel like a local."
Lay Low At The Lautner Compound
Looking for a place with exquisite architecture and design, but a spot where you don't get fussed over? The Lautner is a one of a kind property that's dubbed a hybrid between an upscale vacation rental property and boutique hotel, but one that's "self-catering", meaning guests can use the property's luxurious living units as if it were their own.
Think it's too chic for glamping? There's plenty of outdoor space and you can explore the property's desert environs or use The Park, a 10,000 square foot open-air event space then return to the lap of luxury where, as The Lautner team puts it, "no expense has been spared to indulge our guests in the finest of mid-century modern flourishes and first class amenities."

Vamp It Up In Borrego Springs
If you're looking for a truly Instagrammable outing, book one of the vintage Airstream RVs at the Palm Canyon Hotel & RV resort. With five available trailers ranging from small and quaint, to large and luxurious, these vintage accommodations are a great way to experience tiny home living or to try out RVing.
The Airstreams are all parked permanently on small pads, and feature sunshades, fire pits, BBQs and outdoor lounge chairs. All the dishes and linens are taken care of—all you need to do is drive up and stretch out. The Airstreams make a gorgeous backdrop for your vacation photos, and when the colorful outdoor lights come on at night, the fun continues.
Of course, if you do want something a bit more camping than glamping, you can also check out our guide featuring great places to camp in Greater Palm Springs.