You don't need to travel to the South Pacific to find a haven for grass skirts, mai tais and poolside lounging to the sounds of uber-swank Martin Denny records. Tiki culture is alive and well in Greater Palm Springs where year-round blue skies and perpetual heat waves are conducive to celebrating a movement that is all about having fun in the sun.
Tiki's Roots in Greater Palm Springs
The tiki craze in the U.S. began in 1934 with Ernest Raymond Beaumont Gantt's opening of Don the Beachcomber, a Polynesian-themed bar and restaurant in Hollywood. The restaurant featured Cantonese cuisine and exotic punches and was decorated in flaming torches, rattan furniture, flowered leis and bright colors. More than just a watering hole, it became a tropical haven within an otherwise bustling city, allowing patrons to feel a sense of getting away from it all. The theme quickly spread to other cities spawning similar places like Trader Vic's. But it was the California's World Fair in 1939, themed "Pageant of the Pacific" that widely exposed the craze to America and spawned a national lust for all things touched by the gods of summertime bliss.
During this time, Palm Springs was a getaway for many urbanites and celebrities looking to escape the Hollywood grind. A Don the Beachcomber was opened in Palm Springs, and tiki culture began to infiltrate the valley's noted midcentury architecture.
Polynesian Architecture
Renowned architects Donald Wexler and Richard Harrison combined modernist ideas with Polynesian themes when they designed the Royal Hawaiian Estates in south Palm Springs. The architecture combines a casual tone of resort lifestyle with the clean lines of modernism. Rows of bright orange buttresses support the patio roofs like stabilizers on outrigger canoes. Steep peaks, projecting rooflines, and exposed beams suggest the architecture of tropical huts. In 2010, the property became the first Historic Residential District in the City of Palm Springs and is an annual stop in February during Modernism Week's exhaustive roster of architectural tours.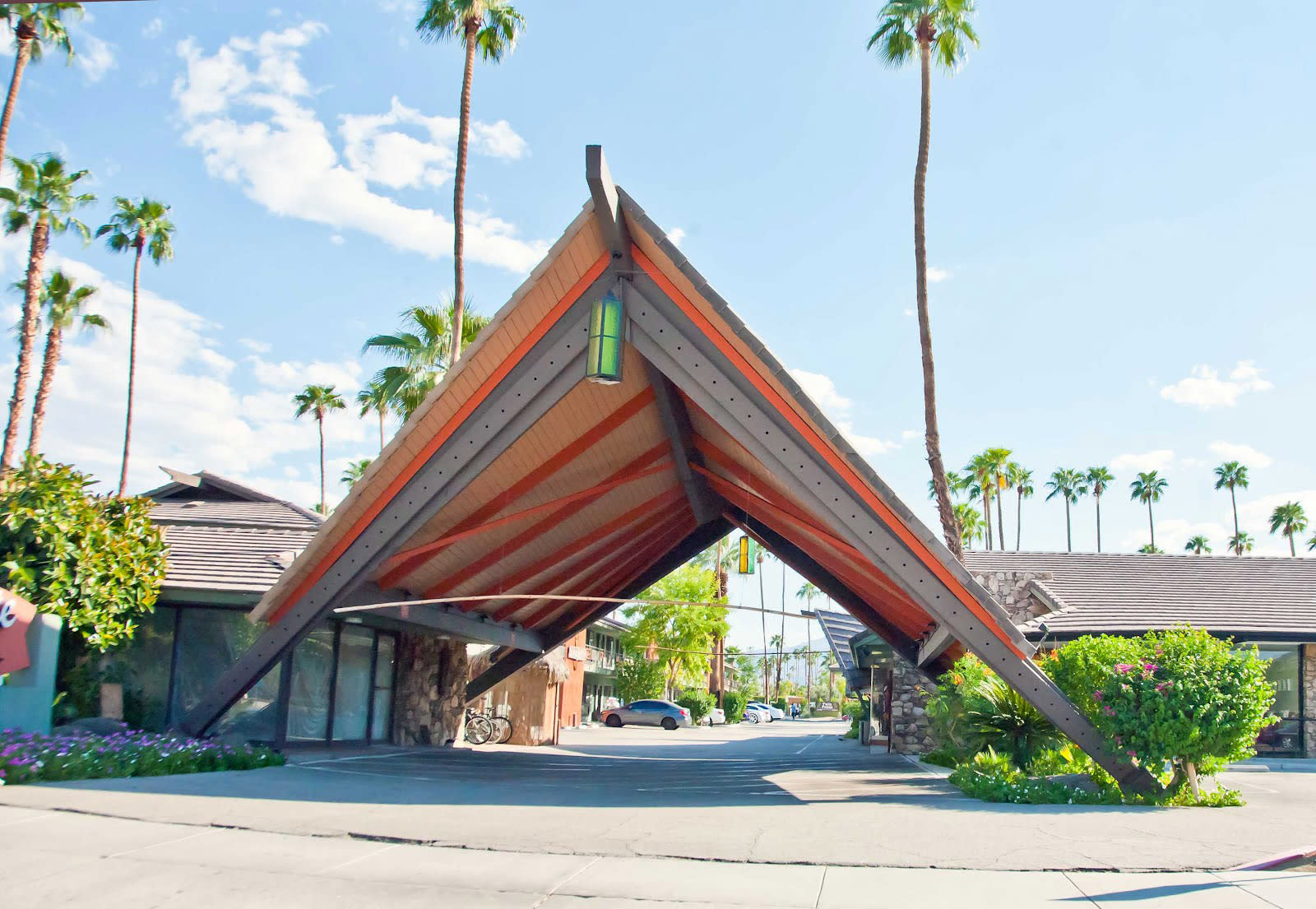 Another tiki-inspired property, Caliente Tropics Palm Springs, was built in 1964 when it played host to stars like Elvis Presley and Frank Sinatra's Rat Pack. Recently renovated, it is now a pet friendly, non-smoking hotel featuring a Conga Room and Reef Bar. It is also home to the yearly Tiki Caliente, a festival celebrating the culture that boasts symposiums, Hawaiian shirt-shopping, a three-day pool party and more.
A Tiki Comeback
The mid-1990s saw the beginning of a revival of the tiki culture and a rise in popularity for traditional tiki cocktails in craft cocktail bars as modern mixologists spurred a return to natural juices and fresh fruit concoctions. At Palm Springs' Tonga Hut Restaurant and Tiki Bar patrons can sidle up to the bar and order a pupu platter. At Bootlegger Tiki, located at the site of the former Don the Beachcomber, guests can sip traditional libations like the Zombie from old-fashioned tiki mugs. Members of the gay community flock to Toucans Tiki Lounge for their pineapple studded delights.
It is no surprise that tiki culture found its way to the desert in a big way.
"People come to Palm Springs to get away from their day-to-day lives, and in many cases, pretend they are something different for a weekend," says Shag, the famous artist whose whimsical animated prints often feature scenes of tiki revelers and can be found in downtown Palm Springs at The Shag Store. "They might rent a midcentury modern house and pretend they are swingers from 1962 or a jetsetter from 1970.  The tiki culture fits into this getaway mentality, and the weather certainly helps.  It's easy to pretend one is in the South Seas when Palm Springs is sunny and 20 degrees warmer than a dreary day in L.A."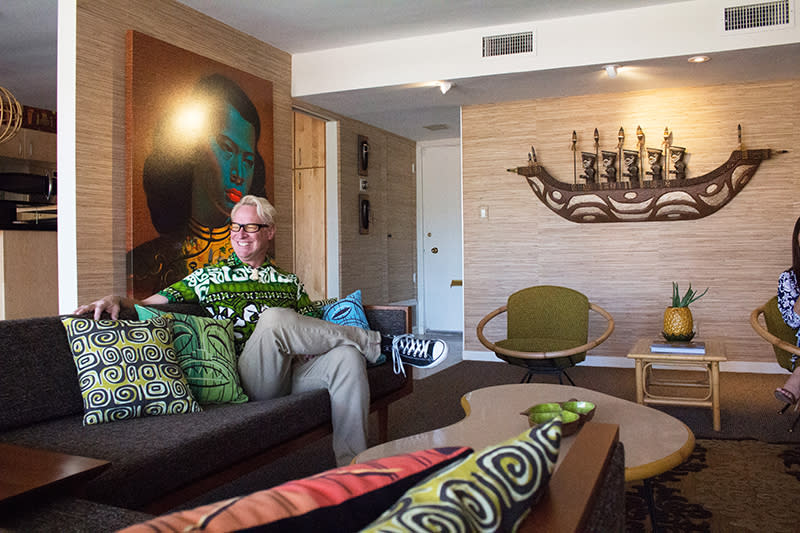 "Tiki culture is popular now for the same reason it was popular in the late fifties and early sixties," he adds. "It offers an escape from a buttoned-down civilized life and allows one to reconnect with one's primitive fantasies. Carved wooden idols, island girls and boys, free flowing rum, and a faux tropical environment all help to transport one to a different reality, if only for an evening. While there are no strict rules in tiki culture, it is a celebration of hedonism and consumption - tropical drinks, Polynesian entertainment, shopping and collecting, and exotic food all play an important part in the movement."  
Visitors can also find a bevy of shops catering to tiki-aficionados. At Dazzles you might even find a coveted vintage tiki mug or other authentic artifacts like rattan furniture from the original decade.