This year's Greater Palm Springs Pride theme "Viva la Vida" (Live Life!) may seem a bit flippant given the weight of the world placed on the LGBT communities in the past year, but the sentiment shows the spirit of solidarity that we feel in the oasis.
The board of Greater Palm Springs Pride is inviting the world to come together November 3-5, 2017 in celebration of our communities, "to remember those we have lost, affirm our commitment in the fight for equality, and to look towards the future and what it holds for LGBTQ people worldwide."
And there's much to be hopeful about as Pride celebrations around the world took on very different characteristics this year. Palm Springs Pride is the last on the worldwide Pride calendar, yielding June to those in cooler climes.
Greater Palm Springs takes the spotlight for a celebration that includes the 31st annual Pride Parade on Sunday, Nov. 5 as well as entertainment stages, memorials, and many "Official Pride" events that we outline here.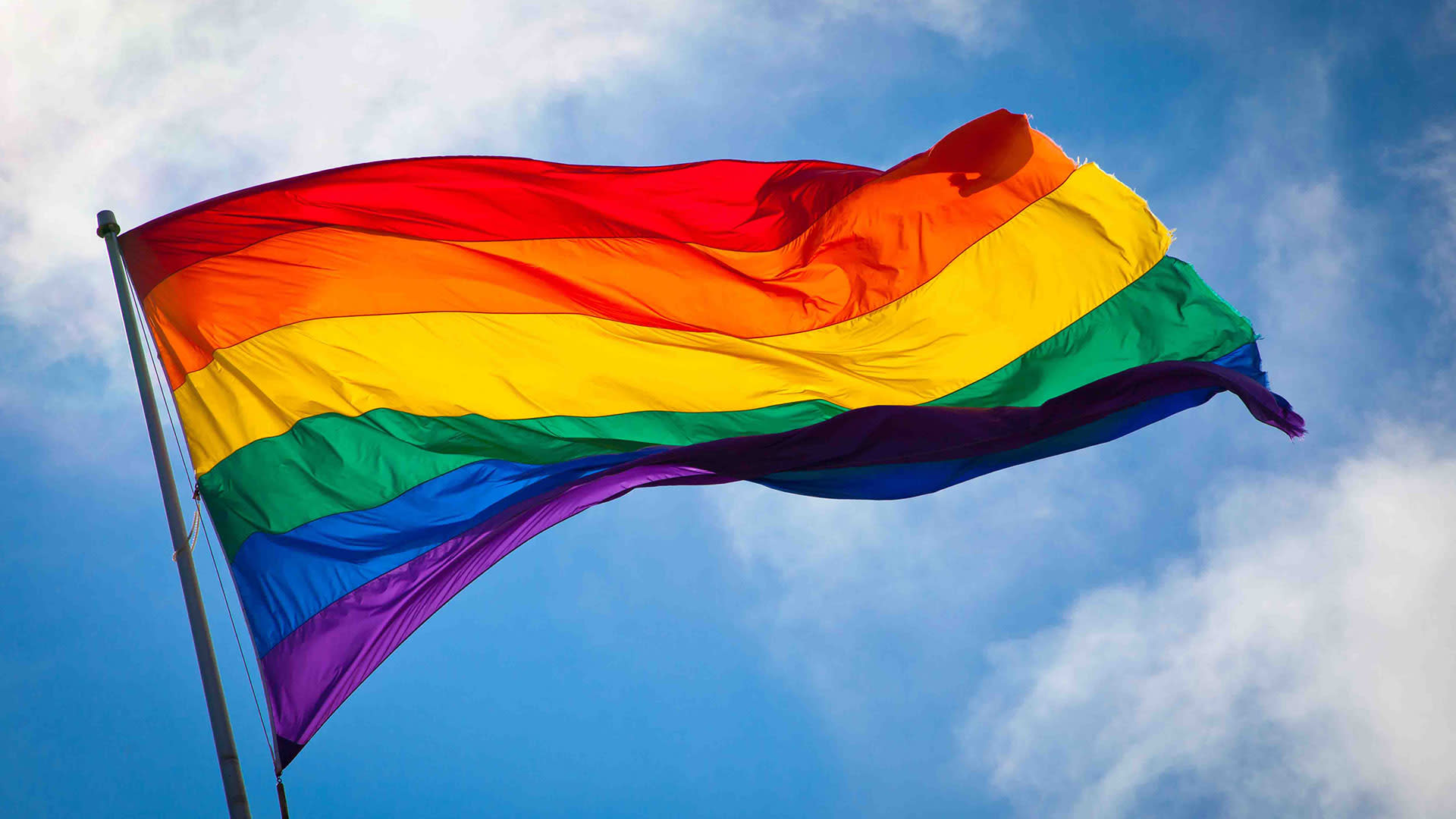 Pride Honors Awards
Pride events began with the Pride Honors Awards on September 28th.  Honorees included Marshall Pearcy and Douglas Woodmansee aka "Dottie & Maude", who have raised over $2 million for AIDS and community charities since discovering their drag personas in 1980.  The Transgender Community Coalition was recognized as the Organization of the Year and will dedicate a memorial to those who have lost their lives on Transgender Day of Remembrance November 20th.
Viva la Vida Street Party
Pride weekend opens on Friday, Nov. 3 with the Viva la Vida Street Party on Arenas Road starting at 6 PM.  For the uninitiated, Arenas Road is "ground zero for gay" in Palm Springs.  The one block street will be closed to traffic, and the US Bank Stage will come to life with music from "Iconique" with sounds ranging from Chic to David Bowie.  That's followed by Jen DM, resident DJ for the queer gathering, Cruise at The Eagle in Silver Lake. The stage is hosted by Alexander Rodriguez, host of "On the Rocks Radio". (21+ only; ID required).
Pride Street Festival & Weekend Entertainment
Featured entertainers on Saturday, Nov. 4 include Missing Persons featuring Dale Bozzio at 2:30 PM, "Mama Tits" from Seattle (and a YouTube sensation) at 9 PM. Sunday brings GayC/DC, the only all-gay tribute band to AC/DC, as they don their gay apparel for a 1:15 PM performance.
Saturday and Sunday, Palm Canyon Drive (through the heart of downtown Palm Springs) is transformed into a pedestrian Pride Street Festival spanning from Amado Drive on the north to Baristo Road. Along the route are music stages at the Hyatt Palm Springs and the Pride Stage presented by Desert AIDS Project on Arenas Road just west of Palm Canyon. This stage is all ages and features a Children's Headquarters (CHQ) space for games and crafts, the Safe Schools Desert Cities Youth Zone and HIV/AIDS testing by Get Tested Coachella Valley.
Ron DeHarte, president of Palm Springs Pride, says: "With 80+ performances, a diverse lineup of artists will offer something for everyone including special appearances by the Palm Springs Gay Men's Chorus, and Modern Men."
Dozens of community organizations, LGBT-friendly businesses and vendors will line the streets in addition to the local merchants. Those who support Palm Springs Pride will have a decal in the store window identifying them as such. There's also a list of "Official Pride Restaurants" and "Pride Watering Holes" in the printed Pride Guide, which is widely available before and during Pride.  There is also a digital version available HERE.
The Dyke March and Rally steps off at 4 PM Saturday at Frances Stevens Park, followed by performances from local entertainers Keisha D and Jesse Jones at 6 PM on the Arena Road stage. The Women's Pride Dance presented by the L-Fund follows at 7 PM at the Hard Rock Hotel.
Greater Palm Springs Pride Parade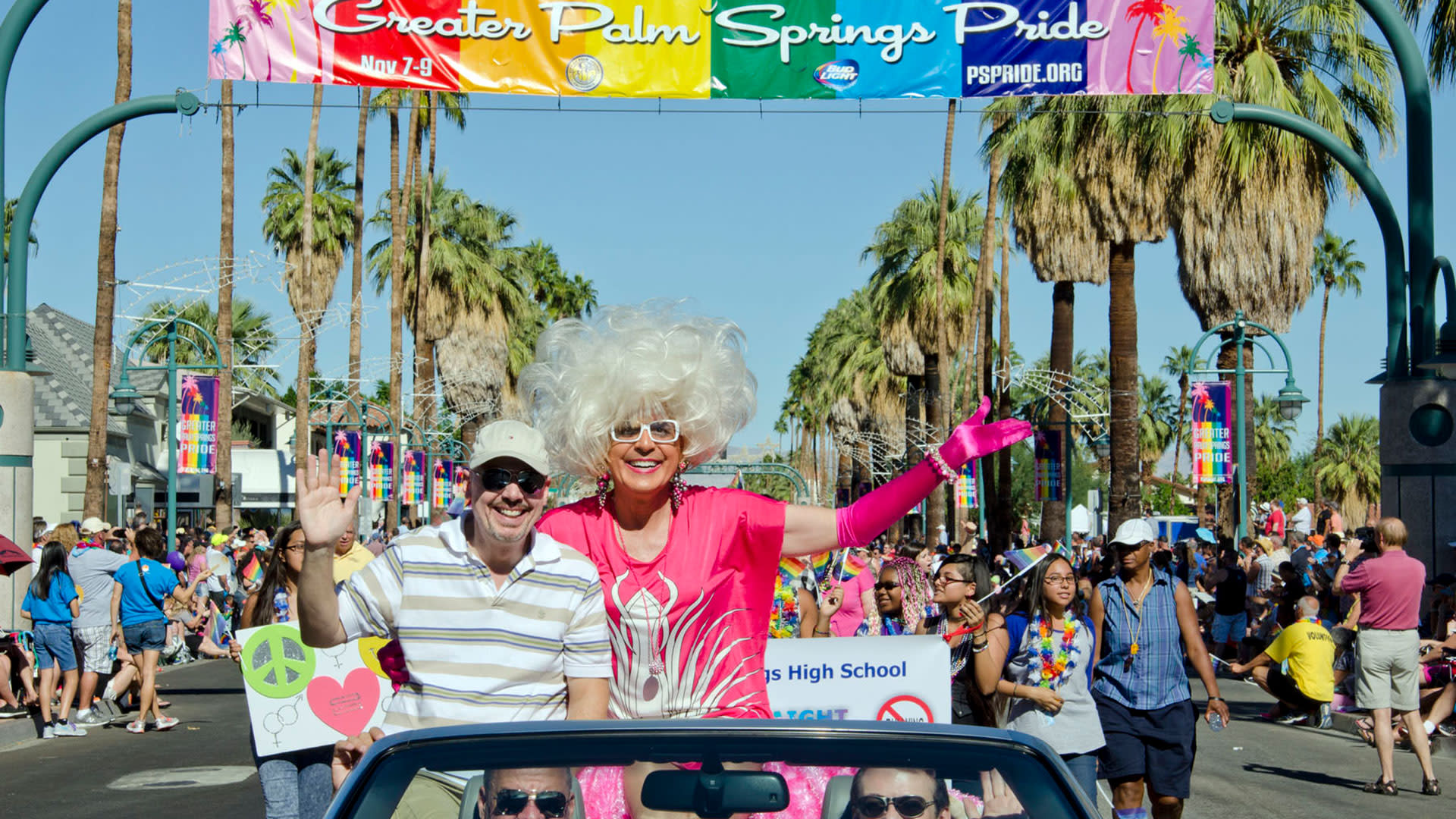 The Official Pride Parade is Sunday starting at 10 AM. The route starts at North Palm Canyon at Tachevah and continuing to Amado Road at the festival entrance near the Hyatt. Many restaurants offer special viewing parties.
This year's marshals are: United States Navy SEAL Kristin Beck (National Grand Marshal), Palm Springs' very own singer-entertainer and Purple Room restaurateur Michael Holmes (Community Grand Marshal), and Fitness expert Craig Ramsay and celebrity hairstylist Brandon Liberati (Celebrity Grand Marshals). The couple shared their marriage on the reality show "Newlyweds: The First Year" on Bravo.  As a part of the parade, the Transgender Pride and March presented by the Transgender Community Coalition will take place within as a special contingent.
More Pride Happenings
Many organizations host parties, performances and fundraisers during Pride. The HRC Garden Party is a see-and-be-seen affair to raise money for the Human Rights Campaign. The Palm Springs Front Runners & Walkers hold a 5k Run and Walk on Saturday. Advanced registration is required. Miss Richfield 1981 has a take on today's headlines with "2020 Vision - A Survival Guide for the New World" at the Camelot Theatre. Award-winner Dezart Performs theatre company opens its 10th season with "The Legend of Georgia McBride" walkable from downtown at the Palm Springs Woman's Club. And CCBC in Cathedral City has Pool Parties with live entertainers on Saturday afternoon and evening. 
For a complete listing, click HERE for Pride events on our partner site GayDesertGuide.LGBT or visit www.PSPride.org.