Youth Power for Change is the theme for this year's Greater Palm Springs Pride. In a year where youth movements have dominated the news cycle, 2018 Palm Springs Pride is committed to empowering local youth. The theme came about in response to the shooting at Marjory Stoneman Douglas High School in Parkland, Florida. Youth leadership have crafted powerful positions on voting rights, ending gun violence and creating national marches to demand change. They have crafted powerful position statements, organized school walkouts, lobbied politicians and engaged in conversations with elected officials.
Youth of Coachella Valley have collectively been named Grand Marshals of the 2018 Pride Parade," notes Palm Springs Pride Director Ron deHarte, "We are expecting 1,000 youth including 32 high school GSA (Gay/Straight Alliance)  clubs and the Palm Springs High School marching band to anchor the Pride Parade. It's inspiring to see the number of teens and tweens who are standing up and saying 'enough!' to intolerance, discrimination, and gun violence. After all, Pride is, and always has been, a show of resistance: resistance to discrimination, resistance to hatred, resistance to fear, to violence."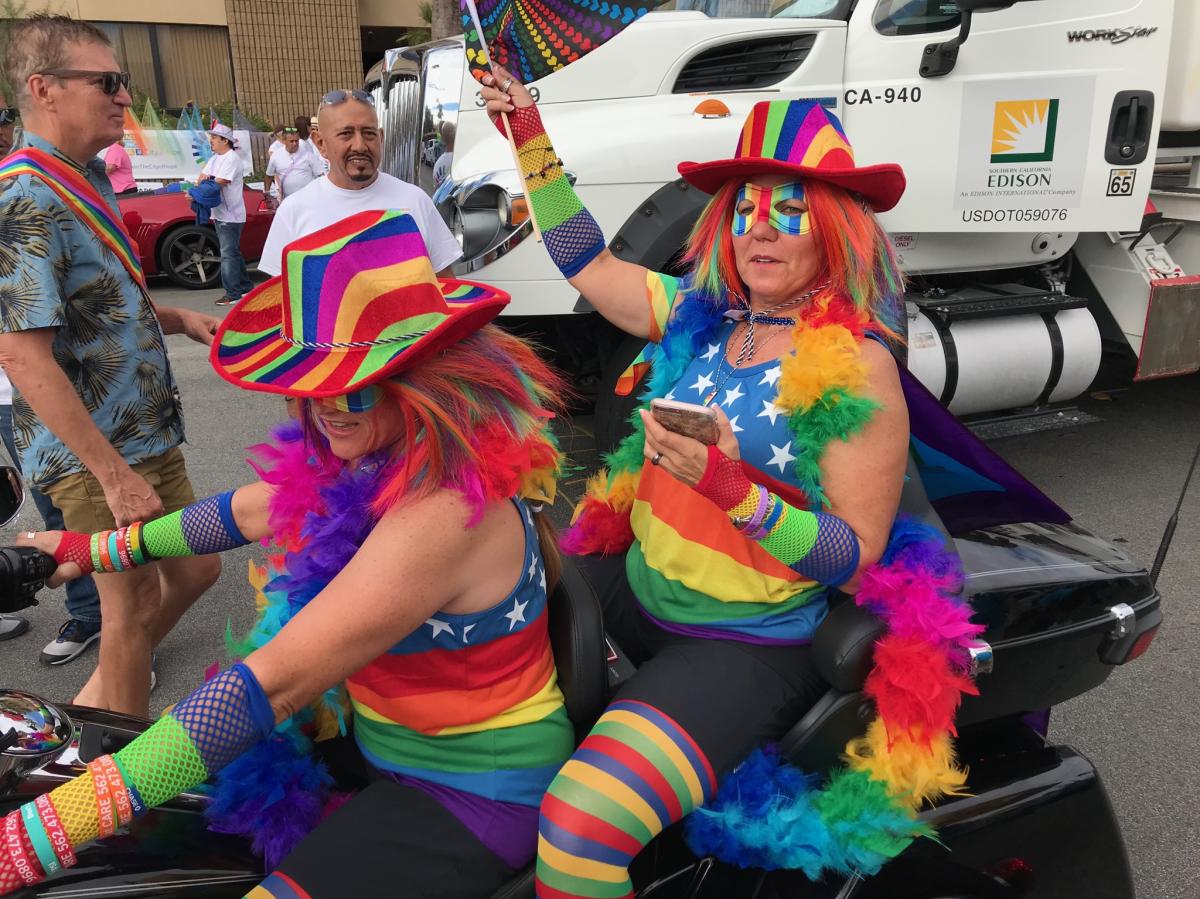 Downtown Palm Springs is the setting for a vibrant, pedestrian-friendly Pride weekend, unique to Southern California. The new Palm Springs Art Museum campus area will play host to the two-day festival, moving off South Palm Canyon Drive. The change allows for an extended Sunday Pride Parade to continue south to Tahquitz Canyon. This opens up more viewing opportunities at businesses along Palm Canyon.  
Two music stages will provide continuous entertainment for the weekend. The Arenas Road "Block Party" stage is programmed from Friday evening till Sunday with top local and regional DJs as well as performances from artists such as Gage Hanks, Tiaan, HYM, Elisia Savoca, and Dyson.
The main stage will have as its backdrop the Palm Springs Art Museum. There will be a diverse array of artists, entertainers, and multiple beverage gardens and is sponsored by Desert AIDS Project. Performers include: Cisco, Simeon Den Dance Performance, Jacob St. Aubin, Nikki Paige, Echo V, Diva, Head, Alise King, Tom Goss, and many more.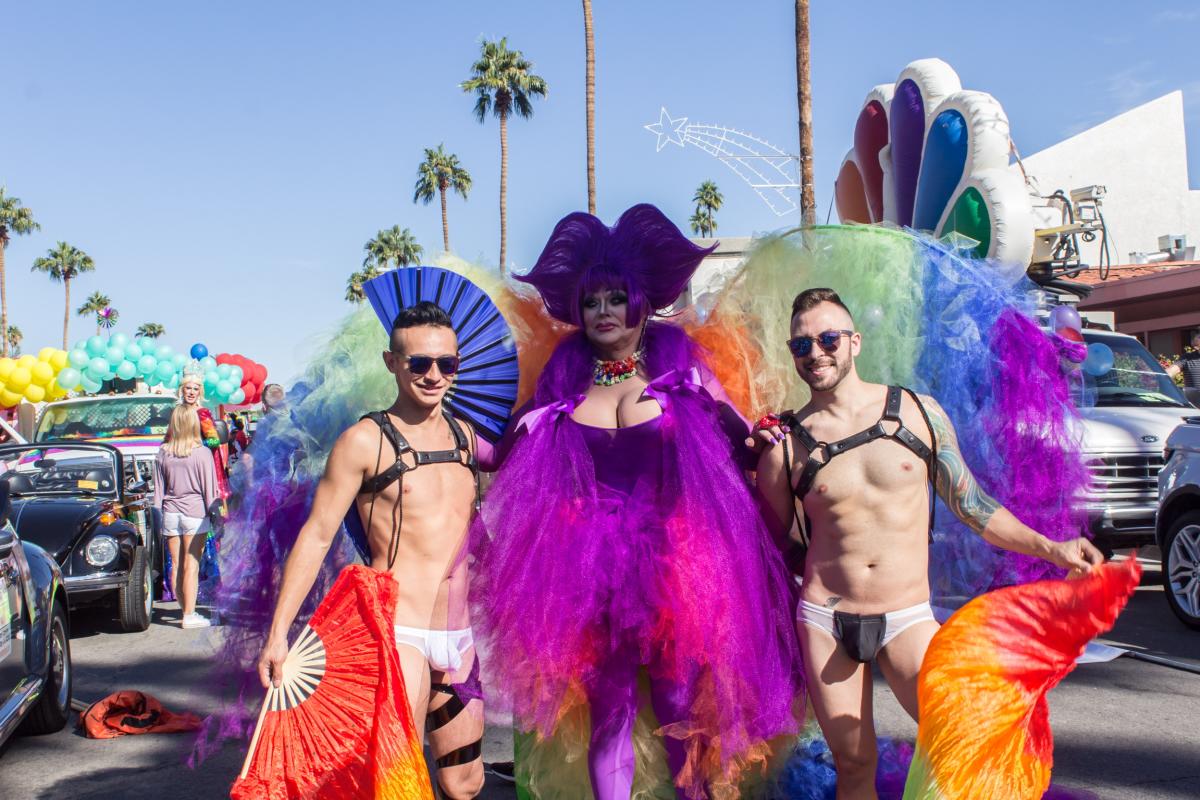 Add all that to great shopping, restaurants, clubs and entertainment venues located along world-famous Palm Canyon Drive and the result is like no place else – Palm Springs Pride 2018 is not to be missed.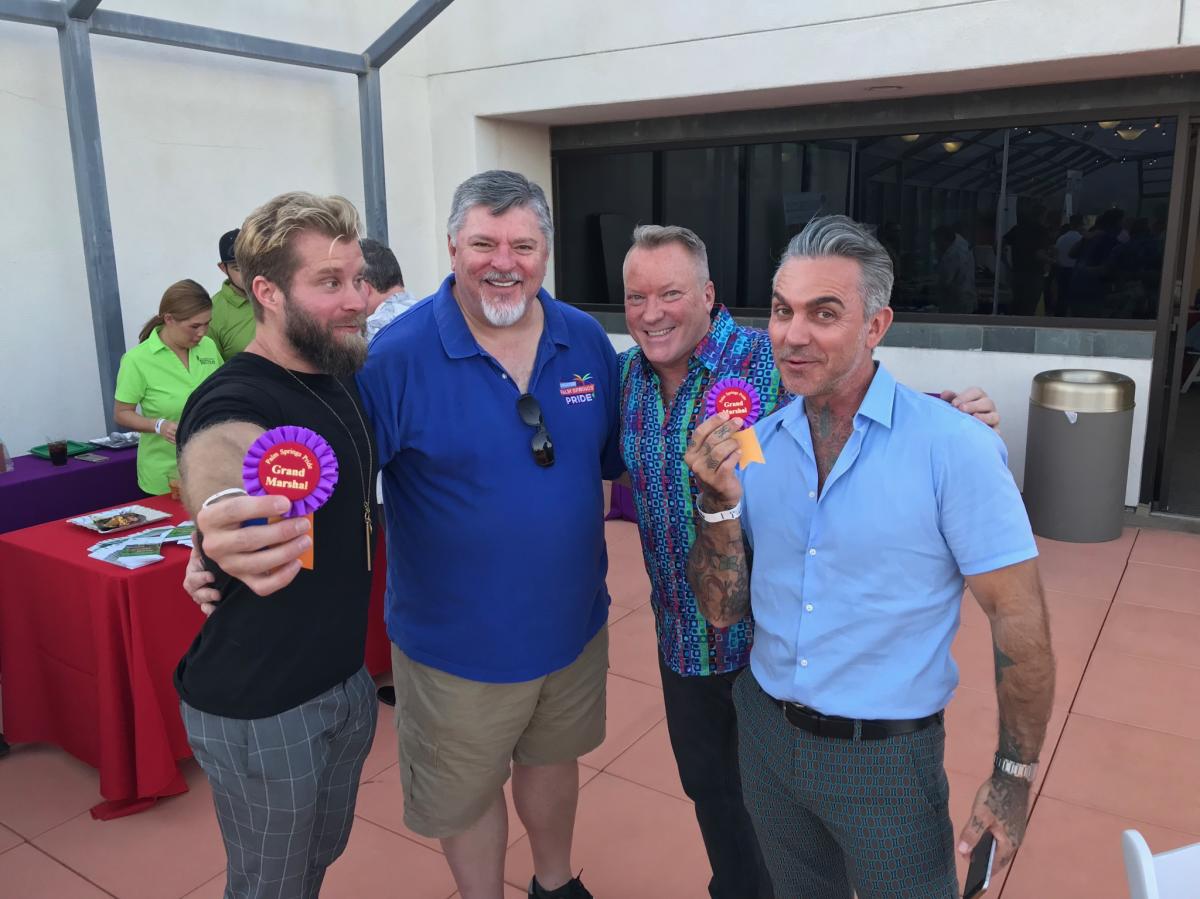 Here are the major Pride Events with links to more information provided by Gay Desert Guide:
Friday, November 2, 2018
Dip Into Pride Official Pool Party / 12 noon – 6:00 PM / Hotel Zoso (formerly the Hard Rock Hotel) $15 donation in advance / $20 day of event. Cabanas and Daybeds available.  Hosted by Gay Desert Guide. The official kickoff to Pride features Subliminal Radio's Holly Adams from 12–2 PM, followed by DJ Ray Rhodes 2–6 PM. Interspersed will be live performances and an Andrew Christian Swimwear contest.  
The Spirit of Stonewall Street Party / 6:00 PM - 10:00 PM / Arenas Road from Calle Encilia to Indian Canyon. This FREE concert is an opportunity to honor those who work to preserve gains and meet equal rights challenges facing the LGBT community, held under the stars in beautiful downtown Palm Springs.
Saturday, November 3, 2018
Palm Springs Pride Run and Walk 5K / 8:00 AM / The run and walk starts on West Chino Drive at Belardo Road, behind the Corridor Shops. 
Pride Festival / 11:00 AM - 8:00 PM  / 2 Locations: / Between Palm Canyon Dr. and N. Museum Dr. in the new Downtown development space and Arenas Road from Calle Encilia to Indian Canyon.
Arenas Road Block Party / 6:00 PM -11:00 PM / Arenas Road from Calle Encilia to Indian Canyon. / A fun night of Pop, Drag, and DJ performances, sponsored by Hunters Nightclub
Dyke March Picnic, Rally, and March / 12:00 PM to 4:00 PM / Ruth Hardy Park (Palm Canyon Ave and Vista Chino) / The 4th Annual Dyke March will step off at 4:00 PM
L Fund Women's Pride Dance / 7:00 PM to 11:00 PM / Hotel Zoso / Featuring DJ TLA Storm back by popular demand. Benefits lesbians in crisis in the Coachella Valley.
Sunday, November 4, 2018
Pride Parade / 10:00 AM  to 12:00 PM / Starts at Tachevah and Palm Canyon Dr continuing south to the Pride Festival at Museum Way. The Transgender Equality March will be taking place at the same time and is part of the Pride Parade.
Pride Festival / 11:00 AM to 6:00 PM / Between Palm Canyon Dr. and N. Museum Drive and Arenas Road from Calle Encilia to Indian Canyon.
Lesbo Expo / 12:00 PM to 4:00 PM / The Alibi Room  (formerly Azul) Springs (369 N. Palm Canyon) / Featuring Drag King Party, buffet, awards presentation, comedian Marga Gomez, Sweet Baby Ja'i.
Wednesday, October 31, 2018
Halloween on Arenas Road / 5:00 PM to 10:00 PM / Arenas Road from Calle Encilia to Indian Canyon. If you happen to be in town early, Halloween is just two days before Pride weekend and this celebration is also an official event of Palm Springs Pride. #1 Billboard® Dance Chart artist Debby Holiday will headline, plus DJ Phil B., Marina Mac, DJ BAZ, Keisha D. and the effervescent Bella da Ball as Master of Ceremonies. Celebrity Judges will include Del Shores (Sordid Lives).
Learn more about LGBT-friendly travel in Greater Palm Springs here.