Model behavior takes over Greater Palm Springs as sophisticated and chic styles grace the runway this season during Fashion Week El Paseo! Now celebrating its 14th year of high-end designs and beauty, the stylish eight-day event is set to take the stage from Saturday, March 16 through Saturday, March 23, 2019, at The Gardens on El Paseo in Palm Desert.
Get a glimpse of the latest in fashion and see what's new this year by checking out our guide to Fashion Week El Paseo 2019.
What
Regarded as the largest consumer fashion show on the West Coast, the event will feature fashion highlights all week! This includes sneak peeks of new collections, celebrity meet-and-greets, pre-runway cocktail receptions, book signings, trunk shows and top designers! The week-long affair is open to the general public, including children, and offers a variety of runway shows and events to choose from.
When
The fashion-forward fun happens from Saturday, March 16 through Saturday, March 23, 2019, with reception doors opening at 6:30 p.m. on most evenings. Times for all program events can be found under the Fashion Week El Paseo website schedule of events.
Where
Runway shows and event take place at the Fashion Week Tents, located at The Gardens on El Paseo on the West side upper-level parking deck.
What's New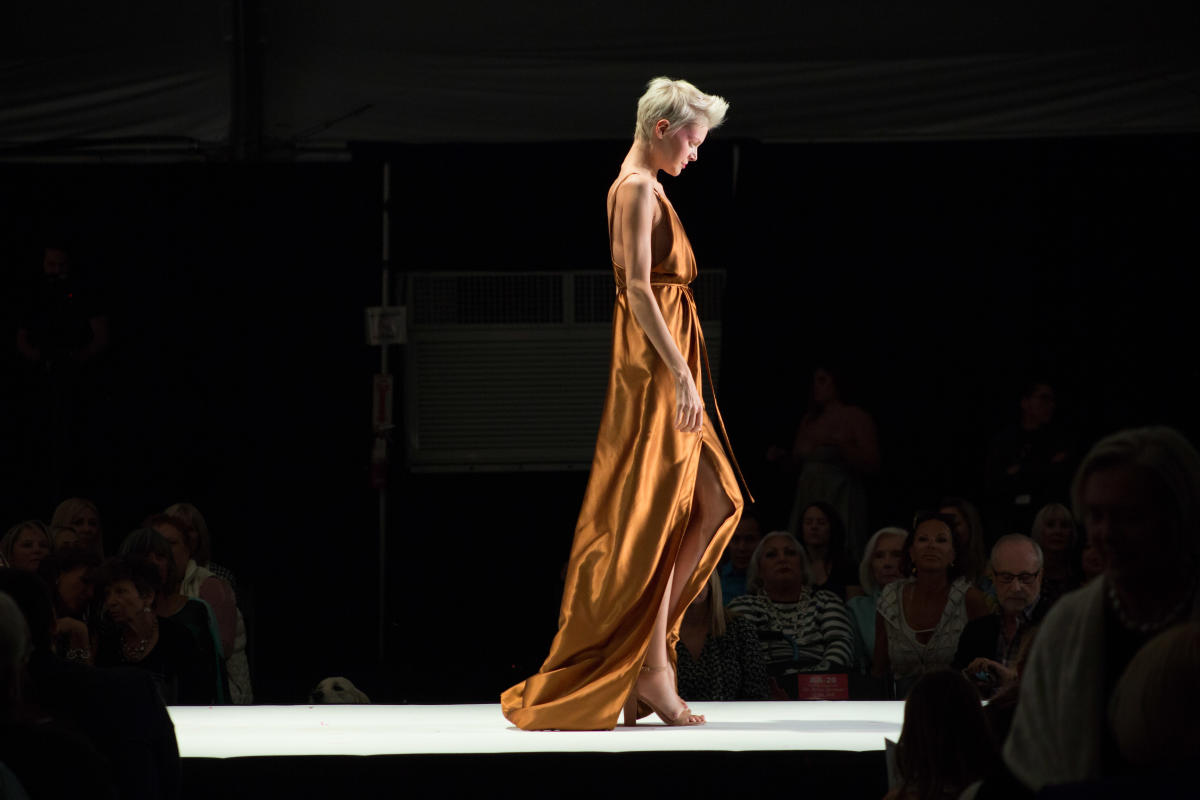 This year, all new collections and designers will be featured, including the amazing work of Greater Palm Springs local and long-time Fashion Week El Paseo supporter, Michael Costello!
"There are lots of new trends for the coming spring and fall season, so keep an eye out for that," shares Susan Stein, Fashion Director and Scene Editor at Palm Springs Life Magazine. "Fashion Week El Paseo offers a great night of fashion, people watching and the opportunity to make a new friend with common interests," explains Stein.
So, with that being said, prepare to have a good time as there is lots of fun to be had at Fashion Week El Paseo 2019!
Featured Designers & Runway Shows
Saturday, March 16
Kick off Fashion Week El Paseo by attending the event's opening runway show titled California Unzipped, featuring three new California-based designers. The night begins with a cocktail reception and a book signing. It is then followed by a must-see showing from Zandra Rhodes, Emil Gampe and Roger Canamar. Each provides a diverse aestheticism that beautifully reflects the modern-day elegance of the golden state lifestyle that is not to be missed!
Sunday, March 17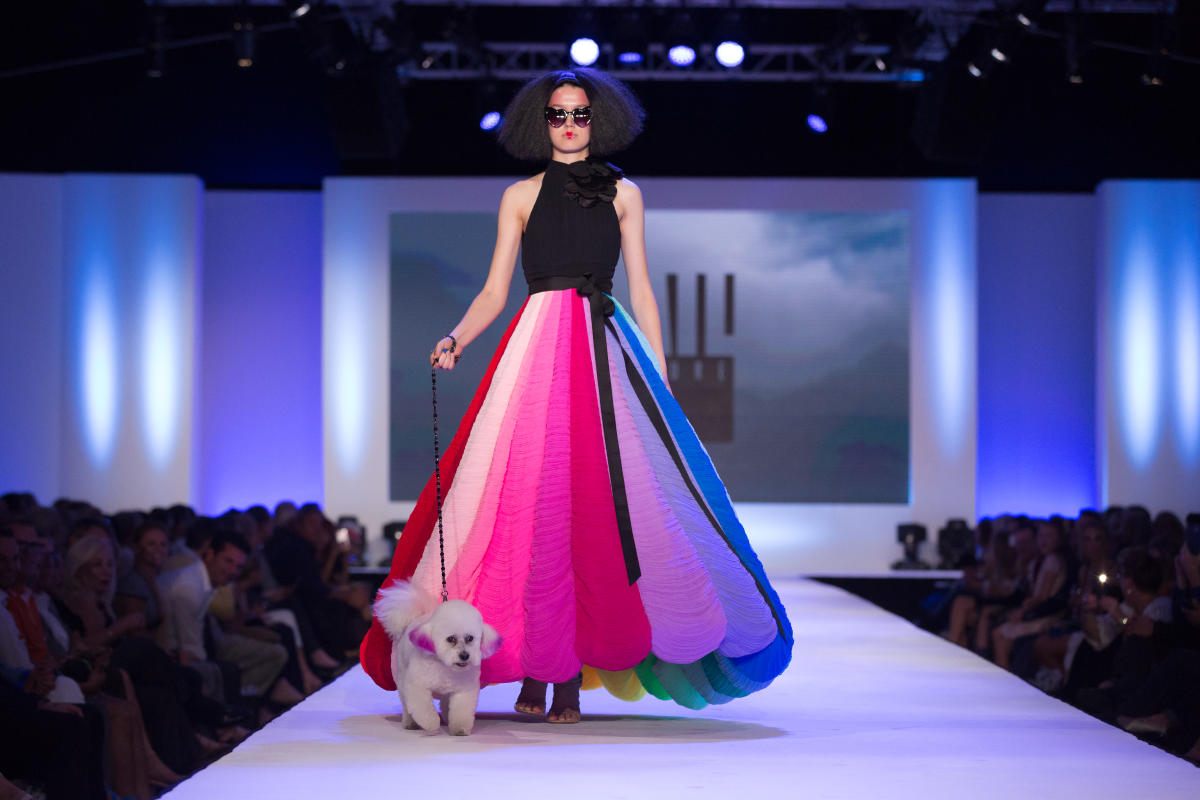 Adorable pooches take over the catwalk during Le Chien, an exciting show featuring high-fashion supermodels and their incredible rescue dogs! The event, which supports Animal Samaritans–a first-time beneficiary of Fashion Week El Paseo–welcomes dog lovers in the region to come out and support this philanthropic program. The show will also display the impeccable stylings of San Francisco designer Victor Tung, whose designs will also be modeled by professional fashionistas and their canine best friends. Also, if that were not enough, the event will include a wonderful cocktail reception, a silent auction and live auction as well.
Monday, March 18
Style up your Monday by attending Porsche and The El Paseo Experience! This little black dress extravaganza will feature stand-out collections from El Paseo Shopping District locales and boutiques, showcasing the perfect ensembles for spring and summer 2019. Participating shops include BB.one, Grayse, El Paseo Jewelers, Eileen Fisher, Johnny Was, Mares Menswear, Porsche Design, Summer Colony Living, Tommy Bahama, UNOde50 and Vince. As a sponsor of the runway event, Porsche will also be showing their collection of fashionable pieces that one would wear when driving a Porsche. Along with this, the luxury automobile manufacturer, in collaboration with Puma, will display their recent collection of trendy apparel to audiences.
Tuesday, March 19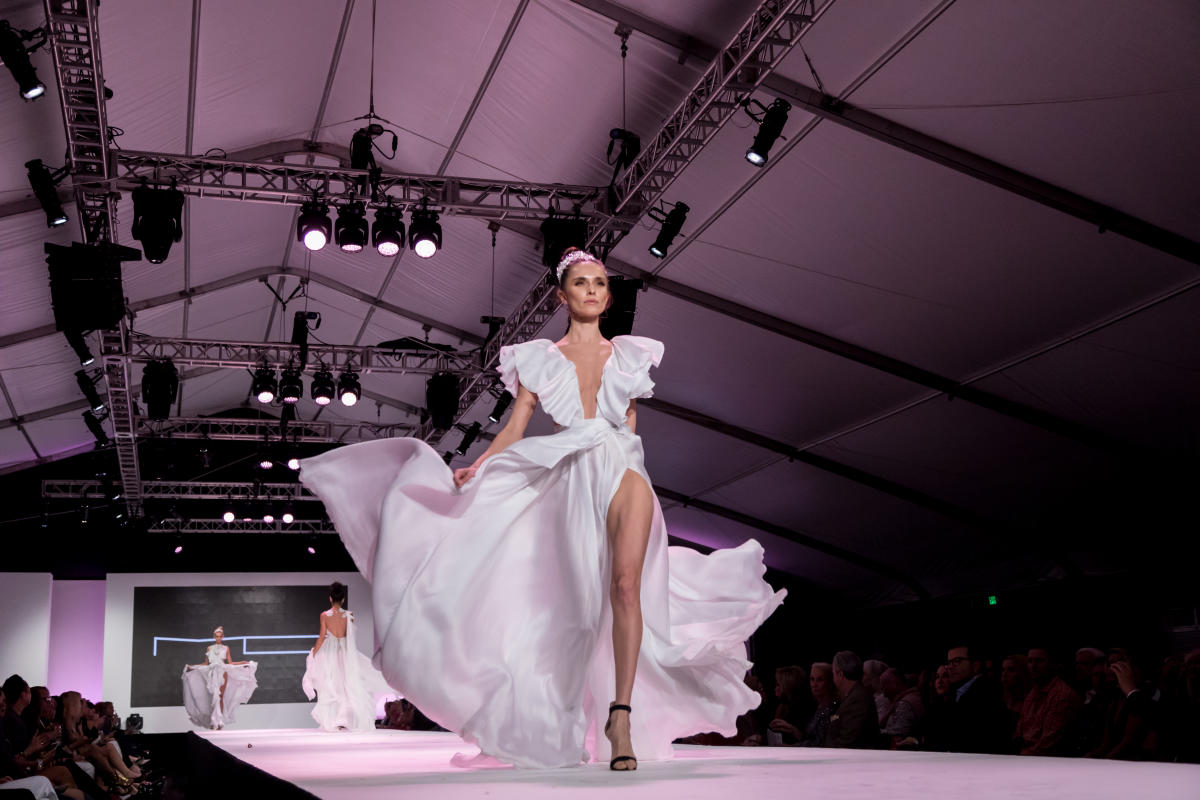 Have an unforgettable evening with Michael Costello and His Project Runway Friends as they wow you with their impeccable designs and seductive couture. An outstanding designer to the stars, and a star in his own right, Costello is recognized nationally for his stunning work and stand-out gowns. Before the show begins, be sure to attend the Meet And Greet with Michael Costello And His Project Runway Friends at the Fashion Week Reception Tent. This exciting opportunity begins at 10:30 a.m. and is open to the general public, plus it's free to attend! Also, make the most of your night during the cocktail reception and check out the pop-up shop featuring Costello's fashions, all available for purchase.
Wednesday, March 20
Reminisce on the Hollywood fashion of decades past while you enjoy the extraordinary archival collection of Academy Award-winning costume designer Helen Rose during Hollywood Party – Nobody Sleeps Tonight. Owned by the Palm Springs Historical Society and donated by Barbara Marx, this event will debut the first time showing of vintage fashion at Fashion Week El Paseo. The two-part show will also include the must-see runway collections of red-carpet designer Gustavo Cadile. During the pre-event cocktail reception, you'll have a chance to also enjoy a couple of book signings and the chance to meet two distinguished authors.
Thursday, March 21
Get a glimpse of the future of fashion during the FIDM/Fashion Institute of Design and Merchandising's Debut Presentation. The show will display the recent work of FIDM Debut program graduates, which is sure to bring cheers from the crowd as they view what's in store for style-enthusiasts and fashion-lovers everywhere. Arrive early for the cocktail reception and be sure to dress to impress, as always!
Friday, March 22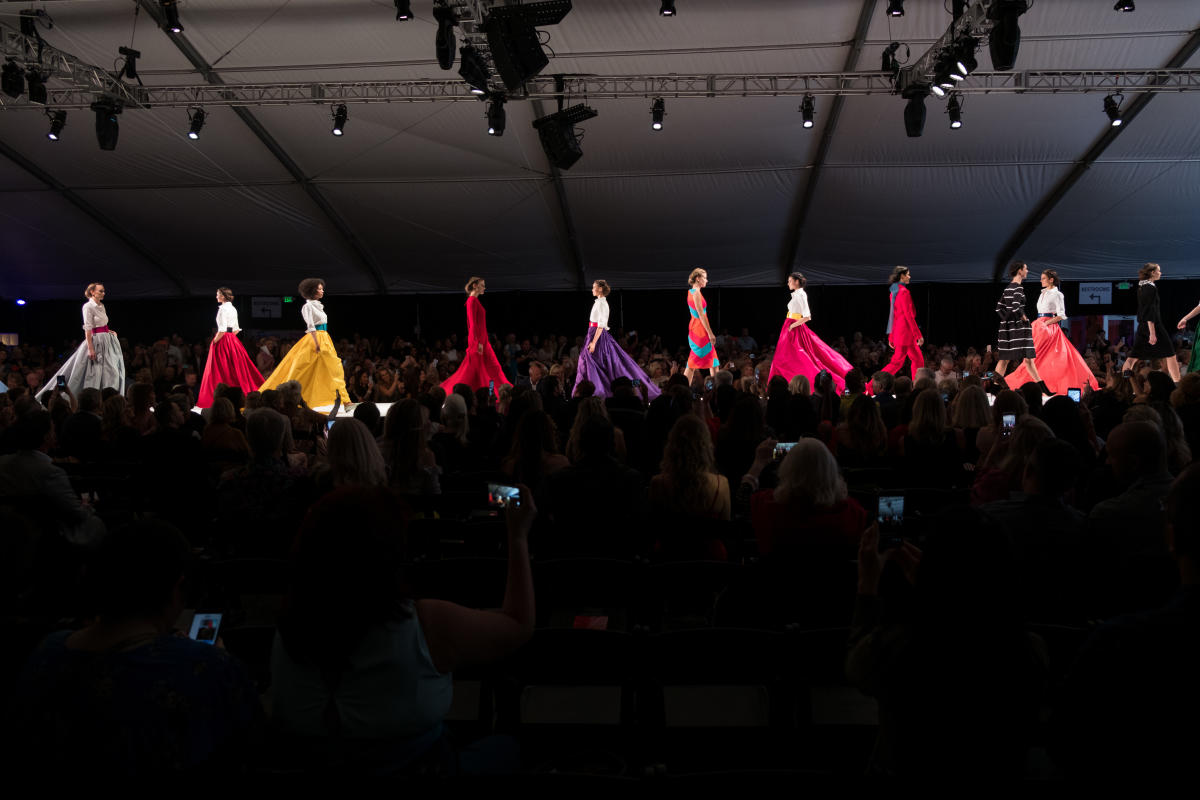 Clear your schedule for Friday night as The Best of Saks Fifth Avenue takes Fashion Week El Paseo by storm during their show. Both high-end pieces for men and women will leave their mark on the stage as the very best of Saks Fifth Avenue makes its way down the runway. Featured designers include Alexander McQueen, Stella McCartney, The Row and many more.
Then afterward, keep the party going on the lawn in front of Saks Fifth Avenue on El Paseo by attending the show's private after party, in honor of the evening's runway presentation. Live music and entertainment will keep you moving all night, while the ever-popular Wilma and Frieda's Café will keep you satisfied with tasty food and drinks from start to finish.
Saturday, March 23
Celebrate the end of Fashion Week El Paseo 2019 by attending the Finale Night featuring New York designer Lela Rose, whose modern and clean designs will sure leave a lasting impression on you this season. Then on Sunday, March 24, and again on Monday, March 25, make your way on over to the Lela Rose Trunk Show to meet the designer in person and also get your hands on some of her one-of-a-kind pieces.
Special Event Features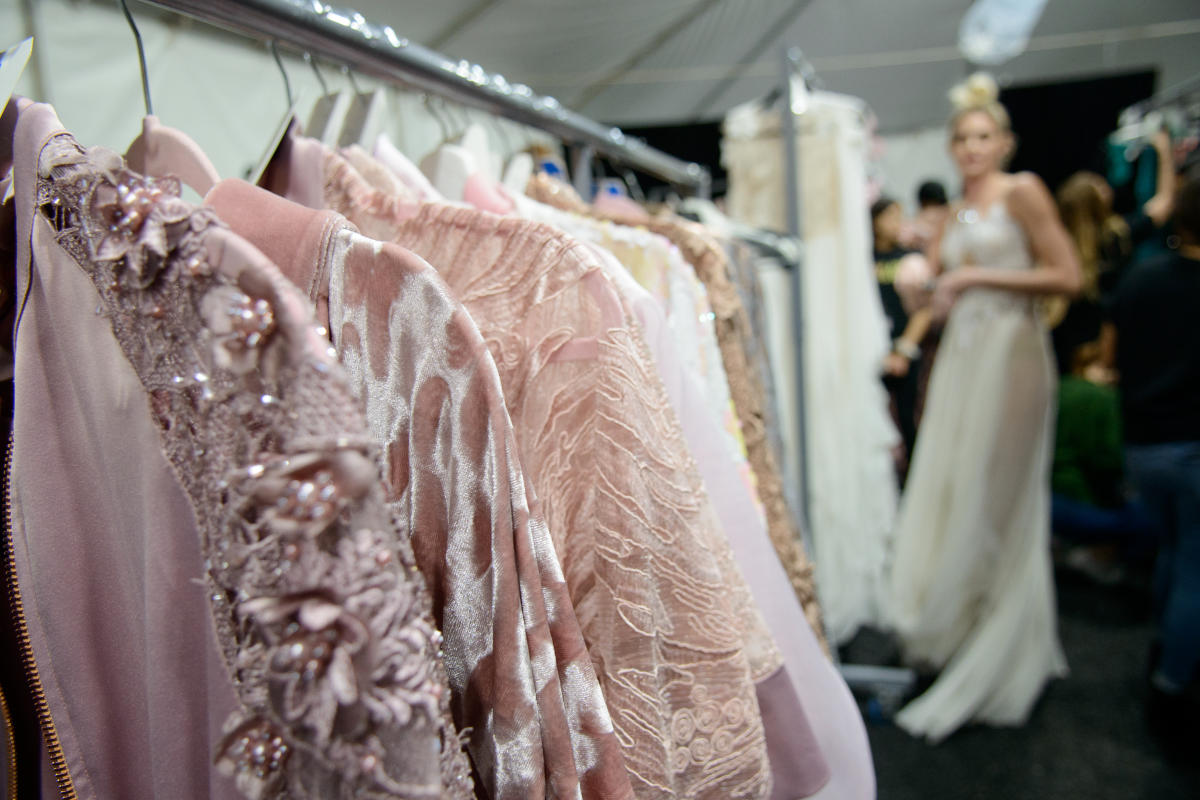 A Fashion Week El Paseo special feature is that attendees have the opportunity to not only view designers' recent works on the runway but also shop them as well after the event is over during trunk shows. These designer trunk shows offer guests a chance to receive personal consultations with event designers and the best part is that consumers can purchase limited catwalk styles right away too! Those that cannot attend runway showcases can come out to trunk shows to experience the excitement that Fashion Week brings, from a more up-close-and-personal approach. Attending trunk shows are free and are also open to the public.
Fashion Week El Paseo will also feature various in-store events at a number of boutiques, art galleries and salons in the shopping district. Special promotions and art showcases will be available for attendees throughout the week.
Event Tips
If attending Fashion Week El Paseo, it is recommended to arrive early to events and have your tickets in hand to avoid delays at the door. Attendees can also find a variety of parking options throughout The Gardens on El Paseo and the general El Paseo village area. Shuttle services will also be available for those who are parking anywhere else in the vicinity.
A final tip we suggest you do is to attend the pop-up shops during nightly cocktail receptions as they are a great way to snag posh pieces and view what's currently trending before the show even starts.
Benefiting Charities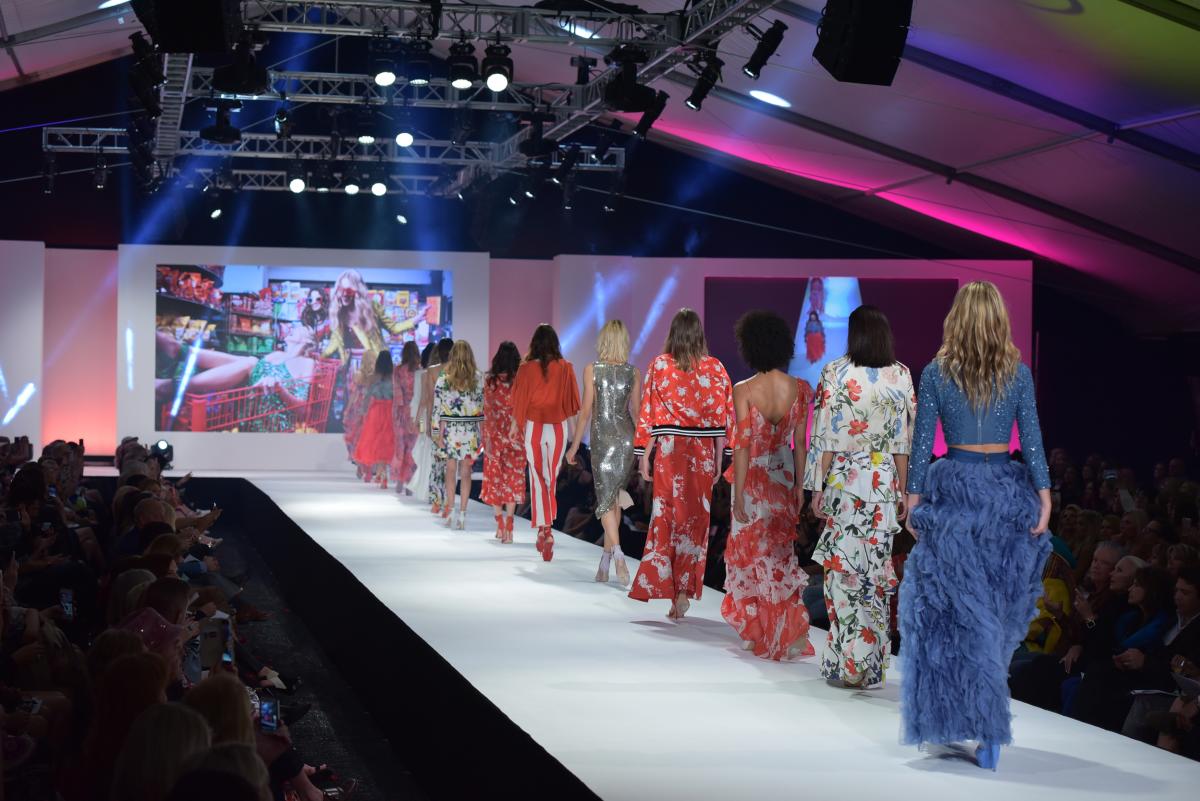 Fashion with a purpose is what Fashion Week El Paseo is all about, as a number of runway shows are known to be tied into a local charitable organization in Greater Palm Springs. This year's benefiting charities include Animal Samaritans, GirlFriend Factor, Junior League of Palm Springs Desert Communities, Make-A-Wish Orange County and the Inland Empire, Palm Springs Historical Society and Palm Valley School.
Ticket Info
Attendees can purchase tickets on the event website and may choose between reserved and general seating. Runway show prices range per night, while specially-priced student tickets are available for purchase on-site from the Fashion Week El Paseo ticket booth. Student tickets are $35 each and do require a valid student ID at the time of purchase.
Want to enjoy even more fashion fun in the oasis? Check out our Guide Through El Paseo Shopping District to discover the hottest stores to shop at in Greater Palm Springs.