Immerse yourself in the ultimate mouthwatering culinary experience in Greater Palm Springs by attending the ninth annual Palm Desert Food & Wine Festival! The event takes place from Friday, March 22 through Sunday, March 24, 2019, at The Gardens in El Paseo and is serving up gastronomic pleasures that can't be found anywhere else. Set to feature renowned top chefs, vintners and brewmasters, as well as a variety of fine-dining restaurants and food tasting booths, this delicious three-day dining and drink celebration is exactly what foodie dreams are made of. Hungry yet?
See what's on the menu for Palm Desert Food & Wine 2019 by checking out our guide on what's new, what to taste and what to expect this year.
What
Palm Desert Food & Wine is a locally recognized festival that celebrates the best of the best in food, wine and brew in the region and beyond. Presented by Agua Caliente Casinos and organized by Palm Springs Life Magazine, the event showcases an incredible line-up of celebrity chef demonstrations, book signing, gourmet food samples and more.
Those who are 21 and over are invited to participate in the weekend-long food frenzy, which also includes plenty of day-drinking and sipping.
When
It all goes down from Friday, March 22 through Sunday, March 24, 2019. See the schedule of events under the Palm Desert Food & Wine Experience page to get the details on event timeframes and day-of programming.
Where
Most festival events take place at the Food & Wine Tents at The Gardens on El Paseo on the West side upper-level parking deck (73-545 El Paseo, Palm Desert, CA 92260). However, some festivities will be hosted at different locales throughout the region. Be sure to double check each event's location information on the festival website.
New This Year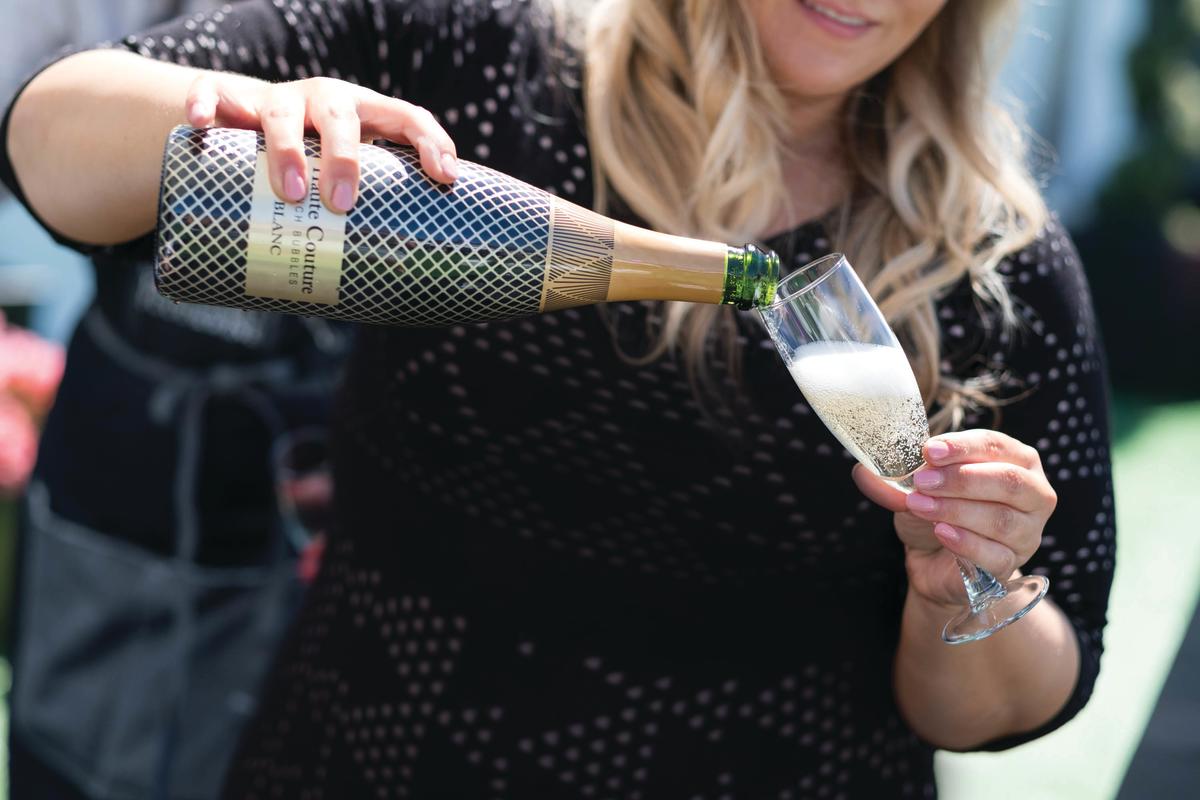 New to the event this year is a special Sunday champagne brunch, taking place before the day's Grand Tastings, which will also feature a new, regionally-inspired food theme. Sunday will be all about the foods of the Americas, which is set to be a very popular event for attendees.
Featured Chefs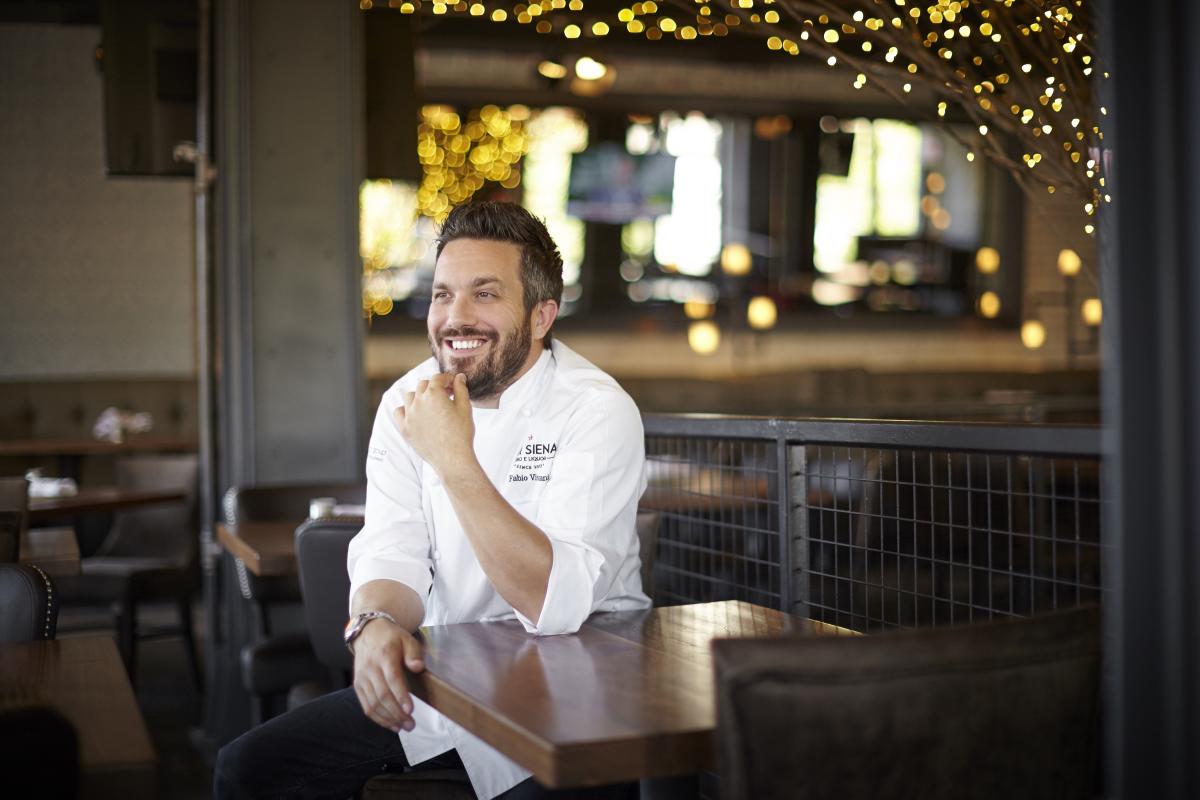 Palm Desert Food & Wine will also bring a good mixture of local chefs, new talent and returning culinary artists from all over California and across the country. Among those featured this year are local Executive Chefs Michael Beckman (Workshop Kitchen + Bar and Truss & Twine in Palm Springs) and Andrew Copley (Copley's on Palm Canyon and AC3 Restaurant + Bar in Palm Desert). Other standout talent includes Scott Conant, Antonia Lofaso, Stuart O'Keeffe and Fabio Viviani.
"We are always looking to spice up our line-up," shares Paulina Larson, Marketing Director at Palm Springs Life Magazine.
Overall, attendees will be able to enjoy cuisine offerings and styles from over 30 local and celebrity chefs attending the festival this year. These topnotch chefs will be cooking up some of the finest dishes you've ever had in the Greater Palm Springs region, as well as delivering incredible one-on-one moments during Palm Desert Food & Wine events.
Culinary Events
Wednesday, March 20
This year, pre-festival programs begin even earlier than before, starting off with the Savory Spice presentation of Gale Gand's Chocolate and Cinnamon on Wednesday, March 20, at 6:30 p.m. (73399 El Paseo, Palm Desert, CA 92260). This sweet gathering showcases two-time James Beard Award-winning pastry chef Gale Gand as she explains to attendees the art of how chocolate and cinnamon are grown, harvested and transformed into exotic ingredients for cooking and baking. Following the informative review is a toothsome cooking class that includes both of these enticing ingredients.
Thursday, March 21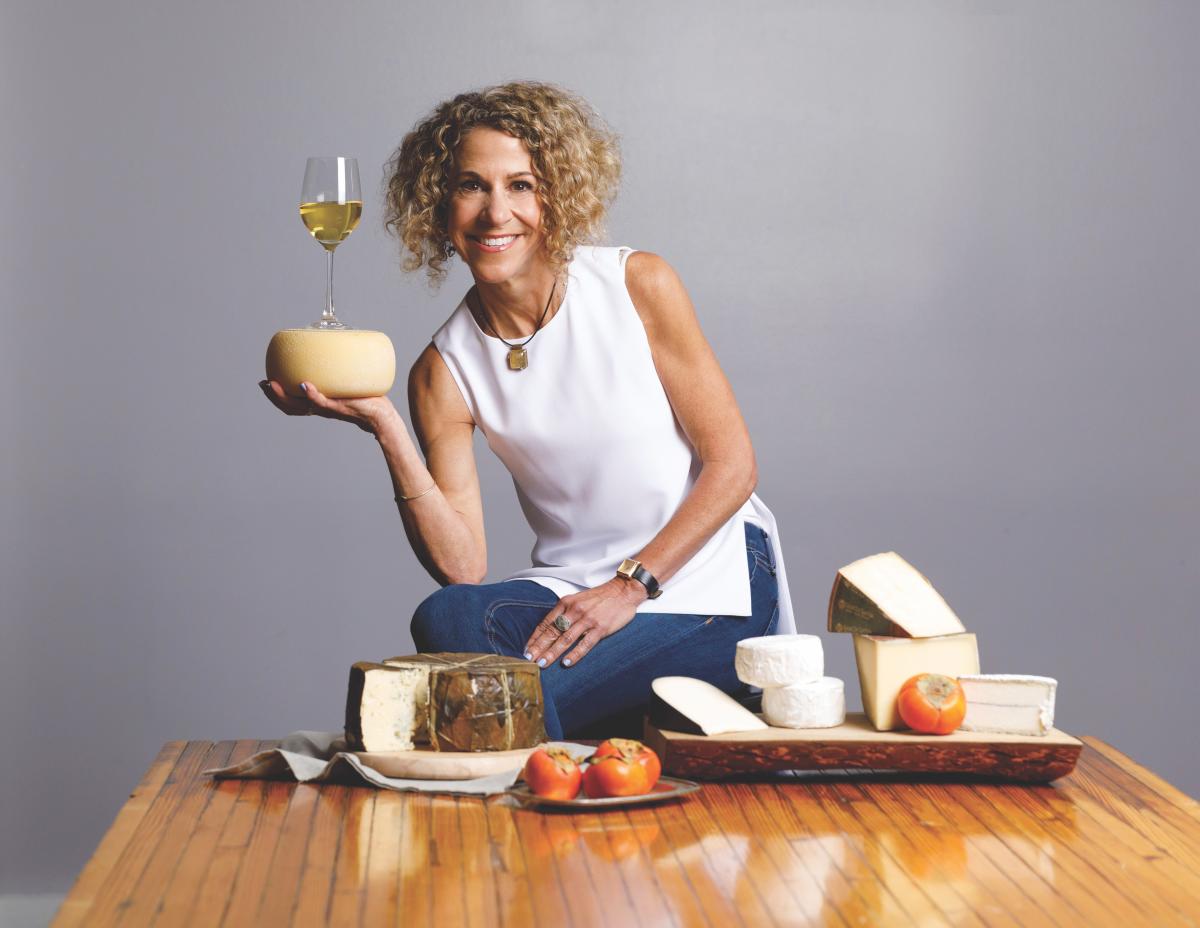 Back for another year of cheesy goodness, "Cheese" with Laura Werlin returns with even more tempting cheese pairings to share with guests. Werlin, who is a James Beard Award-winning author of six books on cheese, will host her event at On The Mark Cheese Shop in Uptown Palm Springs (777 N. Palm Canyon Drive, Palm Springs, CA 92262). This event is set to begin at 6:00 p.m. and is definitely something that wine and cheese lovers should not miss out on!
Another flavorful opportunity available for foodies is the Taste of Italia at Toscana Country Club (76009 Via Club Villa, Indian Wells, CA 92210). The event begins at 6:00 p.m. and will feature celebrity chef, television personality, restaurateur and cookbook author Antonia Lofaso, as well as Toscana Country Club Executive Chef Alain Redelsperger. Enjoy the aromatic flavors that Italy has to offer through an awe-inspiring four-course dinner presentation, paired with exceptional wines from Ruffino. Buon appetito!
Friday, March 22
The first official day of Palm Desert Food & Wine begins with the James Beard Gourmet Four-Course Luncheon on Friday, March 22, taking place from 11:30 a.m. to 2:00 p.m. This year's event emcee is a celebrity chef, television personality and cookbook author Stuart O'Keeffe. The day's program will include menu courses created by four different award-winning celebrity chefs that include Fabio Viviani (first course), Antonia Lofaso (second course), Scott Conant (third course) and Zac Young (fourth course).
Saturday, March 23
Designed to entice your senses and satisfy your taste buds, Palm Desert Food & Wine invites you to come hungry and leave satisfied during the Saturday Grand Tastings. This event happens from 12:00 p.m. to 3:00 p.m. and offers an opportunity to expand your palate by sampling featured unlimited plates and bites. This includes trying tasty selections from skilled cooks and chefs at over 40 participating local restaurants in the area as well as sipping on a number of specialty drinks from talented winemakers, distillers and craft breweries attending the festivities.
Special chef demonstrations will be taking place on Saturday as well. Join Pastry Chef Zac Young from 10:00 a.m. to 11:00 a.m. during his "Drunk Desserts" presentation by purchasing a Premier Pass for Saturday. This will also include early entrance to the event, special tastings and a second exclusive celebrity chef demonstration by Scott Conant at 11:15 a.m.
Sunday, March 24
You're in for a real treat during Sunday's North to South: Food of the Americas Grand Tastings. Offering a second day of appetizing deliciousness from 12:00 p.m. to 3:00 p.m., this day brings foods from Southern California and beyond, including Brazil, Peru, Baja and our very own Palm Springs region! Chef demonstrations will also take places this day and will be housed within two different tent areas at the festival.
Or, if brunch is more your thing, come and enjoy a Champagne and Bloody Mary Brunch from 9:00 a.m. to 12:00 p.m. during the festival! The event is loaded with divine morning grub and exclusive chef experiences which includes a three-course meal. Each brunch course will be carefully prepared by distinguished chefs in the field.
Event Tips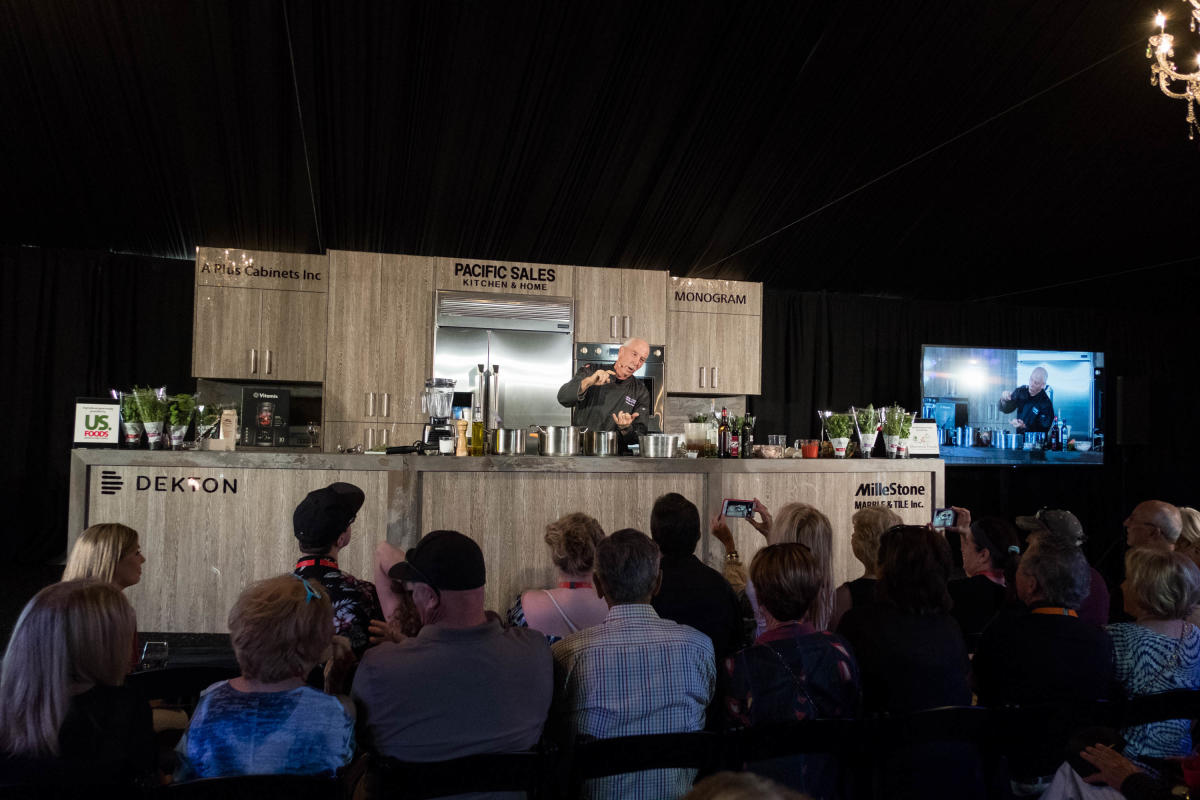 Regarded as a popular festival in the oasis, Palm Desert Food & Wine is well-attended annually by many hungry patrons and libation enthusiasts. It is advised to arrive early to scheduled events and to have your tickets in hand. Chef demonstrations, in particular, are first come, first serve, so it's best to plan ahead if you'd like to get a good seat.
"Come ready to have an unparalleled food experience," shares Larson. "You'll be eating and drinking you're way through an abundant amount of food, chef meet-and-greets and demos. Plus, you'll have a chance to learn about new products too!"
Dining for a Cause
Attending Palm Desert Food & Wine 2019 has plenty of delightful benefits, including the opportunity to give back to the local community. Come out and dine for a good cause as the event benefits both the James Beard Foundation and Coachella Valley FIND Food Bank, a stand-out nonprofit organization providing food assistance and basic essentials to those in need in Greater Palm Springs. As a proud supporter of FIND Food Bank, Palm Desert Food & Wine will donate 35 meals to the organization for every festival ticket purchased.
Ticket Information     
Reserve your spot for the Palm Desert Food & Wine festival by purchasing tickets online now or at the event ticket booth at The Gardens on El Paseo (beginning Friday, March 15, 2019). Both reserved and general admission passes are available for attendees to choose from, and each ticket covers all food and drinks consumed at the event. For those who would like to attend more than one foodie function during the festival, ticket packages are still up for grabs online.
For more excitement this spring in Greater Palm Springs, check out Fashion Week El Paseo 2019!