Bon Appétit! Are you ready to "treat your heart out" at this year's Greater Palm Springs Restaurant Week? Invite a couple of friends or your special someone for some truly mouthwatering dishes at a great deal. This year, guests have the opportunity to choose between two items rather than two courses to maximize all of the flavors each location has to offer. These hot lunch spots allow you to get a taste of amazing cuisine at unbeatable prices!
The Cafe at Shields

Price: $20
Located within Shields Date Gardens, The Cafe at Shields features a specialized menu of American and Mexican cuisine. Visitors can sit on the outdoor patio to enjoy their meals under lush palm trees or sit indoors while enjoying a date shake.
During Greater Palm Springs Restaurant Week, guests can choose between: a Pulled Pork Sandwich, featuring a custom house barbeque sauce and cilantro-jalapeno coleslaw; Fish and Chips, made with house beer battered tempura code and fries with caper tarter sauce; Shields Signature Date Burger, created with sautéed Deglet Noor dates, bacon, and melted bleu cheese; Shields Signature Salad, a dish made of spinach topped off with Deglet Noor dates, dried cranberries, candied walnuts, pears, mango, crumbled blue cheese, and house mango vinaigrette; Ceviche Tostadas,made with swai slow cooked in lime juice, tomato, onions, cilantro, jalapeño;  and the classic Stuffed Date, filled with jalapeño, blue cheese, prosciutto and bacon.
Broken Yolk Cafe - Palm Springs
Price: $15
This Southern Californian classic has become a Greater Palm Springs foodie hot spot! At Broken Yolk Café - Palm Springs, guests can enjoy a hearty breakfast all day long or savory lunch in the heart of Palm Springs. Guests can enjoy from a variety of dishes during Greater Palm Springs Restaurant Week such as a full Grilled Cheese; Full Veggie Gaslamp, made with avocado, provolone, lettuce, tomato, and mayo toasted on sourdough; Full Gaslamp, created with the same ingredients as the previous but with sliced turkey breast!
For some lighter choices, guests can also choose between the ½ Very Berry Salad; created with mixed greens, goat cheese, strawberries, caramelized walnuts with a raspberry vinaigrette; the  ½ House Salad, with mixed greens, shredded carrots, tomatoes and croutons and the Cup of Soup, attendees can choose between: Tomato basil, Chicken Vegetable or Chili.
Dringk Eatery +  Bar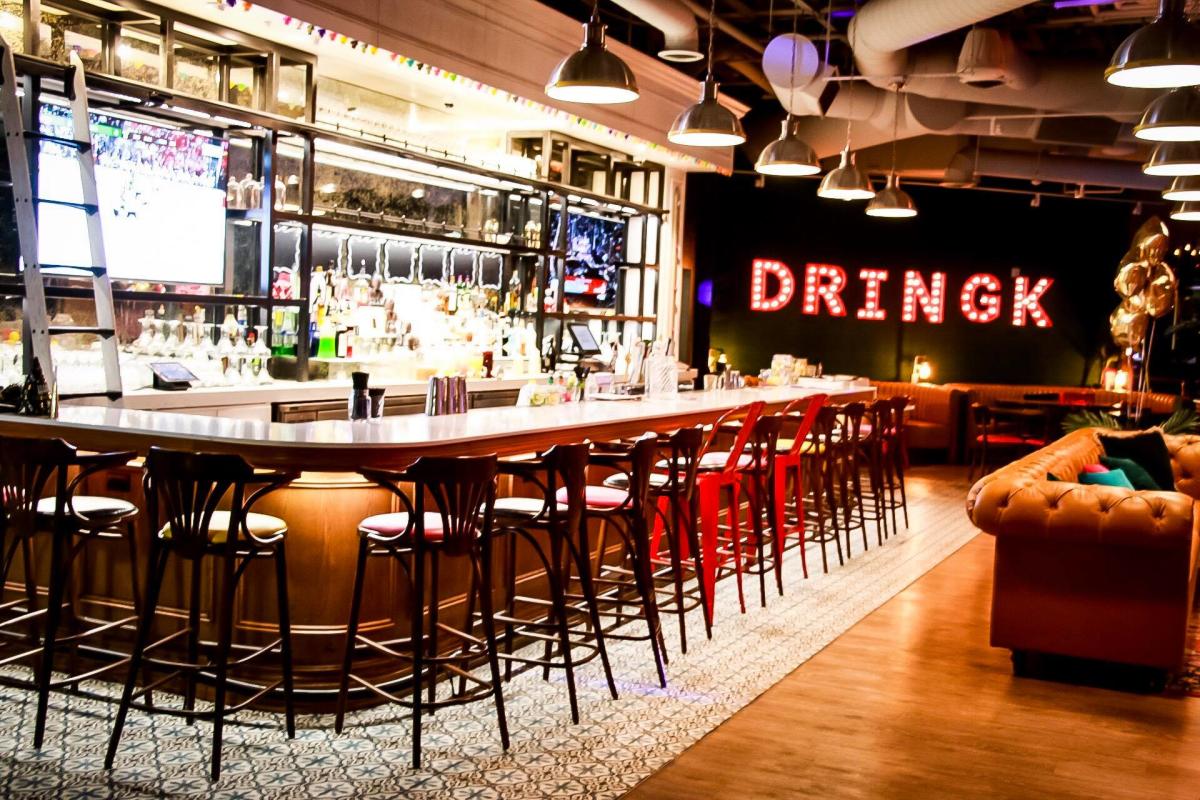 Price $15
Dringk Eatery + Bar's bright, bold interior always promises a good time! Every Wednesday through Saturday night there is a DJ and guests can sing their heart out on Karaoke Night, every first Tuesday of the month. Not into dancing or singing? Guests can get their competitive spirits going with games like pool, shuffleboard, pinball, Pac-Man and foosball.
The lunch menu available at Dringk during Greater Palm Springs Restaurant Week includes options like: French Onion Soup, created with house made beef broth, onion, bread and mozzarella; Wedge Salad, made with iceberg lettuce, tomato, bacon, red onion, and blue cheese dressing; Bacon Burger with House Salad or Fries, dressed with cheddar, bacon, tomato, lettuce and chipotle aioli.In the mood for seafood? Try the Tuna Poke Bowl, made of rice, ahi cubes, cucumber, arcadian lettuce, green onion, fish roe, crispy wonton, ginger dressing, cusabi sauce or the Fish & Chips with crispy fries and caper aioli!
With a varied array of options and dishes to choose from, Greater Palm Springs Restaurant Week provides the best of local flavors! Find more menus and Restaurant Week options here!