The PGA Tour makes its 59th annual return to Greater Palm Springs this January 17-21, 2018, and this year's CareerBuilder Challenge looks to boast the event's deepest playing field in recent memory.
Desert guests don't need to limit their visit to the tournament itself, either. Before and after watching 156 of the world's best players, opportunities for drinks, dining, playing and partying abound throughout Greater Palm Springs.
While prepping those event passes and tracking down your favorite player at the CareerBuilder, here are some suggestions for teeing-up your desert itinerary in full during tournament week.
Before the CareerBuilder Challenge
With the tournament's three-course format (The Stadium and Nicklaus Tournament Courses at PGA WEST, along with La Quinta Country Club), the rotating tee times across the first three days of play provide an assurance of flexibility for attendees before final round Sunday comes calling for the crowning of a champion.
On a round that your favorite competitor is playing in the late morning, wake up early and get the day underway across tournament week with these plans.
Thursday
One can't walk the course on an empty stomach. Get your event week cooking with a hearty, pre-tourney breakfast at any of the following restaurants across Greater Palm Springs:
Elmer's: One of Palm Springs' most popular breakfast stops for good reason; get your day underway with some awesome pancakes to fuel your walk across the course.
Desert Willow Golf Resort: Palm Desert's pair of primo courses are matched by an inspired patio setting; a great way to arise that golf appetite for the day to come.
Si Bon: The European bistro stylings in Rancho Mirage bring forth superb waffles, along with hearty omelets and homemade crepes.
Friday
After that first round of play, the appetite to swing will no doubt have risen; before you watch the likes of Phil Mickelson, Jon Rahm or Patrick Reed get round 2 underway, get your own round in before the event.
SilverRock Resort
SilverRock Resort: Play just a few miles from the CareerBuilder pros (be sure to have a tee time) and take on the recently redesigned back nine.
Heritage Palms or Indian Springs: Both Indio courses are just down the road from PGA WEST, and either recommended option proves readily playable for all level of golfer.
College of the Desert Driving Range: Just want to get in a few cuts? Get loose at the COD Golf Center, sporting the largest public driving range in Greater Palm Springs.
Saturday
Before exploring the courses, start the desert day with a casual stroll of sundries.
COD Street Fair: Open 7:00 a.m. – 2:00 p.m. in the winter season, this Palm Desert outdoor market gets your day going with a fun walk and shopping amid local art, music, snacks and vendors.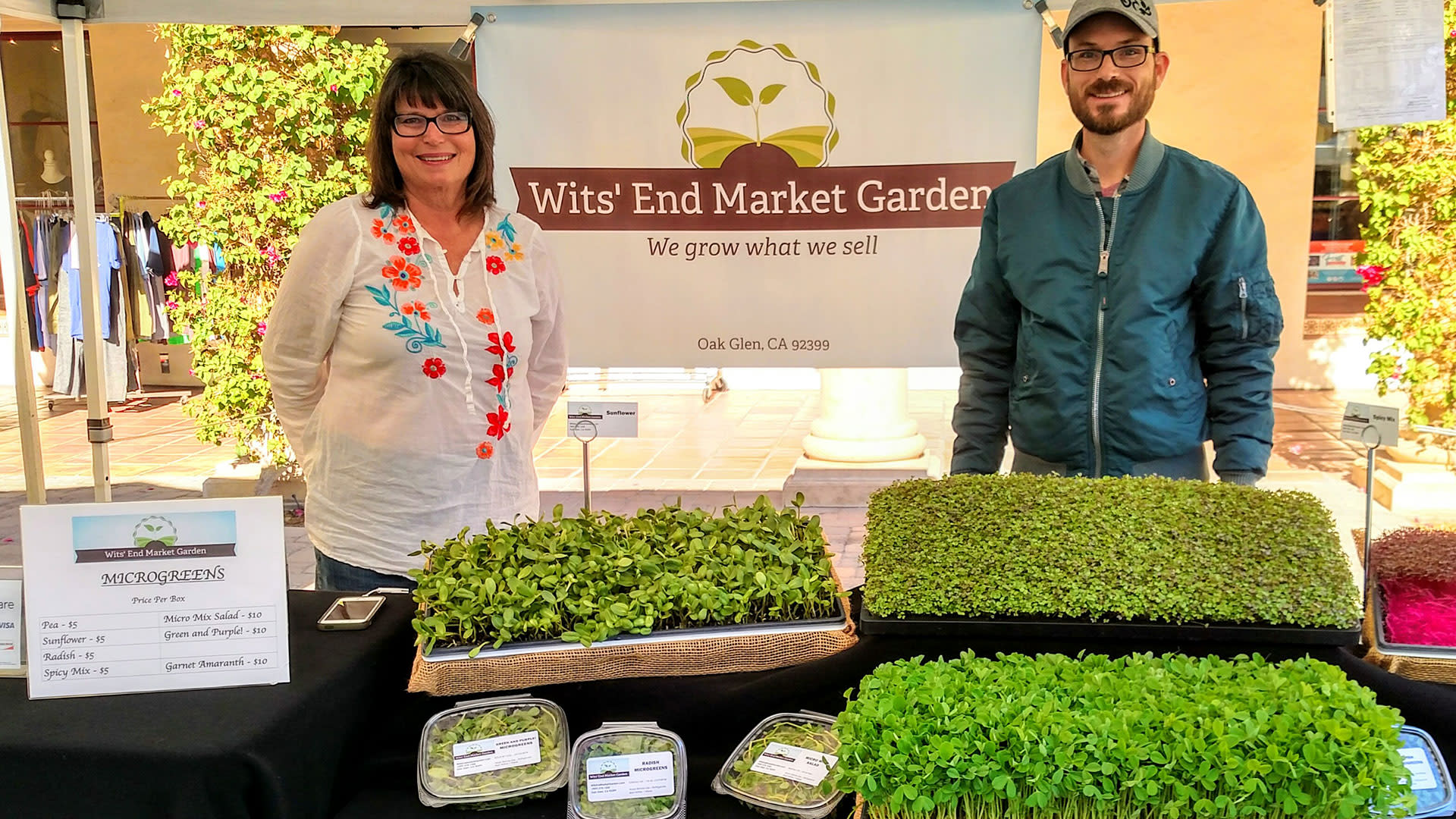 Palm Springs' Certified Farmers' Market
Palm Springs' Certified Farmers' Market: From just-harvested, in-season fruits and vegetables to chef demonstrations, live music and programs for the kids, the market offers something for everyone from 8:00 a.m. – 12:30 p.m.
After the CareerBuilder Challenge
The winter season assures that play concludes prior to 5:00 p.m. each day, meaning there's ample time for exploration of the oasis post-round.
Thursday
The first round of play generally provides a surprise or two atop the leaderboard; but for the keen planner, there's no need the guess where your desert adventure takes you after the day's play. Worked up your appetite? Grab a reservation at one of these locales.
Arnold Palmer's: Keep that golf vibe alive post-round at nearby Arnold Palmer's, an apt homage to The King that offers one of the top patios in Greater Palm Springs.
Melvyn's at the Ingleside Inn: The recently-renovated Palm Springs classic makes for a perfect setting to rewind the day's favorite moments.
Il Corso: Strolling down El Paseo and not sure where to go? Opt for a night at Il Corso, where the smart, modern décor is well-matched by classic Italian platings.
Friday
The fun doesn't stop after second round play concludes at PGA WEST. Stick around the grounds for a live performance at approximately 4:30 p.m. by Huey Lewis and The News; the tunes take place on the driving range and the concert is open to all ticket holders at no additional cost.
Post Huey, it's no gamble to enjoy a night on the town at these local casinos:
Agua Caliente Resort Casino Spa Rancho Mirage: Greater Palm Springs' most polished gaming space provides row after row of slots and table games; those looking to make it a full night will want to grab dinner and explore the only live poker room in the oasis.
Fantasy Springs Resort Casino: A full floor of cards and machines is balanced by cocktails for the adults, along with late-night laser bowling for all.
Agua Caliente Casino Palm Springs: Headed back downtown? Grab a drink along Palm Canyon before strolling over to Agua Caliente Casino Palm Springs for games of chance.
Saturday
Get ready for Sunday's final round action with a sweet segue from round 3 play. Like on Friday night, a post-round concert takes place on the PGA WEST driving range on Saturday evening. The featured band is The Goo Goo Dolls, and again, the show is open to all ticketholders.
After the concert, get ready for the tourney's fourth and final round with some recommended pampering opportunities across the desert.
Spa La Quinta: Just down the street from PGA WEST, sister property La Quinta Resort & Club offers one of the desert's best spa menus (open until 8:00 p.m.; reservations strongly recommended).
Footloose Reflexology: Get those walking legs ready for Sunday's final round with a 1-hour treatment at one of two Footloose locales (Rancho Mirage and La Quinta).
Miramonte Resort & Spa: Should your player of choice have an earlier tee time, the prime Indian Wells' perch at Miramonte's The Well Spa (open until 5:00 p.m.) offers a unique treatment menu to compliment the singular setting.
For CareerBuilder Challenge tickets, event info and updates on the player field, visit www.careerbuilderchallenge.com.