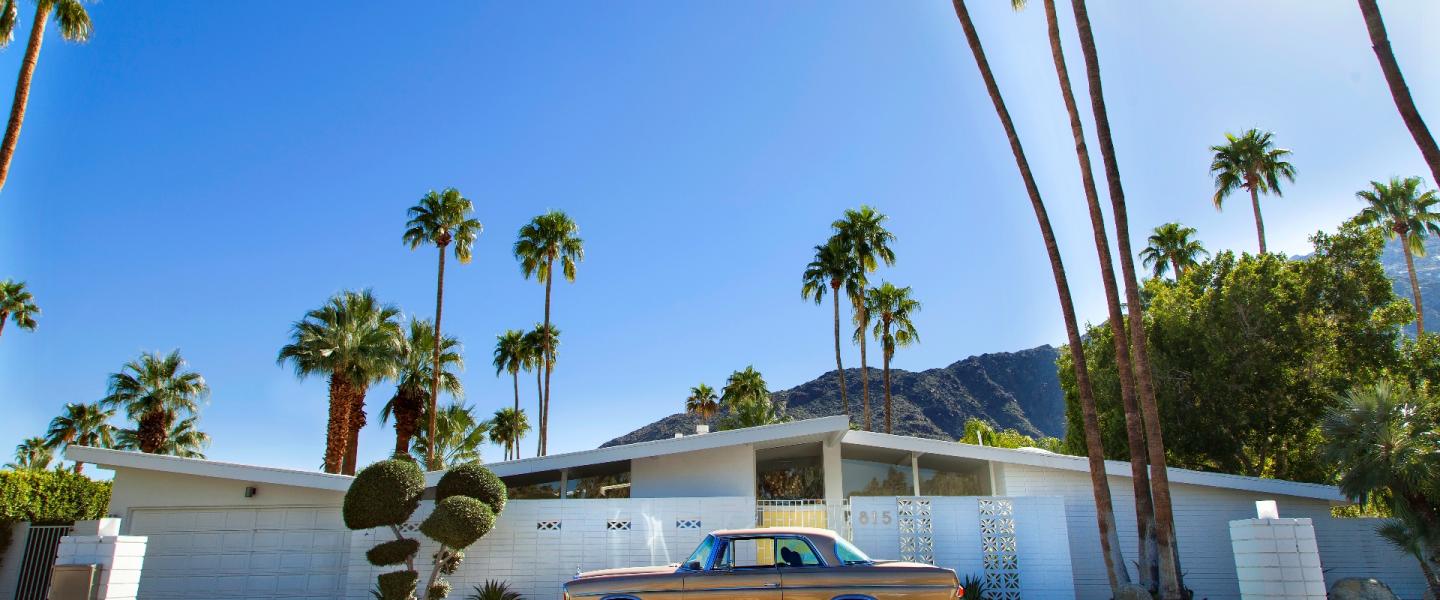 The world-class resorts and quaint hotels of Greater Palm Springs are always wonderful, but shake up your stay with a vacation home rental. Privacy, spacious accommodations, concierge services and the feeling of being in a home away from home are only some of the perks provided at any of these stellar destinations.
City slickers looking for a down home experience with an upscale flair will love the Sunset Ranch Oasis, acquired by the Davidson family in 1964. In those days, the east valley ranch was used as a place to host duck hunting groups, and actors and politicians were frequent guests. At that time, South Lincoln Street was known as millionaire row. Today, it's a perfect place for family reunions and large gatherings. It's the only place in the valley that offers duck hunting, wake boarding, water skiing, pool table, basketball court, fishing, concerts, a wedding venue and overnight accommodations all in one place. Fishing in the lake is a family favorite. Lighting the fire pit and sharing stories and memories is a fun way to end a beautiful day at the ranch.
Frederick Loewe Estate photos courtesy of David Blank
The Frederick Loewe Estate is named for the Austrian-American composer who collaborated with lyricist Alan Jay Lerner on a series of Broadway musicals, including Brigadoon, Gigi, Paint Your Wagon and the long-running My Fair Lady and Camelot. He called this estate purchased in 1960 his "Little Camelot." The grounds feature stone waterfalls, a stone grotto spa with piano key tile trim, fruit orchards, private tennis court, gardens and more than 100 olive trees. It is perfectly situated in a small enclave in Palm Springs' Little Tuscany neighborhood and boasts four hotel-style bedrooms with en-suite bathrooms. It is also conducive to parties and entertaining with a baby grand piano and wooden bar original to the home. A turnstile bed in the glass-walled master bedroom rotates so that guests can enjoy the ever-changing sky and views.
Also in Palm Springs, the Kirk Douglas Home was originally built in 1955 for its namesake star the same year he portrayed tortured painter Vincent Van Gogh in the Oscar-nominated film Lust for Life. The residence provides an authentic retro interior design, iconic midcentury architecture and strong ties to the glamour of old Hollywood. This location is a popular escape for jetsetters, celebrities and tastemakers who want to immerse themselves in everything Palm Springs; most recent guests include Shannon Doherty and her husband and Shari Belafonte who celebrated a milestone birthday here. According to a rave review, Belafonte expressed her love affair with the master bedroom's tub. There is also a two-person outdoor shower.

432 Hermosa, also known as the former Dinah Shore Estate, is an iconic midcentury home designed by renowned architect Donald Wexler. The gorgeous six-bedroom residence on a secluded 1.3-acre oasis compound has floor to ceiling windows throughout to showcase the beauty of the desert and the majestic San Jacintos. It makes a great private party place for a group heading to the annual Dinah Shore with its tennis courts, heated pool and spa, fireplace and cocktail bar. Daily maid service is also available.
Other great properties include:
Casa de Monte Vista
Assorted villa homes at Colony 29
Frank Sinatra Twin Palms Estate
Merv Griffin Estate
Dupont Estate
Multiple rentals across the valley by Oranj Palm Vacation Homes