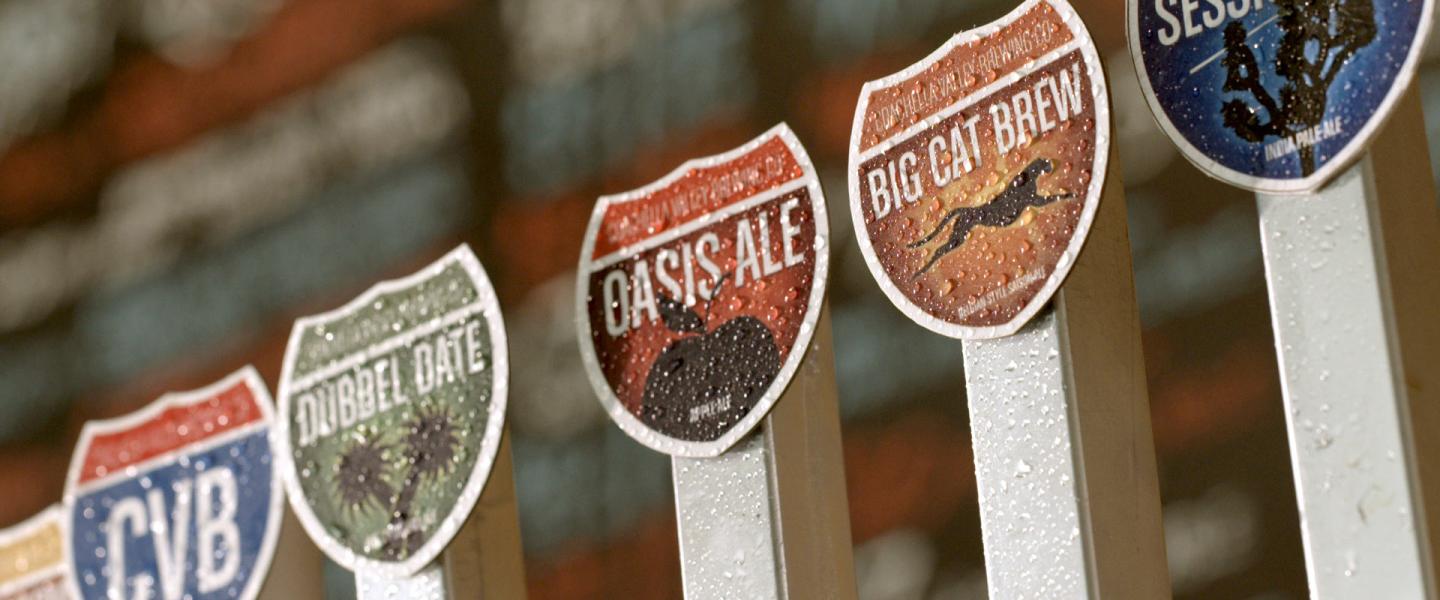 Greater Palms Springs has joined the nation's artisan beer production craze in a big way. Beer aficionados are flocking to our Oasis to sample new, innovative breweries, as well as some established favorites. Tour working breweries, learn about the process and the craft brew culture and sample the brewmasters' sudsy creations. Then, pair with some microbrew-perfect food for a bountiful beer break, desert style.
Farm to Glass Brewing
The first commercial brewery and tap room in the valley, the Coachella Valley Brewing Company, is a state-of-the-art brewery, utilizing green technology and locally grown sustainable ingredients to create a "farm to glass" locally crafted and whimsically labeled line of brews. Among them is a light-bodied Kölsch ale, labeled Kölschella in honor of the annual music festival.  Dubbel Date is its Belgian-style Abbey Dubbel ale brewed with Medjool dates from local date gardens. Visit the tasting room, open Tuesday through Sunday, and take a brewery tour on Friday and Saturday.
Poolside Ale
La Quinta Brewing Company is the newest arrival on the Greater Palm Springs brewery scene. The company's interesting variety of beers is getting rave reviews from desert goers. Poolside Blonde is a palate- cleansing ale, and the Indian Canyon IPA delivers aromas of grapefruit. You can find the beers on tap in dozens of valley restaurants, and The Tap Room is open Wednesday through Sunday for tours and tastings. 
Brew and 'Que
Babe's Bar-B-Que and Brewhouse in The River in Rancho Mirage opened in 2002 with a custom brew system featuring a hand-hammered, aged copper exterior, four fermenters and five serving tanks. The brewery quickly won three medals and is still garnering award-winning brews from the Honey Blonde Ale to the Blackfin Lager. Of course, there's a barbeque menu created to compliment the beers, ranging from St. Louis ribs and baby backs to hickory tri-tip. If you're curious about the brewing process, you may request a brewery tour.
Desert Distilling­­­­­
Desert Distilling origins may be simple, but the raw ingredients and small batches never sacrifice character. As the destination's first, and only, exclusive boutique distilling brand, visitors can treat their palates to the serenity of spirits less traveled, like small batch vodka, white rum and aged rum. One sip of the crafted spirits will eradicate any fear of bad taste or burning sensation commonly associated with big brands. No sense will go un-touched, and you will leave with a satisfied palette, relaxed soul and fresh knowledge about the craft spirt process.
Still thirsty? Plan a pub crawl through Greater Palm Springs!