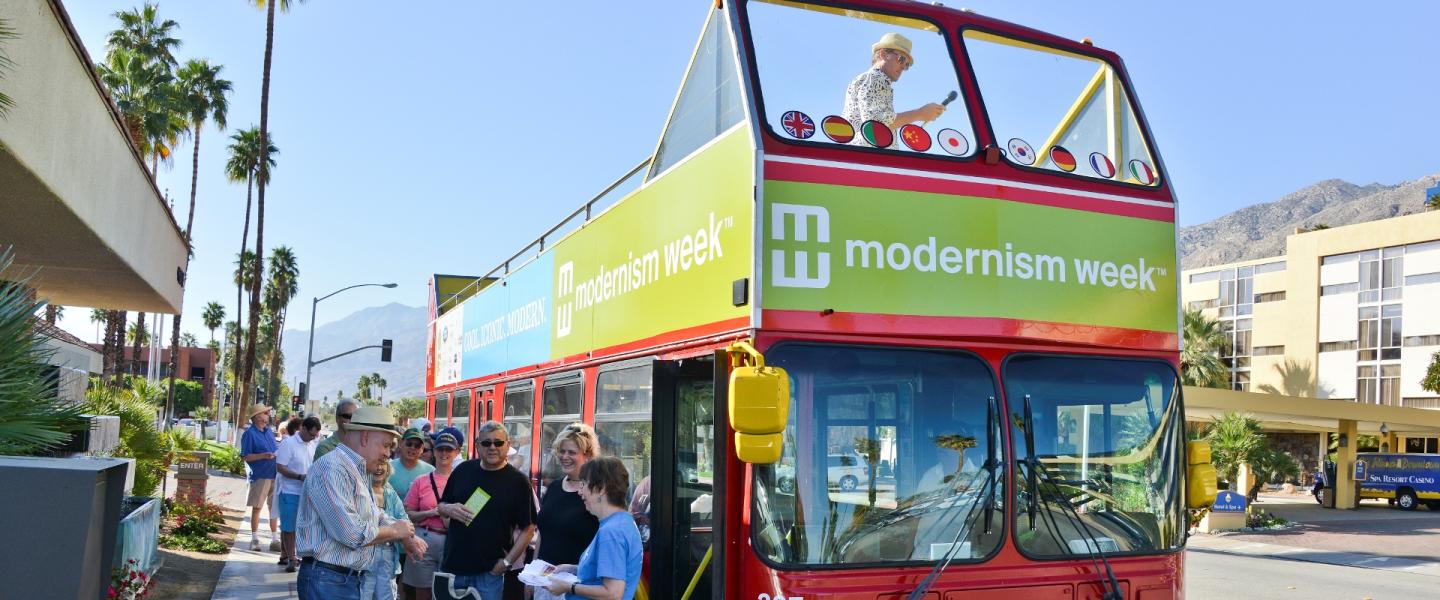 The moment the clock ticks over to the new year, a familiar rush of excitement permeates Greater Palm Springs. People of all ages begin flocking to the Trina Turk and Wil Stiles boutiques or combing the thrift and vintage store racks looking for retro cocktail dresses, patterned suits and Bakelite bracelets. Famous architectural homes begin to emit a certain sparkle, spiffed into submission by proud owners, and double decker buses are revving their motors. A core of loyal volunteers ready themselves for the month ahead with preparation for Modernism Week in full swing.

Modernism Week is one of the destination's most notable events, attended by throngs of midcentury modern aficionados from around the world. The annual celebration of midcentury modern design, architecture, art and culture was originally centered around a core Modernism Show & Sale but has since exponentially grown to include tours of iconic homes, architectural walks, a world-class talk & film series, classic cars, garden tours, a vintage travel trailer exhibition and much more.

With nearly 300 events, there's plenty to see and do during this 11-day celebration. Don't miss out: here's your Modernism 101 guide to the midcentury event of the 2017 season!
CAMP
350 Palm Canyon Dr., Palm Springs
Perhaps one of the most important places during Modernism Week, CAMP acts as the hub of all midcentury modern activity. As a community and meeting place as well as headquarters for all tours and events, CAMP is your central location to meet, shop, dine, learn and relax. In 2017, CAMP will feature stimulating programs and opportunities to meet authors, designers and other industry luminaries. Makerville, a creative haven for artists, will also offer Think and Drink cocktail happy hour events titled "Modernism with a Twist" at CAMP. Newcomers, this is your go-to spot to ask questions, purchase tickets and score cool Modernism Week merchandise.
17th ANNUAL MODERNISM SHOW AND SALE
Produced by Dolphin Productions
February 17-20, Palm Springs Convention Center
Looking for a rare Herman Miller chair, an elusive Russel Wright dinner plate or perhaps a geometric-shaped atomic brooch? Here, you'll find a modernist's treasure chest of more than 85 premier national and international decorative and fine arts dealers with items representing all design movements of the 20th century and select 21st century. Each year, thousands of collectors and design enthusiasts flock to the Modernism Show & Sale in search of treasures from the midcentury modern era, making it the most well attended event of Modernism Week.
New dealers exhibiting at the Show in 2017 include Arroyo Artifacts of Pasadena (specializing in midcentury furniture and decorative arts); Den Mobler of LA (specializing in highly sought after midcentury modern furniture by Scandinavian and American designers including Jens Risom, Hans Olsen, Hans Wegner, George Nelson, Milo Baughman, Harry Bertoia, Charles and Ray Eames and many more); Dennis George Crow of London and Los Angeles (featuring historic photography, art and antiquities, including original midcentury Hollywood Rat Pack photography); Edward T. Pollock Fine Arts of Brunswick, Maine (featuring fine prints, drawings and other works on paper of the 20th century), Pietra Gallery of Mexico City (offering unique lighting, furniture, and sculpture designed by contemporary artists and utilizing rare fossils and minerals); Sideshow Interiors of London, UK (offering an eclectic mix of vintage furniture, lighting and objects); and Studio 360 of Chico, CA (featuring midcentury modern furniture, fine art and decorative accessories).
Hennessey + Ingalls, the largest art, architecture and design bookstore in the western United States, returns as the show's official bookseller. In addition, the popular event will feature a series of compelling free talks, an exhibition on the influence of plastic on design and a video presentation on the significance of the iconic chair designs of Charles and Ray Eames.
MODERNISM WEEK SHOW HOUSE 2017: THE CHRISTOPHER KENNEDY COMPOUND
Named by "The Hollywood Reporter" as the "#1 Must-See Event of Modernism Week," designer Christopher Kennedy brings together 20 of the nation's most prominent tastemakers to create unique rooms in this showcase house.  In an exciting twist, Kennedy is partnering with social media star Kelly Golightly to renovate her 6,500- square-foot home in the spectacular Andreas Hills area of Palm Springs. Kelly runs a lifestyle guide for modern-day Audrey Hepburns and serves as the project's muse and client. Many influential bloggers/designers will also be creating rooms at the Show House, dubbed Villa Golightly. Daily tours of the Christopher Kennedy Compound ($40) begin on Sunday, February 19.
There are several signature events at the Modernism Week Show House this year. On Friday, February 17, an event limited to only 50 people called "Finishing Touches First Look: The Christopher Kennedy Compound" will allow the lucky attendees to mingle with the elite Tastemakers as they put the finishing touches on their rooms. The event runs from 5:30 - 7:30 p.m. and is priced at $225. Champagne and light hors d'oeuvres will be served.
On Saturday, February 18, two Red Carpet Galas will take place at 6 p.m. and 7 p.m. At the event, attendees will join television stars and leaders of the international design and building community to mingle among the featured celebrity tastemakers and learn firsthand how their visions for the home came to life. The evening will include cocktails, tastings and live music. Tickets are priced at $275 and $375. Following the Red Carpet Galas will be a swanky Starlight After Party, from 10:30 p.m. – to 12:30 a.m. The Red Carpet Gala will be over, but the cool cats in Palm Springs will just be getting the party started. Come sip cocktails around the pool and take in the sultry sounds of jazz under the starry Palm Springs sky. Tickets are $150. 
TOURS GALORE
Greater Palm Springs is a mother lode of midcentury modernist architecture and design. Although many architects are known for their work in the area and featured in the overall event lineup, 2017 will shine a special spotlight on John Lautner. Many of the valley's gems, whether private residences or commercial buildings, still stand in all their original glory or have been renovated with an eye toward preserving authenticity and integrity. During Modernism Week, there is a large roster of tours that include bus tours, walking tours of historic downtown Palm Springs and individual home and neighborhood tours. New this year are is an exclusive "Behind the Gates" tour in Indian Wells, the Sunny Cycle Electric Bike Neighborhood Tour and a tour of two architectural homes, one based on a never-constructed plan by late midcentury modern architect Al Beadle, and the other by esteemed Palm Springs architect Lance O'Donnell.  These newly constructed homes exemplify the very best of midcentury and contemporary modern architecture in Palm Springs.
TALKS AND FILMS
World-class talks and films provide a key educational and entertainment component to Modernism Week programming. Held in various locations such as the Annenberg Theater and at CAMP, they offer insight into the Modernism aesthetic and its players. New in 2017 is a VIP Lecture and Film Pass priced at $495, which entitles the pass holder VIP access to more than 30 lectures and films scheduled at the Annenberg Theater and the Camelot Theaters.
In addition to the individual talks, presentations and films are three daily packages including boxed lunch: 'Mexico City Modern Monday Package' (February 20), 'Friday at the Annenberg with Millard Sheets and Claremont Modern Package' (February 24) and 'Saturday at the Annenberg Package with Four Iconic Houses that Reconsidered Residential Architecture' (February 25).
Also included are three premium priced special presentations: 'Charles Phoenix: Fins, Flair & Futurism – Live Comedy Show Performance' on Saturday, February 18; 'Alexander Girard/Herman Miller' on Monday, February 20; and 'Beyond Poolside Gossip with the High Life: Slim Aarons on Thursday, February 23.
All talks and films are also available for purchase separately.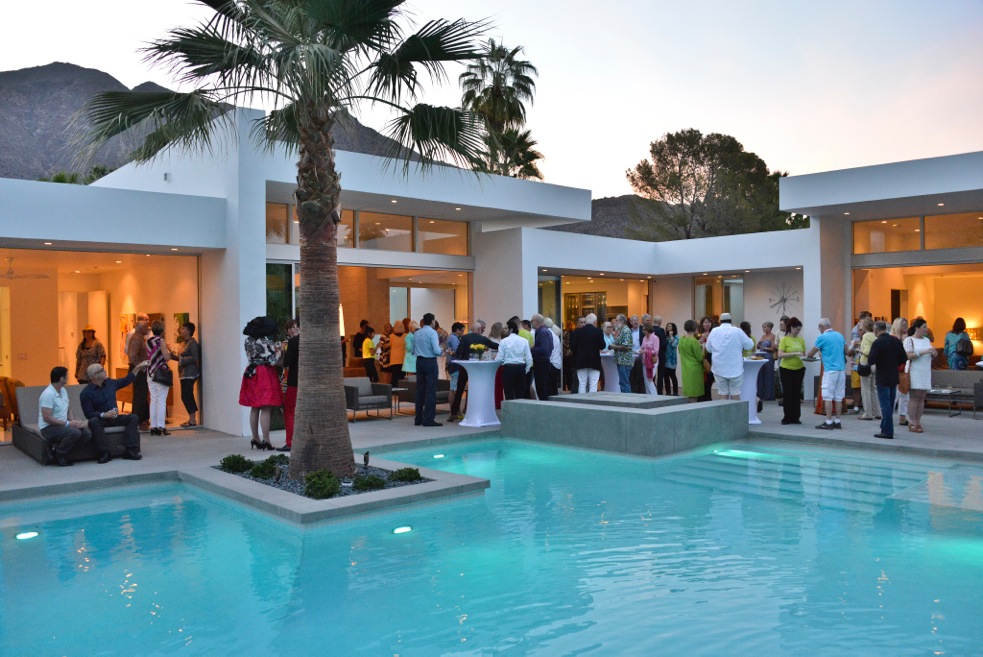 GREAT PARTIES
A signature offering of Modernism Week is the chance to mix, mingle and swill excellent martinis with your fellow modern maniacs in a variety of world-class locations. For a price, you can pick your poison, place and pleasure from the following events:
Modernism Week Opening Night Party
February 16, 7 p.m. ($150)
This chic, red carpet affair celebrates the high style and glamour of James Bond a la "Diamonds are Forever." Craft the perfect heist as Modernism Week debuts in its newest event location, TheBank Palm Springs, a historic midcentury modern building built in 1955 by Desert Modernist architect E. Stewart Williams. Enjoy the classic revelry of Palm Springs, with homage to its midcentury modern design heritage, a nod to its glamorous legacy and a lively celebration with a license to thrill.
Preview Party at the Palm Springs Modernism Show & Sale
February 17, 6 - 9 p.m. ($75 in advance or $95 at the door)
Celebrate the opening of the 17th Annual Modernism Show & Sale at the biggest party of Modernism Week. Join friends and fellow design enthusiasts at this high-spirited reception to get a sneak peak of the Modernism Show & Sale before it opens to the general public on Saturday. Be the first to see and shop from this world-class collection of 85 premier national and international dealers with exquisite furniture, decorative and fine arts reflecting all design movements of the 20th century, especially emphasizing midcentury modern. Includes a wine and hors d'oeuvres reception, great live musical entertainment, valet parking and free return daily admission to the Modernism Show & Sale through the weekend.
'Living the Modern' Home Tour and Cocktail Reception
February 19, 5 - 7 p.m. ($100)
Enjoy martinis, champagne, wine and appetizers as you tour a stunning modern contemporary residence, watch the sunset and support a great cause. This private residence in the famed Movie Colony, which has not been open to the public previously, blends fashion, art and the environment, and embodies the essence of our indoor/outdoor elegant, yet casual, desert resort lifestyle. A notable graffiti artist will be on site creating artwork on an exterior wall of the house.
Mizell Senior Center's Martinis on the Mountain Party
February 19- 20, 6 - 9 p.m.
Step back in time at the historic O'Donnell House, nestled high above Palm Springs with magnificent views of the valley below.  Sip your favorite libation while enjoying live entertainment and dancing featuring the sounds of Frank Sinatra and the Rat Pack.
FREE EVENTS
There are many compelling Modernism Week programs that are entirely free of cost. The Palm Springs Public Library will host the exhibition 'E. Stewart Williams, Architect: A Palm Springs Modern Master' from February 16 -25.   Famed architect John Lautner will receive a star dedication on February 17 in front of the Palm Springs Art Museum Architecture and Design Center. 'Lost, Saved & Endangered: Modernist Architecture in Palm Springs' returns again to the Palm Springs Woman's Club on February 22 from 9 - 10:30 a.m. The talk, 'The Alexanders: A Desert Legacy,' will also be held at the Palm Springs Woman's Club on February 22 from 1 - 2 p.m. There will be a free tour of St. Theresa Catholic Church Main Sanctuary on February 25.
LANDSCAPE AND OUTDOOR LIVING SERIES
No longer the forgotten exterior backdrop to fabulous midcentury buildings, the topic of landscaping has blossomed into a new series of exciting events during Modernism Week. Highlights include:
Ask a Landscape Designer
February 18 ($30)
Bring your landscape design dilemmas to Modernism Week and get 30 minutes of advice from a professional landscape designer.
Creating That Perfect Modern Indoor-Outdoor Sanctuary
February 20, 1 - 2 p.m. ($10)
As an organic landscape and interior designer, Troy Bankord's midcentury home and garden designs have been featured in publications, on architectural tours and on television for 30 years. Join Sunset Magazine's 'King of Concrete Block' & Phoenix Home and Garden Magazine's 'Master of the Southwest' for an exploration of how his principles of indoor-outdoor connectivity, layering, circular energy and balance invite the warmth of peace into the orderly tenets of our modern homes and lifestyles.
Horticultural Pioneers of Desert Flora and the Interplay of Architecture and Landscape
February 22, 10 - 11 a.m. ($10)
While modern architecture and design was flourishing, so was a more minimalist approach to landscaping. Come learn about the horticultural pioneers who dreamt of a more harmonious interaction between landscape and architecture. Hear stories from their plant hunting adventures, learn about the plants they introduced and the designs they helped inspire.
LAST BUT NOT LEAST
A fun and funky vintage trailer show will take place at Modernism Week's official host hotel, The Hilton Palm Springs Resort, during the final weekend, February 25-26.
The Modernism Week Vintage Car Show will be held on February 20 from 12 p.m. - 3 p.m. at the Palm Springs Convention Center.  View more than 50 vintage automobiles on display at the front entrance of the Palm Springs Convention Center on the last day of the Modernism Show & Sale. Enjoy classic cars from the 1930s through 1980s at this casual and entertaining afternoon event. Chat with the car owners and share your passion for vintage automobiles with other enthusiasts.
And don't miss the Modernism Week Yard Sale on February 26 from 8 a.m.- 12 p.m. at the H3K parking lot at 501 S Palm Canyon Drive in Palm Springs. This popular sale features vendors who will offer retro treasures for sale – many at very low prices.
Full information on ticket prices, ticket purchasing and dates and times for all individual events can be found online at modernismweek.com. We suggest you get your tickets soon as they sell out quickly!
Photos courtesy of David A. Lee and Daniel Chavkin