Like any distinctive resort destination, leisure is the main agenda in Indian Wells, and visitors do it well here. There's nothing like taking the vacation life easy—whether sunbathing at a resort pool, shopping for luxury goods or teeing off with the iconic desert backdrop—in a city that's just as soulful as it is pretty. Among the excellent attractions and activities in Indian Wells, these five "musts" have put the desert oasis on the map as an unforgettable vacation spot in the Coachella Valley.
If there's any reason to strike up an interest in golf or make your rounds as an avid golfer, there's no better place than Indian Wells. The oasis city has become synonymous with the recreation thanks to the award-winning and famed Indian Wells Golf Resort, the mother of all courses with 36 holes, a terrific clubhouse and impeccable landscapes. Golfers rejoice in how remarkable the John Fought-designed golf course is, and it's been visited by notable players across the globe. Best of all? Indian Wells Golf Resort is framed by breathtaking views of the San Jacinto, Santa Rosa and San Bernardino mountain ranges.
Thanks to Indian Wells Tennis Garden, the second largest tennis stadium in the world, Indian Wells has become the stomping ground for tennis aficionados, world renowned tennis players and their die-hard celebrity fans thanks to the annual BNP Paribas tennis tournament. With world-class facilities and striking, mountain views, the Indian Wells Tennis Garden is also home to the buzzing Indian Wells Art Festival, which features more than 200 artists and their contemporary and fine art work, and several top-billed concerts throughout the year.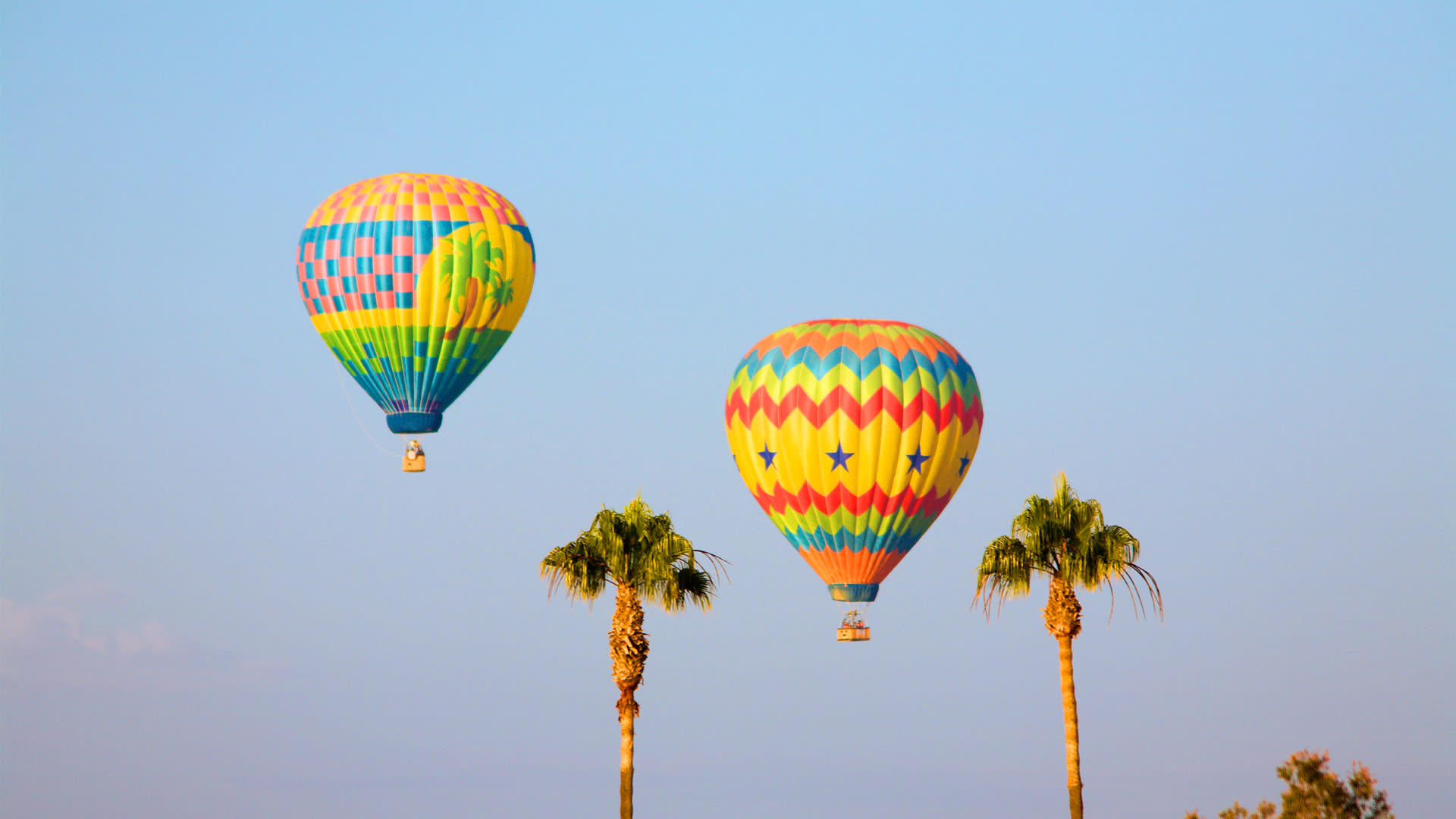 With Fantasy Balloon Flights, visitors reach great heights (literally!) with one of Indian Wells' most popular activities. Covering 10-30 miles of the vast desert, the balloon ride lasts approximately an hour, offering a dramatic, birds-eye view of cities, farms, resorts and the natural desert landscape. While in the sky, champagne is served and photo opps are destined to get tons of love on social media. The balloon ride is perfect for families, friends and couples, and it's been known to be an excellent place for a proposal (hint hint).
According to the WWF, zoos and similar facilities bring in $600 billion revenue worldwide that help fund conservation efforts, proving they're an important part of responsible wildlife tourism. What The Living Desert does for desert conservation through preservation and education is admiral, and it's the only one of its kind in the area… and who doesn't love a zoo? The only zoo and botanical gardens in the desert is home to 450 wild animals, animal shows, exhibits, hiking trails and heaps more, providing plenty of entertainment and education for all ages, while being truly committed to wildlife preservation and education.
Thanks to Indian Wells Village, you may be the next member of Shopaholics Anonymous. Right in the heart of Indian Wells, The Village features more than 30 excellent boutiques, restaurants and galleries to make for an exciting afternoon. Whether treating themselves to a manicure or browsing home goods, visitors delight in the eclectic range of businesses. The Village is also home to some of Indian Wells' most notable restaurants, including Don Diego's and Eureka, a hip spot serving up comfort foods and craft beers, so come hungry.
Spas of Indian Wells
There's nothing like relaxing in a luxury resort's pampering spa for blissful treatments and total relaxation. Indian Wells is home to some of the destination's most wonderful spas where it's all about decompressing and getting beautified. The fabulous Agua Serena Spa at Hyatt Regency Resort includes a tranquil, outdoor relaxation area with sublime, intoxicating views; Miramonte Resort's Well Spa is a lush oasis with an actual well and saltwater pool; and Spa Esmeralda at Renaissance Esmeralda Resort & Spa, Indian Wells is all about self-renewal and indulgent features like outdoor cabanas and waterfalls.