There's a reason why people love exploring and visiting Greater Palm Springs during the winter season: the weather in the oasis is unlike anywhere else. Filled with abundant sunshine and clear, blue skies, this winter wonderland offers plenty of cool outdoor adventures that are not to be missed!
Experience it for yourself with this round-up of must-try winter activities in Greater Palm Springs.
Palm Springs Aerial Tramway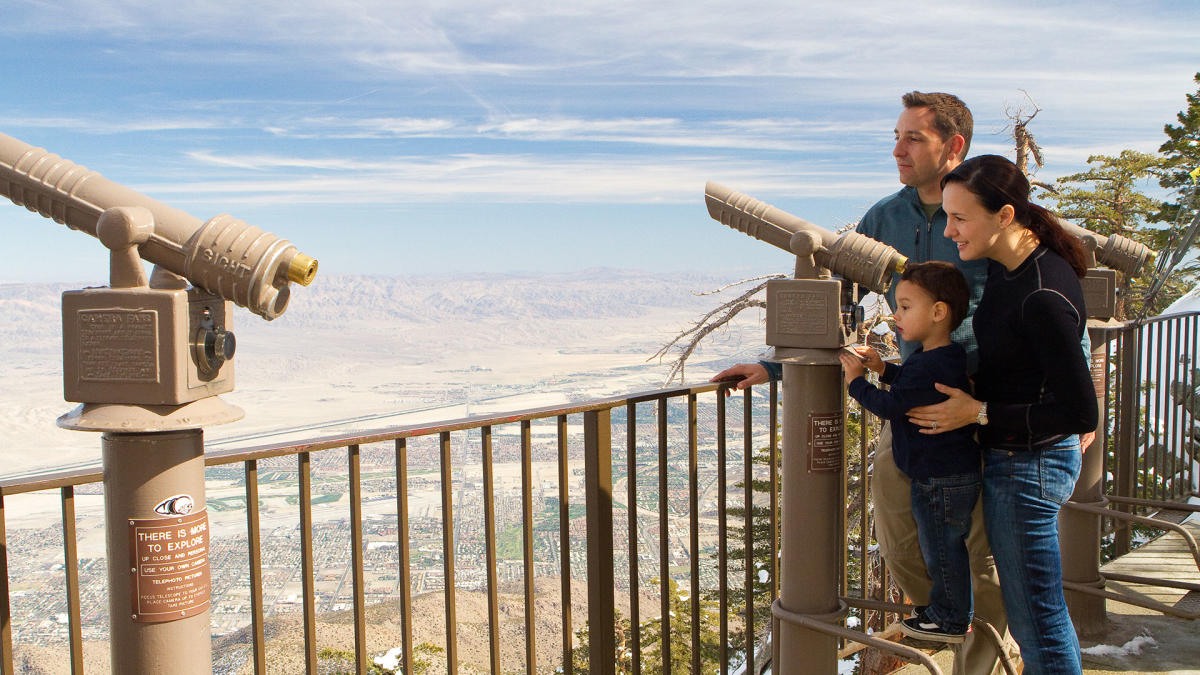 Temps at the top of the tram can drop to about 40 degrees cooler than weather in the Coachella Valley, giving visitors to the Palm Springs Aerial Tramway a strong chance of encountering snow on a winter visit. No winter trip to the oasis is complete without visiting this popular attraction. Here, visitors can enjoy a day of beautiful hiking trails in pristine wilderness or a full-on snow adventure at 8,516 feet above sea level.
The top of the tram has plenty of activities to choose from. Visitors may check out the observation deck, go on a self-guided nature walk and enjoy over 50 miles of hiking trails. If snowing, the Winter Adventure Center offers skis, poles, snowshoes and boots for visitors to rent, making your snow day that much more exciting!
Horseback Riding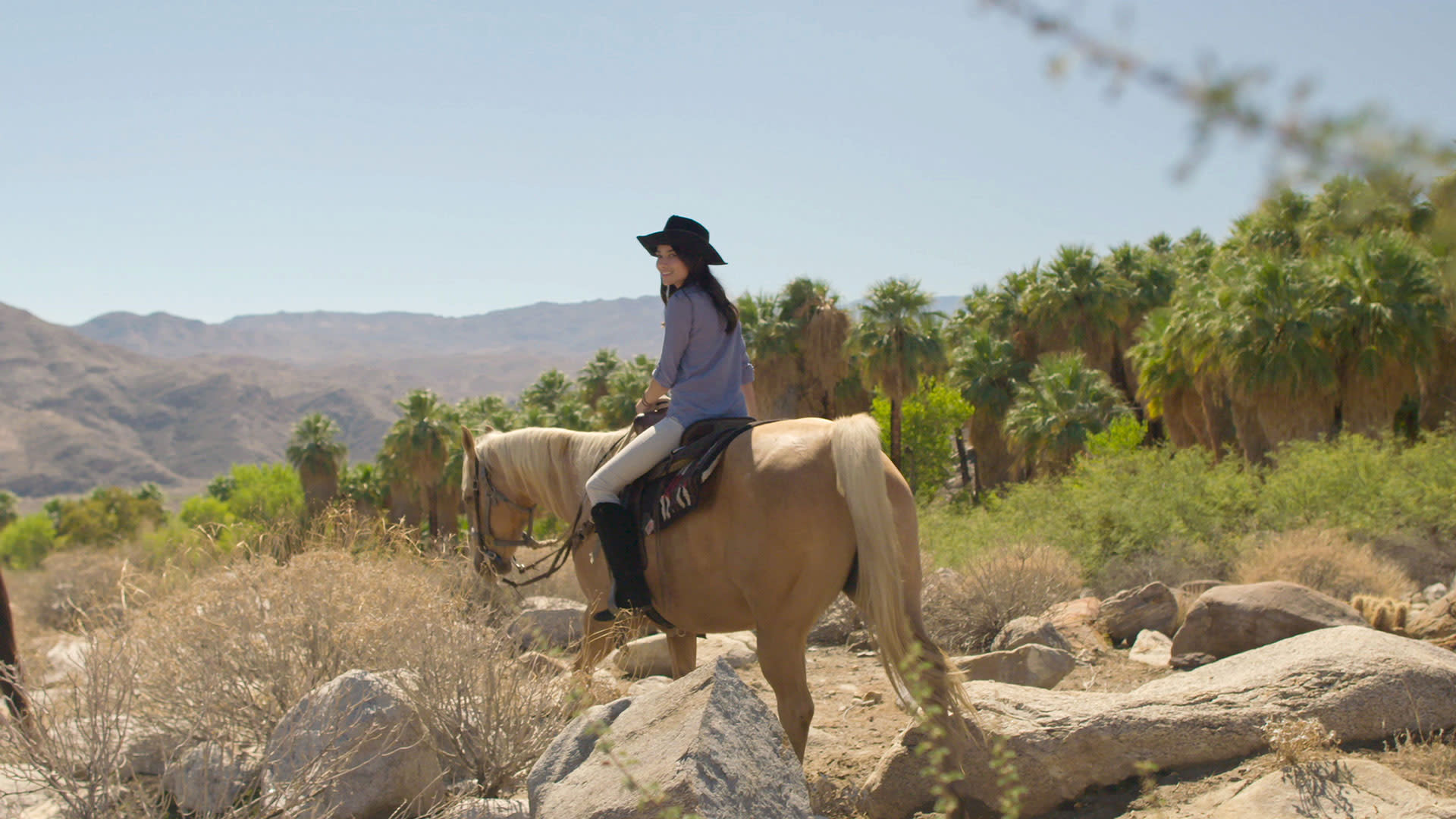 Another way to enjoy winter in the oasis is by taking in the breathtaking sights on horseback. Located in Palm Springs near the Indian Canyons, Smoke Tree Stables offers custom guided rides by the hour, as well as full- day adventures on over 150 miles of open land. A family-owned and operated business, Smoke Tree Stables is also available for group rides and offers an adventure for the entire family.
Hiking
While other parts of the country may be experiencing extremely chilly and windy conditions that may prevent you from exploring the outdoors, wintertime in Greater Palm Springs is the perfect time to hit the trails, enjoy the mountain views and experience some of the best hikes the desert has to offer.
North and South Lykken Trails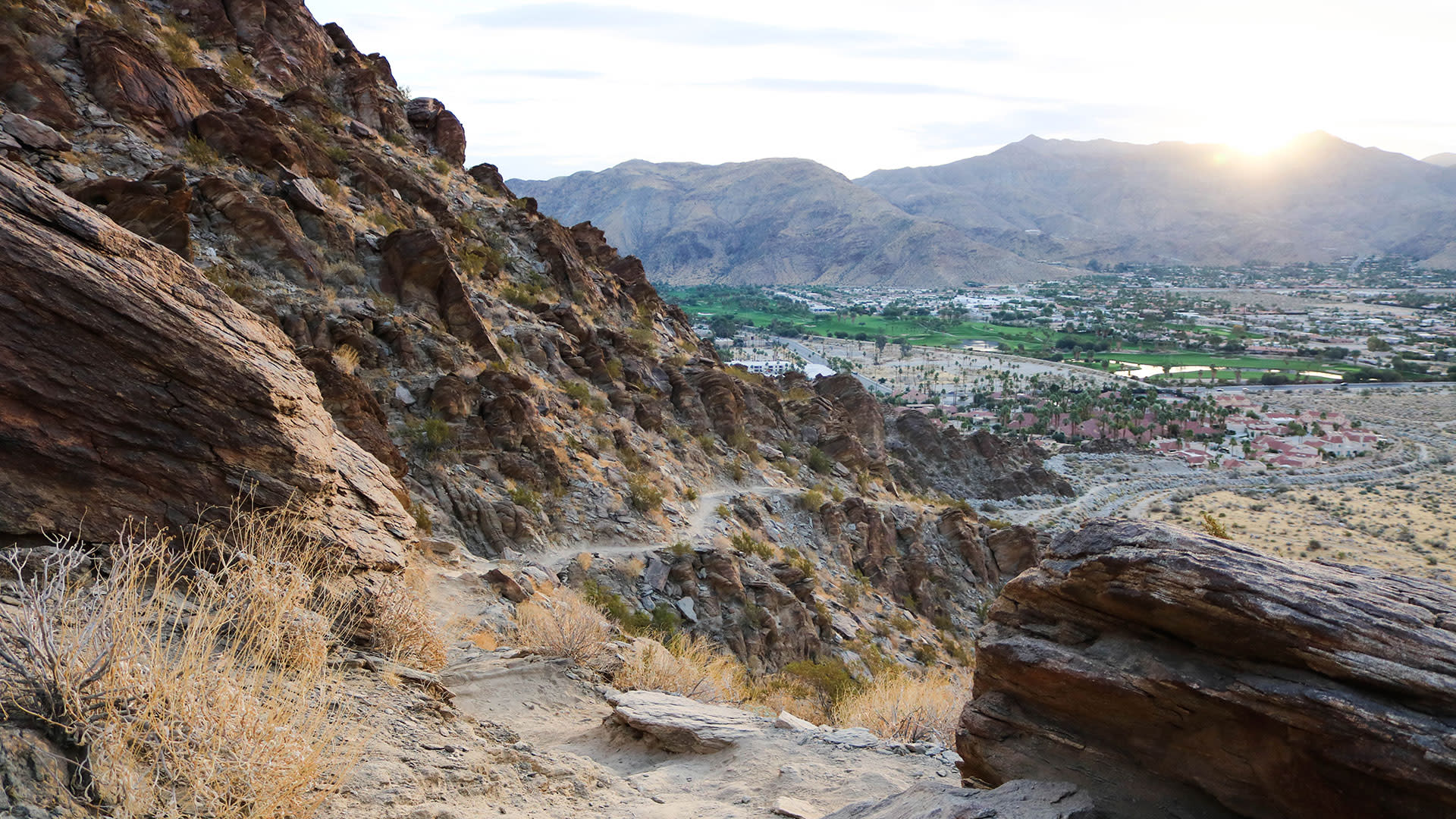 A short drive from downtown Palm Springs, both the North and South Lykken Trails are popular picks thanks to their relative ease and sweeping desert views. North Lykken offers fantastic views of Tahquitz Canyon and the Palm Springs area, as well as a picnic area for a short break before going back down.
South Lykken Trail is about three and a half miles roundtrip, with both north and south starting points. Four-legged companions are welcome on this dog-friendly Palm Springs hike, and don't forget a picnic to enjoy at the top of the trail. Speaking of the top, you'll enjoy amazing views of the surrounding region, as well as parts of the Indian Canyons.
Never too crowded and always full of friendly faces coming up and down the pathways, both trails are moderate yet steady hikes that are definitely worth your while.
Bump-n-Grind
Known for its catchy name, yet respected greatly for its strenuous trails, the Bump-n-Grind in Palm Desert offers visitors two different hike options upon reaching the mountain. The trail to the left is a bit tougher and is recommended for experienced hikers, while the trail to the right is more comfortable for beginners and moderately-experienced hikers. No matter the trail you choose though, both ways lead you to scenic views of the Palm Desert and Rancho Mirage area. The access point for the Bump-n-Grind is located on Painters Path behind the Desert Crossing Shopping Center.
Homestead Trail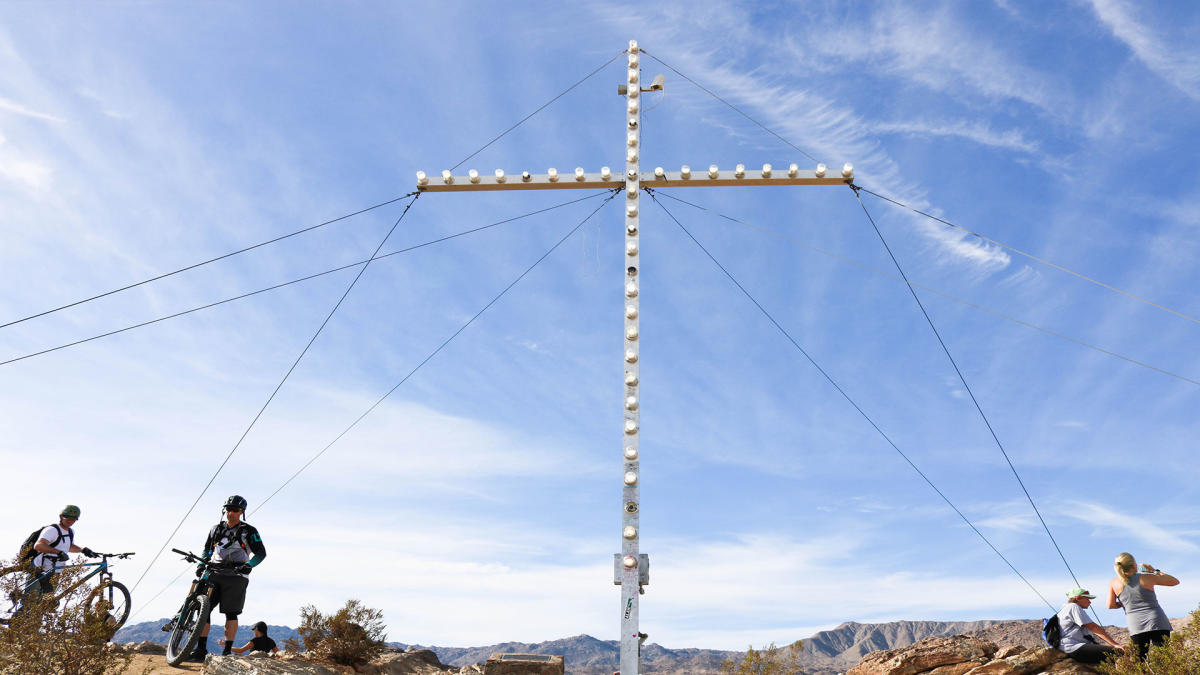 A popular hike for many in the region, the hike to the Palm Desert Cross is an uphill, three-mile long roundtrip experience that is a must-visit while in Greater Palm Springs. Upon reaching the top of the trail, hikers are greeted by a gorgeous large metal cross that is impressive to see during the day, as well as beautifully lit at night. While many like to take on the hike just to see the cross itself, some like to meditate while there or take in the views of Stone Eagle Golf Course nearby.
To access the trail, visitors must drive south towards Hwy 74, passing El Paseo Drive in Palm Desert and making a right on Thrush Street. From there, you will need to keep driving towards the mountains until you cross over a small bridge, and then park anywhere along the wash. Visitors of all types are welcome to go on this trail, including children, dogs and those wishing to travel by bike instead.
Tour the Outdoors
Big Wheel Tours
With Big Wheel Tours, adventure seekers can experience the Greater Palm Springs wilderness and backcountry by hike, jeep or bike! All guided by highly-trained naturalists that are full of geographical knowledge about the Coachella Valley, tours can vary in size and can be tailored to each groups' requests. Those who prefer to explore by vehicle may book a jeep or van tour of Joshua Tree National Park, as well as book a tour of the San Andreas Fault. To get a true sense of sightseeing, bicycle riders are welcome to book a custom Palm Springs bike tour, while hikers may book a Wildlands Preserve Nature Tour or custom hiking tour.
Desert Adventures
Truly special and unique to the Coachella Valley are the wild, yet informative outdoor excursions offered exclusively by Desert Adventures. Hop aboard the big red Jeep and prepare to experience the winter sun kissed desert in a whole new way! From receiving group hiking tours of some of the valley's most epic landscapes and visiting the historic lands of the Agua Caliente Cahuilla Indians, to exploring Mecca Hills Painted Canyon and the San Andreas Fault, there are tours available for all types of interests. Also available through Desert Adventures are Greater Palm Springs sightseeing tours and special event packages.
Play Some FootGolf
If you enjoy playing soccer or golf, then you'll love playing FootGolf (a combo of both sports)! A well-known activity in the Coachella Valley, particularly because Greater Palm Springs is the home for the American FootGolf League (AFGL), the game makes for a great family activity and is open to players of all ages. Plus, you don't need to be an avid soccer player or golfer to participate. The rules of FootGolf are very similar to golf, with the objective of the game being to kick a regulation #5 soccer ball into a series of 21-inch diameter cups on a traditional golf course, using the fewest "strokes" possible. Typically, the game can last anywhere from 90 minutes to two hours and is played on a regulation 18-hole golf course.
Those interested in playing can catch a game at Desert Willow Golf Resort, which serves as the home course for the AFGL and also hosts its own FootGolf League throughout the year. Other courses available for games are The Lights at Indio Golf Course and Tahquitz Creek Golf Resort. To play a game or book tee times, it is best to call ahead. Golf apparel is also recommended when playing, as well as having indoor or turf soccer shoes.
For more wintertime fun this season, check out outdoor recreation in Greater Palm Springs.