Looking to hit the local bar scene with friends or just in need of a drink or two to unwind and unplug? Greater Palm Springs has exactly what you need when it comes to cool brewery spots, lively cocktail lounges, and super swanky bar locations to try this season.
Check out all the exciting spirited drinks the oasis has to offer by sipping the night (or day) away at a variety of new tasteful bar establishments, as well as a number of new-ish and recently opened boozy destinations.
Libation Room
Step inside the Libation Room for a roaring good time at this 1920s-themed speakeasy on El Paseo in Palm Desert. A sexy, vintage mood is what you can expect to find here, as well as carefully curated cocktails on the menu and good times on the dance floor. Enjoy a night out on the town and sip on the Libationist Southside (Tanqueray Gin, fresh lemon and lime juice, garnished with mint sprig), as well as The Betty, which is a tequila-based cocktail that offers a bit of a spicy kick to it. Stop by for the night and experience just how this modern-day speakeasy is bringing back libation culture to all of Greater Palm Springs. Cheers to that!
The Libation Room is located at 73750 El Paseo, No. 101, Palm Desert.
PAULBAR
Expect the unexpected at PAULBAR in Palm Springs, which has quickly made a name for itself in the region since its recent opening. Named after longtime New York City-based bartender and owner Paul O'Halloran, PAULBAR is where the East Coast and the West Coast meet in the oasis. The dimly lit lounge is considered somewhat of a speakeasy for its unassuming presence within Sosa's Plaza on Gene Autry Trail. Find classic drinks like Manhattans and margaritas, or go for the locale's boozy frozen Sidecars–a favorite for many patrons. In addition to this, the sophisticated neighborhood bar serves beer on tap and a fine wine list. PAULBAR also provides daily happy hour specials from 4:00 p.m. to 7:15 p.m., and an appetizing food menu as well.
Paul Bar/Food is located at 3700 E. Vista Chino, Palm Springs.
Dead or Alive Bar
Located next to El Mirasol Cocina Mexicana, Dead or Alive Bar in Palm Springs is a true hidden gem in the oasis. This ultra-cool local beer and wine bar offers guests an ever-changing selection of craft beer and hand-picked wines to choose from. The low-key tasting room is considered a unique sort of hide-away from other high-traffic bars and watering holes in the area and is a favorite among locals because of what it's bringing to the table and to the region. Wine aficionados should sample the bar's From the Tank Chardonnay, which just might be the best-tasting Chardonnay you'll ever have, while booze lovers can order the Boochcraft Kombucha for a fun take on the traditional fermented tea drink. Or, if you're feeling adventurous for the night, simply come in and let the bartender guide you through their current menu on hand, all while enjoying the bar's intimate and relaxed space.
Dead or Alive Bar is located at 150 East Palm Canyon Drive, Palm Springs. 
The Pink Cabana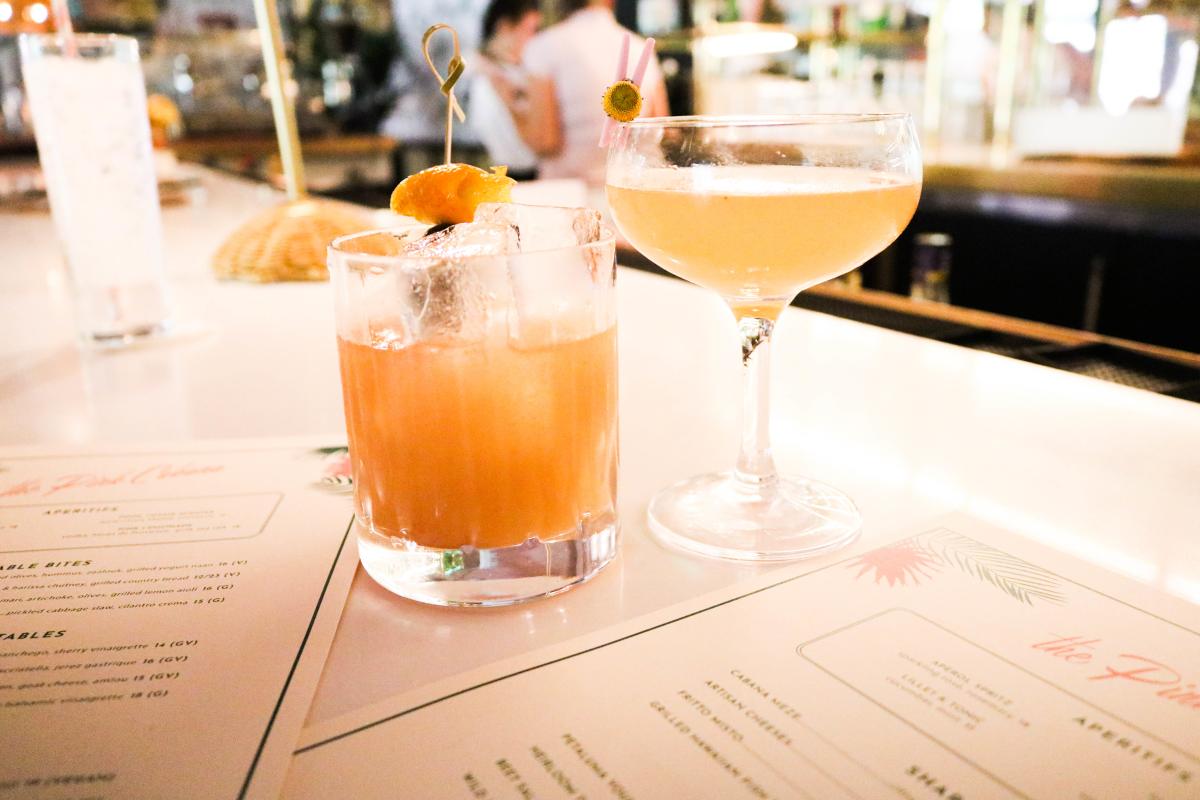 The Pink Cabana within the Sands Hotel & Spa in Indian Wells is one of those locations that will impress you from start to finish. Everything, from its trendy décor to its Mediterranean-inspired cuisine and specially-crafted drinks, is exactly what has made this establishment a popular one among tourists and locals alike. Visit the Pink Cabana's gold-accented bar for seasonal cocktails, specialty aperitifs and some of the prettiest drinks you'll ever find in the town. For a one-of-a-kind palette experience, try the Pushing Buttons (Pamplemousse, vodka, amaro, fresh lime juice, saffron, and a buzz button). This drink is pictured above and contains an edible flower– the buzz button–which provides a surprising tingly sensation upon biting into it. If ordering it, it's recommended to eat the flower first, prior to drinking your cocktail. Other fun concoctions include the Pink Lemonade (vodka, herbs de Provence, fresh lemon juice and pink sea salt) and the 50 Shades of Pink (masala & cilantro infused brandy, mezcal, ginger, and berries). More traditional drinkers should opt for the Fig Orange Old Fashioned, which is also pictured above and includes Japanese whiskey, orange fig marmalade, and bitters.
The Pink Cabana is located at 44-985 Province Way, Indian Wells.
Tommy Bahama Marlin Bar & Grill
Island-inspired drinks await you at the recently-opened Tommy Bahama Marlin Bar & Grill in downtown Palm Springs. The indoor-outdoor restaurant and bar is attached to the brand's newly-opened retail shop and is one of the best places to relax under the palms in Greater Palm Springs. Taste what this tropical haven has in store by savoring signature cocktails like the Cucumber Smash (Hendrick's Gin, St-Germain Elderflower, lime, and muddled cucumber) and the Bahia Sangria (Brandy, red wine, pomegranate, oranges, green apples, and lemons). More delicious options to order include the Coconut Cloud Martini (Ron Matusalem Platino, Stoli Vanil, Cruzan Coconut and cream of coconut) and the Pineapple Paradiso (Bacardi Pineapple, St-Germain Elderflower, 99 Bananas, scratch sour and fresh pineapple).
Tommy Bahama Marlin Bar & Grill is located at 111 N. Palm Canyon Drive, Suite 150, Palm Springs.
La Quinta Brewing Co., Palm Springs
A local favorite in the oasis, La Quinta Brewing Co. has recently opened up an additional taproom in downtown Palm Springs. Known for its authentic and laid-back style, the award-winning brewery is serving up must-try craft beer on tap. Come into La Quinta Brewing Co. Palm Springs to quench your thirst by relishing in the very appropriately named Poolside Blonde (which is an everyday crowder pleaser), the Heatwave Amber Ale (which offers a toasty malt character with a hint of caramel) and the Koffi Porter (made with locally roasted coffee from Koffi). With seating located inside and outside on the covered patio, there is plenty of space for patrons to enjoy a cold one and try out a new, extraordinary brew.
La Quinta Brewing Co. Palm Springs is located at 301 N. Palm Canyon Dr., #100, Palm Springs.
Window Bar & High Bar, Kimpton Rowan
At the Kimpton Rowan in downtown Palm Springs, liquor seekers have a couple of bar destinations to choose from. Found on the lobby floor of the hotel, the stylish Window Bar is an inviting venue space that is ideal for those in need of a quick drink while in the area. Notable cocktails to choose from include the Desert Gin and Tonic (St. George Terroir Gin, Fever-Tree Indian Tonic, and desert-inspired ingredients) and the Highway 111 (bourbon, Demerara, roasted dates and bitters). Guests may also go up to the seventh floor to take in the hotel's rooftop pool views while also having a great time at the High Bar. So, whether you prefer lounging with drinks at the pool or chatting it up with friends at the bar, this chic location has a handful of impressive refreshments to take your pick from as well. Indulge in specialty drinks like the Stone Spritz (Grey Goose Vodka, Contratto Bianco, apricot and soda) and the Strawberry Freeze (rum or tequila, strawberry, lime, and lemon). Thirsty yet?
The Kimpton Rowan is located at 100 W. Tahquitz Canyon Way, Palm Springs.
For even more top-notch drinks in the oasis, check out these Secret Bars for Chilling Out and Drinking Up in Greater Palm Springs.