Greater Palm Springs is home to a diverse culinary scene that showcases the best of Californian cuisine with a unique twist. With new restaurants popping up, the dining scene offers an exciting opportunity to explore new tastes and flavors. From casual cafes to upscale eateries, there is something for every palate. Whether you're a foodie or just looking for a new dining experience, Greater Palm Springs has a lot to offer this Spring.
American Cuisine
Step back in time as you enter a diner-style restaurant, complete as a retro soda fountain. This menu features all your favorites, from burgers and fries to milkshakes and malts. Don't forget to try the chicken and waffles or their delicious pancakes. Whether you're looking for a quick bite or a leisurely meal with friends and family, Keedy's Fountain & Grill La Quinta is the perfect spot. Experience the nostalgia and vintage charm of a bygone 1950s era while enjoying delicious food and friendly service.
Information: Coming soon. 49890 Jefferson St Suite 108, Indio, CA 92201
 
Brunch 101 is a vibrant and trendy restaurant, specializing in breakfast and brunch fare with a creative twist. The menu offers a range of classic brunch favorites such as eggs Benedict, waffles, and pancakes, as well as more unique dishes like crab cake Benedict and churro French toast. The restaurant's chic and colorful decor provides a fun and welcoming atmosphere for diners to enjoy their meal, and the outdoor patio is a popular spot for weekend brunches. Brunch 101 also offers a bottomless mimosa special and a selection of craft cocktails to accompany your meal. Whether you're a local or visiting the area, Brunch 101 is a must-visit destination for a memorable and delicious brunch experience.
Information: Now open. 68718 E Palm Canyon Dr. STE 101, Cathedral City, CA 92234
 
The Hideout Kitchen + Bar, located in The Gardens on El Paseo, offers a unique twist on American cuisine and drinks. Their dining areas are open and inviting, providing a versatile and friendly atmosphere where you can enjoy a memorable dining experience. With all-day menus available, from breakfast to brunch, lunch to dinner, and after-work drinks, there's always something new and exciting to try at The Hideout. Whether you're looking for a quick bite or a leisurely meal, their flavors and inspirations are sure to tantalize your taste buds.
Information: Now open. 73595 El Paseo suite 2208, Palm Desert, CA 92260
 
At the end of El Paseo is a cantina dedicated to providing its patrons with innovative Southwestern cuisine that is based on rustic cooking and recipes from the south. The menu is renowned for its diversity and use of spices, particularly chile, whether red or green. Cowboy Cantina blends these chiles with traditional American dishes to create a unique fusion that is sure to delight guests. So, put on your boots and bring your appetites to Cowboy Cantina.
Information: Now open. 72620 El Paseo, Palm Desert, CA 92260
 
What was once a pop-up food vendor in Greater Palm Springs, The Heyday has its storefront in downtown Palm Springs. If you want a true taste of the local food scene, you have to give their menu a try. The ever-popular smash burgers, fried chicken sandwiches, wings, late-night fries, and fresh housemade salads make up the bold and delicious flavors that live up to their name. Pair your smash burger with their negroni or tom collins from the bar menu, or better yet — add some rich baked cookies (housemade by Colin) to your order. The Heyday is the one-stop for locals or anyone visiting who wants to try something unique and one of a kind.
Information: Now open. 1550 N Palm Canyon Dr, Palm Springs, CA 92262
Mexican Eateries
Sol Agave, where Mexican cuisine meets modern elegance. It's a celebration of traditional Mexican flavors and techniques, combined with a contemporary twist. From freshly made guacamole and ceviche to tender juicy meats and flavorful vegetarian options, every dish is carefully crafted using the freshest ingredients available. The tequila and mezcal selection is the perfect complement to any meal, and their expert mixologists are always on hand to create the perfect cocktail. Enjoy a romantic dinner for two or a festive night out with friends, Sol Agave is the perfect destination. Experience the vibrant energy of this restaurant, where every detail is designed to transport you to a modern Mexican paradise.
Information: Now open. 262 S Palm Canyon Dr, Palm Springs, CA 92262
 
Newly opened in La Quinta, El Patio is a colorful décor that brightens up the atmosphere of this tacos grille and cantina. El Patio offers a menu full of authentic Guadalajara-inspired dishes. A few house favorites to name are the Carne Asada plate, Shrimp Burger, and Chamarro Adobado. Also, with a wide margarita list with so many flavors — you really can't go wrong. On Monday to Friday, El Patio offers bottomless mimosas during their brunch hours 9 a.m. to 2 p.m. while you have your Chilaquiles and breakfast tacos. With the beautiful weather in Greater Palm Springs, there's no place like El Patio.
Information: ​Now open. 78370 CA-111, La Quinta, CA 92253
 
Mickey's Kitchen Mexican Cuisine
Mickey's Kitchen Mexican Cuisine is a family-owned and operated restaurant that brings the authentic flavors of Mexico to Palm Springs, California. From mouth-watering tacos and burritos to delicious enchiladas and fajitas, every dish at Mickey's Kitchen is made with care and attention to detail. The restaurant also offers a warm and inviting atmosphere that makes every guest feel right at home. In addition to their regular menu, there are daily specials and promotions, including happy hour deals and discounts for seniors and military personnel. Mickey's Kitchen Mexican Cuisine is the perfect destination for anyone looking for delicious food and warm hospitality. 
Information: ​Now open. 240 N Palm Canyon Dr, Palm Springs, CA 92262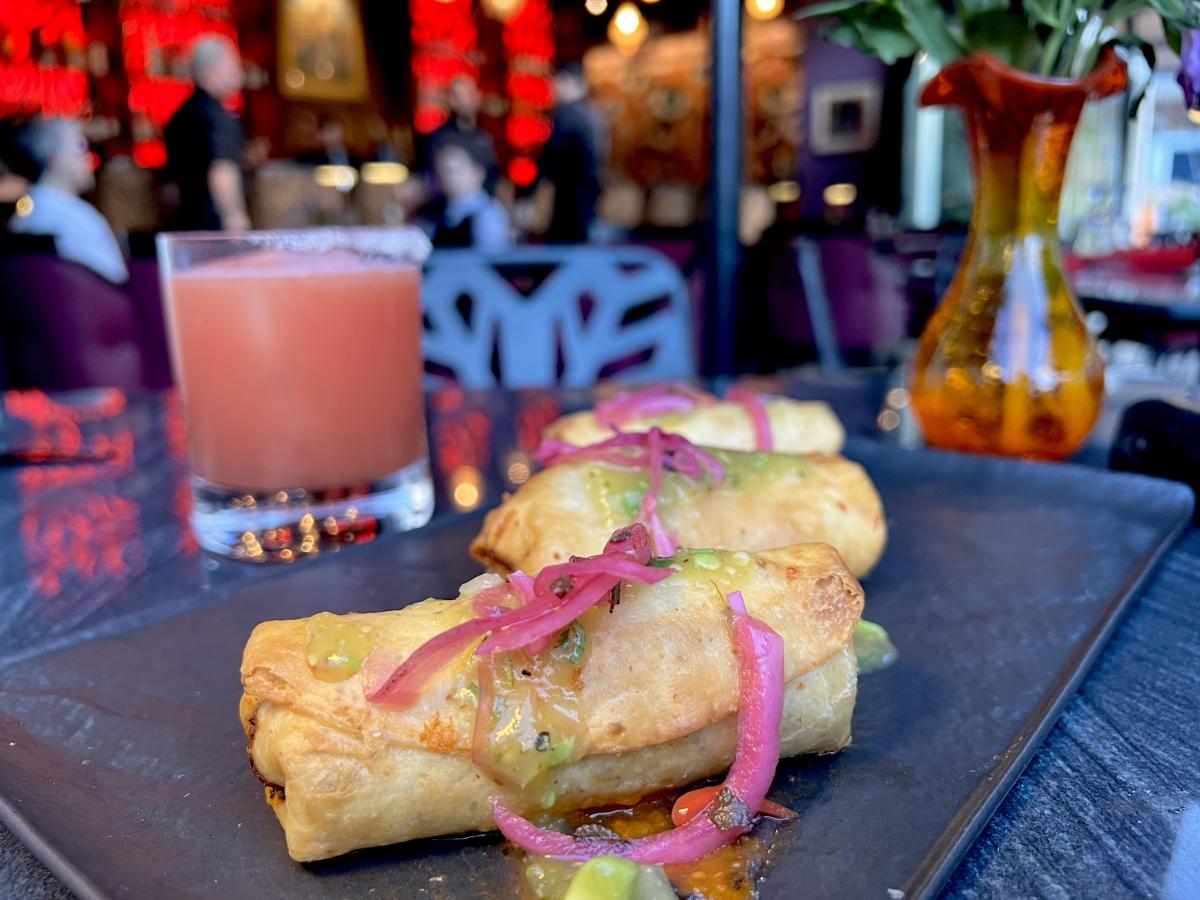 Liz and Mark Ostoich, the proprietors of FARM and Tac/Quila, have introduced another delightful culinary venture called Clandestino to Palm Springs. Nestled in the heart of downtown, near Museum Way and Palm Canyon (The Block) patrons can relish in delectable Mexican cuisine that is both refreshing and flavorful. The ambiance is lively and the cocktails are exceptional. The menu boasts inventive and inspired dishes.
Information: ​Now open. 175 N Palm Canyon Dr suite 160, Palm Springs, CA 92262
 
The latest addition to the strip in downtown Palm Springs is the Impala Bar & Grill, which is a brand-new bar, grill, and nightclub. The establishment boasts two patios that can accommodate up to 90 guests, a spacious dining room, and a large horseshoe bar. It also has six TV screens, including a massive feature wall with a screen that measures 18 feet by 12 feet. Impala Bar & Grill is the sister bar of Impala PDX in Portland, OR. Guests can enjoy a complete Mexican cuisine menu for lunch and dinner, happy hour specials every day from 3-7:00 pm, and brunch on Saturdays and Sundays.
Information: ​Now open. 333 S Palm Canyon Dr, Palm Springs, CA 92262
 
Low Desert/Modern Mexican is a laid-back and casual eatery located in Smoke Tree Village in Palm Springs. The restaurant's modern and sleek interior is complemented by a spacious terrace. The menu features a blend of classic Mexican dishes with a modern twist. The food is always healthy and light, making it an ideal dining spot for those who want to indulge in delicious food without feeling weighed down.
Information: ​Now open. 1775 E Palm Canyon Dr #405, Palm Springs, CA 92264
 
Maleza is an elegant Baja-style restaurant newly opened in the Drift Hotel in Palm Springs. This eatery has a modern wrap-around bar and floor-to-ceiling garage doors that open to a laid-back outdoor lounge. The seasonal, family-style menu features dishes such as Braised Pork Shank with mole coloradito and Chile Relleno made with vegan chorizo, a nod to the brand's initial location. The rustic menu is perfectly matched by an inspired drinks list that includes rare Mexican spirits, handcrafted cocktails, and collaborations with Miller Family Vineyards and La Luna Mezcal.
Information: ​Now open. 284 S Indian Canyon Dr, Palm Springs, CA 92262
 
Reforma is a modern Mexican restaurant paying homage to the renowned Paseo de la Reforma Avenue in Mexico City. The menu features contemporary interpretations of classic Mexican dishes, such as locally sourced tacos, ceviches, and tamales. The bar at Reforma is celebrated for its vast collection of tequila and mezcal, along with its imaginative cocktail menu. With a capacious dining room and a well-liked outdoor patio, the restaurant exudes a modern and stylish ambiance. Reforma also offers weekend brunch and happy hour specials, making it an essential destination for anyone seeking a unique and refined Mexican dining experience.
Information: Now open. 333 S Palm Canyon Dr. Unit 2, Palm Springs, CA 92262
European Bites
Front Porch exudes an intimate and welcoming atmosphere, featuring stunning artwork indoors and the option of delightful al fresco dining on the sidewalk or patio. However, that is just the start. At Front Porch, visitors can unwind in a charming and convivial setting, savoring an assortment of nourishing and exquisitely prepared dishes, and indulging in one of our signature handcrafted cocktails or a glass of premium wine. Once you've experienced Front Porch, we are confident that it will become your favorite destination.
Information: Now open. 117 La Plaza, Palm Springs, CA 92262
 
Baby's Marché
Baby's Marché is a specialty market and warm service cafe bringing many gourmet tastes of Europe to Greater Palm Springs with a modern technique. They have everything from a butcher shop serving high-quality wagyu, truffles, and cheeses, to their cafe with specialty drinks, sandwiches, charcuterie, and more. It doesn't stop there, you will find that this cafe has a retail side where you can buy home goods and self-care items. Baby's Marche is deeply rooted in its passion for various flavors to be shared from all over the world. 
Information: Now open. 75270 CA-111 Suite 200, Indian Wells, CA 92210
 
One of the newest dining establishments in Palm Springs offers a European cafe ambiance that's hard to match. The cafe is taking over the space formerly occupied by L'Olivo. The team of busy chefs, baristas, and servers is always ready to serve French breakfast, lunch, and sweets at their newly renovated location, which features a new coffee bar. Cafe Mon Amour has a large outdoor patio that overlooks Palm Canyon Drive, where visitors and locals can relax while sipping a cappuccino and watching people stroll by. Although the menu is always everchanging, the cafe already serves Parisian sandwiches, croissants, pastries, French macarons, espresso, hot chocolate, and more.
Information: Now open. 333 N Palm Canyon Dr, Palm Springs, CA 92262
 
For more mouth-watering inspiration on where to dine in the oasis, check out dining in Greater Palm Springs.