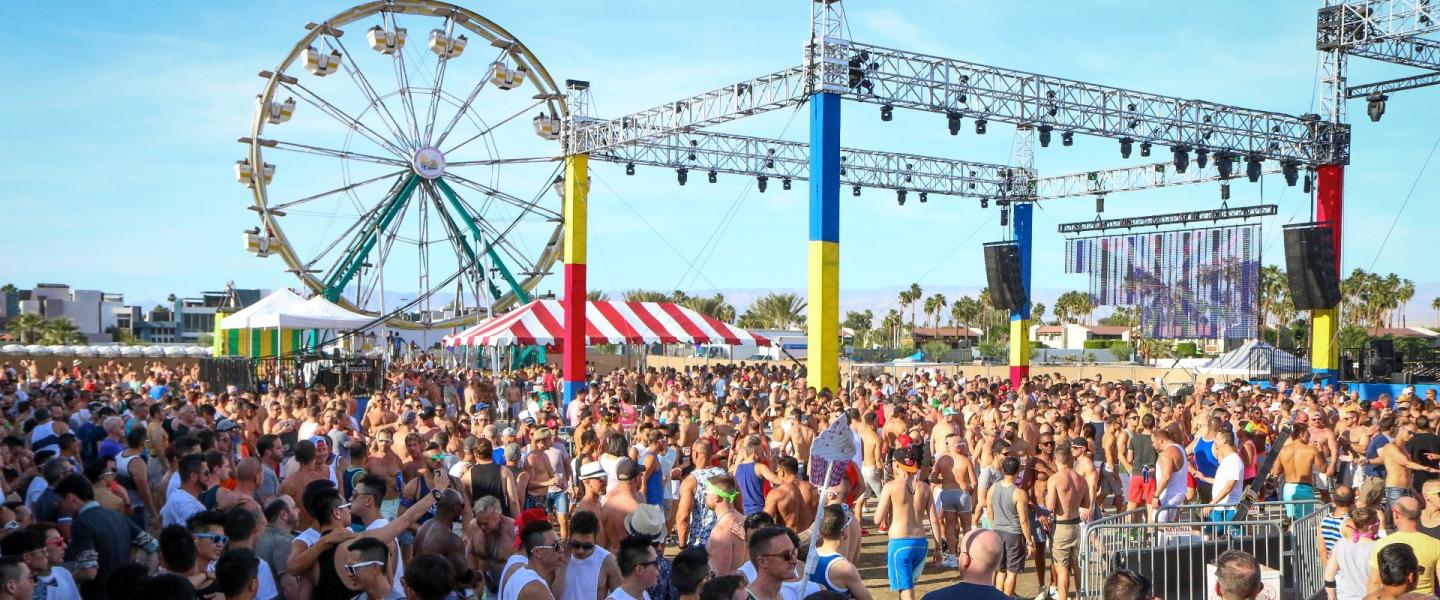 Every year, tens of thousands of gay men emerge on the desert for White Party Palm Springs. What began 27 years ago as a smallish affair at the Marquis Hotel (now the Hotel Zoso) has blossomed into a world premier gay dance festival that creator Jeffrey Sanker calls "a worldwide phenomenon."
Greater Palm Springs has grown along with White Party. Or perhaps, as Sanker suggests, because of it. "Back then, Palm Springs was more of a sleepy little weekend town. It wasn't as busy as it is now. White Party was a key factor in this city having such an integrated LGBT community. People came out for White Party, saw how beautiful the desert was, and purchased homes."
Sanker is pleased with the city's evolution. "The whole town is being revitalized," he said, "and I think between all of the events and festivals — between the film festival, my event, the Club Skirts event — it's just become a world-class destination."
For this year's party, taking place April 8-11, Sanker and his team have turned the heat up a notch by relocating the main event from the back of the Palm Springs Convention Center to the front. "It's going to be a spectacular entrance," he said. "It's the entrance they use for all the big parties, fundraisers and the film festival. It'll give the party a real glamour entrance. And if you're not in the mood to dance, you can just sit outside in the lobby, have drinks and watch people go by."

White Party weekend kicks off with Friday's Splash Pool Party (noon–6 p.m.) at the Renaissance Hotel pool followed by the all-new Commando Military Ball (9 p.m.–5 a.m.) at the Renaissance Hotel Event Center, for which attendees are invited to come "commando" style, covered in camouflage or in their military gear. The party will feature go-go boys, a booming sound system and floor-to-ceiling LED walls, and — according to the event's website — guests are encouraged to "prepare enough ammunition to dance all night long."
The fun starts up again Saturday morning with Splash! (11 a.m.–6 p.m.) at the 21-acre Wet 'n' Wild water park, which will be closed to the general public. In addition to live performances on a new floating stage in the wave pool, there will be 24 rides, a dance area and added bars. "It's like gay day at the water park," said Sanker.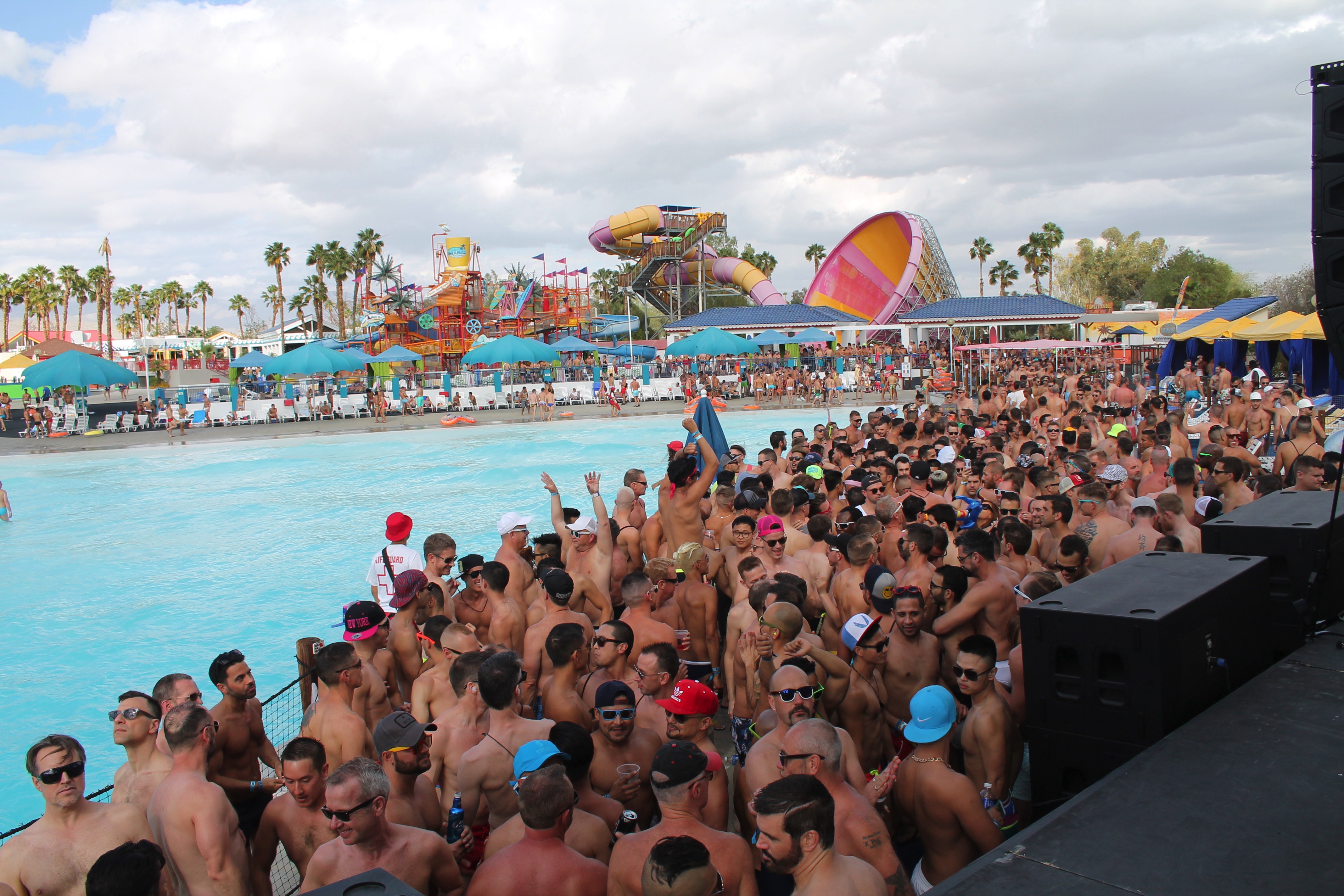 The weekend's main event is the reimagined White Party at the Palm Springs Convention Center (9 p.m.–7 a.m.), which Sanker says has been rebuilt from the ground up, shifting it "to more of a club environment inside the convention center, which holds thousands of people. We've made it a little bit smaller and more 'clubby' by using the new front entrance, which has that beautiful lobby." In addition, there will be two-story decking all around the dance floor and a hundred feet of video wall, creating an unmatched dance party experience.
Another change at this year's White Party is the omission of a live performer. Instead, Sanker and his team will be bringing celebrated DJ and producer Offer Nissim over from Israel. And rather than hosting an afterhours party after the main event, the White Party's hours have been extended, turning the two events into one nonstop blowout.
On Sunday from 11 a.m. to 4 p.m. is the Xlsior Mykonos World Tour Pool Party at the Renaissance Hotel Pool, which is followed by the Sunset T Dance from 4 p.m. to 10 p.m. at White Party Park. Sanker is enthusiastic about the upgraded event. "We have a 144-foot stage full of LED, flame pods, and over a hundred lights. It's just going to be a spectacular outdoor event."

Billed as the world's largest outdoor tea dance, the party includes the White Party Ferris Wheel, a fireworks display and a live performance by Real Housewives of Beverly Hills star Erika Jayne, who will be crowned Queen of White Party. Sanker is happy to see Jayne, whom he calls a personal friend, get the recognition she deserves. "I've known her for more than five years, and she's performed in almost all of my clubs in Los Angeles," he said. "She's always had an amazing talent. And she's really excited to be Queen of White Party. This is probably the largest performance she's ever done."
The weekend winds down with the Closing Party at the Renaissance Hotel Event Center, a last dance that goes from 10 p.m. to 7 a.m. Sanker is very passionate about his event and all that it's accomplished for the gay community. "We've had our ups and our downs," he said, "but everyone kept coming year after year and proving that this was a safe, fun environment and an amazing place to be. It's really brought our community together. And continues to do so."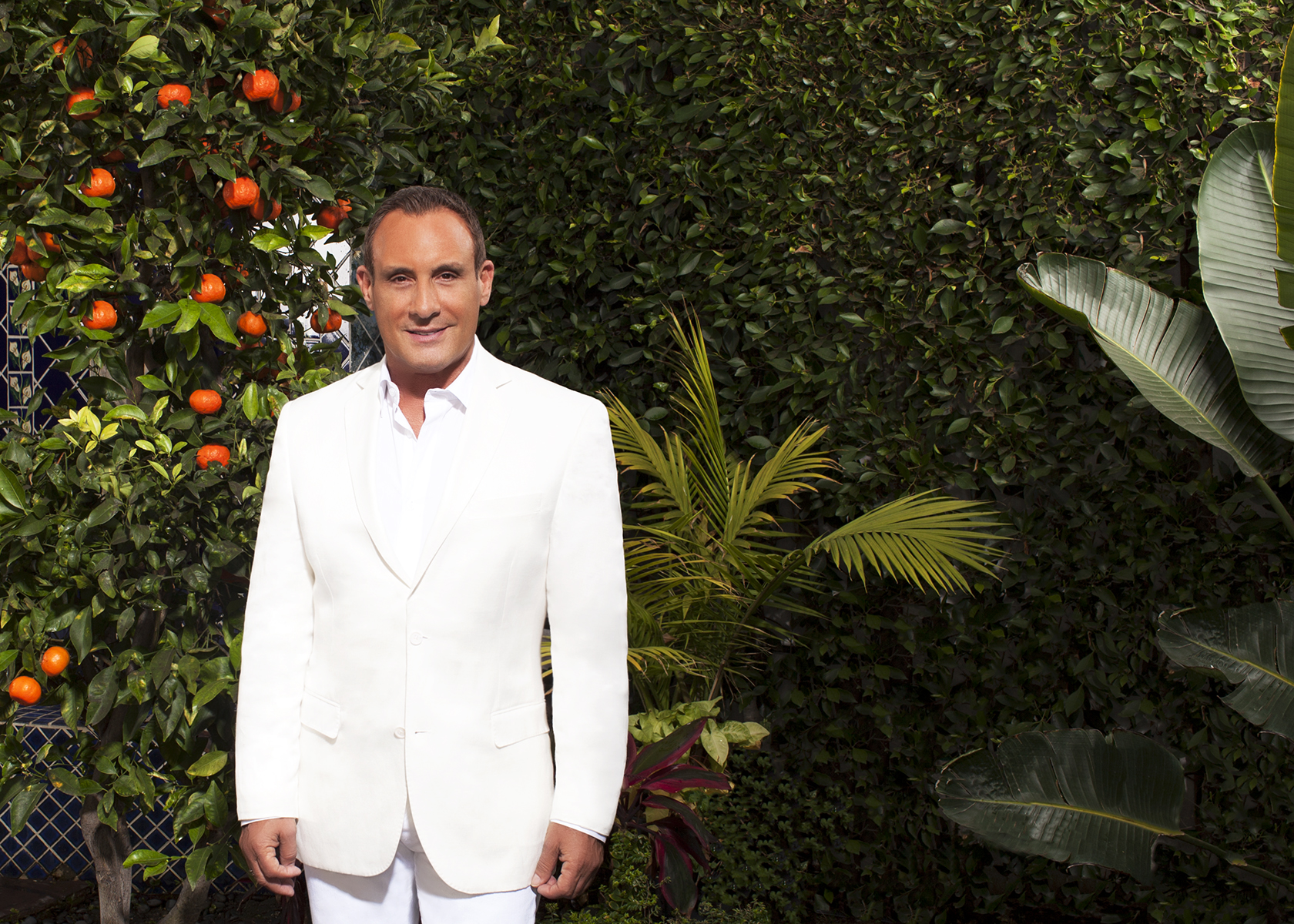 For passes and updated information on events and hotels, visit jeffreysanker.com.
Photos Courtesy of: Jason King, Marques Daniels and Lobeline Communications/Phil Lobel