While golf is undoubtedly a game of traditions, the ritual of an 18-hole round isn't for everybody.
Fear not: Greater Palm Springs offers fun and varied versions of the Gentleman's Game to all shapes, sizes, ages and interest-levels. Ready to take on golf in a way free of conventions?  Here are eight options across Greater Palm Springs to get a little off the wall with your golf.
Ride the GolfBoard Wave
The game's newest shot-to-shot vessel has seen a growing presence in recent years, with the GolfBoard (think: a battery-powered surf/skateboard for you and your clubs) riding across fairways in a fun, safe and especially timely manner that is winning over pursuits in a big way.  Check out the ride locally at Tahquitz Creek in Palm Springs and at Hawk's Landing (see below) in nearby Yucca Valley. For more info, ride on over to www.golfboard.com.
Play After Dark
The oasis' only course lit for evening play brings some brawn to the night-brighten, charting as one of the nation's longest 18-hole par-3 courses at just a shade over 3,000 yards.  Night or day, swing over to The Lights at Indio Golf Course.
Game Playing
Greater Palm Springs' burgeoning youth golf scene finds a learning nexus at The First Tee in Palm Desert, where the program's Nine Core Values are further served by the on-site, 9-hole par-3 course and a host of game-laden classes and programs to pen an opening scorecard in the narrative of child golfers. Get educated at www.thefirstteecoachellavalley.org.
Putter Away at Indian Wells Golf Resort
Complementing Indian Wells Golf Resort's duo of celebrated championships plays is the 9-hole Putting Course. Designed by John Fought (architect of the grounds' Players Course), the undulating, real-grass challenge rolls daily and is also lit for evening putting.
Enroll at College of the Desert Driving Range
As the valley's only full-service, public driving range facility, COD's spacious grass expanse features putting and short game areas to couple with myriad range stalls (not to mention its regular host of Off the Wall golf characters who regularly convene to talk swing study).  Enroll your clubs at www.collegeofthedesert.edu.
Get Stepping to FootGolf
As home site of the American FootGolf League, Greater Palm Springs is getting a kick out of FootGolf, the popular golf-soccer hybrid game increasingly seen at area courses. 
Present venues include: Desert Willow Golf Resort, The Lights at Indio, The Golf Center of Palm Desert (locale of The First Tee), Cathedral Canyon Country Club and Tahquitz Creek Golf Resort. Kick your browser to www.footgolf.us for information on rules and courses.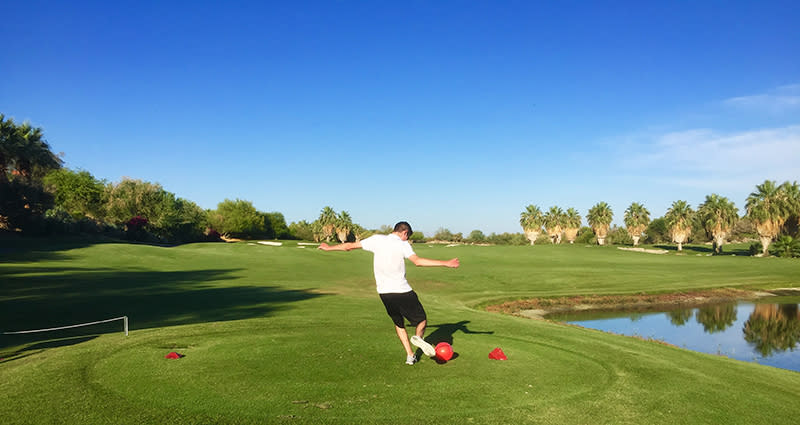 Ditch the Clubs
Who needs clubs?  Or, a ball for that matter?  While the growth of FootGolf may have flung itself into Disc's golf-cousin party, the Frisbee-style game -- with golf-style scoring and metal basket holes -- remains a tossing good time. Check out the 9-hole course at Hovley Soccer Park in Palm Desert, where night-lit play offers a fine evening unwind. Fling it over to www.cityofpalmdesert.org to learn more.
A 6-Hole Day at Hawk's Landing
For those seeking an abbreviated golf day for introductory or time-sensitive purposes, check out the 12-hole course at Hawk's Landing in Yucca Valley.  Creatively-crafted in two, 6-hole loops by designer Cary Bickler (also allowing for an 18-hole round), the optioned routing may well represent the future of golf course architecture. Take flight to www.hawkslandinggolf.com  for tee times and rates.